Southwestern Georgia
Southwestern Georgia
is a region along
Georgia's
Black Sea coast, which borders
Turkey
to the south.
Cities
– capital of Ajara and Georgia's third largest city is a pleasant Black Sea port with great Ajaruli cuisine
– small town in Guria, district center
– town in Ajara's highland, and the district center
– small town, district center
– with medieval fortress and 15th century church
– with medieval Askana Fortress
– capital of Guria is a fairly small town; near the Shemokmedi Monastery and the Likhauri Church
– beach resort famous for its magnetic sand
– coastal village and transport hub right next to the border with Turkey
– with 6th century Monastery
Other destinations
– small beach resort and gateway to Chakvistavi National Park
– beach resort
– district center
– small town and beach resort
– source of mineral water of the same name
– balneotherapeutic health resort with mineral water
– venue for the annual Leloburti (a rugby match between the neighboring villages of Kvemo and Zemo Shukhuti), always on the Orthodox Easter Sunday
– village with 3,000-year-old Petra Fortress
Ajara
Kintrishi National Park
Kobuleti National Reserve
Mtirala National Park
Machakhela National Park
Guria
— mountain resort
— mountain resort
Kolkheti National Park and Paliastomi lake
Understand
Southwestern Georgia consists of two regions: Ajara and Guria. The region includes a variety of localities, from historic towns and cities, through ports, industrial areas, beach resorts and natural reserves. It therefore offers a varied mixture of holiday opportunities to the travelers, as you can engage both in traditional beach activities and do a fair share of inspiring sightseeing. Ajara is an autonomous region of Georgia with 30% Muslim, beaches, palm trees, and wonderfully fattening food. Guria on the other hand is a region famous for its "Gurian Riders", trick horse riders who toured the
United States
as part of Buffalo Bill's Wild West Show
The climate of Southwestern Georgia ranges from subtropical to high alpine, and is one of Georgia's greenest and wettest regions.
Talk
Georgian
is unquestionably the main language in the region.
Turkish
is also fairly prevalent in Batumi. Much of the older generation speak
Russian
and the younger generation is increasingly speaking English due to hostility towards Russia, and also because English is taught in schools since independence and has replaced Russian as a second language in schools nation-wide. When in need for help, look for younger people, as they are more likely to know some English.
Get in
By plane
Batumi
has its international airport. Taxi from airport to the city costs about 10 lari. Other nearest major international airports are in
Trabzon
,
Turkey
and
Kutaisi
. There are regular flights from Tbilisi to Batumi international airports.
By train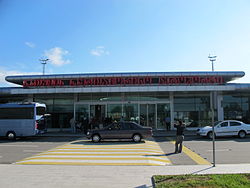 Batumi, Ureki, Kobuleti and Ozurgeti has a railway stations. These cities are linked to each other and to Tbilisi by the railway.
Tickets can be bought at stations and
online
.
By bus
There are daily coach arrivals and departures in several directions:
Kutaisi
,
Samtredia
,
Poti
and
Tbilisi
, also from
Istanbul
, as well as easy marshrutka. Marshrutkas head to Btumi and Ozurgeti from the bus stations in Tbilisi and Kutaisi. Batumi is the easiest destination to get to, and is widely served by public transport.
By car
Batumi, Kobuleti and Ureki lies on the well-developed international road which links Turkey to Georgia. Other cities lies on national roads which are paved with concrete. Roads are beautiful and ideal for a scenic drive.
Get around
Marshrutkas go into the surrounding area. Cycling is easy in Batumi. Marshrutkas are generally the way to go when traveling outside of Batumi or Kobuleti.

See
There are many historic monuments, museums, galleries and other attractions in the old city of Batumi, which is probably where more tourists will start their visit anyway. Do not miss Roman era Gonio Fortress in the souther part of the city.
Head for the beaches of Gonio, Kvariati, Sarpi, Chakvi to experience the black sea and high night life of the resorts, or head to Shekvetili, Ureki or Grigoleti which also offer a number of more relaxed beaches and curable sands than those close to Batumi.
See Ozurgeti, historical capital of the region, with Soviet era architecture
Explore Guria's historic medieval monasteries, churches and fortresses in villages Likhauri, mTispiri and Shemokmedi.
Parks
Batumi Botanical Garden
Kintrishi National Park — east from Kobuleti
Kobuleti National Reserve — in Kobuleti
Machakhela National Park
Mtirala National Park — east from Chakva
Kolkheti National Park — north from Ureki
Eristavi Palace and Park — near Chokhatauri
Do
Ski in Goderdzi Pass, Mountainous resorts of Ajara.
Trekking and Hiking in other mountain resorts: Bakhmaro, Gomismta or Beshumi
Batumi offers great biking opportunities
Mt. ChakvistaviGreat national park for hiking with an interesting subtropical forest. The round track passes at least three climate zones, subtropical, temperate and alpine. There are some guesthouses just before the sealed road ends. Hiking is possible already at the beginning of April, but expect some snow at the turn at the top. There are some places along the track to put up a tent or lie down a mattress, in case you arrive late. Some campsites even have toilets. If you cannot find a hitch, the way along the road from Chakvi to Khala is about 2 hr (10 km), from where you might be more lucky to get a lift.
Alternatively, just take a marshrutka from Batumi Bus Station to Keda and get of at Waterfall and start hiking from behind the waterfall. Or you can also climb the from , which is close to the Batumi-Akhaltsikhe 4WD highway after Keda. The trail from Makhuntseti is definitely long, but could be more interesting.
Eat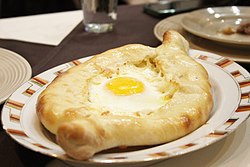 The food differs slightly in Gurian and Ajara. You should try Khakhapuri in Ajarian style. You also need to make sure you experience the fresh fish and other seafood, which is served at restaurants in Batumi and Ureki, as well as in villages of Guria and Ajara you can try river fish. Try "Bachlava" for dessert.
Drink
You will fins some wineries in Keda (Ajara) and Bukistsikhe (Guria) and a lot of pubs and bars in coastal resorts: Batumi, Kobuleti and Ureki during summer season. The most famous local wine is "Chkhaveri".

Sleep
There is wide range of hotels, hostels and guesthouses in Batumi, Kobuleti and Ureki, included splurge international brands such as Hilton, Radisson, and Sheraton hotels in Batumi.
There are seven resorts in the region, of which Ureki, Shekvetili and Grigoleti are located on the Black Sea; Bakhmaro, Gomi Mountain, Balneological Nabeghlavi and Nasakirali—in the mountainous alpine zone.

Stay safe
Guria and Ajara are quite safe regions of Georgia. Take common precautions, especially during nighttime. Also avoid dark streets.

Go next
International road links Georgia trough Batumi with
Turkey
and it is fairly easy to catch a marshrutka or hire a taxi going to the
Sarpi
border, or travel to
Trabzon
or
Istanbul
from Batumi by bus.
North of the region is
Northwestern Georgia
and east of the region is
Samtskhe-Javakheti
. They can be reached by the well developed local roads.