Spearfish
Spearfish
is in the
Black Hills
of
South Dakota
.
Get in
Although Spearfish is a small community with 14,000 residents, it is the commercial and academic center for several towns in the Black Hills and nearby Wyoming and Montana, attracting more than a million visitors each year with its museums, festivals and natural beauty.
US I-90 runs East/West through Spearfish, Exits 8, 10, 12, 14, 17
US 85 (on the CanAm highway) South from Belle Fourche through Spearfish and continues to Deadwood/Lead

Get around
By car
Jackson Boulevard runs West from I-90 Exit 12 through the center of town
Main Street runs North/South. On the south end of town Main turns into Colorado Blvd, on the North end, North Ave.
North/South streets are (mostly) numbered streets: i.e. 3rd, Canyon, 5th, Main, 7th, 8th, etc.
East/West streets are named from A to Z: i.e. Hudson, Illinois, Jackson, Kansas, Lincoln, Michigan, etc.
Spearfish is a small town. It's difficult to get lost but keeping this in mind will help you find your way around if you're looking for a certain street.

By foot
A paved walking path follows Spearfish Creek from one end of town to the other. The path leads you through five parks. Some city sidewalks on 3rd St. connect portions of the trail. The easiest entry point with public parking is from Spearfish City Park on the South end of Canyon St. The walking path crosses under the bridges on Jackson and Utah allowing safe and easy passage without waiting for signals on busy streets.

See
Do
Nature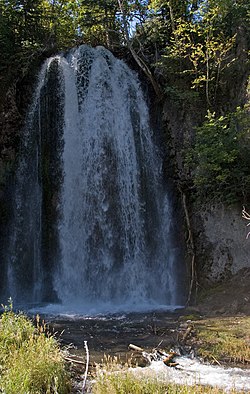 Perfect for rock climbing, hiking, fly fishing and more, Spearfish's beautiful forests and cascading waterfalls are naturally inviting.
Hikers, bikers, photographers and group travelers can discover inspiration amid the spruces and ponderosa pines. Inside the charm of the city, you'll find great conversation and keepsakes in our coffee shops, restaurants and boutiques. Take in a theater performance, splash around at the waterpark or hear the engines purr at the annual Black Hills Corvette Classic. In Spearfish, you can fill your sense and your scrapbook.
Visit the
Spearfish Forest Service Office
for more information on enjoying the outdoors
Events
address: 115 W Hudson St

Annual cyber-security convention.
Eat
Sanford's Grub and Pub

phone: +1 605-642-3204

address: 546 West Jackson St

Has a huge menu both in content and in size. Get any American fare you can think of here: burgers, steaks, salads, countless appetizers. Also offers mixed drinks, bottled and tap beer. In the summer months, you can relax on the deck.

Seven Grill and Club Room

phone: +1 605 717-5701

address: 447 North Main St

Excellent soups and salads top off a menu with creative entreés from steaks and pastas to burgers and sandwiches. Sharing the kitchen with the Seven Grill is The Club Room. This more intimate atmosphere features the same fare along with jazz music and fine wine.

Roma's

phone: +1 605-722-0715

address: 2281 East Colorado Blvd

A local favorite for real Italian food. This restaurant has an elegant atmosphere with dim lighting and live piano music on the weekends. The food is cooked to order and is simply amazing.

Spearfish Chophouse and Whiskey Bar

address: 523 Spearfish Canyon Rd

Do not be afraid to throw the peanut shells on the floor. Order a Mint Julep and try the Tenderloin Medallions. The steak tip Caesar salad is delicious. Fun and relaxed atmosphere.

phone: +1 605-642-5462

address: 126 W Hudson St

Wonderful atmosphere, good service. Features some of the best soups in town.

Berry's Best DessertsGet handmade chocolates, pies, cakes, candies and breads while you are shopping downtown.

A'viandsThey have a Mongolian grill where you pick your meat, veggies, and sauces and they cook them to order; hamburgers, chicken breasts, and french fries are also available. The Bravo section has pastas and a wood oven for pizzas. There is a deli where you can order sandwiches and wraps and a salad bar. They also have a bakery that bakes fresh everyday, with soft serve ice cream. The dining facility is an all you can eat buffet. They are open for breakfast, lunch, and dinner except on weekends, when just brunch and dinner are served.

Stadium Sports Grill

phone: +1 605 642-9521

address: 744 N Main St

Offers a wide variety of quality food and beverages. Excellent atmosphere with fast and friendly service. Great lunch specials.

Latchstring Inn Restaurant

phone: +1 605-584-3333

address: 10619 Roughlock Falls Rd, Lead SD

In the summer months, 360 degree views can be enjoyed from the deck and in the winter, you can enjoy your meal next to the fireplace.

Guadalajara Mexican Restaurant

phone: +1 605 642-4765

address: 83 W Hwy 14

You can start the meal off with complimentary chips and salsa and a delicious margarita. Great food.

Barbacoa's Burritos & Wraps

phone: +1 605 722-1774

address: 305 W Jackson Blvd

Featuring local ingredients. Healthy alternative to any fast food restaurant. It boasts quick and friendly service so it is a great place to pick up a quick lunch before classes.

phone: +1 605 642-4422

address: 2625 E Colorado Blvd

Right off I-90, this branch of the Pizza Ranch franchise (owned by Ted and Jill Schilling of Spearfish) offers a buffet-style lunch and dinner. The buffet consists of various pizzas and a large salad bar, along with freshly breaded chicken, potatoes, and vegetables. The prices for the buffet are very reasonable, and kid eat free every Wednesday night. The environment is clean, with friendly staff and accommodation for very large groups.

Golden Dragon Restaurant

phone: +1 605 642-2641

address: 1850 North Ave

Great authentic Chinese food. Can pick up or eat in. Always friendly and quick service.

Cedar House Restaurant

phone: +1 605 642-2104

address: 130 E Ryan Rd

Seniors seem to love this place. Delicious home-style meal. Friendly service.

Bum Steer

phone: +1 605-717-8337

address: 701 N 5th St

"A place for Steak."

Shoot the Bull Steakhouse

phone: +1 605-642-2848

address: 539 W Jackson Blvd

Amazing steaks, always cooked perfect. Great place to have the parents take you when they come up to visit for the weekend.

Lucky's 13 Pub

phone: +1 605-642-1582

address: 305 N 27th St

Menu features breakfast, lunch and dinner items. Daily specials offer great prices for large portions. Menu includes sandwiches, burgers, steaks, homemade pastas and tater tots. Also serves a wide variety of drinks. Showcasing a full bar plus weekly drink items.

The Milestone Family Restaurant

phone: +1 605 642-4200

address: 620 East Jackson Blvd

Comfortable 24-hour restaurant with a varied menu including brunch items, spaghetti, steak, ribs, etc.

phone: +1 605-717-3636

address: 304 N Main St

True coffeehouse ambiance with comfortable outdoor seating. The coffeehouse is a converted house which is very quaint with a nice outdoor deck. Diverse menu with a huge selection of wraps, panini and grilled sandwiches. Staff is friendly and charming.

Imperial China Buffet

phone: +1 605 642-2588

address: 715 North Main St

All you can eat buffet style Chinese food and single portion meals are available. Great service and you always get plenty of food for your money.

Spearfish Chophouse-Whisky Bar

address: 523 Spearfish Canyon Rd

Serves perfect steaks and well planned out and diverse menu options.
Drink
There are many selections to choose from.
Jacket Java
- Coffee shop located in the library on the BHSU campus. Offers all of the regular drinks, plus a selection of soups and fresh backed goods.
Zbar

phone: +1 605 642-3600

address: 529 N Main St

In the old HIVE bar, this newly renovated bar provides a fun place to go hang out and have a drink with some friends. As of right now it is just a bar/nightclub but starting in the next couple of months a kitchen will be added.
Sleep
Secret Garden Bed & Breakfast

phone: +1 605 642-4859

address: 938 N Ames Ave

phone: +1 605 642-2337

address: 51 2725 1st Ave

great hotel located right off the interstate exit 14, good clean rooms, excellent front desk customer service and competitively priced.

All Star Travelers Inn

phone: +1 605 642-5753

address: 517 W Jackson Blvd

Bell's Motor Lodge

phone: +1 605 642-3812

address: 230 Main St

Downtown Spearfish

Kozy Motel

phone: +1 605 642-4846

address: 427 Main St

located as you drive into downtown spearfish this place offers rooms for anyone looking for a one night or one month place to stay.

Royal Rest Motel

phone: +1 605 642-3842

address: 444 N Main St

Sherwood Lodge

phone: +1 605 642-4688

address: 231 W Jackson Blvd

Spearfish Creek Inn

phone: +1 605 642-9941

address: 430 W Kansas St

Right on Spearfish Creek and the awesome bike path that runs through all the beautiful parks.

Rodeway Inn

phone: +1 605 642-2350

address: 2275 E. Colorado Blvd.

This hotel offers free deluxe continental breakfast, free Wi-Fi Internet access, indoor heated pool and hot tub, pillow-top mattresses in all rooms, and free guest computer with Internet access. The Rodeway Inn offers several different room types to suit all different types of travelers.

Super 8

phone: +1 605 642-4721

address: 440 Heritage Dr.

Enjoy a swim in the heated pool! Start your day with a free continental breakfast. Super 8 provides free Wi-Fi throughout the hotel. Truck and RV parking is also included, Jacuzzi and family suites are available. Kids and pets stay free with an adult.
Bed & Breakfast
Camping
Located in the City:
Spearfish City Campground
Chris' Campground
Mountain View Campground
Elkhorn Campground
Forest Service Campgrounds:
Hanna
Iron Creek
Timon
Rod & Gun
Connect
The Spearfish Visitor Information Center is a great place to start your trip to Spearfish. You can find information on everything Spearfish - sites to see, things to do, where to stay and where to eat - at the Visitor Information Center. They also have information on the Black Hills area. The Visitor Information Center is located at 603 N Main Street (on the corner of Main and Hudson) in downtown Spearfish.
The Spearfish United States Postal Code is 57783

Go next