Speyer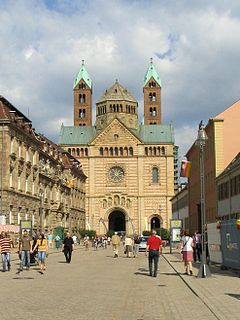 Speyer
is a city in the
Rhineland-Palatinate
region of
Germany
. It is one of the oldest German cities and has a beautiful old town. Speyer has been a diocesan town since 346; its first churches and monasteries were built in the 6th and 7th century.
The foundation stone of the imperial cathedral was laid in 1030 by Conrad II, Holy Roman Emperor and first of the Salian dynasty. The cathedral is the resting place of the Salian dynasty. It was widely destroyed in the War of the Grand Alliance in 1689.
Get in
By road
Speyer is located just south of the
Autobahn
A61.
By train
The main station has frequent connections to
Mannheim
,
Ludwigshafen
and
Karlsruhe
, although it is not directly connected to the high-speed ICE train network. Speyer has two train stations: Speyer main station, and Speyer North-West station.
There is a ticket office at the main station (closed on weekends and holidays).
Speyer has train connections to Germersheim and Karlsruhe (via
Heidelberg
) every 30 minutes and express trains to Karlsruhe and
Mainz
every 2 hours.
Get around
By bus
Speyer has a city bus system. You can buy tickets from the drivers. The city shuttle (Bus line 565) costs only €1 and is valid
for 1 day only in this bus line. Speyer has also regional bus connections to villages without a train connection.
If you want to go to the Technical Museum, IMAX Dome film theater or to the Sealife you can get a combination ticket. This ticket is valid for outward and return journey with train to Speyer, in the bus line 565 and admission to the Technical Museum or IMAX Dome film theater or Sealife. Ask at the ticket office at your train station. They have it for single persons, groups or families.
The same offer can you get for the technical museum Sinsheim and IMAX Dome film theater Sinsheim.

See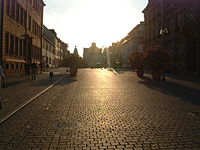 Kaiser und MariendomThe romanesque imperial cathedral, with crypta of the Salian Emperors. A UNESCO World Heritage Site

historic old townVery nice

JudenbadOldest Mikvah north of the Alps

AltpörtelA 55 m high gate, part of the former fortification wall

Gedächtniskirche der ProtestationA protestant church with wooden interior from the 17th century

Historisches Museum der PfalzHistory museum

Technik MuseumHall full of old cars and outside a number of aircraft and a small submarine you can walk through. Space exhibition which includes the Russian shuttle.

SealifeAn aquarium, not as large as the ones in the USA but interesting nether the less. Can however be one long line of people at peak times.
Do
Eat
Forget the Kaisertafel. Avoid tourist traps in main street area.
address: Korngasse 15

phone: +49 6232 70914

address: Mühlturmstraße 5

phone: +49 6232 8774855

address: Maximilianstraße 90a
Sleep
phone: +49 6232 61597

address: Geibstraße 5

phone: +49 6232 64330

address: Landwehrstraße 28
Go next