Spokane
Spokane
is a city in the
Palouse
region of eastern
Washington
, also known as "The Inland Empire", pre-dating by nearly a century the use of the same title by a region in
Southern California
. It is the second largest city in the state, and the largest between
Seattle
and
Minneapolis
.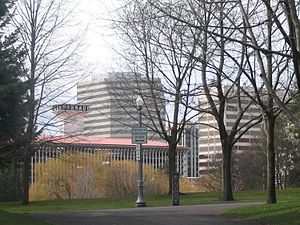 Understand
Pronunciation
The city is pronounced as "spo-CAN," but often mispronounced as "spo-CANE."

Basics
Spokane is named for a Salish-speaking tribe of Native Americans who were the original inhabitants of the area. The original spelling, Spokan, was given an e by the adoption of the name of the original building, Spokane House (a trapping house built by early European arrivals.
Spokane is the economic hub of an area that serves roughly 1.5 million people. The largest city between Seattle and Minneapolis, its immediate metropolitan area, which includes neighboring Kootenai County, Idaho, is home to roughly 680,000 people. The city itself is home to just over 200,000. Politically, Spokane is as conservative as most regions its size across the west, but the city itself typically votes for Democrats. Despite immigration from other areas of the country and world, Spokane has a fairly small racial minority population of around 15%.

Climate

Spokane receives only a fraction of the rain that falls in Seattle and western Washington. However, winters are a lot colder with much more snowfall. Summers are hotter, but still more mild and less humid that those in the Midwest and East. Even temperatures in the high 90s are often followed by cold early mornings in the low 50s °F. Always have a jacket handy year-round.

Get in
By plane
GEG
for Geiger Field) is about to the west of Downtown off of I-90 from Exit #277B (along US Hwy 2) towards Airway Heights. The following airlines serve Spokane (some distant cities are seasonal and/or weekly):
There are no non-stop flights from Spokane to outside of the U.S. Most international connections are made in Atlanta, Seattle (most common), Minneapolis, Dallas/Fort Worth, Los Angeles, or Chicago depending on the airlines you choose.
To travel from the airport to downtown:
A taxi from the airport will cost $25+ 15% tip.
The STA #60 bus, costs $1.50 one way (or $3.50 for day pass if requiring to transfer buses) and takes 25 minutes to travel from the airport to downtown (at the 'Plaza' @ W Sprague & Wall St). The stops are outside the police office & conference center at Concourse C and the arrivals concourse past Concourse A at the opposite end of the main terminal building. Click here for a list of additional local (door to door) and long distance buses to Coeur d'Alene, Kettle Falls, Pullman/Colfax, Moscow and Fairfield.
By train
address: 221 West 1st Avenue

Spokane is served by Amtrak and its once-daily Empire Builder train, operating between Seattle/Portland and Chicago. Spokane is at the point where westbound trains are split in half, one half going to Seattle through the Cascades and the other half to Portland OR-Vancouver WA along the Columbia River Gorge, and where eastbound trains from those cities are joined together to continue eastward. The Empire Builder connects with Coast Starlight and Cascades trains in Seattle and Portland and multiple east-west-south trains in Chicago. Spokane Intermodal Center is downtown, close to major hotels and attractions, at 221 W 1st Ave. The station is shared with Greyhound and other long-distance buses.
By bus
The bus station for long distance buses is the same as the train station (intermodal station) at 221 W 1st Ave and/or the airport:


By car
Interstate 90 (I-90) connects Seattle with Coeur d'Alene, Idaho, and passes through Spokane. Spokane is accessed from Exits #279 (US Hwy 195) through #285 ( "Appleway Blvd and Sprague Ave" from the eastbound lanes and "Sprague Ave" from the westbound lanes) just east of town.
US Highway 2 is a more scenic alternative to I-90. If coming from Seattle, it winds its way eastward through Leavenworth and Wenatchee in the North Cascades. It continues north and east towards Northern Idaho and Montana after leaving Spokane. From the north, US Hwy 2 and US Hwy 395 go through town as N Division St into downtown and along I-90 from Exit #277 from the west.
US Highway 195 connects the Palouse country in the southwestern part of the state to Spokane. It passes through the southwestern neighborhoods of Spokane as a freeway and ends at I-90, at Exit #279 west of downtown.
US Highway 395 connects Spokane to Tri-Cities through Ritzville (at freeway speeds) in the southwest and to Christina Lake, BC in the north (mostly a two-lane highway) through Colville and Kettle Falls in the northeast part of the state. From the north, US Hwy 395 and US Hwy 2 go through town as N Division St into downtown and along I-90 from Ritzville into downtown Spokane.
For those originating or passing through the Salt Lake City area, there are two freeway routes with nearly the same distance. I-15 north to I-90 west is slightly shorter than I-84 west to US-395 north. However, whichever route has the best weather at the time (especially in winter), would be the better choice. The I-15/I-84 split is about 75 miles north of downtown Salt Lake City.

Get around
By bus
The
STA (Spokane Transit Authority)
is an excellent way to get around to the north, south, and west sides as well as to the Valley and Liberty Lake in the east. Public transit is a great way to get to meet the people of a city. Bus route maps can be found in a few stores and gas stations. Most drivers are very friendly and helpful so ask any questions you may have.
The STA offers 2-hour and all-day passes. You must ask the driver for a pass
before
you put your fare in the fare box.
By car
Eyes on the road at all times!
Do not use or hold your phone while driving
, even while stopped in a red light! Police across all of Washington State have also been on the lookout for drivers disobeying the law while distracted for all other reasons (i.e. eating, drinking, grooming). A hefty fine of $136 for the first offense is issued in addition to a mark on your insurance that is equivalent to driving under the influence of alcohol (DUI), upon which the law is colloquially called
E-DUI
.
Should you need to use your phone for navigation, use a speaker while hiding your phone or use a phone holder that you can hang onto your dashboard. Input your destination before you drive or have a passenger do it for you. It is not recommended to place it on your lap as you might still have the tendency to look down on it, or as it may easily fall off. Should there be a need to answer or make phone calls, pull over to park or sync your phone with the car's entertainment system before driving so that you do not need to hold onto it. However, the minimal use of a finger to activate, deactivate or initiate a function of a personal electronic device while driving is still allowed.
Car rentals are available in many locations, mainly near the Spokane International Airport. All the major companies are there. Returning cars at the airport can be a little confusing. The main entrance to the rental return is an entire mile before the airport terminal (left at Flint Rd.) You can also drop off passengers and turn right at Flint Rd. just past the terminal. Note there are no directional signs for rental cars between these two places.
Interstate 90
is an excellent way to cross town east-west. A north-south freeway is under construction, and won't be finished for years. Allow more time if you have to go very far in this direction, as there's no express route yet. (The construction is unlikely to cause you any delays, as it's not on the main roadways.)
Spokane has many uncontrolled intersections in older residential neighborhoods. Watch for cross traffic and yield as necessary. Also, there are a few one-way thoroughfares well outside of downtown.
Check with
Washington State Department of Transportation (WSDOT)
for current driving conditions.
The area's roads are designed more or less around a grid system, where most addresses are numbered based on their distance from the city center (Sprague & Division). Nearly all streets run with the compass directions with Sprague Ave (going east-west through downtown to Spokane Valley and in Airway Heights) and W Riverside(west of downtown, west of Walnut St) divide north from south while Division St (US Hwy 2 and 395) north of I-90 and Grand Blvd south of I-90 divide east from west. The "Avenues" run east-west, parallel to Sprague, while "Streets" run north-south parallel to Division & Grand. Most streets are named except the east-west avenues south of Sprague in downtown (and south of downtown) and in Airway Heights which are numbered streets. This also applies to much of the extended areas of unincorporated Spokane County such as Spokane Valley, Liberty Lake, Country Homes and other surrounding areas outside the Spokane city limits. The addresses in places like Cheney, Deer Park, Medical Lake and Sprangle have their own numbering system and are not based on Spokane's numbering system.
By bike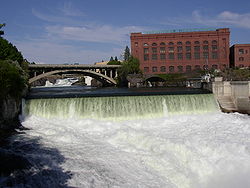 Within the past five years, Spokane has rapidly developed its bicycling infrastructure, adding both protected and unprotected bike lanes, traffic-separated bike trails and paths, and bike parking areas downtown and in major commercial districts. As a result, biking is a convenient and desirable way to commute. Within the six-month period from April to October when the weather is most reliably bicyclist-friendly, it is not uncommon to see throngs of bicycle commuters traveling downtown or to the various districts, like South Perry and Garland. Many employers now offer showers and changing facilities to their employees to encourage cycling.
The Centennial Trail
runs along the Spokane River from downtown Coeur d'Alene through the Spokane Valley and downtown Spokane, ending in Riverside State Park. The nationally-recognized trail is a favorite among bicyclists, runners, and skaters. Be on the lookout for the particularly dramatic section near Mile 23. Here trail users exit the up-and-coming Kendall Yards neighborhood to downtown (when traveling eastbound) and cross under the century-old Monroe Street Bridge, exposing beautiful views of the Spokane Falls. Be sure to take enough time to enjoy this true gem that makes Spokane one of the most beautiful downtown urban areas in the United States. And don't forget a camera.
See
Downtown SpokaneThe hub of the region dubbed "The Inland Northwest." It is the center for all of your shopping centers, medical centers, main attractions and hotels. Skywalks connect much of the downtown shops, useful in winter. Riverfront Square is a "mall" containing a parking garage, theaters, restaurant, bars, department and specialty shops, and a food court.

Riverfront ParkThe host of the 1974 World's Fair. A few of the pavilions still exist, and the park is beautifully maintained. Maps of downtown Spokane (which include a park map) can be found in most hotels and stores and gas stations nearby. The park has fun features: the river and its waterfalls, the dam, two suspension footbridges, a rare, beautiful, and priceless hand-carved Looff Carousel (complete with rings and a target; sit on an outside horse if you want to participate!), the rather frightening gondolas over the falls, a small amusement park, bike rentals, an IMAX theater and game room, concert areas, and annual events including concerts, plays, "Pig Out in the Park", powwows, Battle of the Bands, and children's activities. The striking clock tower is the only remnant of the ugly train yards that once occupied the parkland, and a good place to meet up if you get separated.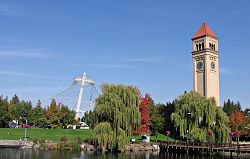 Manito ParkIts steep hills make it a popular and well-used wintertime sledding spot; be careful of the trees, however. A zoo until 1933, Manito is now a year-round home to a friendly flock of geese, ducks, and turtles. Visit the park's Rose Garden in the Summer, the formal Duncan Gardens near the greenhouse (open until dusk), the Japanese Gardens on the Bernard Street side of the park. There are two playgrounds, one for smaller children near the duck pond and the main entrance, another with a waterpad near the ball fields on the south end (25th Avenue). A small restaurant operates in the summer in an old stone building near the perennial gardens, open for lunch and maybe breakfast. Parts of the park are rustic and undeveloped; tennis courts are near the main entrance. The park, like all those in the city, closes at 10PM and is patrolled periodically.

Monroe Street BridgeThis bridge was built in 1911 and is the largest arch bridge in the United States. It is one of the finest examples and also one of the last remaining bridges among the several dozen bridges that once crisscrossed the falls and made Spokane world-famous as the "City of Bridges" during the latter half of the 19th century (i.e, Spokane had the largest number of bridges of any city in the world at the time). Take an inspiring walk across the falls of the Spokane River while admiring the buffalo head sculptures adorning the covered observation decks across the span. The Monroe St Bridge is in the heart of Downtown immediately west of Riverfront Park, the former site of the old train station and rail yards (locals know it well, just ask one). It was restored in 2003-05.

phone: +1 509 465-5064

Bowl and Pitcher is basalt rock formations in the middle of the fast flowing Spokane River. Overlook and suspension bridge on east side is a great way to experience Spokane's motto: Near Nature Near Perfect.

The Knitting FactoryOne of the Northwest's premier concert houses. It is a 1,500-capacity concert venue, and features top performers from around the world and dance club nights hosted weekly. It is easily found in the heart of Downtown Spokane, on the corner of Sprague and Monroe.

address: W 1116 Broadway

Worth a visit. This interesting courthouse was completed in 1895 in 16th century French Renaissance style.

phone: +1 509 238-4126

address: 17020 N Newport Hwy, Mead, WA

phone: +1 509 363-5466

address: West 3404 Woodlawn Blvd

Broadview Dairy Museum/Caterina WineryThe Broadview Dairy building has been a landmark in Spokane since the 1920s. It was built as a commercial dairy, and has been openef to the public. It has a milk production museum, the still operating dairy, and the Caterina Winery.

Davenport Arts District - at 2nd and Madison
Ft. George Wright National Historical District
Gonzaga University

Northwest Museum of Arts and Culture

phone: +1 509-456-3931

address: 2316 W First Ave

Museum covering the history and native cultures of the inland northwest.
Spokane Falls, on the edge of Riverfront Park

phone: +1 509-321-7121

address: 808 W Main Ave

phone: +1 509-321-7133

address: 811 W Main Ave

Temporarily on the 3rd floor of the Downtown Spokane Library

address: Gonzaga University

Legendary singer (he sang the classic song "White Christmas"), Academy Award winning actor and Gonzaga alum Bing Crosby who moved to Spokane when he was 3 (born in Tacoma, Washington) has a Crosby Collection display at Gonzaga University. The collection (about 200 items-records, photos, books, etc.) is at the Crosby Student Center's Crosbyana Room and additional items are on display at Bing Crosby's childhood home (the Bing Crosby House at 508 E Sharp Ave-free admission) built in 1913.

Cathedral of St. John the Evangelist

phone: +1 509 838-4277

address: 127 E 12th Ave

High Bridge Park

address: 136 South A St
Do
Golf
- There are 33 golf courses within a short drive of the city center. The city of Spokane runs 4 public golf courses including the award winning Indian Canyon, Spokane County runs 6 other public courses. The
Coeur d'Alene
resort golf course features a green floating in the lake.
phone: +1 509 313-6000

address: McCarthey Athletic Center, 801 N. Cincinnati St.

The sports teams of Gonzaga University, officially nicknamed "Bulldogs" but affectionately called "Zags", are one of the city's great institutions. While the Zags have teams in nine men's and nine women's sports (though not football—the school dropped that sport during World War II), by far the biggest attraction is men's basketball, which has developed into a national power in the 21st century, making the Final Four for the first time in 2017. The McCarthey Athletic Center, home to basketball, always sells out for men's games and often for women's games (the capacity is only 6,000). Usually, one men's game a year is played at the much larger Spokane Veterans Memorial Arena, and a second men's game is taken to Seattle. Most other Zags teams play on campus, and tickets are much easier to get than for basketball.
Events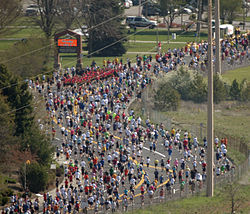 Buy
Many of the newer, suburban-style stores and shopping centers are on the far north side of the city. The huge Northtown Mall is on the NE corner of Division (US Hwy 2/395) & Wellesley. A mile further up is Francis Ave., and there are many places to shop as you go north on both Division (US 395) and the Newport Hwy (US 2) (which soon splits off from Division).
Huckleberry's Natural Market

phone: +1 509 624-1349

address: 926 South Monroe St

The 9th Street Bistro inside this grocery store is a bustling cafe that serves $4 breakfast specials. Vegetarian friendly deli. Enjoy a toasted bagel with lox from the meat counter, or some freshly rolled sushi. Huckleberry's is the only natural grocery store of its kind in Eastern Washington. Large wine and bulk foods selection. Some Rosauers Grocery Stores and Super 1 Foods also have a smaller Huckleberry's Market (without a bistro) inside the store.

River Park SquareRenovated shopping center in the center of downtown, just across from Riverfront Park. River Park Square is home to a 20-screen movie theater. Upscale stores such as Nordstroms, Williams Sonoma, Macy's and Restoration Hardware. A diverse collection of specialty stores selling items ranging from walking sticks to chocolates. Satisfy your hunger at the fast food court or at one of its many sit down restaurants. River Park Square is also a great place for kids with a childrens museum, bookstore and toy store. Skywalks connect River Park Square with the rest of downtown.
Eat
Spokane's dining scene has come into its own in recent years. A wide variety of chef-owned restaurants serve all tastes, with an emphasis on locally-grown and organic ingredients. You can't leave without enjoying a craft pizza at one of the area's many artisan pie shops. The area is known for wild and exotic pizza varieties, including thai and a four-cheese pie called the "Honey Badger," topped with a honey glaze.
Budget
Dick's Hamburgers

phone: +1 509 747-2481

address: 10 E 3rd Ave

A Spokane institution, serving up the quickest and most efficient cholesterol-delivery systems in the state. No relation to the Dick's chain in Seattle.

Didier's Yogurt & More

phone: +1 509 466-8434

address: 10410 N Division St

Quality fast food from a family owned business. Great burgers and frozen yogurt. On the north side near Whitworth College.

phone: +1 509 325-1772

address: 802 W Garland Ave

Built for the now-defunct Benewah Dairy Company in mid-1930s, this small restaurant serves burgers and shakes. The building consists of a stuccoed milk bottle several stories high. A similar structure (not open to the public) is visible from the I-90 westbound off ramp to Maple St. (#280A), and listed on the National Register of Historic Places. Cash only.

Ferguson's Cafe

phone: +1 509 328-1950

address: 804 W Garland Ave

Next to the Milk Bottle (above), this restaurant was featured in three Hollywood movies, Benny & Joon, Vision Quest, and Why Would I Lie? Opens early for breakfast, and well known for its "blue plate specials."
Mid-range
phone: +1 509 455-7411

address: 1426 S Lincoln

A local jewel. The pizza and calzones are fantastic. Always some good beers on tap, or you can get a bucket full. Recommended: garlic cheese bread, beer buddies, chicken wings, pesto ranch dressing, hot Italian sausage, saxon pizza, New Yorker calzone.

Longhorn Barbecue

phone: +1 509 924-9600

address: 2315 N Argonne Rd

phone: +1 509-838-5071

address: 414 1/2 W Sprague Ave

"Soul Food", catfish, ribs, etc. In Downtown.

The Elk Public House

phone: +1 509 363-1973

address: 1931 W Pacific Ave

Eclectic to standard food, large selection of microbrews on tap. Outdoor seating in the historic Brownes Addition.

The Two-Seven Public House

phone: +1 509 473-9766

address: Lincoln Heights Shopping Center, 2727 S Mt Vernon St # 5

On the South Hill, has the same menu as The Elk (and their two sister pubs in north Idaho). Full bar, microbrews, specials, outdoor seating in summer, TV but you can get away from it if you want, and great service.
Other
The Rockwood Bakery

address: 315 E 18th Ave

Less than a block from Manito Park, the Rockwood Bakery is great for a mid-day coffee or pastry after a day in the park.

phone: +1 509 455-9400

address: 210 S Washington

In the east central part of downtown, this shop offers many cheeses from the United States, including the Pacific Northwest, and abroad. Cheese plates are also offered, and there is wine by the glass, or you can bring in wine from the conveniently neighboring Vino! Wine Shop.

Your City BitesA food tour of downtown Spokane that features local reastaurants.
Drink
Within the past ten years, Spokane has experienced an explosion in craft brewing, with new local and regional brewers rapidly expanding in popularity. Beyond that, the nightlife scene has grown significantly with the addition of a number of bars, pubs, and nightclubs downtown.
phone: +1 509 487-6546

address: 1226 N Hamilton St

Classic sports bar owned by the father of former NBA & Gonzaga University star John Stockton. Sitting on the edge of Gonzaga University, it naturally caters to the students and is packed to watch basketball games. Children are welcome in the restaurant until 10PM.

phone: +1 509 747-0322

address: 525 Spokane Falls Blvd

This is a place to gather, chat, tip a pint and enjoy a little Irish flavor. Guinness and Harp on tap. Live Irish music on Tuesday nights. After you've been there a while you'll probably want to become a member of the O'Doherty's family by standing on the bar, singing a song for the entire bar, and stapling a dollar on the wall. Children are welcome in the restaurant until 10PM.

Twigs Bistro

address: 401 E Farwell

Twigs is first a martini bar and second a restaurant. However, their breakfast, which is only sold on the weekend, is superb. Their Creme Brule French Toast is wonderful. Dinner is a typical menu, burgers, pizza, etc. Their drink selection is very good.
Breweries
Spokane is the center of the
Inland Northwest Ale Trail
of over 25 different microbreweries. Many of them have food or partner with food trucks.
phone: +1 509 242-2739

address: 1003 E Trent Ave

Fresh local beer on the banks of the Spokane River. This is a true brewpub, offering sampler trays (and pints, of course) of its fine locally made ales, including its famous Crystal Bitter and Chocolate Dunkel. Also has an ambitious food menu.

address: 1325 W 1st Ave

Small bar that usually has a food truck outside. They have lots of different beers in any size from a taster to a pint.

phone: +1 509 777-3900

address: 159 S Lincoln

A larger restaurant and bar in a former steam plant. They brew several beers and offer their flights in a steamplant-shaped holder. They have a happy hour daily.
Sleep
Budget
Days Inn & Suites Spokane Airport Airway Heights

phone: +1 509-244-0222

address: 1215 S Garfield Rd

Free local and long distance calls in the continental United States; free wireless high-speed Internet access all rooms; advance online check-in and check-out with unlimited access to online folio information. Includes remote TV with ESPN, CNN and one movie channel and complimentary continental breakfast.

phone: +1 509 747-2011

address: 120 W 3rd St

phone: +1 509 926-5399

address: 1919 N Hutchinson Rd

phone: +1 509 459-6120

address: 1508 S Rustle St

Sleepy Lodge

phone: +1 509 326-5500

address: 3033 N Division

phone: +1 509-838-8800

address: 11102 W Westbow Rd, Spokane, WA 99224

phone: +1 509 838-2026

address: 1420 W 2nd Ave
Mid-range
Splurge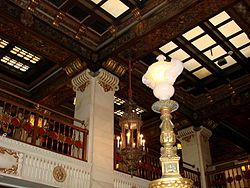 phone: +1 509 455-8888

address: 10 S Post St

Spokane's only four-diamond hotel. Rated in the top ten best hotels in America by Expedia. In the heart of Downtown and the Davenport District (Art District), the Davenport Hotel and Tower offers luxury accommodations and first class service. Three restaurants and bars. The hotel, which under went a multimillion dollar renovation in 2002, is locally owned and operated. You can see the hotel's extensive history, that included the visits of many historical icons including Charles Lindbergh, Amelia Earhart, Mary Pickford, Clark Gable, John Philip Sousa, Lawrence Welk, Bob Hope, Bing Crosby, Benny Goodman, Vachel Lindsay, John F. Kennedy, and Babe Ruth. Hotel history dating back from 1914 is scattered throughout the hotel's Western European inspired rooms, lobbies and restaurants.

The Davenport Lusso, Autograph Collection By Marriott

phone: +1 509 747-9750

address: 808 W Sprague Ave

Small Mediterranean-style hotel in the heart of downtown.

phone: +1 509 747-1919

address: 1005 W First Ave

Small European-style boutique hotel in the heart of downtown by the Fox Theater.
Stay safe
People in Spokane are generally quite kind and hospitable. The city is safe, and violent crime is rare. That said, Spokane has had ongoing challenges with property crime and vehicle theft. As such, use common sense––if parking a vehicle, be sure to lock the doors and ensure that all valuables are in the trunk. Also, use caution when walking through Riverfront Park or on the Centennial Trail at night.
Do not swim or wade in the Spokane River downtown, as this is very dangerous. Drownings are, unfortunately, not uncommon.

Connect
Spokane is one of a few cities nationwide that has Wi-Fi access just about everywhere Downtown. The entire Downtown area is a Wi-Fi hotspot or an area where wireless Internet is provided free of charge (2 hours per day) if your computer is equipped for Wi-Fi. There is also free Wi-Fi at the airport (with commercials before access).

Cope
During the first Sunday in May, Spokane hosts the Bloomsday 12-km timed street run, while the Hoopfest basketball tournament is on last weekend in June (could be June 30th/July 1st). These are both hugely popular events with tens of thousands of visitors. If you're not interested in either, avoid the area altogether on these two weekends, as traffic will be extremely bad, and accommodation impossible. Even Thursday night should be avoided for Hoopfest. Barring some unusually severe weather, the other 50 weekends each year should be just fine for visiting.

Go next
Although the destinations of
Seattle
,
Portland
,
Glacier National Park
,
Mount Rainier
, and
Mount St. Helens
are popular with locals, these are
not
day trips, and even a two-day excursion will seem rushed. The distance to Mt. St. Helens is easily underestimated, as the only access is from I-5 between Seattle and Portland (with substantial backtracking).
The area to the west and south before the mountain ranges can be considerably hotter in summertime than it is in Spokane. Bring plenty of drinking water.
Being in the foothills of the Rockies, Spokane has excellent skiing in the wintertime, including cross-country. Forty-five minutes (by car) north of city lies the closest local ski area; Mt. Spokane Ski Resort
Even if you don't ski, Mt. Spokane State Park, has camping and daytime recreation. In the Selkirk Mountains, at the top of the 5,883-foot summit there are great views as far as Canada. US Hwy 2 north to Mt. Spokane Park Dr. (Hwy 206), then 19 miles east. (Don't use Day Mt. Spokane Road, as this goes into the backcountry.) Entry to Mt. Spokane requires a Washington State Parks Discover Pass (including the privately run ski resort.)
Also, 40 minutes east of downtown is the lakefront tourist town of Coeur d'Alene, Idaho. It's also known for its quaint downtown.
Fairchild AFB, just west of Spokane International Airport on US Highway 2 (only for special events open to the public; otherwise a current Department of Defense ID card is required)
Grand Coulee Dam About from Spokane, the largest electric power-producing facility in the U.S., and one of the largest concrete structures in the world. A laser light show is sometimes held after dark on summer nights (check schedule).
Walla Walla It has been known for its funny name and famous sweet onions. Traditional crops have been replaced by the vineyards of over 100 area wineries. Due to the distance (157 mi/256 km) and large number (for its size) of hotels and Bed and Breakfasts, many visitors stay overnight. If too pricey, accommodation in Pendleton, Oregon is much cheaper.