Spoleto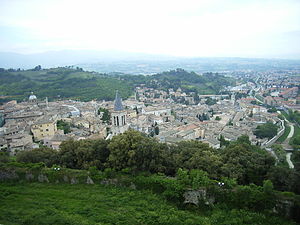 Spoleto
is a city in the
Umbria
region of
Italy
.
Understand
Spoleto is a small but lovely city with an ancient past. Its importance during Roman times is shown by the ruins of the Roman theatre its citizens used to patronize. Today, as in times long past, Romans come to Spoleto in the summertime for a relaxing vacation, and the city is also known for the Festivale dei Due Mondi, a music festival that is internationally renowned.

Get in
There is a train station in the city which offers direct connections to Rome. Bus service to various locations is also available. For those driving into town, Umbria has a very good and well-maintained road system.

Get around
Spoleto is a small town in area, so you are best off walking, though it is possible to drive or take taxis.

See
The Duomo, a beautiful Romanesque building that was completed in the early 13th century.
The Roman ruins and Archeological Museum
The first-century Roman Villa
Ponte delle Torre - old aqueduct and footpath behind the fort at the top of the city.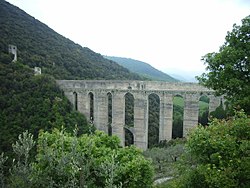 Do
Spoleto is a
UNESCO Lombard Site
and well known for its music festivals, especially the Festivale dei Due Mondi in the summertime.
Otherwise, it is a very peaceful and pleasant place to walk around, and you can use Spoleto as a base to drive through beautiful Umbrian countryside and mountains and visit other Umbrian cities.
Buy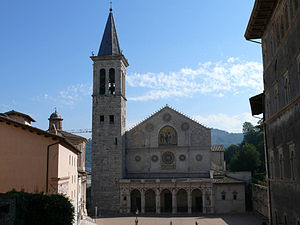 Eat
Umbria is known for its mushrooms and black truffles, and also for its wild game, so if you see primi piatti of pasta dishes with some kind of fungus and secondi piatti of game such as cinghiale (wild boar), order them.

Drink
Umbria is a land of rolling hills and has its own wine industry. There are also some very good mineral waters drawn from its mountain springs.

Sleep
phone: +39 074 391204

address: S. Maria di Costantinopoli - Cap: 06040, Cerreto di Spoleto (PG)

Former convent turned into an elegant four star hotel in the countryside around Spoleto. Swimming pool, tennis court, restaurant, bar and park. Plus a large selection of bedrooms and suites, with large seating area and bathroom. The price for a double room is 120 euros.
Go next