Spratly Islands
The
Spratly Islands
are a collection of more than 100 small islands and reefs in the South China Sea, claimed in full or in part by several governments in the region.
Understand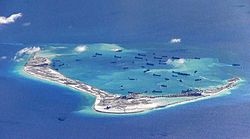 This tropical archipelago is surrounded by rich fishing grounds and potentially by gas and oil deposits, and strategically located near several primary shipping lanes in the central South China Sea.
There are only 4 km² of land, but there are six countries with territorial claims. It is claimed in its entirety by
China
,
Taiwan
and
Vietnam
, while portions are claimed by
Malaysia
and the
Philippines
. 45 of them are claimed and occupied by one of these parties.
Brunei
claims exclusive economic rights encompassing one of the islands.
Get in
The vast majority of the Spratlys are either uninhabited, military bases, or otherwise off limits to casual visitors. However, a few have small civilian communities and can be visited by determined travellers.
By plane
Layang Layang
(Swallow Reef), controlled by Malaysia, is the only island in the Spratlys with regular flights. A popular dive resort, it can be accessed via
Kota Kinabalu
.
There are a handful of unpaved airstrips among the other islands.
By boat
Pagasa
(Philippines) and
Itu Aba
(Taiwan) are accessible on irregular cargo services from their respective mother countries.
See and do
Buy

The economic value of the islands is the waters for fishing, and the suspected presence of underwater petroleum reserves. There is virtually no economic activity taking place on the islands themselves.