Springdale (Utah)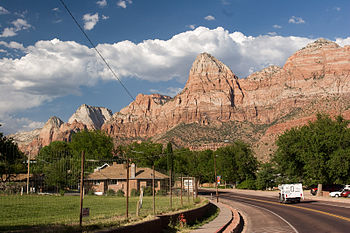 Springdale
is a town in the
Dixie
region of
Utah
, just outside of the southwest entrance to
Zion National Park
.
Get in
The nearest major airport is in
Las Vegas
, 150 miles away. There is a municipal airport in St. George (45 minutes from Springdale), with flights arriving from major cities such as Salt Lake City. There is no public transportation into town, so driving is your only real option. Most people get here by taking Utah State Road 9 off I-15 north of
St. George
, and following the road east through the town of Hurricane. You can also get here from the east by taking US Route 89 and turning west onto State Road 9, taking you through Zion on the Zion-Mount Carmel Tunnel into Zion Canyon and Springdale.
Get around
This is pretty much a one-street town; just about everything in Springdale is aligned along the main street, UT-9. Everything is fairly close together, often making it pretty easy to walk around town. Bicycling is also a good way to get around town or into Zion.

By shuttle
As part of Zion National Park's free shuttle system, Springdale has a route running through the town April–October. Parking at the Visitor Center in Zion often fills up, so if you're spending the night in Springdale you would do good to leave the car at the hotel and take the shuttle into the park.
The route has 9 stops, with three of those available only on request (or when people are waiting): Majestic View, Silver Bear (request only), Driftwood / Quality Inn, Bit & Spur / Zion Park Inn, Pizza & Noodle / Bumbleberry / Zions Bank, Canyon Ranch / Desert Pearl / Post Office (request only), Flanigans / Zion Canyon Clothing, Cliffrose (request only), and the Zion Canyon Theater. The last stop is within easy walking distance of the Park Entrance and the Zion Visitor Center.
In spring and fall, the shuttle runs from 6:30AM until 10:15PM, with 10-15 minute frequency. In the summer (mid-May to early September), the shuttle runs from 5:30AM until 11:15PM, with 10-15 minute frequency, and 20 or 30 minute frequency in the very early morning and late evening.

See and do
There are a number of guide/outfitter places in town. Two are located in the Zion Outdoor Center, 868 Zion Park Blvd (a mile from the park entrance): Zion Outdoor, +1 435 772-0630, and , +1 435 772-0400. Also in town is Zion Adventure Company, 36 Lion Blvd (next to Flanigan's Inn), +1 435 772-1001, and , 1458 Zion Blvd, +1 435 772-3303.
Buy
phone: +1 435 772-0277

address: 95 Zion Park Blvd

A full service supermarket with a deli and camping supplies.
Eat
In August 2015, the city finally gave up on defending its 2006 ordinance against formula and chain restaurants (it became too expensive to defend in the courts). You're bound to see chain restaurants springing up in the city. The ordinance was meant to keep the dining options unique and special in this city that sits just outside of Zion National Park (they wanted to avoid becoming similar to West Yellowstone). Think about patronizing a local restaurant before going to a chain restaurant in Springdale.
Drink
Best Western Zion Park Inn

address: 1215 Zion Park Blvd

Maintains a Utah state liquor store.
Sleep
Go next
Zion National Park - obviously, this is the main reason most people come to Springdale in the first place
Grafton ghost town - just south and west of the village of Rockville, between Springdale and Hurricane
Hurricane - about 25 miles west on UT-9.
St. George - about 45 miles west of town.