Springfield (Illinois)
Springfield
is a city located in the center of the state of
Illinois
,
USA
. It is the capital of Illinois, not
Chicago
(as to avoid the Windy City from having too much clout in the state) as well as the county seat of
Sangamon County
. Springfield is best known for its most famous resident, Abraham Lincoln, and the several historic sites related to him.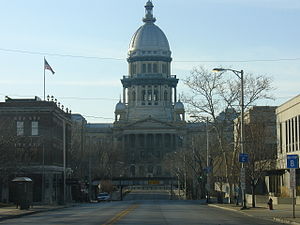 Get in
By car
I-55
approaches from the north and south.
US-36
and
I-72
approach from the east and west. Downtown has readily available curbside metered parking as well as an underground garage beneath the Old State Capital. Most attractions have ample parking in adjacent lots or garages.
By plane
Abraham Lincoln Capital Airport (SPI)
phone: +1 217 788-1060
address: 1200 Capital Airport Dr
The airport is located on the northwest side of the city. There are regular flights to and from Chicago
O'Hare International Airport
into Springfield. From the airport, you will need to rent a car or take a taxi to get into the city. Many of the hotels also have courtesy shuttles. There is no bus service available.
By train
Amtrak
has five daily trains from
Chicago
via
Bloomington-Normal
and
Joliet
with its
Lincoln Service
. Additionally, the once-daily
Texas Eagle
between Chicago and
San Antonio
,
Texas
(with carriages continuing to
Los Angeles
three times a week) stops here. is centrally located at 100 North 3rd St and is within walking distance of downtown and several local bus routes. Taxi service is usually available outside the station.
By bus
phone: +1 217 528-1569
address: 2815 N Dirksen Pkwy
The bus station is located on the northeast side of town, operating out of Shaner's Towing, which includes a bus ticket office that operates the same hours as the bus stop.; Local SMTD bus route 16 - Bergen Park / Sandhill services the bus stop in front of Shaner's and gets downtown in about 30 minutes, operating from 6:15AM to 5:45PM. The night service route 901 bus makes hourly trips from 7:15PM to 10:15PM but the closest stop is at the southwest corner of the Walmart building which is about a half-mile southeast from Shaner's. Something to keep in mind if you're getting into town late and have a lot of luggage to haul around. Other options would be a taxi or Uber.
Get around
phone: +1 217 522-5531
address: 928 S Ninth St
The Sangamon Mass Transit District operates local mass transit as well as a paratransit service, Access Sangamon, six days per week, Monday-Saturday, except major holidays. 17 fixed routes cover the city in the daytime. After 6PM, night service routes 901-905 cover the city on an hourly basis but night service only operates Monday-Friday. Each bus is equipped with a bike rack that can hold up to 2 bikes.
Due to ongoing state budget uncertainty the district has had to enact some cuts to night service (all schedules will end an hour earlier, no night service on Saturdays, and route 904 is cut entirely) and could see more cuts in the future so refer to the website for any sudden developments.
Fare is $1.25 and includes a free transfer that you should request from the driver when boarding. Daytime buses all meet at the downtown on-street transfer center located at 5th Street & Capitol Avenue, while night service buses meet on the north side of the Old State Capitol on Washington Street between 5th Street and 6th Street.
The website has online schedules for each route. SMTD also provides their schedule data to a number of web/mobile apps including Google Maps, Bing Maps, Moovit, and TripGo which can be used to plan trips. Note that SMTD does not provide real-time information.
See
Do
Learn
The University of Illinois Springfield (UIS) is the newest of the University of Illinois's three campuses. Founded in 1970 as Sangamon State University, the University of Illinois Springfield claims a student body of 5,000 and a vibrant, modern prairie-style campus.
Buy
phone: +1 217 522-5122

address: 625 E Adams St

One of the largest independent record stores in the nation including a huge selection of new and vinyl. Also a buy/sell store dealing in DVD's, Cd's, stereo equipment and more! A must see in the downtown area.

Prairie Archives

phone: +1 217 522-9742

address: 522 E Adams St

Friendly used bookseller with an extensive, widely-varied inventory. Abraham Lincoln and the Civil War are specialties of the shop. You can get lost for hours here.

Pease's CandyA local candymaker still run by the original family now in its fifth generation. Chocolates, caramel, fudge, nuts, hard candy, etc.
phone: +1 217 523-3721

address: State and Laurel

phone: +1 217 793-9868

address: Parkway Pointe Shopping Center

phone: +1 217 528-2810

address: Sangamon Center North
phone: +1 217 787-2996

address: 2901 S MacArthur Blvd

Rock T-shirts, posters, mirrors, candles, incense, smoking supplies, crystals, adult toys, figurines.
Ergadoo

phone: +1 217 544-9466

address: 1320 S State St

Educational toy store and teacher's supply. Lots of clever games and imaginative toys. Also children's art supplies.
Southern Illinois University School of Medicine

phone: +1 217-545-8000

address: 801 North Rutledge

This school, founded in the 1970s and affiliated with Memorial Medical Center and St. John's Hospital, has as its mission to provide doctors for central and southern Illinois.
phone: +1 217 787-0110
address: 2501 Wabash Ave
Eat
One of the legendary food items that is part of the heritage of Springfield is the horseshoe sandwich. The horseshoe sandwich originated in Springfield, Illinois sometime in the early 20th century at the Leland Hotel. You can get horseshoe sandwiches at most Springfield restaurants, at some restaurants in central Illinois, and at a few restaurants in other parts of the state. Horseshoes are not generally served outside of Illinois.
A traditional horseshoe is two hamburgers each on a piece of toast with fries and cheese sauce over the top. Variations now include broiled(or deep fried) tenderloins, shaved ham, shaved chicken and even vegetarian variations. A pony shoe is half a horseshoe - a sufficient quantity for most people.
Budget
Charlie Parker's

phone: +1 217 241-2104

address: 700 North St

Extra tasty American diner food served in a quonset hut decorated with rock-n-roll memorabilia.

phone: +1 217 525-1992

address: 2935 S 6th St

One of the original restaurants on historic Route 66. Their specialty is the Cozy Dog, a cornbread-encased wiener known elsewhere as a corn dog.

Feed Store

phone: +1 217 528-3355

address: 516 E Adams St

Known for their large selection of soups made fresh daily. Also serving sandwiches, salads and desserts.

Head West Sub StopTasty submarine sandwiches and a jam-band soundtrack. These hippies can make a great sandwich.
phone: +1 217 793-9101

address: 1124 W Jefferson St

phone: +1 217 789-9101

address: 530 E Capitol St

phone: +1 217 726-9202

address: 3311 Robbins Rd
phone: +1 217 523-4989

address: 820 S 9th St

One of the classic Springfield chili parlors. It was formerly known as Joe Roger's Chili and still uses the same chili recipe. Their chili is mixed to order with or without beans, with or without meat and available with six different levels of spiciness. Eat a bowl of the hottest style, the JR Special, and get your name on the wall. Yes, in Springfield it is proper to spell it with only one "l".
Maid-Rite Sandwich Shop

phone: +1 217 523-0723

address: 118 N Pasfield St

Classic fast food restaurant serving distinctive loose meat sandwiches of spiced ground beef. Claims to have the first drive-thru window in the country.
Vic's Pizza

phone: +1 217 522-2464

address: 2025 N Peoria Rd

Thin crust pizza and a few basic pasta dishes.
Mid-range
Splurge
Fritz's Wagon wheel

phone: +1 217 546-9888

address: 2709 S MacArthur Blvd

American style supper club serving steaks, seafood, ribs, etc.

Gateway to India

phone: +1 217 726-6890

address: 3115 Chatham Rd

Indian Cuisine. The lunch buffet is tasty and economical.

phone: +1 217 522-4313

address: 222 S Sixth St

Landmark fine dining (since 1884) convenient to many of the historic sites. Menu emphasizes local and organically grown foods. Seasonal al fresco dining available. Lunch is a particularly good value with a special menu of soups, salads and sandwiches. Reservations recommended for dinner.

Old Luxembourg Inn

phone: +1 217 528-0503

address: 1900 S 15th St

Family owned steak house popular with locals and visiting politicians. In the 60+ years this restaurant has been open, the surrounding neighborhood has had ups and downs, but the Old Lux has remained consistently good.
Drink
Sleep
phone: +1 217 787-2250

address: 3442 Freedom Dr

phone: +1 217 753-4000

address: 2620 S Dirksen Pkwy

Featuring 91 double and king suites each with distinct sleeping and work/leisure areas.

phone: +1 217 718-6842

address: 2636 Sunrise Dr

The State House Inn a Clarion Collection Hotel

phone: +1 217 528-5100

address: 101 E Adams

A hotel rich in history as well as a signature style and modern technology.

phone: +1 217 787-6200

address: 3470 Freedom Dr

phone: +1 217 632-0128

In nearby Petersburg by Abraham Lincoln's New Salem Village.

Abraham Lincoln International Hostel

phone: +1 217 522-8828

address: 421 E Jackson

Wyndham Springfield City Centre

phone: +1 217 789-1530

address: 700 E Adams St

Located in downtown Springfield, the hotel is thirty stories tall. The cylinder-shaped black and white building is the tallest in Springfield.

phone: +1 217 529-7777

address: 3000 S Dirksen Pkwy
Stay safe

The city has seen a dramatic rise in panhandlers in the downtown area, especially near bars. Most are harmless but be cautious. Otherwise use common sense. Don't wander down dark alleys or leave valuables clearly visible in a parked vehicle and you should be fine.

Connect
Internet

The city provides a free wifi service, "SpringfieldFreeWifi," for the downtown area from Second to Ninth streets and East Jefferson Street to East Capitol Avenue.

Go next