Springfield (Missouri)
Springfield
is the third largest city in the state of
Missouri
, with a population of more than 150,000 and metro area of more than 400,000. It is also known as the Queen City of the Ozarks, and the birthplace of
Route 66
. Though located on a flat plateau, the more picturesque
Ozarks
are just southeast of the city.
Understand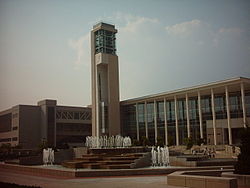 The
Springfield Missouri Convention & Visitors Bureau
is your official information source.
Climate
The city lies within the boundaries of the humid subtropical region as defined by the Köppen climate classification system. As such it experiences times of exceptional humidity; especially in late summer. According to Forbes magazine's list of "America's Wildest Weather Cities" and the Weather Variety Index, Springfield is the city with the most varied weather in the United States.
Get in
By plane
By car
Springfield runs along Interstate 44 in southwest Missouri which runs from St. Louis through Springfield on to Tulsa. US Routes 60, 65, and 160 all run thru town too. Missouri Highway 13 is another main road.
By bus
Greyhound has regular service running up and down I44. Buses typically transfer in Tulsa for onward service to Dallas & Austin.
By taxi
Yellow Taxi is the primary taxi service in Springfield though others do exist.
Get around
Just about everyone drives, but because Springfield is so flat bicycling is another good option.
Districts
Downtown A busy professional atmosphere by day and vibrant nightlife to follow. This area is an entertainment hub. Coffeehouses, theaters, bars, restaurants, shops, parks, fountains, and nightclubs are abundant. Stop by the Square and see the location where Wild Bill Hickok shot Dave Tutt.
Commercial Street -- This Historic District features coffee houses, thrift stores and newly renovated loft space. Many regard this area of town as the most interesting up-and-coming area of town. Stop in at Lindberg's for a beer.
MSU campus -- not the most bohemian college in the country, yet the area has a youthful energy and vitality to it.
See
phone: +1 417 833-2010

address: 4872 N Farm Rd 125

Springfield's most popular attraction is the only cave in which you ride in a tour vehicle, rather than walk.
Springfield Nature Center has well maintained biking and hiking trails through the bluffs and along the shore of Lake Springfield.

Bass Pro Shops Outdoor WorldThe first and largest Bass Pro store in America

phone: +1 417 864-1800

address: 3043 North Fort

Is home to 450 animals representing 160 species. It is located northeast of the intersection of I-44 and Missouri Hwy. 13.

Wilson's Creek National Battlefield

phone: +1 417 732-2662 ext 227

address: Battlefield, MO

Wilson's Creek was the first major Civil War battle fought west of the Mississippi River. The bloody Southern victory on August 10, 1861, focused greater national attention on the war in Missouri. The nearly pristine landscape allows visitors to experience one of the best-preserved battlefields in the nation. A 4.9 mile paved tour road provides a self-guided auto tour. There are eight interpretive stops at significant battle-related locations. There are five walking trails off the tour road, varying in length from 1/4 to 3/4 of a mile. A seven mile trail system for horseback riding and hiking is accessible from the tour road.
Do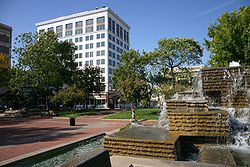 Discovery CenterThis is one of Springfield's greatest attributes. Great for kids and adults. The newest building even has a place where your can bicycle across a tightrope. This is also Springfield's first "green" building.

Moxie Cinema - Springfield's only independent movie theater. They show first-run documentaries, foreign films, and other independents that typically don't make it to smaller markets such as Springfield. They serve beer and wine as well.

Springfield Cardinals Baseball

phone: +1 417 863-0395

address: 955 East Trafficway

The Springfield Cardinals, a AA minor league baseball team, plays at Hammons Field in downtown Springfield.

phone: +1 417 831-3665

address: 400 East Walnut Street

A vintage video arcade containing many classic games from the 1970s and 1980s, including Asteroids, Deluxe Asteroids, Gravitar, Tempest, BattleZone, Space Invaders, Ms. Pac Man, Centipede, Tron, Pole Position, Vindicators, P.O.W.s, Golden Axe, and even Pong. Single admission price at the door grants unlimited play for as long as the arcade is open.

Hollywood Theaters

address: 415 W. College St.

Offers most of the latest movies released.

Alamo Drafthouse

address: 4005 South Ave

Has most of the latest movie releases, as well as a large selection of food and drinks.

Springfield 8With all the latest movies it is located near Battlefield and hwy. 65.

Mediacom Ice Park

address: 1649 South Enterprise

While not a full spa, Back Rubbzz offers relaxation and therapeutic massages at reasonable rates. Their staff is friendly and personable, and the atmosphere is relaxing. First time clients are eligible for a "Welcome Massage", 60 minutes for just $39.95.
Buy
There are many shopping centers located throughout the city with everything from
Best Buy
to
Shoe Carnival
to
Marshall's
.
address: 1935 S. Campbell

Can be a pleasant place to stroll around and look at the different wildlife exhibits. Occasionally has very good deals on closeout items.

phone: +1 417 883-4111

JCPenney, Macy's, Dillards, Sears, and many more.
In 2009 plans became public of a new upscale shopping area to be built near the intersection of highway 65 and 60. The area when completed would have more than 500 acres of shopping, restaurants, lodging, and office complexes. If the plans follow through construction would not begin until 2012.

address: 4140 South National

Great used book store if you are looking to buy, sell, or trade Christian-themed material. Largest selection of used homeschool products in the area. For those not looking for Christian-themed books or music, they also offer one of the best collections of classic literature and philosophy of the second-hand shops in town. Books are priced half of retail (exception for collectibles or antiques), and they offer 50% of their price for trade or 25% for cash. They also have a 40% off sale in February and August.

address: 2252 South Campbell

Great store with a wide selection of used books in many categories. Excellent science fiction, mystery, and classic literature section, as well a well-stocked section for post-modern lit. Well organized and friendly staff. The carry a limited selection of new books.
Eat
Missouri does not have statewide legislation banning cigarette smoking in restaurants. However, the Springfield City Council has banned smoking in all restaurants inside city limits.
A popular local dish is "cashew chicken", a pseudo-Chinese dish found at all Chinese restaurants in Springfield. The dish is fried chicken pieces served on fried rice and covered with an oyster sauce. The dish is then garnished with green onions and cashews. Chinese restaurants are quite plentiful in Springfield because of the popularity of the dish. (However, most southwest Missouri Chinese restaurants' cuisine has been adapted to the Ozarkian palate, featuring sweeter, thicker sauces than west coast Chinese restaurants. Natives of the west coast, or of China itself, may be in for a rude awakening.) If you want local food there are several restaurants.
Mexican VillaSome believe it is the best Mexican food in town (others thinks its the worst). The burrito enchilada style (the house specialty), tortillas, and hot sauce are all highly recommended. They have a very popular sweet salsa that is oddly good. Tastes a lot like a thinned out Chinese duck sauce.

Anton's coffee shop, S Glenstone Ave, (417) 869-7681 937. Great omelets and good pancakes.

Tea Bar & Bites CafeOne of the most unique restaurants, serving fresh food with a Mediterranean twist. Great outdoor patio, too.

Gailey's Breakfast Cafe

address: 220 E Walnut St

Good specials and great fruit-yogurt-granola bowl.

MariasLittle pseudo Mexican cafe downtown. preppy drunk college atmosphere, but ok food.

Wellspring cafe

address: 424 W Page St

(open from 11-3 M-F) great vegetarian food; try the veggie Ruben and a cashew butter-carob chip cookie (maybe two).

Caspers

address: 601 W Walnut St

Has great chili but is only open from Labor day through Memorial day.
Crosstown BBQ, been here for 25 years+ and taste great with nice people.

J.Parrino'sThe one on Battlefield, try the Mediterranean Pasta or the Pork.

Cielito Lindo's, The closest thing to "real" Mexican food in Springfield. A great variety of food including everything from fajitas brought out in the skillet to massive taco dinners and fried ice cream in homemade spiced chocolate sauce.
Amigo's, authentic Mexican food - family owned and operated.
South Ave. Pizza Company, try the spinach-artichoke dip
Buckinghams, the loaded smoked sweet potato may change your life multiple locations

Thai PeppersIncredible Tom Yum Goon Soup

Gem of IndiaTheir tomato soup is great! that and its the ONLY taste of Indian cuisine for 100 miles.

Lambert's Café . A large comfort food restaurant in nearby Ozark where their locally famous rolls are thrown at your face instead of given to you. Somewhat pricy but an essential for first-time visitor's.
Hong Kong Inn . Springfield is famous for its cashew chicken, which is best at this small local chain.
W.F. Cody, try to eat it all
Gilardi's, good wine list, great eggplant pasta

HarrunoSushi and other Japanese food

Ocean ZenSeafood and they also have good steaks.

AvanzareHigher-end Italian food.

NakatoThe best hibachi in town

Andy's Frozen CustardA place to go after dinner for a treat and sit on the curb and relax. Some of the best frozen treats you will ever eat.

Incredible Pizza CompanyFull service buffet, movies, and games

phone: +1 417 522-1144

address: 901 E St Louis St

Available to rent for meetings, weddings, reunions and any other special event needs you may have. It boasts spectacular panoramic views of Springfield.
Drink
If you are looking for good cup of coffee, the Mudhouse would make a great choice. It has a great selection of both hot and frozen drinks and has monthly art exhibits. It is downtown on South street one block south of the square. You will find that a lot of college kids hang out there (many of them with laptops due to the free wifi access), but it has a quiet atmosphere nonetheless. A good place to get a cup of coffee, read a book, or find an interesting person to talk to.
There is also a few chain smoothie stores around town.
Dive Bars: the downtown area still has some funky dive bars despite the ongoing gentrification of the area. Expect cheap beers and girls of dubious repute.
The Springfield Brewing CoA pretty good local microbrewery located downtown. In addition to various ales and lagers they have decent pub food. Hosts bands oftentimes at night.

MudhouseDowntown coffee shop

The Coffee EthicDowntown coffee shop.

address: 1945 South Glenstone

Coffee shop a few blocks north of Battlefield Mall on Glenstone. Features a wide variety of hot and cold drinks as well as smoothies and pasties. They have a drive-thru for those in a hurry. They also sell coffee by the pound. Only negative is that the shop is small so seating is limited.

Bijans

address: 209 E Walnut St

Great sea bass, steak and tuna. Great wine list and one of the coolest places to eat with great ambiance and decor. Great bar as well

Pappy's Place

address: 943 N. Main St.

Pappy's Place is bbq bar and grill that oozes local flavor. It's been in business since 1971. Look for the Welsh rugby jerseys on the walls along with other historic memorabilia, but it is a dark shotgun bar. Good food and low prices.

TossAcross

address: Pershing St

A downtown eatery specializing in fresh chopped salads, and west coast style fruit smoothies.

The Potter's House

address: 724 S. National

The Potter's House serves a variety of coffee drinks, smoothies, and teas. They also feature homemade cookies and brownies. In December 2011, it was voted Ultimate Coffeehouse in Springfield by MSU students. Comfortable place to meet friends, drink coffee, and play games.
Sleep
Most of the city's more affordable motels and hotels are located near the intersection of Glenstone and Kearney not far from the I44 exit. There is also many chain hotels and motels throughout the city
University Plaza Hotel & Convention Center

phone: +1 417 864-7333

address: 333 S. John Q. Hammons Pkwy

Accommodations, Restaurant and Lounge, conference center, fitness center, indoor and outdoor pools.

address: 900 E. Walnut
Go next