Srinagar
Srinagar
in the
Kashmir Valley
is the summer capital of the Indian state of
Jammu and Kashmir
and the largest city in the
Kashmir
region.
Understand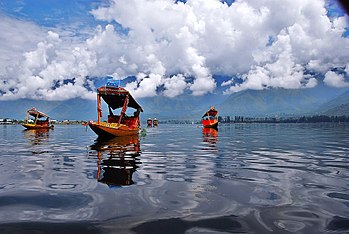 The city has become safer to travel to since 2003; however, police/army presence is still heavy. Many buildings of value will also have a sandbag bunker and razor wire for protection. If arriving from the airport, you will also notice hundreds of large, Western-style houses. These were built before the current conflict when domestic travel to Kashmir was booming. Most of these houses are empty, being squatted in or have been usurped for military use.
Climate
Most people visit the city in the summer months. The temperature at this time is cool to pleasant. Light sweaters may be needed for occasional cool nights in the summertime. In winter, you will need full winter gear and expect snow and few places to have hot water.
Get in
Many people take the train to
Jammu
followed by a taxi or bus ride to Srinagar. The journey from Jammu to Srinagar is costlier in the summers because the capital is being shifted from Jammu to Srinagar on both the state buses and Sumos. State buses are safer but take more time and are a bit uncomfortable.
Foreigners are required to register upon arrival at the airport or at their hotel or houseboat.
By plane
Sheikh ul Alam AirportIt is an international airport
International, domestic and seasonal Hajj pilgrimage charters to Jeddah are operated from Sheikh ul Alam airport.
Flights are operated by SpiceJet, Go Air and
Air India
from
Delhi
and
Mumbai
to Srinagar, with or without a stopover at
Jammu
. The frequency is once or twice a day by each airline. The cost is approx ₹2,500 from Jammu, ₹ 2,500-5,000 from Delhi one way and higher from Mumbai, depending on the different season.
The airport is still heavily patrolled and you may see many soldiers or other armed security detachments. Winter flights can easily be canceled due to weather conditions. Tickets are easy to purchase in the city. The airport requires a ticket for entrance. A taxi into Srinagar town should be ₹ 720 (as in August 2017) and direct to
Gulmarg
is ₹1,500-2,000. There is a mini bus from airport to TRC (Tourist Reception Centre). It costs ₹ 70. TRC is 1 km to the Dal lake. The mini-bus is dirty and fly-infested.
When departing Srinagar by air, make sure you have a printed copy of your ticket at hand, otherwise you will not be able to enter the airport. Additionally, allow approximately one hour to get from Srinagar to the airport. Security checks can cause traffic to bank up if there are a few flights leaving at around the same time.
By taxi
Hiring a TATA Sumo SUV (fits up to 9 people, or 5 comfortably plus luggage) from
Jammu
costs approximately ₹1,900-2,700 depending on time of year or even time of day. To reduce costs many people choose not to take an exclusive taxi, and share the Sumo taxi with others. This costs about ₹300-400 per person. For a comfortable trip, try for a seat in the middle row - the front bucket seat is (sometimes uncomfortably) shared by 2 people, and the far back could be quite bumpy as the highway is full of mountainous roads. The journey takes around 8 hour.
By bus
J&K State Road Transport Corporation (J&KSRTC) operates fairly comfortable buses from
Jammu
costing around ₹350 and do the journey in around 12 hr. 2-day buses run between Srinagar and
Leh
staying overnight in
Kargil
.
There are also direct buses from Delhi taking almost 24 hours to reach Srinagar.
By bicycle
Srinagar is about 80 km away from
Sonamarg
. If cycling to Sonamarg this is a reasonable day ride for a fit cyclist, and Sonamarg provides plenty of accommodation options. The ride from Sonamarg to Srinagar, being mostly downhill is an easy day. Riding on the East side of Dal Lake, is slightly less direct, but is low traffic, provides lovely views over the lake, is simple to find the way, and is highly recommended.
By rail
The rail line between Srinegar and Anantnag is now operating, and is useful for those travelling from Pahalgam/Aru
Get around

Auto-rickshaws can be found everywhere. Taxis and buses area also available. Motorcycles can also be rented for enthusiasts.
Negotiate a price with a rickshaw driver before getting in; they are notorious for overcharging and generally being dishonest. Their usual ploy is: "no problem" or "up to you". As soon as you reach your destination they will have a volte-face! Drivers usually don't speak English but there will always be a passer-by to help translate for you.
A rickshaw from Nigeen Lake to Boulevard is approximately​ ₹70 depending on negotiation skills (August 2009).
Usually private service buses run throughout the city and are well networked with major tourist spots.

See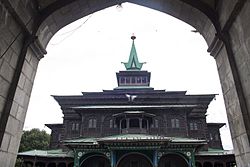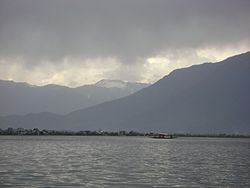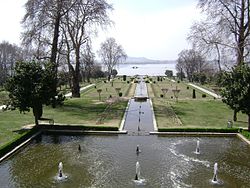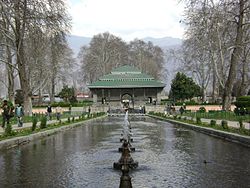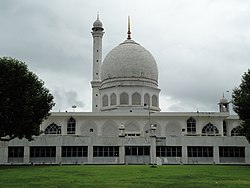 Hazratbal MosqueThe white mosque is breathtakingly beautiful. Women may enter only the first part of the mosque. Take a walk through the adjacent market area with a range of great fresh food and a thousand things deep fried.

Mughal Gardens. With terraced lawns, cascading fountains, paint-box-bright flowerbeds with the panorama of the Dal in front of them: the three Mughal Gardens of Chesmashahi, Nishat and Shalimar are the Mughal Emperors' concept of paradise and are today very popular places for picnics and excursions. The beauty of these gardens is at their best during spring but the Mughal structure of these gardens lends them a unique sense of beauty even when the flowers are not blossoming.
Chashme Shahi GardenA beautiful garden.

Nishat BaghOn the banks of Dal Lake, with the Zabarwan Mountains as its backdrop (11 km from TRC), this 'garden of bliss' commands a magnificent view of the lake and the snow-capped Pir Panjal mountain range which stands far away to the west of the valley. Nishat was designed in 1633 AD by Asaf Khan, brother of Nur Jehan.

Shalimar BaghBuilt by Emperor Jahangir in front of the Dal lake.
Nehru Garden

address: off Dal Gate

A well maintained park with lake by Dept of Floriculture with organised parking lot next to the park. The park occupies a large area and has a beverage shop run by the J&K Tourism department. They serve hot and flavoured "Kahva", a traditional drink of Kashmir. A cup costs ₹25. The nearby Tulip Park only has seasonal access. There is adequate parking adjacent to the park.
Pari MahalDon't miss the breathtaking views of the city from here.
Parihaspora

address: Dewar

Visit the ruins located on the outskirts of Srinagar on way to Gulmarg. See the palaces of Kashmir's Buddhist and Hindu rulers and Buddhist places of worship.
Shankaracharya MandirA Hindu temple dedicated to Lord Shiva on a hilltop. It can be reached by car or taxi or auto rickshaw. You can walk too. It is a 5 km walk from the entrance of the hill. No cameras or mobiles phones are allowed within the temple and you are supposed to leave them in the vehicle before entering the temple premises. The army checkpoint can also keep your camera and mobilesphones. Cigarettes and alcoholic drinks should be deposited with the police before the ascent of the hill, as these items are against Hindu religion. Locals from Dal Gate say there are 250 steps to reach the temple. The temple is visible from Dal Lake Area.
Sunrise at Dal LakeThe early sunrise at 06:30 offers the real glimpse of Kashmiri beauty. Though intense cold will make you bit lazy, the beauty offered by sun and Lake is enough to get you out of the sleep.
Tomb of the Mother of Zain-ul-AbidinHidden in the streets between river and Zainda Kadal, this extraordinary brick mausoleum marks the final resting place of Sultan Sikande's wife.
Ziarati Hazrati Youza AsouphIn the Khanyar area, about 150 m NW of Dastgir Saheb mosque & shrine. This tomb, also known as Roza Bal, is believed by some to be the tomb of Jesus (part of the larger theory that he survived the crucifixion and made his way to Kashmir where he lived until at least the age of 100). It has been made popular by recent books such as Jesus Lived in India by Holger Kersten among others. It's down a little side road - ask around, pretty much anyone in the area can point you in the right direction. It was closed in September 2011 and sealed, photography and videography are not permitted.
Do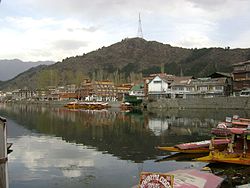 All the hotels organize excursions (1, 2, 4 days) to see the Himalayan mountains. Beside that package tours by JKTDC can be a good option. Using an honest guide or fixer can potentially save you money on goods and accommodation.
Go for a Shikara ride in the Dal lake which costs around ₹150 (off season) - ₹500 (peak season) for the whole Shikara. For better views and a more peaceful ride in an area devoid of other tourists, walk up a fair bit of distance till you can see the fountain and ask the Shikara rider to take you for a ride to the fountain. It costs ₹300 (off season) to ₹600 (peak season). Make sure you bargain a little, especially in off season. If you are staying longer, you could go on shikara rides more than once... each time to a different part of the lake. A must see is the "village" in the lake. Ask for a ride to the side where locals live and see the floating vegetable market. The market is usually operational only at sunrise and is easiest organised through an agent or your hotel/houseboat.
Buy
One important point to note for tourists having passion for shopping is when you hire an auto rickshaw, please mention that you want to go to
Lal Chowk Ghantaghar
only for shopping, as most of the auto rickshaw drivers will insist that there is nothing in Lal Chowk, and you should go to the wholesale market instead. This is because the prices at the so-called wholesale market are very much inflated, as they pay at least 20% commission to those auto rickshaw drivers. Also, there are very few shops there. Do not fall into the trap of these cheating auto rickshaw pullers.
Chainstitch rugs There are rugs in two styles; English design or Kilim design. It will be evident what is meant when you see them.
Carpets.
Cashmere (Pashmina) shawls Have been manufactured in Kashmir for thousands of years. Pashmina Shawls are very popular items for sale in the Valley, but make sure to test the quality before purchasing. The test for a 100% pashmina has been warmth, feel and the passing of the shawl through a wedding ring. Costs on a true pashmina can vary wildly, but usually start around ₹8,000. Secondly, the weave pattern on a good Pashmina is fainter than on a "silk Pashmina" or other wool Pashmina. There is also lower grades of pashmina known as Semi-Pashmina (10-50% pashmina wool) and Half-Pashmina (50% pashmina wool) which are still of an exceptional quality but much lower price (₹1,000-3,000). Also check if they are machine woven or hand woven (look for irregularities in the wool to spot a hand woven), hand woven are stronger due to the density of the weave and cost more.
Government Emporia You can also buy embroidered felt mats called Namdahs but the colours of the wool may be a bit too bright in most shops. The Government Emporia supplies might be better than some the private shops.

Kashmir Shawl Museum

phone: +91 194 242 4891

address: 1st floor of the Auquaf Building at Dalgate at the end of The Boulevard in the centre of town

They will take you through in detail the types of pashminas you can buy (and how to test them) and are fantastic in that they don't negotiate but offer a set price.
Paper Machie products: Unique to Kashmir with colourful motifs and design on them. They are seen everywhere and resemble pottery in shape and design.
You can also buy leather products or special jewellery of Srinagar.
Eat
There are numerous bakeries in the city. Kashmiris are very fond of bakery products, especially pastries and cakes, and you can find these bakeries very crowded, especially around the times of major festivals. The more famous bakeries include:
Jee Enn Sons, Nallahmar Rd. Famous for its pastries, bread, bakery products, patties and themed cakes.
Mughal Darbar. Notable for sweets, cakes and pastries.
Shawl Bakery. Famous for its wedding cakes and boasts about its sweets and chocolates.
There are a number of restaurants and cafes in Srinagar. Most of the good ones are located in Lal chowk or on Boulevard along the banks of the Dal Lake. Most of the restaurants will serve Kashmiri, Indian, Mughlai and 'Indianized' Chinese dishes. Some pure veg restaurants are also located along Boulevard. Among the veg restaurants 'Krishna Dhaba' is the most popular for its Rajma-and-kheer.
Make sure you try dishes like
Rogan-gosht
(meat cooked in red sauce),
Gushtaba
(soft meat balls cooked in natural yoghurt),
Rishta
(soft meat balls in delicious sauce),
Tabakmaaz
(deep fried ribs of a lamb) and
Kanti
(small chunks of meat cooked with a lot of onions). All these meat items are usually eaten with rice.
Another popular local delicacy called
Seekh-tuji
consists of marinated meat pieces which are freshly barbecued and eaten with chutney. Most of these vendors are located in the Khayaam region of the city. This place is usually teeming with teenagers, especially in the evenings.
Enjoy the grilled mutton available in Srinagar. This is referred to as a "tilli" or "tekh" and mostly eaten by locals.
Drink
Kahwah is a traditional green tea recipe from Kashmir. The tea is made from green tea leaves with saffron strands, cinnamon bark and cardamom pods. Some varieties are made as a herbal infusion only, without the green tea leaves. Generally, it is served with sugar or honey, and crushed nuts, usually almonds or walnuts. There is another form of tea that is quite famous amongst the locals, its called 'namkeen chai' or 'nun chai'. It is pink in colour and is also called pink tea. It is made from black tea, cardamom, various spices, salt and bicarbonate of soda. Also people like nune toath and dum toath which are very famous among Sufis. Nunetoath is nunechai without milk and dumtoath is strong form of kahwa.
If searching for a beer or other drink there is a small bottle shop on the Boulevard. It's at the base of a hotel about halfway up the street and looks like a mini-Fort Knox. Ask people on the street and they'll point you in the right direction.
There

phone: +91 195 4254527

address: Alpine Ridge Hotel

Inside the Alpine Ridge hotel. Western-style food and alcohol in a relaxed environment, with indie music and an fusion of local Kashmiri craft and Scandinavian woodwork in the decor. Après-ski option on the mountain. Open from 10:00 for the ski season, Dec-March.
Sleep
Since the conflict in Kashmir hundreds of hotels and houseboats lie empty, check in person if the hotel/houseboat still looks as nice as when they put pictures online- and that advertised services are still available as many have stopped paying for example for wifi. The upside is that the prices of accommodation have plummeted, owners will optimistically demand full rates but can be talked right down; the phrase "how many guests do you have now" saves a lot of time here.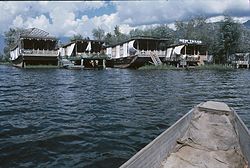 Srinagar is popular for its houseboats, which do not float free around the lake, but are anchored off-shore. It is a great and unique way to enjoy your stay in the city. Houseboats are accessible either by road, or by a short "Shikara" boat ride. Each houseboat usually has 2-5 bedrooms plus bath, dining room, living room, upper deck (good for sunbathing). Land access have the advantage of allowing you to leave if you feel uncomfortable, or just like going for a walk, although they tend to be noisier.
There are houseboats on Dal Lake and Nagin Lake. These can cost anything from ₹300 - ₹5,000 (October 2018) depending upon the time of the year. Houseboats on Nagin lake are upscale and more expensive but are much more beautiful, and the Nagin lake location is serene. Expect to pay up to ₹3,000 for a couple on the deluxe boats. Boats on the Jhelum river are cheaper yet, but still comfortable, and close to the bus station, good if you are just transiting Srinagar to or from
Ladakh
.
Be sure to take a 1-hour boat tour of the lake inlets to get a nice glimpse of life and wildlife along the lake. Prices are about ₹300-500 per trip. A few areas are geared up for attracting tourists, but most much of the area is still reasonably untouched.
There are a wide range of hotels around Dal Lake. Prices vary from ₹500-5,000.
Budget
The Shelter Group Houseboats Srinagar ph.no 0194 231093, starting prices ₹600-3000, is actually​ a 3-star deluxe property, but the rates are quite reasonable and can be an interesting choice for those planning to visit Kashmir, located near to main town away from the boulevard noise, and close to the Lal Chowk area. This property has good security and safety as compare to the other houseboats.
The Prince Group of Houseboats Srinagar Mobile no.09796336405 email:mtabardar@yahoo.co.in Starting price ₹800 to 2800. The boat is neat and clean, and food is prepared by family members. And free information about Kashmir by the owner.
Noor Guesthouse is a good budget option at the Old Market on Dal Gate, on the bottom of Dal Lake. Centrally located, rooms are either ₹250 a night (shared bath) or ₹600 a night (private bath), all with 24/7 hot water. There is a small garden, and the rooms are clean and neat. Look up "Noor Guest House" on Facebook, or email Mr Gulab at noorguesthouse@ymail.com
Lonely Guesthouse is a another option, with rooms that range from budget to mid range. It's a family-run guesthouse, the owner is helpful and accommodating. It's a little bit far from most main attractions in the city, near Mehjoor Bridge, Padshahi Bagh, K P Bagh. Abdul is the owner +91 97967 24217
Mid-range
Hotels
Blooming Dale Dalgate, near Dal Lake. A small place with a lush green lawn suitable for families and individuals. Typical kashmir hospitality.
Hotel Ishfan, Kohnkhan, Dalgate, Srinagar. Mid-range hotel with double room starting at ₹2,500. In off-season, rooms can even be bargained up to ₹400. The in-house restaurant serves North Indian food as well as chicken delicacies.

address: 45, Exchange Road, Regal Chowk, Srinagar

Centrally located hotel. Quiet with mountain views, 3 min drive from the Dal Lake and the local bus stand and 7 km from the airport.

phone: +91 194 2500115, +91 194 2502766, +91 9906519745 (Cellular), +91 9797961700

address: 172 Old Gagribal Road, Nehru Park

Chalet-style rooms. Eco friendly and commission free hotel.

phone: +91 194 2474814

address: Bishember Nagar, RIEC, Near Ikhwan Hotel
Houseboats
Butt's Clermont HouseboatsMoored on northwest edge of Dal Lake nearby to an old Mughal Garden believed to have been built by Emperor Akbar and called Garden of Breeze. Butt's houseboats have had some famous guests, including Ravi Shankar, Galbraith, Rockefeller and Yehudi Menuhin.

House Boat Taj Mahal

phone: +91 941 9061672, +91 941 9060091, +91 941 9062480271

Houseboat located offshore in the open area of Dal Lake gives a view of mountains and the life around the lake.

phone: +91 9797941033

address: Golden Dal Lake

New ShaheenA houseboat at Raj Bagh Ghat, is a luxury and economical and as well as serene for those who wish to stay in house boat yet far from noisy area. In off season you can bargain to ~₹600 for a double room with breakfast and dinner included.

Young BombayA houseboat in the middle of the Dal Lake, in the Golden Lake part (close to the Boulevard). Actually a complex of several boats of various classes, from deluxe to C, with varying classes. Spacious rooms with bathrooms, lake views, cable TV, internet, original Kashmiri cuisine and European food prepared by the owner's family. Advance reservations and airport or bus station pickups are available. Land line: +91 19 42 47 70 94
There are also some houseboats on quieter Nagin Lake.
Peacock HouseboatsThese houseboats are on Nagin Lake across from the Nagin Club. Made of cedar and furnished with antique wooden furniture. Carpeted sitting room and dining room. Bedrooms have western bathrooms attached. Cushioned veranda looks out over lake. Western breakfast and choice of Kashmiri, Indian or Western lunches/dinners are served by the houseboy. Can arrange tours.
Other houseboats can be found on Jahlul river near Information center and Bus station.
New LaLa Prince

phone: + 99 06 47 51 33

Houseboat owner Yousuf is a friendly and wise man who respects your freedom. Carpeted sitting room and dining room. Bedrooms have western bathrooms attached hot and cold running shower. Trekking and camping in Kashmir can be arranged. Prices are around ₹700-800 including breakfast and dinner.
Splurge
phone: +91 194 245 2538

address: 11, Maulana Azad Road

Located 13 km from the airport, Grand Mumtaz is equipped with more than 55 centrally air-conditioned and centrally heated rooms.

Hotel Broadway

phone: +91 194 245 9001

address: M. A. Road

The LaLiT Grand Palace Srinagar

phone: +91 194 250 1001

address: Gupkar Road

It is a twin storey heritage property with its spectacular lawns that overlooks charming Dal Lake and is situated on the foothills of Zabarwan mountain range.
Stay safe
The situation in Srinagar is extremely tense because of the ongoing dispute between India and Pakistan. You will see army trucks, soldiers along the street and Dal Lake Military presence, also seen at the Srinagar Airport. If you plan to travel to Srinagar, it is advisable to read your country's embassy or consular pages for emergency travel warnings or tips on staying alert.
It is recommended to travel in groups, and you have to be extra careful while in Srinagar. However, that doesn't mean you have to be under constant fear, or else you will not able to enjoy your tour and your visit will be almost futile.
At the Dal lake, the Shikara and houseboat touts are aggressive. If you do not take their offered service, some of them are likely to scold you. It is difficult to walk around the Dal Lake because of the constant harassment from the touts.
Do not be seen around the old city mosque after prayer call- it is well known as a hotbed of unrest, stone throwing is daily and it would be easy to be caught in the afray- photo taking is especially unwise.
The villages surrounding Srinagar are dangerous. Without the constant army presence, security here cannot be guaranteed and anti-army protests and road blockages are still common in 2018. It is better not to go here at all as there is little that cannot be seen elsewhere.
Terrorism has touched the whole population of Srinagar, and that includes those involved in the tourism industry- you may find your driver or hotel owner voicing support for terrorist organizations, if this happens just nod and smile; say you are only visiting and don't care much for politics. Similarly many involved in the tourism industry see it as their duty to try and convert tourists to Islam, this can involve uncomfortably pointed discussions in family homes, invitations to mosques, even visits to your guesthouse- but these are generally well meaning in nature if forceful.

Go next