Srirangapatna
Srirangapatna
, (also spelled
Srirangapattana
or
Shrirangapattana
and anglicized to
Seringapatam
during the British Raj) (Kannada: ಶ್ರೀರಂಗಪಟ್ಟಣ) is a town in
Mandya
District of
Karnataka
State in
India
. It is of great religious, cultural and historic importance.
Understand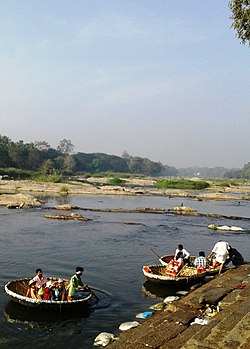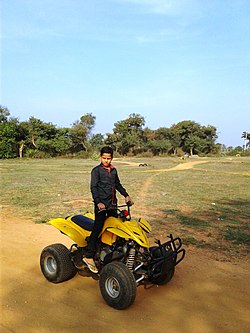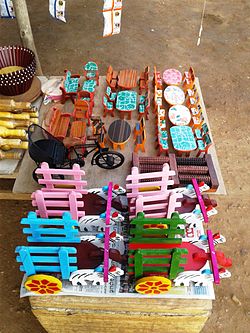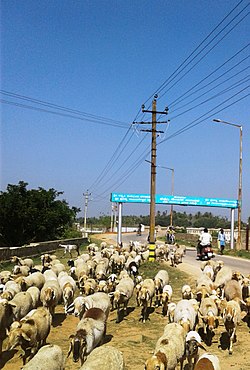 On an island in the Cauvery River, the town of Srirangapatna was once the fortress capital of the region controlled by Hyder Ali and his son Tipu Sultan.
Get in
Srirangapatna is 19 km from
Mysore
. Bus are available from Mysore from 7am to 8pm. The last bus returns to Mysore by nine p.m. Look for bus No. 313 which takes 30 minutes or bus No. 307 which takes 40 minutes. Air-conditioned Volvo buses charges ₹32.00. Most of the trains that ply from Bangalore to Mysore stop here. However it is recommended that you take an early morning train, as this gives an ample window to explore the place.
Get around

Autos can be hired from near the bus stand, taxis are available too. Most of them understand Hindi or English, get hold of someone who does. For a predetermined price, they will take you to most of the places of interest. Price, as almost always in India, is negotiable, so ask 3-4 persons before deciding.
Walking is another good option, maps and signposts abound, so getting around should not be difficult.

See
Summer Palace of Tipu SulthanThis is the biggest attraction. Entrance from nine to four. It was constructed in 1784 and is made of teak.Today is a museum devoted to Tipu Sulthan. The palace is surrounded by a big garden and a green lawn.

Tippu TombThis tomb and mosque was built by Tipu Sultan as a tribute to his illustrious father Hyder Ali (1722 - 1784 A.D.), after his death. The gumbaz is situated at the eastern extreme of Srirangapatna. It enshrines the cenotaphs of Hyder Ali, his wife Fakr-Un-Nisa and Tipu Sultan, after his death in 1799 A.D. Very beautiful tomb, mosque and many gardens. Closes by six pm.

SangamaConfluence of holy rivers. Coracle riding facility. Very green surroundings. Salted fruits available.

Ranganathaswamy TempleTemple of Lord Vishnu in the sleeping posture on the great snake Anantha, is one of the largest temples in the state.

Tipu's Death PlaceThis is marked and well maintained with the sign The body of Tipu Sultan was found here. This is near the Giddy Gate close to Srirangapatna Fort. The Tipu Sultan was buried at Gumaz.

Karighatta Viewpoint

address: 5 km on Bannu Road

Beautiful viewpoint and ancient temple 2,697 feet above sea level.

Nimishamba Bridge

address: 5 km on Gumbaz Road

Beautiful surroundings with ancient temple. Cute cafe in the middle of sugarcane fields.

Abbe Dubois Church

address: Gumbaz Road

Beautiful church built in 1802.

Juma MasjidhJuma Masjidh is on the right side of the bus station. You are allowed to wear the footwear inside the Moque compound but you have to remove it when enter the steps leading to the upper mosque. The inner sanctum sanctorum of the upper floor is usually closed. You can find it open during prayer times that is two p.m., five p.m., seven p.m. and nine p.m. Visit the mosque immediately after the muezzin's call so that you can see the spectacular inner hall of Tippu's original ancient mosque.
Do
Picnic @ Summer Palace lawnsThe lawns of the summer palace are extremely spacious and peaceful. Ideal for a picnic. There are many big trees giving a lot of shade. Many visitors to Mysore have described this lawn as the best experience in Mysore because of the peaceful atmosphere and the pretty picture postcard-like surroundings.

Riverside Park near Hale SethwayTake the third left street on the right side of the KSRTC bus station. The road goes to Wellesley Bridge and there is a cute little seating place just before the bridge. The seats are arranged before the Anjaneya Swamy Temple. Very peaceful place to watch the river and the traffic on the new bridge on the Bangalore Road. You can comfortably spend one or two hours here. Not very sunny even in the afternoons.

Trekking on Railway Station RoadThe front and back sides of the railway station are suitable for silent walking as they are not touristy places. The railway station itself is very silent as it is not used by the tourists.

Sitting ̊̊ at Juma Masjidh JunctionThe Juma Masjidh Junction has beautiful stone seats which is suitable for sitting and enjoying the lifestyle of the local people. This junction also has two temples. Being not part of the major trail, you will get some peace of mind here.

Quad Bike Rides

address: Gumbaz area

₹150 for one round. The track on the opposite of the first parking lot.

Coracle Rides

address: At Sangamam one km from Gumbaz
Buy
SouvenirsThere are some small stalls selling souvenirs and cheap antique gifts. The best shops are seen near the Rangaswamy Temple

Juma Masjidh areaJuma Masjidh Main Street is not frequented by tourists and you will get some peace of mind here. This road is also called Srirangapatna Main Road. Most of the wares on display are meant for the local consumption and so the prices are also very reasonable. The side streets are so narrow that you can have a Morocco like souq-experience here.
Eat
Bhuvaneshwari Restaurant

address: Two km on Bangalore Road

Vilaasi Grand Restaurant

address: Two km on Bangalore Road

Orchid Cafe

phone: +91 7760010018

address: On the left side of the Bus Station

Economy restaurant.

Mayura Restauant and Coolbar

address: on the left side of the bus station

High prices, poor service, no ambience. Big enough to seat 100 people.

Annapoorna Restaurant

address: on the left side of KSRTC

Gowda Mane Cafe

address: On the left side of KSRTC. Near Orchid Cafe.

Economy restaurant that opens by six am.

Bhuvaneshwari Restaurant

address: Baburayanakopala, Bangalore Road

Vilaasi Grand

address: Baburayanakopala, Bangalore Road
Drink
Alcohol is easily available and carries no stigma in spite of the fact that Srirangapatna is a Muslim-dominated area.
SPR Bar and Restaurant

address: One km on the Bangalore Road

Good garden with no ambience. Food is OK.
Sleep
Hotel Mayura River View

address: Srirangapatna, Mandya

address: 17, Srirangapatna, Mandya-571438.

Tourist Lodge

phone: +91 8236 252343, +91 9741475867

address: Near Railway Station

Mr.Kiran

Manu Lodge

address: Northeast of the Bridge

Orchid Residency

phone: +91 7760010018

address: On the left side of the bus station

Basic rooms with hot water only for one hour. Traffic sound is a nuisance.

Venketeshwara Lodge

address: Behind Orchid Cafe, on the left side of KSRTC bus station.

Traffic noise is muffled as the property is 200 meters from the highway. The rooms are big but the toilets are old style. The terrace has good views and enough space for a party of 25 people.

Manu Lodge

address: Baburayanakopala, Bangalore Road
Go next
Ranganathittu Bird SanctuaryThis sanctuary is located about 4km from Srirangapatna. Is home for a wide variety of migratory birds from as far as Siberia, Australia and even North America. Birds like Pond Heron, Spoon bills, White Ibis, Cormorant, Wild duck, Darter, Open Bill Stork, Cattle Egret, partridge, river tern, stone plougher and other exotic bird species that fly to the sanctuary in large flocks can be seen.

Krishnarajanagara Paddy field paradise