Ssese Islands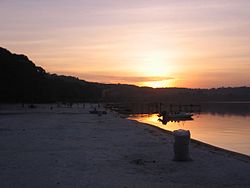 The
Ssese Islands
are an archipelago of 84 islands in the northwest of Lake Victoria,
Uganda
. About 43 of the islands are inhabited. The islands vary in size from less than 10,000 m², to over 40 km long for the largest island,
Buggala
.
Understand
The islands get their names from the enormous swarms of lakeflies that breed in giant clouds near the shores. Although this sounds irritating, the enormity of the swarms is quite a sight. If one is caught near a breeding swarm, it can be quite a nuisance, though it disperses after a couple of hours. Otherwise, the lake flies are little noticeable, and they do not bite.
Islands
Buggala Island is easily accessible by ferry, and is a regular weekend destination for Kampala residents. The island forms an L shape (with the long stem of the L pointing south, and the other stem pointing west). There are several beachfront hotels along Kalangala Bay near the ferry dock, which is near the corner of the L. The bay forms one large beach, and it is more or less possible to walk between most of the hotels along the beach. The bay is generally serene, but one of the hotels may blare out a thumping disco beat that covers the whole area, especially on weekends.
Bulago Island is a small island closer to the lakeshore that is run by a resort.
Bukasa Island is a small island containing Father Christopher's guest house.
Banda Island is another small island, more remote, that also has a guest house.
Other islands that can be visited (with varying degrees of ease) are Bubeke and Bufumira.
Talk

The islands are a Luganda-speaking area. Outside of Kalangala bay, locals on the islands may not speak English.

Get in

There are two large ferries serving Buggala Island. One, a modern passenger/car ferry, runs daily between the Nakiwogo dock just south of Entebbe and Kalangala Bay. The ferry departs from Kalangala for Nakiwogo at 8AM daily, and returns leaving Nakiwogo at 2PM daily. The journey takes about 3½ hours, and there is a snack bar on the ferry. The ferry costs USh 10,000 per person second class, or USh 14,000 per person first class. There is little difference between the two classes, except that the first class area may be less crowded. There is usually plenty of room for passengers, but space for cars is limited. Nakiwogo can be reached easily by taxi, and sometimes by minibus, from downtown Entebbe.
The second ferry departs from Bukakata (near Masaka) and Luku/Bugoma on the Western end of the island. It leaves Bukakata at 8AM, 11:30AM, 1:30PM, and 4PM, returning from Luku/Bugoma at 9AM, 12:30PM, 2:30PM, and 5PM. There are few accommodation options on this part of the island (see below). This is a wide, flat pontoon ferry, and is somewhat more chaotic than the Kalangala ferry. To get to Bukakata, bear left at the Total garage approaching Masaka from Kampala and turn left again at the Nyendo Trading Centre and once again left at the Petro Uganda filling station. By public transport, ask the conductor to get out at Nyondo stage about 2 km from Masaka town. There are several pick up trucks making the 40-km journey between Nyondo and Bukakata daily in each direction. From Bukakata to Kalangala, it is 32 km by road, and there are regular pick-up trucks in both directions.
Transport to Bulago Island by speedboat can be arranged with the owners. An airstrip is being built on the island.
Other islands may be served by lake taxis. These are large wooden boats, perhaps 10 m in length and 2-3 m wide, that transport goods and local passengers around the islands. The bottom of the boats may be filled with ice, soda, bananas, etc., on which passengers will have to find a seat. These leave from the Kasenyi fishing terminal, about halfway between Kampala and Entebbe. There is no dock passengers are carried through chest-deep water on the shoulders of porters -- so expect to get a bit wet. These boats also rock in the waves much more than the larger ferries, so passengers may experience some sea sickness. The boats do not provide life vests. It is best to inquire with your place of destination to find out the timings for the boats, as they may vary a bit. The boats also do not always keep to their schedules, so arrive early and expect to wait around. There are small restaurants to have a soda and a snack while you wait. Kasenyi is about 5 km from the Entebbe-Kampala highway via a dirt road, and this road is served by minivans. It is not recommended to leave a car at Kasenyi (and it is recommended to watch your valuables) as it is a somewhat dodgy place. Most long trips cost around USh 10,000.

Get around

Trips between the islands are by lake taxi. Private boats can also be arranged, but these tend to be expensive (something on the order of USh 50,000 per boat per hour) because of the fuel costs.

See

Buggala Island is large enough to have diverse terrains. It is hilly. From the tops of the hills, though, the views are stunning. Most of the southern stem of the L is dominated by palm oil plantations, which dominate the landscape somewhat repetitively. Along the southern end near Mulabana, there is a swamp that contains hippos. Along the western end of the island, not far from Luku, is the Mutumbula swimming beach.
The islands are teeming with birds, and vervet monkeys are common. There are occasional large snakes.

Do

Mostly, people just sit along the beach and stare at the tranquil surroundings. On weekend nights, there is a bit of a party scene along Kalangala bay, though the atmosphere is mostly relaxed.
Bicycles can be rented in Kalangala Town. It is a full day trip from there to Mutumbula (with time to spend on the beach in between), and an athletic dusk-to-dawn trip, or an overnight trip, to Mulabana and back. Kayaks and motorboats may be rented from the Hornbill camp.

Eat

The hotels along Kalangala Bay have acceptable Ugandan fare, and plenty to drink. It is quite possible to eat and drink at one hotel and stay at another. On the other island, visitors will generally need to bring some or all of their own food.

Drink

Most of the beach front hotels in Kalangala Bay have bars.

Sleep
All listings below are in Kalangala Bay, unless otherwise noted.
Hornbill Camp

phone: +256414220065

Thus camp is east (left) of the dock; it is more secluded from the noise and the area is teeming with birds.

Ssese Islands Beach Hotel

phone: +256414220065

This hotel consists of several modern self-catering cottages with hot water, right on the beach. The large restaurant/bar area also has DSTV and a pool table.

Banda Island

phone: +256772222777

This small, remote island is the home of a retired British-Kenyan engineer, of a somewhat colonial mindset, who will enjoy sharing drinks and a good story with anyone who shows up. It includes several bandas (USh 100,000) and a dorm (USh 40,000); camping (USh 30,000, tent can be provided) is also permitted. Rates are full board, and the owner cooks well, though you may be asked to bring a few ingredients -- and be reimbursed -- if you are arriving from Kampala. Call ahead to let the owner know that you are coming.

Islands Club

phone: +256-772-504027

Accommodation in bungalows and tents. Camping possible on the beach at US$10 per person. Visitors to Islands Club are requested to pre-book in Kampala at Wema Tours.

Kingfisher Camping site

phone: +256 754 157888, +256 753 231531, +256 782 455358

This is the first venue you encounter when arriving off the ferry. This simple site offers a grassed camping area with small dining room and volleyball court on the beach. The accommodation available is a few tents with all bedding provided. Meals are prepared on request. Safari tent with bedding USh 30,000 for 1 or 2 persons. Simple tent with bedding USh 20,000. Self camping USh 5000 per person.

Mirembe Beach Resort

phone: +256 0392 772703, +256 782 528651

Mirembe offers clean and comfortable single and double rooms with large bathrooms. The venue is secluded in and arc of forest where camping is also possible. There is a bar and restaurant are under a large thatched open-sided structure with views of the lake. Cottages: single USh 80,000; double USh 120,000; triple USh 150,000. Block house: single USh 60,000; double USh 100,000; triple USh 130,000. Camping with tent - per bed USh 25,000; Camping your own USh 15,000. Rates include breakfast.

Agnes' GuesthouseNear the pier of Bukasa Island. Simple rooms are available for US$4. Food can be served, but any contributions of ingredients will also be appreciated.

Father Christopher's GuesthouseAbout a 30-minute walk from the pier on Bukasa Island; ask locals for directions. Rooms are available for US$4, and there is a kitchen, but visitors will have to provide their own food.

Panorama Camp

phone: +256773 015574

18 self-contained cottages with solar lighting and hot water. Bar and restaurant. Executive cottages: USh 100,000 bed and breakfast. Ordinary cottages: Ushs80,000 bed and breakfast. Simple cottages: USh 60,000 bed and breakfast. Single rooms not self-contained USh 10,000 bed only. Lazy camping in provided tents: singles USh 10,000 per night; bed only; double USh 20,000 per night; bed only.

Ssese Habitat Resort

phone: +256 312 278318, +256 77692269

address: ssehab@gmail.com

This venue on Bugala island consists of 3 lake-facing properties each with 5 well-furnished self contained rooms. Satellite TV is available. One of the 3 properties can be utilised as a family unit. There is a camp ground for campers that wish to use their own equipment or tents and bedding can be provided by the resort on request. A Kampala booking office can be visited at 40 Bombo Rd in Carol House. An open air bar & restaurant serves a variety of wines, beers and soft drinks and of all course meals.

phone: +256701367970

address: Kalangala

Thatched cottages in a tropical garden with a restaurant and lake view.
Stay safe
The ferry from the mainland is unreliable, and small wooden launches may be substituted. Storms and waves may be too much for them, particularly when they are heavily loaded, and sinking is a real danger.
AIDS is a serious health problem in the Ssese Islands, and the infection rate is extremely high. Among the fishing villages of the islands, more than 90% of the population are reported to be infected.
Nile Crocodiles are common on the islands and, due to over-fishing by humans and a lack of abundant prey in the area, have taken to attacking humans with more consistency. It is necessary that all be aware of the risk and take the proper precautions in order to limit both human and animal suffering. Almost all attacks can be avoided by taking precautions (such as not swimming, walking near the water's edge, or traveling in very small boats.)
Do not go swimming! You can contract several diseases (most notably Bilharzia) from swimming in Lake Victoria, no matter how enchanting it looks.