St. Augustine
St. Augustine
lays claim to being the oldest city in the
United States
. Just 30 minutes south of
Jacksonville
in
Northeast
Florida
, St. Augustine is full of romantic ambiance and old world charm. It is best known for its remarkable historic streets and attractions, Spanish-style architecture, and panoramic bayfront views.
The walkable downtown is made up of narrow colonial streets lined with interesting locally-owned shops and outstanding restaurants. A trio of grand hotel buildings built in the late 19th century by railroad magnate Henry Flagler tower over the smaller, reconstructed historic houses, but the tallest building in town is just seven stories. One of Flagler's former hotels is now home to a small, private liberal arts college whose students add a sense of pulsating life to the centuries-old town.
In St. Augustine you can dine on terraces overlooking narrow brick streets, view excellent art at unique galleries, and visit historic sites older than the United States itself. But the town is more than history and high culture. Feel like going parasailing over unspoiled beachfront or listening to famous bands play under the stars? St. Augustine has that too.
Understand
History
A Spanish/British/American colony
42 years before the English established Jamestown, and a full 55 before the Pilgrims landed at Plymouth Rock, the Spanish colonial empire settled St. Augustine. Founded by
Pedro Menéndez de Aviles
in 1565 as the colony's capital and in an effort to protect Spain's claims in
Florida
from the
French
at Fort Caroline (present-day
Jacksonville
), the town had a rocky start. Pirates attacked, as did the local Native Americans, and British privateer Sir Francis Drake burned St. Augustine to the ground in 1586. In response, the Queen of Spain dispersed funds to construct a masonry fort to protect the town, and construction on the Castillo de San Marcos began in 1672. The fort was never captured, despite multiple attempts, including a 58-day seige by British forces in which the town was burned again.
With the end of the Seven Years' War and the 1763 Treaty of Paris, Florida moved from Spanish to British colonial rule. During the American Revolution, St. Augustine remained a haven for those loyal to the British Crown. A group of immigrants that fled from a colony in
New Smyrna
arrived in town in 1777 and made up much of the city's population at this time, they were and are still known today as "
Menorcans
". The second Treaty of Paris, which ended the Revolution in 1783, freed the original 13 colonies but gave Florida back to Spain.
The second Spanish period was characterized by neglect from the crown, as Spain was engaged in a war with Napoleon and France and regarded the colony of Florida as an unprofitable backwater. The
United States
, however, viewed it as key to its interests and sought to annex Florida, and they succeeded in 1819. The colony became a territory of the U.S. and St. Augustine continued to serve as its capital until 1824.
Railroad tycoon
Railroad tycoon
Henry Flagler
first visited St. Augustine in 1883. Seeing potential, he returned in 1887 with a new company, the Florida East Coast Railway. Over the next decade, he constructed a railroad line down the Atlantic Coast of Florida, all the way to
Key West
. Three large Flagler hotels were built along the line in the city: the Hotel Alcazar, the Casa Monica Hotel, and the flagship Ponce de Leon Hotel. These three buildings began the Moorish Revival architectural style that today characterizes the town. Flagler also built a pair of churches and sparked the development that grew modern St. Augustine.
The St. Augustine Movement
In the mid-1960s, the Civil Rights movement came to St. Augustine. Local college students held "sit-ins" at the town's Woolworth's lunch counter. In May and June 1964,
Martin Luther King, Jr.
and other leaders from his Southern Christian Leadership Conference (SCLC) group, including future Senator
Andrew Young
, led a series of marches in the city. The Ku Klux Klan was active in the area, and responded violently to many of the marches and sit-ins. Hundreds of black and white protestors were arrested, filling county jails to capacity. King himself was arrested on the steps of the Monson Motor Lodge motel. The motel manager, James Brock, poured acid into the swimming pool after protestors had jumped into the segregated whites-only pool. Video of this was broadcasted around the world, and became one of the final factors in the passage of the 1964 Civil Rights Act.
Today
Since the late 1960s, many historic buildings in the core downtown have been reconstructed and rebuilt, and most are now in the hands of the University of Florida. Recently, a range of unique restaurants have opened in the city, both those with quick, but quality, service and those serving up finer, and more pricey, cuisine. Luxury hotels have also opened up, sparked by the restoration and reopening of the Casa Monica Hotel in the 1990s. More recently, the infamous Monson Motor Lodge was replaced by a bayside Hilton hotel, built to blend in with the historic surroundings.
St. Augustine celebrated its 450th Anniversary in 2015 with a three-day music festival throughout the downtown, capped by a visit from King Felipe and Queen Isabela of Spain. With some of the oldest historic buildings in town cleaned up and redone for that party, the town is looking better than it has in years.
Geography
The historic downtown of St. Augustine sits on a small peninsula, with the San Sebastian River to the west and the Matanzas River to the east. The larger of the two, the Matanzas is actually a tidal estuary that forms part of the Intracoastal Waterway, an inland water route that stretches from
New Jersey
to the
Gulf Coast
. The Matanzas Inlet lies almost directly across from the Castillo de San Marcos fort at the north end of downtown, and connects the river to the Atlantic Ocean.
Two barrier islands, separated by the inlet, shelter the river and the downtown from the ocean. To the north lies an unnamed island that stretches from
Jacksonville Beach
down to Vilano Beach, an oceanfront community connected to the city by the Vilano Causeway. To the south of the inlet lies
Anastasia Island
, home to part of the city of St. Augustine, as well as the beach communities of St. Augustine Beach, Butler Beach, and Crescent Beach. The historic Bridge of Lions connects downtown to Anastasia Island, and a more modern bridge south of the city connects the island directly to U.S. 1 on the mainland.
Climate
St. Augustine has a humid subtropical climate, with mild weather during winters and hot weather during summers. Average high temperatures vary from 64°F (18°C) in winter to 91°F (33°C) in summer. High heat indices ("feels like" temperatures that take humidity into account) are not uncommon during the summer months in the St. Augustine area, and can reach up to 105-115°F. Like much of Florida, it's common for daily thunderstorms to erupt during summer afternoons. These are caused by the daytime heating of the land and water combined with the high humidity.
During winter, the area can experience hard freezes during the night. Such cold weather is usually short lived, however, as the city averages only fifteen nights below freezing. Even rarer in St. Augustine is snow. When snow does fall, it usually melts before touching, or upon making contact with, the ground. Most longtime residents of St. Augustine can remember accumulated snow on only one occasion — a thin ground cover that occurred a few days before Christmas 1989.
St. Augustine has suffered less damage from hurricanes than most other Floridian cities. The city has only received one direct hit from a hurricane since 1871, although it has experienced hurricane or near-hurricane conditions more than a dozen times due to storms traveling across the state or up the coast and brushing the area. The strongest effect on St. Augustine was from Hurricane Dora in 1964. That storm, Hurricane Matthew in 2016, and Hurricane Irma in 2017 all caused extensive flooding in the city.
Rainfall averages around 50 inches a year, with the wettest months being June through September.
Talk
Despite being a Spanish-founded city that still retains influences of the former colonial power in its cooking and architecture, English is the predominant language in St. Augustine today.
Get in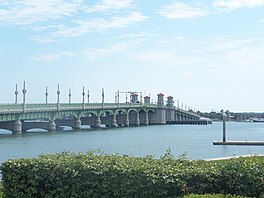 By plane
Jacksonville International Airport
(
JAX
) is the closest major commercial airport, 40 minutes to the north. It is served by nine airlines, including the three main American carriers: United Airlines, American Airlines, and Delta Air Lines.
Daytona Beach International Airport (DAB) is located adjacent to the Daytona International Speedway, about an hour south, and is served by American Airlines, Delta Air Lines, and JetBlue.
Orlando International Airport (MCO) is a major airport serving Central Florida, and is located about two hours south of St Augustine. International flights are limited (except for Canada, Mexico, and South America) but connections are available from almost every major American city.
From any of the above airports, a rental car, taxi, or rideshare is necessary to continue onwards to St. Augustine.
St. Augustine does have a small airport within the city limits: (UST). It is mainly utilized by private aircraft. Limited commercial service operates to and from Rochester, Minnesota on Elite Airways and seasonally to and from Charlotte on ViaAir.

By car
St. Augustine can easily be reached by car, as Interstate 95 passes just west of the city. From the north (Jacksonville), take exit 318 for S.R. 16, then travel east to U.S. 1 or Business U.S. 1, then turn right. From northbound I-95, take exit 298 for S.R. 207, then travel north to U.S. 1 and turn left to reach the downtown/attractions area.

By bus
Greyhound has a limited bus stop here, located at 1 South Castillo Drive in downtown St. Augustine, adjacent to the city's parking garage. Tickets are not available for purchase at this stop, however; they must be bought in advance online or at the full-service terminal in Jacksonville.

By train
Jacksonville is the nearest large city with a full-service Amtrak station; it is served by the Silver Star and Silver Meteor routes that connect Miami to New York City.
Palatka is closer and is served by the same two Amtrak lines, however onward transportation to St. Augustine is difficult and limited to ridesharing apps (approx. $35) or local taxi service (approx. $50). Palatka's station does not have luggage service, so if you're carrying anything more than a backpack, you would need to disembark in Jacksonville.

By boat
Various private marinas, and the city's Municipal Marina, operate docks both near downtown and on nearby Anastasia Island. The largest private marina in the area is at the Conch House restaurant and motel complex.

Get around
By foot
St. Augustine is an
extremely walkable and pedestrian friendly
city. Walking will allow you to see most of the historical buildings and shops in the downtown with relative ease, and is most definitely the best way to get a true feel for the historic core of the city. Further destinations, such as those on Anastasia Island, are much less accessible by foot, and one of the other methods below are suggested.
By trolley
There are two main tourist trolleys that provide guided tours of the historic downtown area.
Old Town Trolley Tours of St. Augustine

phone: +1 (844) 388-6452

address: 167 San Marco Ave. and 1700 Ponce de Leon Blvd.

Fully narrated hop on & off trolley tram has 23 stops, visiting all major attractions. Offers one and two-day tickets, both include entrance to the St. Augustine History Museum and a free shuttle to the beach attractions.

phone: +1 (904) 824-1606

address: 170 San Marco Ave

The original St. Augustine sightseeing tour, offering 24 stops including both Ripley's Believe It Or Not and the Lightner Museum. One and three day tickets are available, and can be combined with tickets for Ripley's and Bayfront Mini Golf.
Horse-drawn carriage rides
also operate throughout the downtown, and can be accessed by going to the "station" on Avenida Menendez along the bay front.
By car
Downtown St. Augustine is
rather inhospitable to cars
, as the streets are narrow and often clogged with trolleys, horse-drawn carriages, and tourists on foot and bike all sharing the same roadway. However, to reach most of the hotels, chain stores and restaurants, and outlet malls around St. Augustine, as well as the beachfront areas across the bay on Anastasia Island, a car is all but necessary. Alternatively, both tram tours listed above offer hotel shuttles as well as shuttles to the beach attractions.
When visiting downtown with a car, it is recommended to park in the Historic Downtown Parking Facility, an enormous, multi-level, state-of-the-art garage that opened in 2006. Located across from the Visitor Center and at the far end of St. George Street, it's in an ideal spot. Parking charge is $15/day and the garage is open 24 hours a day, 365 days a year.
Limited metered parking can also be found on the street, as well as in the Castillo De San Marcos parking lot ($2.50/hr, limited to 3 hours). An app, ParkStAug, launched in January 2018 and allows visitors to pay for and reload parking meters via smartphone by entering a four digit code found on signage near parking spaces. A few private lots exist downtown, and charge around $10-$12/day. Free on-street free parking is rare but can be found further from the downtown core.
By bus
The
Sunshine Bus Company
operates within
St. Johns County
Monday through Saturday from 5:30AM until 7:30PM, except on certain major holidays. While there are some designated bus stops in downtown St. Augustine and on Anastasia Island, the bus is usually boarded by hailing the driver as you would a taxi, and can stop anywhere along the route for passengers to exit. One-way fares are $1 and are paid upon boarding the bus, and all day passes are available for $2. Seniors, students, children under 6, and persons with disabilities pay half of the full fare.
See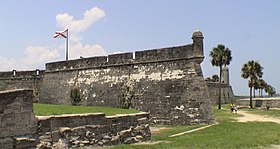 Historic Buildings
Museums
phone: +1 (904) 829-9056

address: 31 Orange St

A fun and educational family attraction with over 160 wax figures, including a wide range of fictional characters, famous politicians, Hollywood celebrities, sports stars, and more, both past and present. Established in 1948, Potter's is the oldest wax museum in the United States.

phone: +1 (904) 824-1606

address: 19 San Marco Ave

The original Odditorium of the famed American purveyor of the strange and unusual was opened in the historic Castle Warden hotel in 1950. Three stories worth of exhibits include a mummified cat, a two-story scale model Ferris wheel made out of Erector sets, life and death masks of famous celebrities (including Abe Lincoln), shrunken heads, and an iron maiden. Rumored to be haunted, the opening credits and various segments of the most recent Ripley's TV series were filmed here.

St. Augustine Pirate & Treasure Museum

phone: +1 877-467-5863

address: 12 S Castillo Dr
Attractions
phone: +1 (888) 991-0933

address: 33 St. George St

This recreated garrison town allows guests to visit with a blacksmith, learn to fire a musket, and stand watch on a lookout tower. You'll see costumed historical interpreters tell the story of everyday life when the city was a remote outpost of the Spanish Empire. The property also includes a British pub, a Spanish taverna, and a seafood restaurant, all of which do not require admission. A rustic outdoor stage set under an old oak tree hosts free weekend concerts also open to the public.

Ponce de Leon's Fountain of Youth

phone: +1 (904) 829-3168

address: 11 Magnolia Ave

A 15 acre waterfront attraction touted as the 1513 landing site of Ponce de Leon, the discoverer of Florida. Although no evidence has been found to support this, the park is the location of the first Spanish settlement in St. Augustine. Guests can explore a recreation of a Timucuan Native American village, witness a cannon firing, view archeological digs, and even drink from the supposed "Fountain of Youth", a natural spring.

address: 1 World Golf Place

The centerpiece of the master-planned World Golf Village, this hall of fame and museum center celebrates the greats of golf history. The expansive property located about 15 minutes north of the city also includes a hotel, convention center, an IMAX movie theater, two award-winning golf courses, and a restaurant owned by actor Bill Murray and his brothers.
Parks
Alligator Farm Zoological Park

phone: +1 (904) 824-3337

address: 999 Anastasia Blvd

One of Florida's oldest continuously running attractions, this zoo features all 24 species of crocodile (including the American alligator) in addition to a range of other reptiles, mammals and birds. Educational demonstrations and activities like zip-lining are also offered.

phone: +1 (904) 823-2232

address: 15 Fort Mose Trail

This park preserves the site of the first legal free black settlement in America. It was established in 1738 by the Spanish for escaped black slaves seeking asylum from the British colonies. The former site of the community, long forgotten but rediscovered in 1968, is located about two miles north of St. Augustine.

Plaza de la Constitución
Do
Ghost Tours
Both and Old Town Trolley and Ripley's Red Trains offer nighttime ghost tour trams titled
Ghost & Gravestones
and
Ripley's Ghost Trains
, respectively. Both of these nightly versions of the tram tours include several segments where the tour guides park the tram, disembark, and lead the group into allegedly haunted structures. Keep in mind that different tours go to different sites, for example, Ripley's Ghost Trains go through the allegedly haunted Ripley's Believe It Or Not building, while Ghost & Gravestones tours enter the Old Jail, a historic site owned by Old Town Trolley.
In addition, numerous
walking ghost tours
operate out of the area around St. George Street, with small registration booths or storefronts manned throughout the day.
If ghosts are your fancy, it is worth doing some research into the various tram and walking tours and deciding on the one that piques your interest.
Boat Tours
Schooner Freedom

St. Augustine Scenic Cruise

Ripple Effect Ecotours
Concerts and Live Music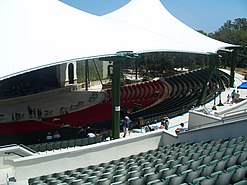 St. Augustine is a veritable
hotbed for local musicians
and bands. On weekend nights, nearly every restaurant and bar in the downtown historic district, as well as many on Anastasia Island, will be offering live music of some sort, with genres ranging from country to classic rock, to blues and jazz.
The
St. Augustine Amphitheatre
sits within Anastasia State Park, across the Bridge of Lions on the island. An intimate venue with just under 5,000 covered seats, this is a great place to see a show if one of your favorites is in town during your visit. Drawing big-name concert acts from all genres, past acts have included The Beach Boys, Toby Keith, Slayer, and Selena Gomez. Check the website for the upcoming lineup.
The city also hosts
Concerts in the Plaza
on Thursdays from Memorial Day through Labor Day in the downtown's Plaza de la Constitución . Local and regional musicians perform in the park's gazebo and attendees are encouraged to bring lawn chairs and blankets to relax and enjoy the music. Picnics are allowed, but alcohol is not.
The aforementioned Colonial Quarter's
Colonial Oak Music Park
offers free live music from local musicians, with the occasional touring act, on Thursday through Saturday evenings and Sunday afternoons.
*
Festivals
St. Augustine is known in the area for its various large-scale events and festivals held in the downtown area during the slower seasons of early spring, fall, and winter.
Spring
Celtic Music & Heritage Festival

address: 29 W Castillo Dr

Including the St. Patrick's Day Parade.

Easter ParadeA parade downtown of marching bands, floats, drill teams, clowns, Royal Family and the city's carriage horses wearing hats.

address: 29 W Castillo Dr

The last weekend of March at Francis Field on Castillo Drive. Features championship BBQ and musical entertainment.

Blessing of the FleetCommercial and pleasure craft alike receive a blessing from the Bishop of the Diocese of St. Augustine. Ceremony begins at noon with a procession from the Cathedral Basilica.

Gamble Rogers Folk FestivalThis three-day musical event features a variety of local and national bands, storytelling and songwriting workshops. A celebration of the music, stories and dance by local and national artists celebrating the Gamble Rogers legacy.

Kingbuster TournamentA Southern Kingfish competition held at the St. Augustine Municipal Marina.
Fall
Great Chowder DebateLocal restaurants compete in various categories for the best chowder, with samples tasted by the public. Proceeds benefit The Shriner's Children's hospital.

St. Augustine Arts and Craft Festival

address: 29 W Castillo Dr

Hosted by the St. Augustine Art Association for over 70 years, this premier festival is held twice a year: Thanksgiving weekend, and the weekend after Easter. See the works of over 150 top artists from across the country displaying painting, sculpture, jewelry, pottery, photography, fiber arts, glass and a variety of 2D & 3D works. Food, a KidZone, Festival Paint Out, entertainment, art demos, prizes and more.
Winter
Nights of LightsMore than a million little white lights outline the bayfront, Plaza de la Constiución, and buildings of the historic downtown for the entirety of the holiday season and beyond. Both sightseeing trams coordinate seasonal festive nighttime tours of the lights, complete with music and special light-viewing glasses.

Holiday Regatta of LightsA spectacular and colorful parade of sailboats, trawlers, shrimp boats and many other vessels decorated with the festive lights, held on the bay between the Bridge of Lions and Castillo de San Marcos.

St. Augustine Christmas Parade

phone: +1 904-829-5681

Floats, bands, cars, and horses preclude the arrival of Santa Claus, who is available for pictures immediately after.

St. Augustine Film FestivalThe city welcomes filmmakers from around the world to showcase their work in theaters around the city. Various parties occur in different locations all four nights of the festival.
Year-round
At the First Friday Art Walk, held the first Friday of every month, over 30 of the city's downtown galleries stay open late, with most using the night to open new exhibits, offering food, wine, and entertainment.
Buy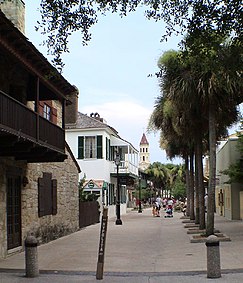 St. George Street
is the spine of the historic downtown. A five-block long pedestrian street, it offers various unique shops and countless restaurants, bars, and snack stands. Here you can find everything from authentic Cuban cuisine and New York-style pizza to upscale jazz bars and old-school bakeries. The small side streets just around St. George, specifically the cross-streets of
Cuna
and
Hypolita
, and the parallel
Spanish Street
, also contain numerous shops and restaurants that make them worth venturing down. South of the Plaza de la Constiución sits the decidedly less-touristy and more artsy area around Aviles Street, purportedly "the oldest street in the oldest city". Among these narrow streets you can find some great cafes and small galleries.
Outside of the downtown there are a few other shopping centers that may be of interest, including large strip mall centers on U.S. 1 south of downtown. These contain your typical chain stores and restaurants, with a few local places mixed in. Besides those, some other that may be worth a visit are listed below.
phone: +1 (904) 824-4210

address: 2495 S.R. 207

A weekend flea market with hundreds of vendors inside and numerous stands outside. Everything from fresh produce and baked goods to used TVs and old guitars can be found at great bargains.

phone: +1 (904) 826-1052

address: 500 Outlet Mall Blvd

Mostly indoors, this center features 75 brand-name shops, including traditional mall stores like Old Navy, H&M, and a large Saks 5th Avenue outlet store.

phone: +1 (904) 825-1555

address: 2700 S.R. 16

The more upscale of the area's two outlet centers, this one is an outdoor center with 85 stores including Polo Ralph Lauren, Nike, Gap, Coach, and Under Armour.
Eat
Budget
phone: +1 904-829-6166

address: 121 St. George St

Bakery and cafe serving variety of specialty pastries, sandwiches, soups, and salads for breakfast and lunch.

phone: +1 (904) 217-7853

address: 70 St. George St, 48 Charlotte St

Gourmet popsicle outlet started by students from Flagler College; sells a variety of funky flavors at two locations in town.

The Kookaburra

phone: +1 (904) 209-9391

address: 24 Cathedral Pl

Small Australian-inspired coffeehouse offering meat pies with savory fillings.

phone: +1 (904) 471-3424

address: 4000 A1A S

This two story diner-style restaurant serves breakfast, lunch, and dinner and has a full bar and huge windows on the upper deck.

Pizza Time

phone: +1 (904) 819-0133

address: 124 St. George St

Ranked by Tripadvisor as the second-best pizza place in the country, this parlor owned by Brooklyn transplants serves up a mean slice that rivals those in New York.

address: 42 1/2 St. George St

Serves breakfast and lunch featuring freshly-baked authentic Spanish pastries, bread, and soups. Outdoor seating only.
Midrange
phone: +1 (904) 471-3744

address: 2 A St

This casual spot serves lunch and dinner in a unique atmosphere with an open deck just steps from the beach.

phone: +1 (904) 217-3777

address: 117 Martin Luther King Ave

Classic Southern comfort food is served up for breakfast and lunch and this bright and airy neighborhood cafe.

Casa Maya

phone: +1 (904) 823-0787

address: 22 Hypolita Street

Higher-end authentic Latin dishes served in a converted house located in the center of downtown.

phone: +1 (904) 217-0326

address: 9 Anastasia Boulevard

Burgers, steaks, seafood and more are piled high in this casual, funky American eatery.

phone: +1 (904) 819-9006

address: 100 Malaga St

Look for the distinctive 1950s-era silver exterior of this authentic diner, serving breakfast all day and lunch and dinner daily, with popular Greek specialties offered alongside the comfort food you would expect.

phone: +1 (904) 824-7765

address: 46 Avenida Menendez

Traditional Creole dishes and seafood are served in a converted house and tree-covered outdoor courtyard.

phone: +1 (904) 829-6974

address: 205 Anastasia Boulevard

The "local" favorite and regular winner of Best Seafood Restaurant, this family restaurant features their famous fried shrimp dinner. No alcohol, cash only, long lines outside.

Salt Life Food Shack

phone: +1 904-471-5555

address: 421 A1A Beach Blvd

A place that sells American and Seafood Cuisines.
Splurge
Amici Italian Restaurant

address: 1915 A1A Hwy. S

Authentic Italian specialties.

address: 60 Hypolita Street

Artful global cuisine.

Columbia

The Conch House Located one mile from historic St. Augustine, enjoy waterfront dining inside or outside on the decks overlooking tropical Salt Run. Featuring seafood, Caribbean cuisine, steaks, salads, and award-winning conch chowder, The Conch House Lounge offers the best in tropical specialty drinks served in a Caribbean atmosphere over the water and features live entertainment

Creekside Dinery

address: 160 Nix Boatyard Road. North

Florida low country cookin' in a charming, waterfront setting and specialties include fresh local seafood and Florida favorites such as chicken, fish, or steak cooked on a thick oak plank.

The Floridian

Gypsy Cab Company, Anastasia Blvd. Another local favorites which serves "Urban Cuisine," an eclectic mix of seafood, steaks, poultry, pork, vegetarian items, and pasta dishes influenced by international cooking styles.

phone: +1 (904) 824-6202

address: 45 San Marco Ave

The restaurant serves Continental and German cuisine served in the European tradition.

Preserved

Michael's Tasting Room

Old City House Inn & Restaurant

phone: +1 (904) 826-0113

address: 115 Cordova St

World cuisine with Mediterranean and Southern influences served in an 1873 house turned bed & breakfast, with both indoor seating and an outdoor landscaped patio.

Raintree

address: 102 San Marco Ave

Florida Trend's 10 Best in Florida Golden Spoon award.

The Reef

address: 299 Dondanville Rd

On the intracoastal waterway in a casual, recreated, turn-of-the-century fish camp surrounded by saltwater marshes. specialties including fresh seafood, delicious ribs, and chicken specialties.
Drink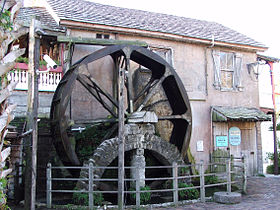 A1A Ale WorksKing Street.

address: Charlotte Street

Ann O'Malleys, Orange street.
Barley Republic, Spanish Street.

British Pub

address: 213 Anastasia Blvd

address: Charlotte Street

Dos Gatos

address: 10 Marine Street

Ice Plant Bar

No Name Bar

address: 10 Marine Street

JP Henleys

address: 10 Marine Street

Odd Birds

address: 10 Marine Street

Prince of Wales English Pub, Spanish Street.

Scarlett O'Hara'sHypolita Street.

St.George Tavern, Saint George Street.
Stogies, Cuna Street.
Rendezvous, Saint George Street.

The Tini Martini Bar

address: 10 Marine Street
Nightlife
address: Charlotte Street

address: Charlotte Street

Prohibition Kitchen
Sleep
Budget
Howard Johnson Historic St. Augustine

Anastasia Inn

Florida Motel
Midrange
phone: +1 (904) 824-4482

address: 16 Avenida Menendez

address: 530 A1A Beach Blvd.

The Conch House Motel

Marker 8 Hotel & Marina

address: 4 St George Street

Twenty-five hotel rooms and suites, many with balconies and views of the Intercoastal Waterway, the Castillo de San Marcos and the City Gate. Facilities: internet access, private baths, and a complimentary continental breakfast.
Splurge
address: 95 Cordova St

The Casa Monica Hotel is a historical hotel that was built in 1888. The hotel features 138 rooms and suites in a Spanish-style décor. The hotel is in St Augustine historic district.

The Collector Luxury Inn & Gardens

DoubleTree Historic District

Historic St Augustine Hilton Bayfront32 Avenieda Menedez. Close to numerous Saint Augustine attractions and dining, with reasonable prices for both business and leisure travelers.
Bed and Breakfasts
44 Spanish Street Inn

63 Orange Street Bed & Breakfast Inn

address: 63 Orange St

This grand 1884 home offers a comfortable combination of charming, elegant Victorian antiques and 21st century amenities with full breakfast.

Bayfront Westcott House

Carriage Way Bed and Breakfast

address: 70 Cuna Street

St. This bed and breakfast was built in 2008 and is in the historic district. Weekday rates start at $99. Rates include a full breakfast, beverages, afternoon deserts and parking is on-site.

Casa de Solana Bed and Breakfast

Peace and Plenty Inn Bed and Breakfast

address: 87 Cedar St

A 1893 Victorian home was restored by the Terrell Family to reflect the style and architecture of the Gilded Age.

address: 32 Treasury Street

Pirate-themed inn, is in the middle of the Historic District. All you can eat Pirate Pancakes for breakfast, pirate toys and pirate bedtime reading for the kids. Private room rates from $50, and include free parking. Dorm beds from $20. Right in the middle of the historic district, 150 feet to the bay and 150 feet to St. George Street

phone: +1 904-824-6068

address: 279 St. George Street

A historic bed-and-breakfast located at the corner of St. Francis and St. George Streets, built in 1791. Private courtyard with gardens, balconies, whirlpool tubs, breakfast, fireplaces, quiet location, free parking and swimming pool.

Victorian House Bed and Breakfast

address: 11 Cadiz St

Located on the oldest street in St. Augustine, this beautiful victorian house was built 1885. Guest rooms have private baths and are furnished with antiques. Guests are welcomed to a full hot breakfast, wifi, and free parking.
Condo Rentals
Atlantic Beach & Tennis Club

The Ocean Gallery

St. Augustine Ocean & Racquet Club
Connect
Visitors Center +1 904 829-1000, Toll Free: +1-800-653-2489.
Go next