St. Jacobs (Ontario)
St Jacobs
, or 'Jakobstettl' in the local Pennsylvania Dutch, is a village of about 2000 people (2016) that s the heart of St Jacobs Country, a primary tourist destination north of
Waterloo
,
Ontario
.
Understand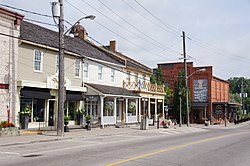 St Jacobs is in the heart of North Waterloo's well-known Mennonite and Amish country. Driving in the area likely as not you will share the road with their horse-drawn buggies, particularly Sundays which is a day of church-going and visiting, and on Market Days when they are on the way to and from Market. Many offer home-grown produce, and home-made baking and preserves from home or road-side stands, but the 'No Sunday Sales' signs mean just that!
There are two main tourist destinations in the area. The market is immediately north of the Waterloo city limits. The historic village is 3 km to the north.
St. Jacobs features dozens of artisans in historic buildings, such as the Country Mill, Village Silos, Mill Shed, and the Old Factory. Visitors may watch artisans make pottery, quilts, designer clothes, jewellery, glass vases, woven wall hangings tiffany lamps, stained glass doors, miniature doll houses and more. There are also two blacksmith shops.
St Jacobs is home base to the network of Home Hardware, Home Furniture, and Home Building Supplies stores across Canada.
History
The first two settlements near St. Jacobs in the 1830s were Conestoga and Winterbourne. The latter was settled primarily by English and Scots, while St. Jacobs, like Conestoga, was primarily Germanic. In the early 1850s, there was an influx of Mennonites from Pennsylvania, so-called Pennsylvania Dutch. The word "Dutch" does not refer to the Netherlands but is a misnomer for Deitsch or Deutsch (German). They became known as "Old Order" Mennonites due to their conservative lifestyle.
Jacob C. Snider, of Swiss German descent, built a sawmill, a flour-mill and a woollen-mill by 1852, after having built a dam. These features helped to attract others to the small community, which became a village named Jakobstettel (Jacob's Village) in honour of Snider.
Get in
By car
St. Jacobs is about 1 hour west of
Toronto
and 1 hour northeast of
London
. From Highway 401, exit 278/278A north, take Highway 8 to Highway 85 North, exit "King Street" (Regional Road 15). There are two King Street interchanges; you want the second one. Travel north, following the signs to St. Jacobs Country.
By bus
Grand River Transit
is the
transit authority for Waterloo Region
. GRT bus route 21 runs from ION Conestoga station in Waterloo through St. Jacobs to Elmira six days a week.
Get around
By train
phone: +1 888-899-2757

address: 50 Isabella St

The WCR offers a seasonal tourist service running a train of historic passenger cars, and a historic steam or diesel locomotive servicing 4 stops between Waterloo and Elmira. The WCR head office and museum is in St. Jacobs. Trains run Tuesdays from mid-June to the end of August, and Thursdays and Saturdays from mid-May to the end of October. There is also service during the Elmira Maple Syrup Festival. There is no train service from downtown Waterloo; in summer 2019, trains will depart from opposite Ion Northfield station in Waterloo. The 5 stops are:
Northfield stop

address: 90 Northfield Dr W, Waterloo

No parking available.

Farmers' Market Road stop

address: 330 Farmer's Market Rd

St. Jacobs stop

address: 50 Isabella St

Railway Museum, The Train Store, Train Restoration Shop.

Elmira stopStop is 1.5KM from Village of Elmira; wagon ride into town available
See
The Mennonite Story Visitor Centre

phone: +1 519-664-3518

address: 1406 King Street

Here you can learn about the history, culture and Faith of the Mennonite people of this area of Ontario. Take a journey and look at Mennonite life and history, the clothing and homes, beginning with a short DVD presentation.

St. Jacobs & Aberfoyle Model Railway

phone: +1 519-664-3737

address: 1440 King Street North, Building 3

address: 1441 King St N

Besides shops, the Mill also has a few small museums and non-commercial exhibits as listed below.
Quilt GalleryFeatures the work of individual artists, and of quilting groups.

The Maple Syrup MuseumHistory of maple syrup production with artifacts and photographs.

Model Train PanoramaA model railway diorama depicting the Village of St. Jacobs in 1940.

Home Hardware's historic exhibitArtifacts from the retail chain Home Hardware which began in St. Jacobs.

History of ElectricityHistory of electricity over 200 years until light produced in the laboratory, plus the development of hydro-electricity in St. Jacobs.
Do
The Waterloo County and Area Quilt Festival, annually through the month of May, is headquartered here, the premier event of its kind in Canada.

Trans-Canada TrailA portion of the Trans-Canada Trail runs through St. Jacobs, including the Health Valley trail, which runs between the village and the market, and the Mill Race Trail, which runs alongside the Conestogo River west of the village.
Buy
Eat
Area restaurants offer international cuisine, and authentic Waterloo County 'food that schmecks' home-cooked fare.
phone: +1-519-664-2286

address: 1396 King St

Homespun country cooking taken to a large scale, but the pancakes are still fluffy and the pies still irresistible. At lunch, the star attraction is a buffet, salad bar, and two kinds of soup, but there is also a menu from which to order.

phone: +1 519-746-4800

address: 20 Benjamin Rd

Pizza, Greek, smoked meat, ribs.

phone: +1 519-664-2575

address: 1398 King St N
Drink
phone: +1 519-664-1001

address: 1430 Unit 2 King Street North

A microbrewery focused on artisanal small-batch beers. Visit the bottling shop and tasting room to try a wide-range of styles and see the production area, learn about th brewing techniques, and guide you through a tasting of the beer.
Sleep
Many travellers visiting St. Jacobs stay in
Waterloo
or in other nearby cities. There are also accommodations in St. Jacobs: