St. Louis
The Gateway City of
St. Louis
is the epitome of the modern
Midwest
metropolis.
Missouri
's second-largest city is vibrant but laid-back, populous but navigable, historic but still relevant. The city's planners have created an aesthetically beautiful city, with plenty of green space amidst buildings both old and new, framed by the majestic Mississippi and Missouri rivers. And capping it all is the world's tallest man-made monument, the beautiful and iconic
Gateway Arch
.
St. Louis is a city of culture and surprisingly inexpensive. Among American cities, only
Washington, D.C.
has more free attractions for tourists and residents alike. Hotels, restaurants, and even parking garages avoid the premium pricing common in other big cities. Although often overlooked, St. Louis can be an affordable, educational, and fun family getaway.
Understand
The city is named after King Louis IX of
France
, but is pronounced "Saint Lewis", not "Saint Louie". St. Louis is known by the nickname of
The Gateway to the West
. The city was the last major stop before pioneers journeyed westward to the Pacific coast. The city also played a large part during the steamboat era due to its position at the confluence of the
Mississippi River
and the
Missouri River
. St. Louis was acquired from France by the United States during President Thomas Jefferson's term in 1803 as part of the Louisiana Purchase. The transfer of power from
Spain
was made official in a ceremony called "Three Flags Day." On March 8, 1804, the Spanish flag was lowered and the French one raised. On March 10, the French flag was replaced by that of the USA. In 1904, St. Louis hosted that year's
World's Fair
and the Summer Olympic Games. Many of the parks, buildings, and finer homes in St. Louis were built around this time period. While the Fair has passed out of living memory, it holds an important place in the modern development of the city.
Before
Detroit
became America's automotive capital, St. Louis was the largest producer of American automobiles in the early part of the 20th century. Midtown and Downtown still have many of the original warehouses and factories standing, but most have been converted to other purposes, such as loft apartments, shops and restaurants. St. Louis was also home to a bustling fashion manufacturing industry in the early 1900s, centered on Washington Avenue downtown. As with the auto industry, the last remnants of the fashion manufacturing industry can be found in the rehabilitated warehouses which contain new businesses and loft condominiums. In the late 20th century, St. Louis began a transformation from a manufacturing and industrial economy into a globally known center for research in medicine, biotechnology, and other sciences. Firms such as Monsanto, Centene, Solae, Energizer, Enterprise Rent-A-Car, Edward Jones, Wells Fargo Advisors (formerly A.G. Edwards), Nestle Purina, and Anheuser-Busch/Inbev are headquartered in St. Louis. AT&T and Bank of America operate major regional offices here. Two major private research universities, Washington University in St. Louis and Saint Louis University, are an important part of the local economy and society.
St. Louis is truly a city of neighborhoods, each with its own distinct flavor and culture. There are 79 government-designated neighborhoods within the City of St. Louis, many of which have associations and councils that exercise wide control over development and subsidies from the highest to the very lowest local level. Some neighborhoods contain avenues of massive stone mansions built as palaces for heads of state visiting the 1904 World's Fair, and now occupied by some of the more wealthy families and individuals in the City of St. Louis. Other neighborhoods are predominantly middle class and working-class and have retained their singular cultural identity for 200 years. Today, most of them have endured as strong and cohesive communities for their residents.
Climate
With neither mountains nor large bodies of water nearby to moderate the climate, St. Louis experiences extremes of temperatures at both ends of the scale. The Winter cold from December through March can be brutal to the unaccustomed body, as can the Summer heat from June through September. The Mississippi River makes this area humid, though temperatures are generally moderate. Storms can occur at any time of the year. July and August are hottest and most humid, and January and February are cold, with occasional snow. Normal temperatures range from 21°F in the winter to 90°F in the summer (-6°C to 32°C), but summer highs of 100°F and winter lows of 0°F are not uncommon (38°C and -18°C).
Get in
By car
St. Louis is a freeway hub, connected to the following cities by freeway:
Within the St. Louis area, Interstate 270 (Interstate 255 on the Illinois side) forms a loop around the metropolitan area, bypassing the center city.
Locals may refer to Interstate 64 as "Highway 40" - US-40 is coincident with I-64 through St. Louis. Also, older or more traditional residents are likely to pronounce 40 as "Farty", which out-of-towners sometimes find humorous.
By plane
Lambert St. Louis International Airportis the largest airport serving St. Louis, with annual passenger traffic of approximately 13 million people. The airport is 14 miles northwest of the city center and is directly served by the MetroLink light rail line. A 2-hour MetroLink transfer ticket costs $4 from the airport. Uber and Lyft are allowed at the terminal.

St. Louis Downtown Airport3 miles east of the city center and serves charter and cargo flights.

MidAmerica St. Louis Airport21 miles east and only serves Allegiant flights.
By train
Amtrak
(, 551 S 16th St) offers five daily arrivals from
Chicago
, two daily arrivals from
Kansas City
, and one daily arrival from
Los Angeles
,
San Antonio
via
Dallas
,
Little Rock
and many smaller intermediate stops on each route. , 430 S 15th St, is the central train and bus terminal in St. Louis. It is directly linked to the Civic Center station on the MetroLink light rail system.
If you have time to spare when departing or arriving by train, take a seat at the
Grand Hall
at the nearby historic Union Station, now turned into a hotel and shopping arcade, to relive past glory of rail travel. St. Louis Union Station was also the site where President elect Truman was photographed holding the Chicago Daily Tribune with the erroneous headline "Dewey Defeats Truman".
By bus
The bus terminal, which is served by Greyhound and Megabus, is at 430 S 15th St, next to the train station.
By boat
The Mississippi River forms the eastern boundary of the city, separating it from Illinois. The Missouri River runs into the Mississippi just north of St. Louis.
You may be able to arrive on a cruise boat from a nearby city like
Peoria
or
Memphis
.
Get around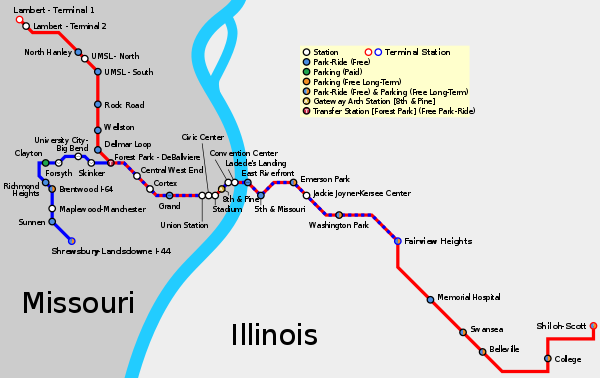 By train
MetroLink
, +1 314 231-2345 - A light rail system that runs to many of the metropolitan area's most popular destinations. There are two branches on the Missouri site of the river - the
Red Line
begins at Lambert-St. Louis International Airport, while the
Blue Line
begins in the suburb of Shrewsbury. The lines merge at the edge of Forest Park, and travel through downtown and into Illinois. MetroLink stops at the Delmar Loop, Grand Center arts district, Forest Park, the Central West End, Downtown St. Louis, and Downtown Clayton, among other places. The campuses of University of Missouri-St. Louis, Washington University and St. Louis University each have stops on campus or nearby. A 2-hour transfer pass costs $3 ($4 if purchased at the airport station).
By bus
Metro St. Louis
operates buses around the St. Louis metro area, although in many cases, they don't run as frequently as you would like. A single fare is $2.
By car
Travel by car is the most common mode of transportation in St. Louis.
By taxi
Taxis generally do not drive around looking for street hails; you must order service by phone or from an app. Uber is extremely popular and useful in St. Louis.
A 2015 accident in a taxi that did not have insurance has
caused a controversy
- make sure you choose a reputable taxi or ride-hailing company.
Neighborhoods
St. Louis is one of the more segregated cities in the nation, and is home to the country's first private gated street - Benton Place in Lafayette Square. In one minute you might be driving down tree-lined avenues with large houses, and the next minute you might be in a low-income neighborhood. Though the region is now more racially and economically integrated than it was, the road system still follows historic boundaries marking one area from the next. Hotels and most St. Louis guide books should have good maps of the layout of the neighborhoods of the City.
St. Louis City is separate from
St. Louis County
- the city is really a city without a county, with its own government, school system, and other services. St. Louis City has just under 400,000 residents while St. Louis County has just over 1,000,000 residents. The entire St. Louis metropolitan region has approximately 3,000,000 residents.
Some of the more well-visited and larger neighborhoods in St. Louis City are: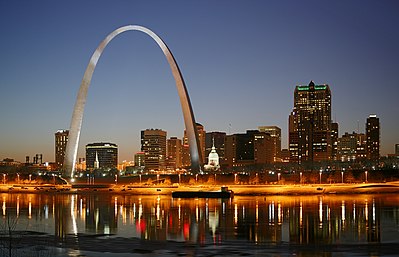 Downtown - The Central Business District of St. Louis, downtown is nearing the end of a decade-long multi-billion dollar revitalization. Featuring professional sports stadiums, dozens of hotels, corporate headquarters, trendy dining and shopping, entertainment, nightlife, and the Gateway Arch, downtown St. Louis is now also home to tens of thousands of residents, many living in warehouses that have been converted to apartments and condominiums.
Laclede's Landing - Next to the Mississippi River, north of the Arch, this is one of the oldest standing neighborhoods of the city. A former industrial area, the Landing has original cobblestone streets, horse-drawn carriage rides in the evenings, live music, and restaurants and bars in converted industrial buildings.
Soulard - To the southwest of downtown lies St. Louis's oldest neighborhood. Today it is a perfect case study for traditional St. Louis red brick architecture, and also features the famous Soulard Farmers Market and many trendy restaurants.
Lafayette Square - Although some may group this with Soulard due to proximity, Lafayette Square features its own distinct architecture (Victorian and French Second Empire) and demographics. Surrounding the oldest park in St. Louis are tree-lined streets with rehabbed townhouses, some shopping and dining, and bed and breakfasts.
Old North St Louis - Just north of Downtown, the historic Old North neighborhood is in the midst of a dramatic revitalization that includes a significant number of historically rehabilitated brick, 19th Century structures; new businesses, such as Old North Grocery Co-op, Therapy Boutique, and La Mancha Coffeehouse; and a diverse community of residents, with a population that grew by 28% since 2000. The center of the neighborhood is at St. Louis Avenue & N. 14th Street, which is where the legendary Crown Candy Kitchen is found, along with the Crown Square, the $35 million redevelopment of the former 14th Street Pedestrian Mall. Crown Square is also the site of the North City Farmers' Market, which in 2010 was identified as one of "America's Favorite Farmers' Markets," according to American Farmland Trust.
Benton Park/Brewery - Just south of Soulard, Benton Park has come back from decades of disrepair. The area contains the Anheuser Busch Brewery and the old Lemp Brewery, in addition to a small eponymous park and working-class versions of the townhomes of Lafayette Square.
Forest Park Southeast - Forest Park Southeast is at the beginning of a revitalization. Younger professionals have been attracted to the area due to the popular bars, and have since settled down and contributed to the area's infrastructure.
Grand Center/Midtown - West of Downtown down an area known as the Central Corridor (that includes Forest Park and the CWE), Grand Center is home to a booming performing arts, theatre, and museum district. St. Louis University is in this area.
Tower Grove/South Grand - A few miles south of Grand Center is Tower Grove Park, a 19th-century Victorian walking park. The nearby South Grand strip has a variety of shops, coffeehouses, bars, service businesses, and the area's largest concentration of Asian restaurants and shops. An ethnically diverse, gay-friendly area with an active street life and turn-of-the-century architecture.
Central West End - A very cosmopolitan neighborhood featuring stunning turn-of-the-century palace-like homes, upscale dining, and boutique shopping, the Central West End also contains an eclectic mix of antique shops, coffee houses, and art galleries. It's on the eastern edge of Forest Park, and includes the world-renowned Medical School of Washington University.
The Hill - St. Louis's Little Italy is home to a large number of locally renowned Italian restaurants, bakeries, and grocery stores. Its name is due to its proximity to the highest point of the city.
North St. Louis - The historic African-American neighborhood known as "The Ville", and contains many historical sites relating to the history of Black Americans in the Midwest, including Sumner High School and Homer G. Phillips Hospital. This area extends north from Delmar Boulevard, and contains much of the industrial record of St. Louis and the migration of newcomers to the city.
Cherokee Street - A long-time shopping district, created from the convergence of two streetcar lines, this 12 block stretch of antique stores, cafés, restaurants and bars is divided by Jefferson Avenue. Cherokee Street runs from the antique and vintage stores, starting at what remains of the old Lemp Brewery warehouses, east of Jefferson. It crosses over to host 5 blocks of hipster/grunge bars, capped by the city's most celebrated collection of Hispanic bakeries & taquerias. All of it centered on the Cinco de Mayo festival, each weekend around May 5th. It's also the city center for burlesque, with the Casa Loma Ballroom hosting the annual Show-me Burlesque Festival each June. This neighborhood is having a resurgence, becoming a destination for shopping, dining and entertainment, south of Benton Park/Brewery.
See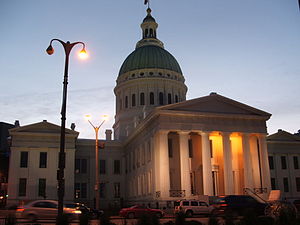 Obviously, the Gateway Arch is a must-see attraction; even if you can't handle the ride to the top, you should at least gaze upward and ponder the arch's majesty. But St. Louis has plenty else to see, too, and several of the attractions offer free admission. (That doesn't mean
parking
is free, or that you can do everything within the attraction without extra charges... but still:
free
!)
Gateway ArchDesigned by Eero Saarinen, this is the world's tallest national monument, built to be a symbolic gateway to the West. The icon of the city, the Arch is right on the bank of the Mississippi and offers an inspiring sight to travelers coming in from Illinois. There's a gift shop and a confectionery, as well as a inspiring film called "Monument to the Dream," about the building of the Arch; it is an exceptionally well-made and memorable tribute to how a vision was made tangible. But the main attraction is the Journey to the Top; you'll ride a unique tram/elevator—essentially a cross between a cable railway and a ferris wheel—up either the north or south leg to the top of the arch, where you can see for dozens of miles into Illinois and Missouri. The cars are very small; they hold five very close friends or relatives each, and are not suitable for the claustrophobic. Tickets sell out during peak season; expect a long wait on major summer holidays to go to the top.

Old CourthouseThe site of the historic Dred Scott slavery case which was one of the seeds of the Civil War. While the Park is under construction, you can buy tickets to the arch here. The Courthouse also holds exhibits from the now-closed Museum of Westward Expansion, which used to be underneath the Arch.

phone: +1 314 231-3250

address: 209 Walnut St

The first cathedral built west of the Mississippi River (1834), this is the only building that was spared when the park was constructed. It's still an active Roman Catholic basilica.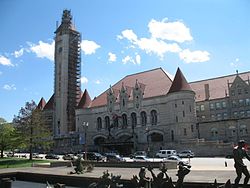 phone: +1 314 421-6655

address: 1820 Market St

This 110-year-old National Historic Landmark has been restored and redeveloped as a dynamic mixed-use project that includes shopping, dining and entertainment. For history buffs, this is where the classic photo of Harry Truman holding the incorrect "DEWEY DEFEATS TRUMAN" newspaper was taken.

phone: +1 314 241-7391

address: 1100 Macklind Ave

An absolutely unique museum designed to teach kids proper tooth-care habits, though adults may find it amusing too. There is a complete set of three-foot tall fiberglass teeth which light up when the hostess brushes them with a six-foot-long toothbrush. A spirited presentation and a short video get kids excited about the subject. The theatre is much-visited by local elementary schools, and you can arrange to tag along with a group or schedule your own trip. This expanded museum replaces the previous Delta Dental Health Theatre Museum.
Bridges along the Mississippi River. In addition to the historic Eads Bridge, listed above, St. Louis is home to many other beautiful and impressive bridges along the Mississippi River, with the newest being the modern Stan Musial Bridge. The bridges are, from south to north:
Jefferson Barracks Bridge
MacArthur Bridge (railroad)
Poplar Street Bridge
Eads Bridge
Martin Luther King Bridge; informally the "MLK Bridge"
Stan Musial Veterans Memorial Bridge; informally the "Stan Span"
McKinley Bridge
Merchants Bridge (railroad)
Chain of Rocks Bridge (pedestrian and bicycle)
New Chain of Rocks Bridge
Clark Bridge; sometimes called the "Super Bridge"
Do
America's Convention CenterOver 500,000 square feet of exhibit space, also featuring formal reception rooms, presentation-style rooms, a theatre, and the Edward Jones Dome next door.

phone: +1 314 367-9243

address: 4652 Maryland Avenue St. Louis, Missouri 63108

St Louis has become the U.S. capital of chess, with many of the U.S.'s top players and university teams in the city. The U.S. and World Chess Halls of Fame are at this address. You can see exhibitions about the sport of chess.
Must-see neighborhoods
Parks and gardens
Lafayette Square and ParkA fashionable area with tree-lined streets, Victorian and Second Empire townhomes, and shopping and cafés surrounds the city's oldest park - chartered in 1836. In the warmer months, the park features small concerts, picnic locations, art fairs, and a team that recreates old-style baseball - but it is walkable all year round. Twice yearly are walking tours of the area that will take you inside some of the more remarkable Victorian mansions.

South Grand and Tower Grove ParkBy day, visitors enjoy the numerous boutiques and coffeehouses of South Grand Ave., and the shaded walking paths and recreational amenities of Tower Grove Park, including bike paths, playgrounds, a wading pool, several restored Victorian pavilions, and a Farmer's Market (Saturdays, May-Oct.). The park is a frequent home to festivals, including the pan-ethnic Festival of Nations (August) and PrideFest (June). By night, they turn to the numerous bars and restaurants on South Grand: a wide variety of food and drink options, along with one of the best people-watching scenes within the city limits.
Movie Theatres
phone: +1 314 446-4500

address: 3701 Lindell Blvd

This refurbished former Masonic Temple now boasts a one-screen movie theatre. The single screen is essentially a giant living room that forgoes traditional theatre-seating; instead, it features leather couches, club chairs, and coffee tables. The Moolah also has two bars, ample lounge seating, and a bowling alley in the basement. A very cool place for a night out!
Festivals and events
Fourth of July Fireworks Celebration. The entire day is a major event in St. Louis under the Arch with concerts and festivities. Every year a major musical talent headlines the event; acts such as Cyndi Lauper, the Goo Goo Dolls, the Black Eyed Peas, and the Beach Boys have performed in the past. A dazzling fireworks spectacle caps off the night while tens of thousands of St. Louisans watch under the Arch lawn. This event kicks off a weekly concert series called "Live on the Levee", also taking place on the Arch grounds, and features a big-name musical act, food vendors, and games. The Veiled Prophet Parade is a St. Louis tradition for over 130 years, and is essentially the main parade with floats on the Independence Day holiday, starting at Washington Avenue and ending at Union Station.

The Greater St. Louis Renaissance FaireCome, travel back in time as you step into the beautifully wooded, 16th century village, we call Petit Lyon! Immerse yourself in the costumes and mannerisms of the era. Thrill to the exploits of Jousting Knights on thundering steeds. Roam the village shops for unique crafts and goods as our artisans demonstrate period skills. Delight in comedy, music and feats of derring do. Feast on delicious food and drink while strolling minstrels entertain. Interact with the colorful villagers, nobles, peasants and personalities of ages past.
Cruises
Riverboat CruisesTake a cruise down the Mississippi River on the Tom Sawyer or Becky Thatcher riverboats. The boats have paddle-wheels (for display only) and a narrator with guide you around the industrial buildings on the Mississippi waterfront. They also offer cruises with dinner and live music at certain times and also a day trip to historic Kimmswick, Missouri.
Sports
St. Louis' two major-league sports teams (the Cardinals and the Blues) play in downtown stadiums just a few blocks apart. Other St. Louis teams play in the suburbs, like
Saint Louis FC
(soccer) in
Fenton
. The city will get a Major League Soccer team in 2022, which may or may not replace Saint Louis FC; that team will play in a new downtown stadium near Union Station.
Performing Arts
Buy
In addition to these entries, there are a number of suburban shopping malls in
St. Louis County
.
Eat
St. Louis has its very own magazine and accompanying website,
Sauce
, which is the definitive guide to dining in St. Louis. Visit for a searchable restaurant directory, news, and reviews.
Provel cheese, please
As you're gazing at a restaurant menu in St. Louis, you're likely to notice "Provel" listed as a topping choice for burgers or pizza, or as an ingredient in other dishes. It's not just a weird local abbreviation for provolone!
Provel is actually a processed cheese blend of provolone, Swiss, and cheddar cheeses, and St. Louisans put it on
everything
. Well, maybe not
everything
, but anyplace you'd expect to find provolone, or Swiss, or even mozzarella, you're likely to instead see Provel.
Provel cheese is, in fact, a key component of
St. Louis-style pizza
, which by default consists of a cracker-thin unleavened crust, with heavily oreganoed pizza sauce and plenty of Provel on top.
Try St. Louis original foods
Barbequed pork steaks, St. Louis-style — Boston Butt sliced into steaks, basted with Maull's Barbecue sauce
Gooey butter cake — a type of coffee cake with a bottom layer of buttery yellow cake and a top layer of either egg and cream cheese, or butter and sugar
Toasted ravioli — breaded, then deep fried, these small meat, cheese, or veggie stuffed pasta pockets reflect local Italian influence; a favorite bar food in St. Louis
Slinger — a large plate full of hash browns piled over with two eggs and a hamburger patty (or other meat) and then covered with chili and cheese (onions optional); a popular ultra-heavy diner food
St. Louis-style pizza — made with Provel cheese on a super thin crust.
St. Paul sandwiches — a fried egg and vegetable patty on white bread with lettuce, tomato, and mayonnaise; unique to the Chinese-American restaurants in St. Louis

Gus's Pretzelsgreat hot LARGE pretzels about 1' long and 1" diameter!

Maull's Barbecue Sauce — a spicy, semi-sweet tomato-based sauce unusual for containing pepper pulp and anchovies; available in eight varieties.
Red Hot Riplets — a somewhat-spicy variety of potato chips made by local firm Old Vienna with St. Louis-style barbecue sauce.

Ted Drewes Frozen CustardEvery St. Louis resident has had Ted Drewes at some point in their life. They have two locations in St. Louis, including one on the original Route 66. Featuring dozens of toppings for its famous frozen custard, it's a wonderful treat in the warmer months.
Bakeries
St. Louis' German heritage is evidenced in its vintage bakeries throughout the metro area:
Federhofer's Bakery

phone: +1 314 832-5116

address: 9005 Gravois St
The Hill
If you are a fan of Italian, head over to a neighborhood known as
the Hill
. Home of Yogi Berra, the Hill has more Italian restaurants than any other area in the city.
Adriana's

phone: +1 314 773-3833

Sicilian. Not open for dinner but can boast one of the best Italian veggie sandwiches out there. Lines are long but move quickly.

phone: +1 314 781-1135

phone: +1 314 772-4454

phone: +1 314 771-4900

address: 5046 Shaw Ave

Guido's blends the traditional Italian-American fare of the Hill District with distinctly Spanish-flavored tapas plates.

phone: +1 314 776-0020

One of the most popular restaurants on The Hill, Zia's pastas stand out in St. Louis.

Rigazzi's Restaurant

phone: +1 314 772-4900

address: 4945 Daggett Ave

High-quality Italian food, with lots of old-country atmosphere. Wait can be long, but food is good.
Central West End
Bar ItaliaItalian. Delightful venue for parties, drinking, picking up lovely ladies and happytimes. Refreshingly, ID's are rarely checked, although this tends to be a bit of a secret, so the crowd is actually happily devoid of drunken teenyboppers.

phone: +1 314 454-0000

address: 2 Maryland Plz

24 hour coffee shop with free wi-fi.

Dressel's

phone: +1 314 361-1060

address: 419 N. Euclid Ave

Possibly St. Louis's only Welsh pub, Dressel's features wood panel walls, original artwork from floor to ceiling of literary and jazz legends, and a central bar that makes this quite a cozy establishment. Try the homemade pretzel, anything with their beer and cheese sauce, Ruben sandwich, or Welsh rarebit.

Eau Bistro and Café

phone: +1 314 454-9000

address: 232 North KingsHighway

Trendy, avant-garde cuisine and a great wine list, this place is great for a date or night out before a movie or the nightlife options in the CWE.
Delmar Loop
The Loop features award-winning dining, and has everything from sidewalk cafés to upscale restaurants. This is a great street to walk and find something that appeals to your palate. Many ethnic restaurants, including Lebanese and Thai, are on the Loop.
South City
phone: +1 314 832-2251

4749 Gravois. August Busch, of the Busch family and brewery, built this giant windmill as his private dining room in the early 1900s. Today it serves traditional German cuisine and amazing breakfast. Look for the giant windmill - you can't miss it if you're in South City. This restaurant closed abruptly in March 2009, reopening in early 2016 in time for Mother's Day. Don't miss the your chance to join the Beir-choir the First Thursday of each month.

phone: +1 314 241-9999

1111 Mississippi. Consistently on critic's Best Of list (if not at the top), Eleven Eleven features an interesting fusion of American and Mediterranean/Tuscan cuisine and the city's finest wine selection. Exposed brick walls, an open kitchen, and a busy dining room has made this place a St. Louis favorite for the past several years.

phone: +1 314 300-8215

address: 3201 South Grand

A vegan restaurant with a great selection of draft beers.

Merb's Candies

phone: +1 314 832-7117

address: 4000 S Grand Blvd

Old-fashioned chocolates, candy, and other sweets. Try the 'bionic candy apple' and the delicious chocolate-dipped strawberries.

phone: +1 314 771-5777

address: 2000 Sidney St

In a 100+ year old brick building, the inside features exposed brick and street lamps to be reminiscent of a New Orleans sidewalk café. The attentive wait staff always gives a verbal presentation of the entire menu, which has many tried-and-true favorites and seasonally changing newer items. A great place for a first date or anniversary.

Chocolate Chocolate Chocolate Company

phone: +1 314 832-2639

address: 6740 Chippewa St

Chocolate Chocolate Chocolate Company is an award-winning chocolatier founded in St. Louis, Missouri. The company was founded in 1981 after the founding chocolatier spend over a decade training with the finest chocolatiers in the world. They specialize in fresh, chocolate covered Strawberries, Premium Truffles, Gourmet Boxed Chocolates, holiday chocolates and chocolate molded novelties all made fresh daily.

phone: +1 314 776-7292

address: 2100 Gravois

Hodak's has been St. Louis' premier stop for fried chicken lovers since 1962! Hodak's has been featured on Rachael Ray's "$40 a Day" on the Food Network. If you like chicken and a lot of food for a small price, this is the place to go. (If you are meeting a group, you will not be seated until all members of your party arrive.) ~$5-10 per person.

phone: +1 314 773-8225

address: 2438 McNair

Some of the best Po-Boys from cities on the "Blues Highway", St. Louis, New Orleans, Memphis, and Chicago. Add in some Love with a little taste from Italy. Set it in a turn of the century store front in one of St. Louis' great historic neighborhoods (Benton Park. Drench your ears with some of the best Blues from the 1920s to the 50s.

Olympia Kebob House & Taverna

phone: +1 314 781-1299

address: 1543 McCausland Ave

Greek food.
Downtown
phone: +1 314 621-8811

address: 736 S. Broadway

Cajun Creole cuisine with live jazz and blues.

phone: +1 314 436-5222

700 South Broadway. Name says it all.

Eat-Rite Diner

phone: +1 314 621-9621

address: 622 Chouteau Ave

A 24-hour diner that looks like it is part of a 1940s movie set, complete with stools and pinball machines. Most sandwiches and other items cost less than $3.

phone: +1 314 241-8877

address: 719 N. 2nd St

On Laclede's Landing, uniquely St. Louis in nature.

phone: +1 314 421-0555

1 Metropolitan Sq. Superb Italian cuisine in a stunning setting atop 1 Metropolitan Square.

phone: +1 314-621-6001

address: 1101 Lucas Ave

One of downtown's hotspots for food, festivities and fun, Mosaic is a fantastic modern fusion tapas-style restaurant featuring more than 40 wines by the glass.

Rooster

phone: +1 314-241-8188

address: 1104 Locust St

A small European-style café with great crepes, sandwiches, and salads. On the inexpensive side, this place is ideal for breakfast or lunch - or a weekend brunch.

phone: +1 314 241-BEER

address: 2100 Locust St

Surprisingly good "European inspired pub food", and great microbrew beers on tap in a remodeled brick warehouse. Many tables have views of the beer being brewed in action, and as the building is quite old, you can feel the hum and vibrations of the brewery process through the floor.

Tony's

phone: +1 314 231-7007

address: 410 Market St

Opens 5PM. The only AAA rated five-diamond fine restaurant in the State of Missouri, this is considered by most to be the city's finest restaurant. Make reservations, look nice, and appreciate the fine cuisine and outstanding service.

phone: +1 314 241-9500

address: 200 South 4th St

at the Millennium Hotel, 28 stories up on top of the Millennium Hotel the restaurant revolves 360 degrees around while you eat. A wonderful view of the city and riverfront.
Midtown
phone: +1 314 535-4340

address: 3106 Olive St

Slow smoked Memphis style BBQ. Long line will form during the lunch rush but it moves fast.

phone: +1 314 535-7800

address: 3037 Locust

Serves an extensive offering of decadent ice cream desserts. Everything is made in house except for the ice cream. Try the pineapple inside out cake in a cup. Or if you only have a small sweet tooth then the world's smallest sundae is just for you. They also have an abundance of adult only ice cream shakes and martinis. You should also give the signature Polish dill pickle soup a chance.
Drink
Most tourists will be familiar with St. Louis' world famous
Anheuser-Busch brewery
, especially its signature variety
Budweiser
, or their best-seller
Bud Light
. However, unless you are accustomed to American style pilsners, it is unlikely you will find these and other Anheuser-Busch brands suit your palate. For those more familiar with European brews or who have been caught up in the domestic craft brewery explosion interested in sampling a local brewery's product, the
Saint Louis Brewery's Schlafly craft brews
are more likely to satisfy. Schlfaly is the largest craft brewery in St. Louis but not the only one. 4Hands, Civil Life, Urban Chestnut, Square One, Perennial Artisan Ales, and O'Fallon Brewery are just a few of the other breweries in town. They are definitely worth a look.
If you would rather explore rather than choose one specific establishment, two areas in St. Louis are great for wandering from location to location: The Central West End (featuring Sub-Zero Vodka Bar, the Drunken Fish, Tom's Bar, the Loading Zone, Mandarin Lounge, and Bissinger's Chocolate Lounge all off Euclid Ave), and Downtown centered around Washington Ave (featuring Kyo, Home, Pepper Lounge, Lucas Park Grille, Plush, Nectar, and rue13). St. Louis's MetroLink system is great if you prefer not to drive, but much of the line will stop running by 1AM.
St. Louis is also home to a number of gay and lesbian friendly nightlife options. From busy bars to energetic dance clubs, make sure to stop by rBar, Atomic Cowboy, Novak's, and the Complex. Much of these are on Manchester Rd in Forest Park Southeast.
phone: +1 314 241-BANG

address: 807 N. Second St

Laclede's Landing. Two dueling piano players lead the crowd in a rock 'n' roll sing-along show.

phone: +1 314 727-4444

address: 6504 Delmar Blvd

Restaurant, darts, bar open till 3AM.

phone: +1 314 862-0009

address: 6691 Delmar Blvd, University City

Cicero's probably derives the bulk of its income from the pizza joint upstairs, which is fair, because the pizza is good. That said the main interest for the traveler is the well equipped bar and the venue downstairs, which hosts touring indie and rock bands.

address: 6161 Delmar

in the Music venue The Pagent.

Hair of the Dog

address: 1212 Washington

Washington's only dive bar; great atmosphere and cheap drink prices. Cheers-type environment, where everybody knows each other's name, and strangers are warmly welcomed. Service is a strong point, and this place is perhaps St. Louis' best watering hole.

phone: +1 314 352-5226

address: 5226 Gravois Ave

Bevo Mills favorite with the friendliest bar staff and huge selection of bottled beer and liquor. Featuring one of St Louis's greatest venues in the back where local bands can be seen every weekend and free movies are featured on Wednesdays

address: 6191 Delmar

Bowling alley and martini lounge open till 3AM.

The Silver Ballroom

address: 4701 Morgan Ford Rd

Bevo Mills bar featuring 14 pinball machines and a punk rock juke box

phone: +1 314 367-1200

address: 308 N. Euclid Av

in the Central West End.

phone: +1 314 772-5994

address: 1903 Pestalozzi St

South City area. A mosaic-covered bar with outside sitting features nightly music.
Sleep
St. Louis does have the host of usual Marriott, Hilton, Holiday Inn and similar chains. Check out chain websites for exact locations throughout the metropolitan region. One great thing about the city is an abundance of hotel rooms, convention and meeting space, and amenities for travelers. Since the city has a low cost of living, even for the Midwest, you might find even the most expensive hotels relatively affordable; rooms at even the Ritz-Carlton start in the mid $200s per night.
In addition to the following listings, which are in St. Louis city, see
St. Louis County
for more listings.
Budget
Mid-range
Splurge
Campgrounds
Stay safe
Crime
St. Louis' designation as the Most Dangerous City in America should not deter the potential visitor. In reality St. Louis is just as safe as any other Midwestern city - that is to say, extremely safe in suburbs and wealthy neighborhoods, and quite dangerous in inner-city slums. The statistical discrepancy is because, unlike most cities, St Louis' municipal boundaries include mostly slums and very few suburb-like areas. The areas of the city proper that are most often visited by tourists, such as Clayton, Downtown, the Central West End, and Forest Park, have quite low crime rates.
The northern suburb of Ferguson, Missouri gained widespread media attention in 2014 for riots against police brutality, but these are no longer ongoing.
Some economically depressed North County suburbs like Wellston, Pagedale and parts of Normandy and Jennings, as well as many parts of North St. Louis city are unsafe. The post-war exodus to the suburbs has taken a huge economic toll on these areas, leaving many buildings abandoned, decaying, or demolished. East St. Louis, in Illinois, is also noted for its high crime rate (this is not true of Alton or Belleville, in Illinois to the north and south). When in the city, a general guideline (though politically incorrect and somewhat simplistic) is that areas north of Delmar Blvd are unsafe, and should be entirely avoided after dark. Most tourists, however, will have little reason to visit any of these places, so it should not present reason for much concern.
Some Metrolink stations are in areas some may find questionable after dark as well. But most downtown areas around Busch Stadium, and Union Station, as well as the St. Louis University area and commuter lots near the airport, are generally safe and patrolled.
Natural disasters
St. Louis sits on a fault line, whose last big earthquake changed the course of the Mississippi River. Another earthquake still remains a possibility today—albeit a remote one, according to most scientists.
St. Louis gets a lot of urban tornadoes, so make sure you understand
tornado safety
precautions.
Cope
Consulates
phone: +1 314 567-4601

address: 330 Wenneker Dr

phone: +1 314 259-5931

address: One Metropolitan Sq, 211 N Broadway Ste 3000

Ireland (Honorary)

phone: +1 314 727-1000

address: 1015 Locust St, Suite 710

phone: +1 636 751-0984
Go next
Nearby
Cahokia Mounds State Historic Site is just across the river in Illinois. It is the site of the largest pre-Columbian city north of Mexico, with an estimated population of 10-20,000 people at its peak. It is a UNESCO World Heritage site. The top of the "Monk's Mound" offers amazing views of the city and the arch and the free museum is very well done and gives great insights into how the people of what is now America lived 1,000 years ago. It is hard, although possible, to reach the site via public transportation, but it is a $25 Uber ride from downtown.
The Katy Trail State Bike Trail. The Katy Trail is a bike path built where a Kansas-Missouri-Texas railroad line formerly ran. It's over 200 miles long, and biking on a section (or the whole thing) and stopping on the small towns dotting the tree-lined trail is a worthwhile excursion. Great place for bikers, runners, and those who want to experience small town Missouri and the great outdoors.
Lewis and Clark State Memorial Park (Camp Dubois) where the Missouri River joins the Mississippi River. On the Illinois side, about 15 miles from the Gateway Arch. Take I-70 North to Exit #248A McKinley Bridge, then Hwy 3 north towards Alton, exit at New Poag Rd. (Hwy 203) and turn left. This is the location that explorers Lewis and Clark stayed at to begin their journey to the Pacific in 1803-04. Short hiking trails, 82 campsites, 1930s lodge, popular for family picnics.
Further afield