St. Louis Metro East
St. Louis Metro East
is a region of southwestern
Illinois
that includes the Illinois part of the St. Louis metropolitan area, plus surrounding counties. It consists of the counties of Bond, Calhoun, Clinton, Fayette, Jersey, Madison, Marion, Monroe, Randolph, St. Clair, and Washington. The most populous city is
Belleville
, which is not far southeast of
East St. Louis
, which was once the most populous.
Cities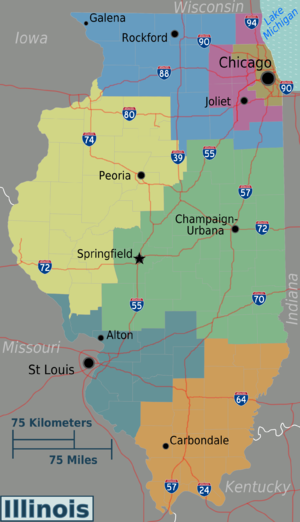 - Historic Homes, 50 Antique Shops, 9 Golf Courses, Bed and Breakfasts, Meeting of the Great Rivers National Scenic Byway, and Argosy Alton Casino among other things.
- Historically the biggest city in the southern third of Illinois, East St. Louis has experienced grave population loss since the middle of the 20th century and while vast is now less populated than many of the area's smaller cities.
- North of Belleville and was home to the U.S. Air Force's blimp squadron
Other destinations
Get in
By plane
Lambert St. Louis International Airport
(
STL
) is the largest airport serving St. Louis, with annual passenger traffic of approximately 13 million people. The airport is 14 miles northwest of the city center and is directly served by the MetroLink light rail line. A 2-hour MetroLink transfer ticket costs $4 from the airport. Uber vehicles are not allowed to pick up at the airport, although they may drop off passengers.
(CPS) is 3 miles east of the city center and serves charter and cargo flights.
(BLV) is 21 miles east and only serves Allegiant flights.

Get around
Car
The easiest way to get around, since this is a quite suburban area.
MetroLink
The St Louis area's light rail system, it runs deep into Illinois. Many of the Illinois stations have free parking.
Bus
The Metro East is divided into Madison County (north) and St. Clair County (South).
St Clair County buses are operated by Metro St. Louis which is the main transit provider for the St Louis metro region. These buses tend to begin/end at MetroLink stops, providing local service.
Madison County buses are separately operated by Madison County Transit.
See
Lewis and Clark State Historic Site

phone: +1 618 251-5811

address: One Lewis and Clark Trail, Hartford

Lewis and Clark spent the winter of 1803-04 gathering men and supplies and planning their trip west. At 3PM on May 14, 1804 they set out from this spot to explore the west. The museum includes a 55 ft long full-size replica of their keelboat and an outdoor reconstruction of Camp River Dubois.
Do
Gateway Motorsports ParkHosts NASCAR, Busch Series, and Craftsmen Truck Series races.

visit Collinsville for the World's Largest Catsup Bottle Birthday Party held in July
Sleep
Timmermann House Bed & Breakfast located outside of Aviston, with stargazing, sound of distant train whistles. Decorated with antiques and collectables with a gourmet breakfast.
Stay safe

East St.Louis has the reputation locally of being one of the most dangerous towns in the United States.