St Francis
St Francis Bay
is a working fishing port and holiday destination in the Cacadu district of
South Africa
.
Understand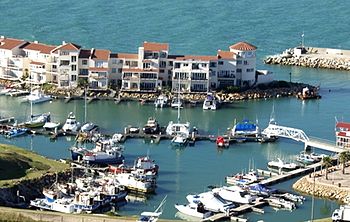 St Francis consists of three closely related, but distinct areas: St Francis Bay, Port St Francis and Cape St Francis.
Not far from Jeffreys Bay lies the charming town of St Francis Bay. It is known for its endemic white houses with either black tile or thatch roofs blending together with the Sardinian-style red tile roofs. Approximately half of the town is built around the largest web of manmade canals and waterways in Africa. Adjacent to St Francis Bay is the pastoral fishing village of Cape St Francis with its outstanding beach and historic Seal Point Lighthouse while Port St Francis is the harbour. Visit Oyster Bay, a town that caters for those who enjoy quiet time and relaxation. Explore this district with its beautiful beaches, rich wildlife and adventures - surf the waves or swim with dolphins.
St Francis Bay
is a beach village of Cape Dutch style thatched roof houses build on canals in the Kromme River estuary.
Port St Francis
is a working fishing port for the squid/calamari industry. Also home to Station 21 of the national Sea Rescue Institute.
Cape St Francis
is home to a working lighthouse build in 1878. Surrounded by beautiful beaches and good surfing spots.
Get in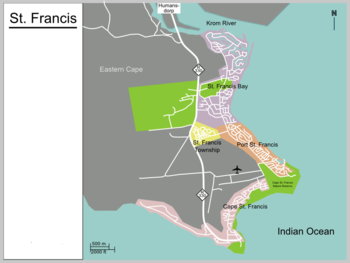 By car
Take the
Humansdorp
exit from the
N2
. Drive through Humansdorp and follow the
R330
to St Francis. St Francis is 76 km from Port Elizabeth. You could also drive in from Durban (901 km) or Cape Town (690 km).
By plane
There are two airports located in close proximity to St Francis. The closest is the Port Elizabeth airport which is 76 km away. The East London airport is 356 km away. There are regular flights from
Johannesburg
,
Cape Town
,
Durban
and other South African destinations to the airports in Port Elizabeth and East London.
By bus
All major South African coach companies offer regular schedules to and from destinations like Addo.
Get around
Budget Car Rental

phone: +27 42 294-1152

address: Sanriver Lodge
See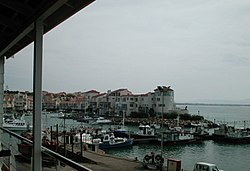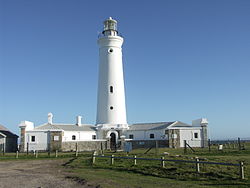 Cape St. FrancisCape St. Francis is renowned for its peace and tranquility. Nonetheless, surfers from all over the world flock to this coastal town in hopes of surfing a wave at the popular Seal Point. There are a number of nature reserves in the area, and another key attraction for the town is its lighthouse, which was established in 1878 and has since been declared a national monument.

Oyster BayWhat started off as a coastal farm before 1956 has evolved into the small coastal town called Oyster Bay. Found 14 km west of St Francis Bay, activities such as swimming, and rock, deep sea and surf fishing can all be enjoyed in this seaside town.

Paradise BeachParadise Beach promises a relaxing day on a pristine white beach, away from the hustle and bustle of everyday city life. The name explains it all... it really feels like paradise. Because of its wide and uncrowded beach, it's also a paradise for windsurfers and kite boarders with good wind all year round.

phone: +27 42 294-0076

The Cape St Francis Lighthouse

phone: +27 42 298-0428

The lighthouse, called Cape St Francis Lighthouse or Seal Point Lighthouse, was built in 1878 to warn ships of the dangerous reef that stretch more than a kilometre out to the sea. It is the tallest masonry tower on the South African coast standing at a height of 27.75 m. Although it is no longer in full operation, it is open to the public and guided tours of this historic lighthouse are available.

The Penguin Rescue & Rehabilitation Centre

phone: +27 42 294-0076

The rehabilitation centre offers you the opportunity to view the vulnerable African Penguin up close. Although the conservation focus is on the African Penguin, the centre deals with all sick, injured or oiled marine birds.
Do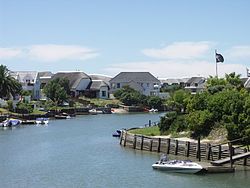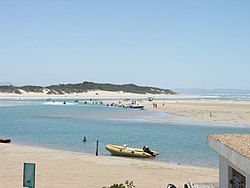 Jetski in the Krom River and out to the ocean

phone: +27 82 939-4081

Krom River Expeditions

phone: +27 84 506-6396

Go on a canal cruise.

Paintball

phone: +27 74 342-2644

address: The Rabbit Farm, off St Francis Dr

St Francis Safaris

phone: +27 82 569-3750 or +27 83 441-6397

Game fishing, dolphin and whale cruises, boat and jet ski hire

SurfSealpoint is the best place for surfing

Viking Boat Hire

phone: +27 83 325-1655

Hire a boat to explore the canals and river on your own.
Golf
St Francis Links

phone: +27 42 200-4500

The highly rated St Francis Links is an extremely beautiful and challenging 18-hole, par 72 golf course which compares favourably with some of the best courses in the Cape.

St Francis Bay Golf Club

phone: +27 42 294-0467

Swartenbosch Golf Club in Humansdorp

phone: +27 42 291-0569

9-hole (18 tee) golf course.
Horse, hiking & mountain biking trails
Small nature reserves in the area provide the perfect backdrop for magnificent hiking and hore riding trails in the area.
Buy
phone: +27 42 295-2325

Ostrich leather belts, wallets, handbags, etc.
Eat
Barons Grill

address: Village centre

The Butcher Shop

phone: +27 42 294-1982

address: Village centre

Farol Bistro and Coffee shop

phone: +27 42 294-1019

address: Village centre

Excellent breakfasts.

Porthole Restaurant And Bar

phone: +27 42 294-1123

On the port. Serves delicious calamari, fresh from the sea. Sit on the patio and watch the calamari being unloaded from the fishing boats.

Trattoria San Francesco

phone: +21 42 294-0819

address: Village centre

Pasta.
Sleep
St Francis Bay
phone: +27 42 298-0054

This is a luxury 5-star resort with three separate villas and 12 en suite bedrooms. You can opt for either self-catering or bed and breakfast accommodation

Osbosch Lodge

phone: +27 42 294-1001

Self catering and B&B.

phone: +27 42 294-1888

address: 8 Frank Rd

This splendid luxurious five star African Beach House offers five spacious en suite bedrooms all with uninterrupted views of the majestic Indian Ocean and endless stretches of pristine coastline.

Sandriver Lodge

phone: +27 42 294-1052

address: St Francis Dr

Nice B&B close to shopps and golf course

phone: +27 42 294-0082

They offer various rooms with both double and twin beds
Port St Francis
Cape St Francis
phone: +27 42 298-0054

On the beach

phone: +27 42 298-0444

address: 7 Lyngenfjord Rd

4-star.
Connect
Local telephone directory: 1023
International telephone directory: 10903
Important u
Police: 10111 or +27 42 293-1133
Fire Brigade: +27 42 291-0283
Ambulance: 10177 or +27 42 293-1311
Hospital: +27 42 291-0749
Go next
Nearby
Aston BaySituated between Jeffreys Bay and Paradise Beach, this area offers long stretches of untouched sandy beaches surrounded by protected nature reserves. Sightings of small buck, tortoises, a large variety of birds, rabbits and mongoose are part of every day life in this nature conservancy and the creatures are much loved by local home-dwellers.

phone: +27 42 293-2923

The home of the perfect wave - situated between Port Elizabeth and the Garden Route is Jeffrey´s Bay, the soul of surfing in SA with a terrain of aloes, perfect points & classic reefs. Once a year the best surfers in the world get together for the annual Billabong Pro surfing competition at Supertubes.
phone: +27 42 295-1361

The pleasant town of Humansdorp can be found en route to Plettenburg Bay from Port Elizabeth. The Kouga Cultural Centre is a famous attraction due to its symbolism and portrayal of the African Renaissance.
Further away