Standing Rock
Standing Rock Indian Reservation
straddles the border between
North Dakota
and
South Dakota
. It is the country's sixth largest reservation at 3,750 square miles (9,250 km 2 ). Population was 8,217 as of the 2010 census, from various tribes of the Sioux.
Understand
As for most tribes, the history of the Sioux over the last few centuries is a sad and complex tale with some battles fought, several treaties made, more-or-less all of them broken by the whites, and Indian land repeatedly reduced. The Sioux on this reservation are descendants of those who defeated Custer at
Little Bighorn
and were massacred at
Wounded Knee
.
See
Indigenous cultures of North America
for more general discussion of native cultures.
DAPL protests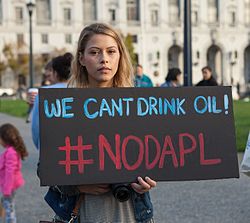 In 2016, Standing Rock made news in a big way: that year, plans to run the Dakota Access Pipeline (DAPL) near the reservation were met with massive protests against what was seen as both a threat to the local water supply and, according to tribal elders, a desecration of sacred burial grounds. While legal challenges to the pipeline slowly worked their way through the courts, the reservation became the site of several huge semi-permanent camps of occupying protesters who aimed to block the pipeline's construction. The local Sioux by no means stood alone: over 100 other tribes from across the U.S. and Canada, along with some in South America and even New Zealand Maori, declared their support and in some cases sent people to the camps. There were also many non-Indian allies involved, including a number of celebrities.
While the Obama administration decided in its waning days against granting an easement for the pipeline, the protesters' victory was short-lived: almost immediately after his inauguration, Donald Trump directed the U.S. Army Corps of Engineers to reverse his predecessor's decision, and construction of the pipeline (and the dismantling of the protest camps) proceeded quickly thereafter. The first oil began flowing through the DAPL in June 2017.
Orientation
There are no actual cities within Standing Rock. The main settlements are Fort Yates, Cannonball and McLaughlin. Fort Yates is the administrative center with all the tribal offices and
Sitting Bull College
.
Get in
A number of highways pass through the region. McLaughlin is at the intersection of US 12 running roughly east-west and SD 63 north-south. Crossing the border, SD 63 becomes ND 6 which leads to ND 24. ND 24 goes near both Fort Yates and Cannonball then leads north toward
Bismarck
.
Get around
phone: +1 701 854-8090

address: 9299 Highway 24, Fort Yates ND

Reservations are required 24 hours in advance and must be made by calling during dispatch hours.
See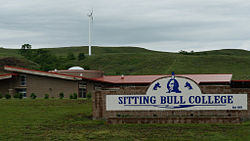 Eat
Drink
phone: +1 701 854-2300

address: 100 Standing Rock Road, Fort Yates ND
Sleep
Connect
phone: +1 701 854-7412

address: 110 S. River Rd, Fort Yates ND
Go next