Staten Island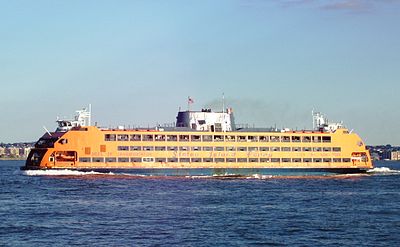 Staten Island
is
New York City
's "Forgotten Borough" across New York Harbor from
Manhattan
. Staten Island may seem like it's in an entirely different world than the hustle and bustle expected in New York City. However, it still has some of the features you've come to expect from the city. This combination of city influences and its rural origins have created a unique borough that is a great place to visit.
Districts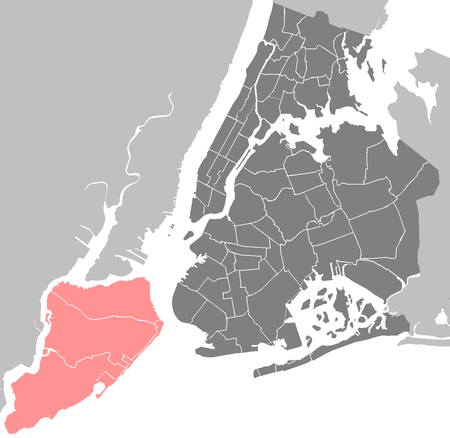 Staten Island has numerous neighborhoods, each with a distinct feel and different attractions.
These neighborhoods can be grouped into three regions: North Shore, Mid-Island, and South Shore. The North Shore includes the area north of the Staten Island Expressway. The South Shore generally includes the area south of the Fresh Kills. The Mid-Island takes up the area in-between.
North Shore
The North Shore is full of older neighborhoods, which were fully developed long before the rest of Staten Island. Thanks to this, many examples of old architecture can be found here. Its neighborhoods include:
St. George – St. George is the political center of the Island, the location of its Borough Hall and County Courthouse. It is also a transportation hub, with the St. George Ferry Terminal, and a cultural center, with many attractions. These include the Staten Island Museum, the Postcards September 11 memorial, and the St. George Theater.
Tompkinsville – A number of ethnic restaurants can be found here in Staten Island's "Little Sri Lanka".
Stapleton – This small waterfront neighborhood is known for just that: its waterfront. Sometimes known as the Stapleton Homeport, this stretch of water almost became a Unites States Navy base, a plan that ended due to lack of funding. Today it is mostly residential housing; however, it is still used as part of the annual New York City Fleet Week.
Clifton – A section of this neighborhood is called Little Liberia. It is home to the largest Liberian population in the world outside of Liberia.
New Brighton – This small neighborhood just to the west of St. George can be characterized through its main attraction–the Snug Harbor Cultural Center. Once a retirement home, Snug Harbor is now a collection of museums that showcase the best of Staten Island's culture.
West New Brighton – This neighborhood is a separate entity from New Brighton. It is home to the Staten Island Zoo.
Port Richmond – One of Staten Island's oldest neighborhoods, Port Richmond is home to many examples of beautiful architecture.
Mariners Harbor – This neighborhood began as a fishing village, and is now a minor center for shopping.
Silver Lake – This neighborhood is dominated by the lake and park of the same name. A popular place with the locals, Silver Lake is the largest body of water on Staten Island.
Grymes Hill – Grymes Hill is home to a number of colleges, including Wagner College and St. John's University Staten Island Campus.
Willowbrook – This large neighborhood has a peaceful vibe to it. It is home to Willowbrook Park and the College of Staten Island.
Mid-Island
The Mid-Island section was largely undeveloped until 1964, the opening of the Verrazano Bridge. The resulting economic boom means that most of the Mid-Island's architecture is from the late 1960s and 1970s. Some of its main neighborhoods are:
Old Town – True to its name, Old Town was the first European settlement on Staten Island. The Dutch called it Oude Dorpe.
Todt Hill – The peak that shares the same name as the neighborhood is considered the highest point on the Eastern Seaboard. Todt Hill has many rich residents, who love to overdecorate their lawns, much to the amusement of other Islanders. These two factors contribute to the area's majestic feel.
Dongan Hills – This large neighborhood is very peaceful. A section which borders Todt Hill is called the Dongan Hills Colony. It is home to large mansions, and offers a unique view of the Manhattan skyline.
South Beach – Formerly home to a bustling amusement park, South Beach has quieted down a lot from its glory days as a summer getaway. Now, the area is mostly residential, with large Polish and Russian populations. The popular beach of the same name is still open.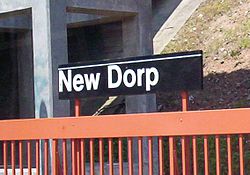 New Dorp – New Dorp has deep roots in history, spanning back to the American Revolution, when it was the base of the British army in New York. Now, the neighborhood is one of the area's major commercial centers. Its main thoroughfare, New Dorp Lane, is home to any type of store you could wish for–from a convenience store, to a fancy cake shop, to mom-and-pop shops, pizzerias, and a karate school.
Richmondtown – Richmondtown is home to Historic Richmond Town, a collection of buildings dating back as far as the 18th century.
New Dorp Beach/Oakwood Beach – These two waterfront neighborhoods were hit hard by Hurricane Sandy.
Heartland Village – The commercial center of the entire island is home to the Staten Island Mall and a number of other large and small shopping centers.
Chelsea and Travis – Two tiny, mostly industrial neighborhoods on the western edge of the island.
South Shore
The South Shore experienced a similar economic boom to the Mid-Island when the Verrazano Bridge opened. However, there are still many parts of the South Shore that are undeveloped, at least compared to the rest of the borough. Some of its neighborhoods are:
Great Kills – The northernmost neighborhood on the South Shore is very residential and has a large park and marina.
Eltingville – This humongous neighborhood is also primarily residential, but is home to a major transit center.
Huguenot – Huguenot is named after the French Huguenots, its original settlers. Nowadays, the very suburban neighborhood is home to many other ethnicities as well.
Rossville – Formerly farmland, Rossville has developed greatly.
Sandy Ground – Sandy Ground (no connection to Hurricane Sandy) has great historical importance. It was the first community for freed slaves established in North America. It dates back to 1827, when slavery was abolished in New York State.
Charleston – A very remote neighborhood, it is home to a sizable commercial sector.
Tottenville – Tottenville is the southernmost point in New York. It developed earlier than the rest of the South Shore, thanks to its prominence as a transportation hub before the invention of automobiles. Many examples of nineteenth-century architecture can be found here.
Understand
Staten Island is a borough of about 500,000 people. While that's not even half of the population of any of the other boroughs, it's still respectable for a U.S. city. Staten Island is in New York Harbor, and is the southernmost point in New York State. It's practically in
New Jersey
.
Orientation
Staten Island is New York City's only borough that lacks a predominant numbered street grid you can not depend on the numbers of the streets to tell you where you are.
Staten Island has four main highways: the Staten Island Expressway (I-278), the West Shore Expressway (NY-440), the Martin Luther King Jr. Expressway (also NY-440), and the Korean War Veterans Parkway (unofficially known as the Richmond Parkway). The Staten Island Expressway runs east-west, from the Verrazano-Narrows Bridge to the Goethals Bridge. The West Shore expressway runs south from the Staten Island Expressway in the northwest portion of the island to the Outerbridge Crossing in Tottenville. The Martin Luther King Jr. Expressway runs north from just east of the SIE's junction with the West Shore to the Bayonne Bridge. The Korean War Veterans Expressway branches off from the West Shore Expressway just north of the Outerbridge and runs northeast all the way to Eltingville.
Compared to the neatly-organized grid of Manhattan, the layout of Staten Island's streets may seem like a child's drawings. On the contrary, most streets run in a simple pattern. The biggest streets run east-west (parallel to the northern shore), north-south (parallel to the western shore), and northeast-southwest (parallel to the eastern and southern shores). This creates the effect of a triangle. If you know the main roads that form each side of the triangle, you won't get lost.
Get in
By ferry
Staten Island can be reached by passenger ferry from
Manhattan
. The ferry is the most visually pleasing option for arriving on the island, as it passes by Liberty Island and offers stunning views of the Manhattan skyline and New York Harbor. The ferry is free and operates 24 hours a day out of Battery Park in Manhattan and St. George Terminal in Staten Island; even during the early morning hours, it never runs less than once every half hour at the half hour. You can see a current schedule on
this page
. The 25-minute ferry ride is also sometimes a faster trip from Lower Manhattan to Staten Island than a corresponding trip by car or bus. The ferry allows bicycles on the lower decks, where there are usually bike racks.
The St. George Ferry Terminal is also a terminal for the Staten Island Railway and many of Staten Island's local buses.
By car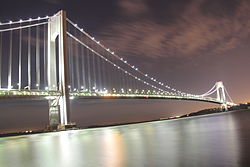 Staten Island can be reached by bridge from
Brooklyn
and
New Jersey
.
Verrazano-Narrows Bridge connects Staten Island with Brooklyn, but you will incur a high toll of $11.52 with a New York E-Z Pass users or $17.00 for out-of-state E-Z Pass users and non-E-Z Pass users (westbound to Staten Island only; no toll eastbound).
Bayonne Bridge connects northern Staten Island with Bayonne, New Jersey.
Goethals Bridge connects Elizabeth, New Jersey to mid-western Staten Island.
Outerbridge Crossing connects Perth Amboy, New Jersey and Tottenville, Staten Island.
These last 3 bridges have a $15.00 ($10.50 on Off-Peak times and $12.50 on Peak-times for E-ZPass issued by New York or New Jersey) toll payable only when entering Staten Island, not leaving it. The carpool toll is $6.25 with 3 or more people in a car, payable only with E-Z Pass. The Bayonne Bridge and Verrazano-Narrows Bridge use an All-Electronic Tolling System, meaning that no cash payments are allowed, and without E-Z Pass, your toll will be paid via Tolls-By-Mail.
By bus
Express bus
A moderately priced option is to take an express bus from Manhattan to Staten Island. The express buses are especially handy when you are traveling to places on the South Shore, which is the furthest section of Staten Island from the ferry, and has fewer local routes running than the more densely populated North Shore. The $6.50 fare is payable with MetroCard (pay-per-ride only), Express Bus Plus MetroCards or coin change. Dollar bills are not accepted.
Most express buses run solely on weekdays. The
X1
,
X10
, and
X17
run 7 days a week. The X1 runs 24/7.
The wait times for an express bus are about 4–10 minutes during rush hours, 15–30 minutes other times. The Staten Island
bus map
(
service descriptions
) covers the routes on the island.
Local bus
There is also the option of taking the S53, S79, or S93 buses from the 86th Street subway station of the R train in Brooklyn. These bus routes cross the Verrazano-Narrows Bridge into Staten Island. Since these are considered local bus routes, you can pay for the ride by depositing $2.50 in coins in the farebox or swiping your MetroCard.
The S53 serves the North Shore and goes through Port Richmond and West New Brighton
The S79 serves the Mid-Island region and the South Shore. It goes along Hylan Boulevard and Richmond Avenue to get to the Staten Island Mall.
The S93 runs rush hours only and goes to the College of Staten Island, serving the neighborhoods near the Staten Island Expressway and Victory Boulevard.
From Bayonne, you can take the S89 Limited bus during rush hours from the 34th Street Hudson-Bergen Light Rail station. This bus runs down Richmond Avenue and serves sections of the North Shore, Mid-Island, and South Shore.
Get around
By rail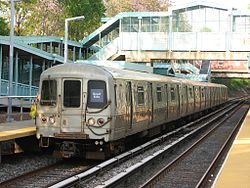 The subway doesn't go to Staten Island. The
Staten Island Railway
is a hybrid of a railroad and a subway line. Fares are the same as a subway ride ($2.75), and it runs 24 hours, at intervals from 15 minutes during weekdays to hourly overnight, synchronized to the ferry schedule. Fares are collected only at St. George Ferry Terminal and Tompkinsville, and include a free transfer to or from the buses or subway in Manhattan. During rush hours, express service is provided and the locals terminate at Great Kills.
By bus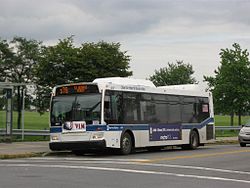 Bus routes
cover the island pretty thoroughly. There are two types of buses:
The local buses run routes all over Staten Island and are distinguished by the S before the route number (ex. S55, S78). They have uncomfortable plastic seats and cost $2.50. During rush hours, some buses run Limited and stop at major cross streets and transfer points. For example, the S62 starts at Jewett Avenue, making all stops east, while the S92 makes all stops west of Jewett Avenue that the S62 normally makes, while stopping only at major streets like Clove Road east of Jewett Avenue. Limited route numbers are always in the 80s and 90s, and the numbers of the local and limited routes usually correspond (S62/S92, S46/S96).
Many local buses terminate at the St. George Ferry Terminal. These can be grouped according to their service area:
:* North Shore: S40 series (S40, S42, S44, S46, S48)
:* East Shore: S50s series (S51, S52)
:* Victory Boulevard: S60s series (S61, S62, S66)
:* South Shore: S70s series (S74, S76, S78)
:* Limited routes: S80s and S90s series (S81, S84, S86, S90, S91, S92, S94, S96, S98)
However, other routes on Staten Island that do not depart from the Staten Island Ferry Terminal do not necessarily follow the same rule. These are the S53, S54, S55, S56, S57, S59, S79, S89, and S93.
The express buses are distinguished by the X in the coded display on the front of the bus (ex. X1, X17). These buses run from Staten Island to Manhattan, have more comfortable cloth seats, and cost $6.
Most bus routes on the island meet up at the
St. George Ferry Terminal
. Other major transfer points include
Port Richmond
, with some buses terminating at Richmond Terrace at Port Richmond Avenue; the
Staten Island Mall
; and the
Eltingville Transit Center
on the South Shore.
Fares can be paid in quarters or dollar coins (if you can find them). You can also use a MetroCard (good for all public transportation in NYC), available at some delis or at the machines at the ferry terminal. Buses run close to schedule, but service on Staten Island is sparse outside of rush hours, and even during peak hours, the most frequent headway is 10 minutes. Because of this, it helps to be prepared: either pick up a schedule for routes that you'll plan to take, check the Guide-A-Ride boxes at bus stops for exact times or use the
MTA's BusTime system
to track buses.
A Staten Island bus map is available on
this page
.
See
Parks
As the official "Borough of Parks", Staten Island has a large collection of parks. They range from modest playgrounds to immense expanses of raw nature.
All parks operated by the New York City Department of Parks & Recreation are open 6AM–1AM, but the Greenbelt is operated by the Greenbelt Conservancy and Gateway is operated by the National Park Service. Parks affiliated with schools are the only exception. These are open from dawn to dusk, and it is generally considered good etiquette to stay out of the park if schoolchildren are playing in it.
Some parks in Staten Island are:
address: Amboy Road & Riedel Avenue

A small park that is not much more than a clearing and some trees. A monument to the man the park was named for, Roald Amundsen, stands in the center of it.

address: Poillon Avenue & Amboy Road

A large park on the South Shore known from its large collection of wildlife, from birds to wildflowers. True to its name, the park is a known habitat for blue herons.

address: Adelaide Avenue & Emilra Street

This deceivingly small park has two large asphalt playgrounds, two smaller ones, a grass field, a baseball field, basketball courts, and a jungle gym. It is always peaceful and rarely crowded, as it is shared by Public School 50 during school hours.

address: Wild Avenue & Pearson Street

Only in the first stages of development, this mega-park is set to be 2,200 acres—three times the size of Central Park. It will cover the wild areas of the Fresh Kills, as well as what was formerly the Fresh Kills Dump. The first section of the park, Schmul Park, in Travis, features a large and colorful playground for kids, along with basketball courts, handball courts, and an open grass field.
A portion of the Gateway National Recreation Area, called the Staten Island Unit, is located here. It consists of three parks:
Fort WadsworthDating back to 1663, this fort was used during both the American Revolution and the War of 1812. It remained active until 1995. It is now semi-active, with its main use being local headquarters for the United States Coast Guard. Tours are available.

Miller FieldThis park was operated as a United States Army airfield from 1919-1969. Now, it is a large, mostly grass park with baseball fields, soccer fields, and a children's playground.

Great Kills ParkThis park is home to a large woodland and a number of beaches. A small portion of the beach is closed for radiation screenings.
phone: +1 718 351-3450

address: 700 Rockland Ave

A humongous collection of woodlands and parks (2,800 acres!), the Greenbelt is a collection of nature you wouldn't expect to see in any major city, let alone New York. The Greenbelt covers much of the Mid-Island, so it's best to know which part you want to go to beforehand. A good place to start is the Greenbelt Nature Center an educational facility in the center of the park. The park is a great place for hikers, and a map of hiking trails can be found here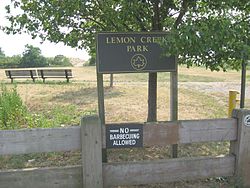 phone: +1 718 667-6042

address: Hylan Boulevard & Sharrott Avenue

This park is home to the creek that shares its name, as well as a variety of wildlife. One of the most notable is the purple martin. The park has one of the very few colonies in the New York Metro.

Mount Loretto Unique AreaNature preserve on the South Shore with hiking trails and shoreline access. Fishing is permitted along the beach or the freshwater pond inside the area. Most of the land is minimally developed, and is an excellent place to observe wildlife. An abandoned orphanage on-site, after which the area was named, burnt down in 2000.

South Beach & BoardwalkThis beach is a pleasant place to relax. The water is safe enough to swim in, but it's not the best you can get (you'd get a better deal down the Jersey Shore or on Long Island). The boardwalk, one of the longest in the United States, is great for running or biking.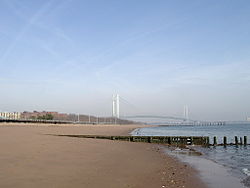 Von Briesen ParkThe former estate of Arthur Von Briesen is now a small, hilly park.

address: Eton Place at Richmond Avenue or Victory Boulevard at Morani Street

A large park with a carousel.
Museums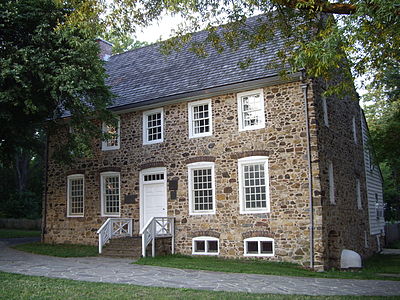 Other
PostcardsStaten Island's September 11th memorial honors all of its residents that lost their lives on Sep 11, 2001.

Snug Harbor Cultural CenterThis is the largest collection of Greek revival, temple style buildings in America. A true architectural gem featuring the Staten Island Botanic Garden, which features an authentic Chinese Scholar's garden (created by actual Chinese scholars!). There is also an art museum, the John A. Noble Collection, on the grounds. This is one of the most beautiful places in New York, a place even the most jaded New Yorker will marvel at.
Do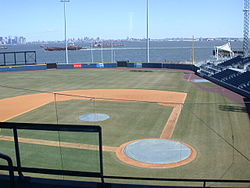 phone: +1 718 720-9265

address: at the Richmond County Bank Ballpark at 75 Richmond Terrace

Go to a game of this A-class Minor League Baseball team, an affiliate of the New York Yankees. Come for a relaxed, fun time, away from the smothering hustle and bustle of the major leagues.

phone: +1 718-442-3100

address: 614 Broadway

It's in West New Brighton, and is a fun destination for younger children as well as animal enthusiasts. The zoo used to have the most snake species of any zoo in the world. It no longer holds that title, but still has a substantial reptile wing.

address: Various locations

Come and visit one of the largest public library collections in the world. Just sit down with one of the millions of good books and relax. You can also use a computer or take books outside of the library, although you first must register for one of the library's famous red and blue cards. For the history buff in you, every Staten Island branch has a file cabinet marked Staten Island Local History with fascinating documents relating to Staten Island's history. A list of Staten Island locations can be found below.

United Artists Theater

address: 2474 Forest Ave

The biggest movie theater on the island is a great place to relax and watch a flick.

Atrium Stadium Theaters

phone: +1 718 984-7600

address: 680 Arthur Kill Rd

Another large movie theater, the Atrium is also great for taking in a movie.
Buy
The shopping in Staten Island is weirdly unique, combining aspects of suburban shopping with things only found in
New York City
. A number of shopping malls are on Staten Island, including:
A shopping area clearly influenced by Staten Island's location in New York City is
New Dorp Lane
, located in, you guessed it, New Dorp. New Dorp Lane has the feel of a commercial street in
Brooklyn
or parts of
Manhattan
; however, it is far less busy than either of the two. You can walk down one of the wide sidewalks and pass a variety of small businesses. The New Dorp Lane commercial district is best experienced by walking, as New Dorp Lane is notorious for frustratingly bad traffic.
A type of business that is becoming increasingly common on Staten Island is the farmers' market. A number of markets can be found on Staten Island, including the following:
address: Hyatt Street and St. Marks Place

Staten Island Mall Greenmarket

address: Staten Island Mall main parking lot

address: 1000 Richmond Terrace

This market sells products only grown on-site.
Eat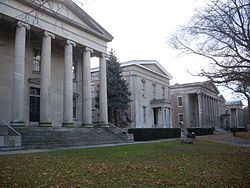 While the vast majority of Staten Island eateries are Italian, there are some gems of ethnic cuisine in the St. George and Tompkinsville neighborhoods. Mostly within a mile of each other on Victory Blvd (and in walking distance from the ferry terminal), the authentic and inexpensive restaurants serve up flavorful South Asian cuisine well worth the trip.
American
phone: +1 718 273-7770

address: 120 Bay St

Laid back eatery. Cool decor. Excellent appetizers and burgers. Great beers on tap. Entertainment weekly!
Italian
phone: +1 718 442-9401

address: 524 Port Richmond Ave

It is reasonably priced and has tasty dishes besides pizza.

Gennaro's

phone: +1 718 979-2382

address: 413 New Dorp Ln

While it is overshadowed by the hordes of fancier pizza parlors on the island, Gennaro's is perfect if you're looking for a cheap slice the whole family can enjoy.

Goodfella's

address: 1817 Victory Blvd

Famous for their vodka pizza, the recipient of several awards.

Joe And Pat's

phone: +1 718 981-0887

address: 1758 Victory Blvd

Specializes in an extraordinarily thin pizza that is one of the best slices in the city. Uniquely thin without too much cheese, Joe and Pat's slices are some of the lightest in the city. Try the eggplant fries.

Pizzeria Giove

phone: +1 347 286-0635

address: 278 New Dorp Ln

A small pizzeria known for its authentically Italian thin crust pizza. Unlike New York pizza, it is cooked in a wood-fired oven. It has been featured on the TV show Throwdown with Bobby Flay.

address: 501 Port Richmond Ave

The original store of the successful chain of stores serving light, refreshing ices. The chain has numerous other locations in the New York Metro, including a handful in other Staten Island neighborhoods. They are in New Dorp, Great Kills, Eltingville, Huguenot, and Pleasant Plains. The full list can be found here.
Asian
Bay House Bistro

address: 574 Bay St

One of the best Asian take outs going. Focus on the appetizers, heavily influenced by Southeast Asian cuisine, particularly Malaysian. Try the roti canai or the curry veggie pies.
Mexican
Taqueria Gallo Azteca

phone: +1 718 273-6404

address: 75 Victory Blvd

The cemitas are to die for, a sandwich with your choice of meat, with avocado, chipotle peppers, quesillo, and beans. One of the best sandwiches you'll ever have.

phone: +1 718 815-9200

address: 585 Forest Ave

Fun Tex-Mex restaurant with generous portions, bar is on the lower level, and restaurant is upstairs.
Spanish
Beso

address: 11 Schuyler St

Spanish restaurant with live music occasionally. Tapas and sangria bring some much needed class to the neighborhood. A short walk from the ferry and a great place to eat.

Real Madrid

phone: +1 718 447-7885

address: 2073 Forest Ave

A restaurant with authentic Spanish food.

Spain Restaurant

phone: +1 718 816-8237

address: 502 Jewett Ave

A Spanish restaurant
Sri Lankan
Lakshmis's Restaurant

address: 324 Victory Blvd

Mainly a take-out establishment but has a few chairs and tables. The menu is comprehensive, offering Homemade Roast (Ros) Paan, Achchu Paan, Kimbula Paan, Malu Paan, Malu Roti, Elawalu Roti, Kalu Thothol, and other Sri Lanka delicacies. Take the S61, S62, or S66 to Cebra Avenue (from Bus Ramp A)

Lakruwana

address: 226 Bay St

One of the more elegant eateries. Its fine decor and delicious meals belie the outrageously inexpensive prices. Sundays offer a lunch and dinner buffet.

New Asha Restaurant

address: 322 Victory Blvd

Offers many of the same items at competitive prices. Has been named #1 by the Village Voice Cheap Eats in the past. Featured on Anthony Bourdain's No Reservations. Try a mutton roll! There are several Sri Lankan groceries that dot the street on the 15-20 minute walk from the ferry.
Drink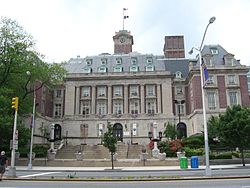 St. George
has a few bars located south of the ferry terminal. Make a left when you leave the boat. Look for live music at the Cargo Cafe or Karl's Klipper, both located on Bay Street with phenomenal views of the Verrazano Bridge.
Nurnberger Bierhaus

address: 817 Castleton Ave

Offers a wide variety of imported German beers and well-prepared, authentic German food. There is an outside beer garden that offers a limited menu, open in seasonable weather. Beers are served in liter steins and the food is as good as any you will find in Germany.
There is beer on the Staten Island Ferry. It is cheap (by NYC standards). A 16-ounce can of Bud or Miller will cost $3.50.
Sleep
Staten Island is the closest borough to New Jersey's Newark International Airport. This results in lower taxi fares and shorter travel times as opposed to Manhattan (the taxi fare is $45 to any point in Staten Island plus up to $10 in tolls). You may want to consider sleeping in a hotel here for this reason.
phone: +1 718 370-8555

address: 310 Wild Ave

Straightforward hotel.

address: 1100 South Ave

Holiday Inn Express

phone: +1 718 276-8689

address: 300 Wild Ave
Stay safe
When discussing crime in Staten Island, it first must be established that
Staten Island is not a crime-ridden mob haven
, as it is portrayed in movies and reality TV. Staten Island is no more dangerous than any of the other boroughs of New York City. However, it does have some crime.
The northern and southern portions of Staten Island are pretty different in the amount of crime and the type of crime found there.
The North Shore has a somewhat elevated crime rate compared to the rest of the Island. It is home to large low-income housing projects. This attracts a lot of both petty crime and more serious crimes. Be careful when walking alone at night.
Once you get below the Staten Island Expressway, however, the situation changes. The South Shore has a relatively low crime rate. Residents often joke about it, saying that the local burglars are nice enough to wait until your car is unlocked to rob it.
Travelers to the South Shore with seasonal allergies may be better-advised to worry about high pollen counts during the spring. There are dozens of trees on most South Shore streets (so many you may not believe you're still in New York City). If you have severe allergies, consider addressing the problem before coming to Staten Island in April or May.
In addition to pollen, trees also bring pesky critters. Please take necessary precautions if you have severe allergies or a strong aversion to any of the following:
Squirrels
Birds and (perhaps more importantly) their droppings
Ants
Bumblebees
Woodpeckers, owls, or other common large birds
Connect
The
New York Public Library
offers free wi-fi. In addition, it offers many free programs to help people learn English. This makes it the best place to go if you need a refresher or need to contact someone who speaks a language other than English. These are the Staten Island locations:
phone: +1 718 442-8560

address: 5 Central Ave

phone: +1 718 727-0427

address: 132 Canal St

phone: +1 718 442-1416

address: 976 Castleton Ave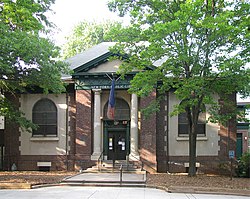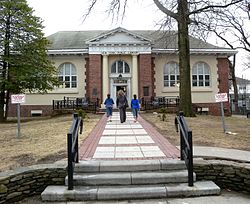 phone: +1 718 984-4636

address: 830 Huguenot Ave

phone: +1 718 984-0945

address: 7430 Amboy Rd

phone: +1 212 621-0690

address: 206 South Avenue
Go next
Let's be honest: the majority of travellers don't travel great distances to go to Staten Island (good for you if you do, but you're in the minority). While the Island is a hidden gem, many of the main tourist attractions are around it, and you will want to check them out.
The first order of business is to make sure you've gone completely through
New York City
. Each of the four other boroughs (
Manhattan
,
Brooklyn
,
Queens
, and the
Bronx
) have their own attractions and features you'll want to see.
If you're done in New York, Staten Island is a great launching pad for a trip in
New Jersey
. Some places to go are:
Nearby towns – If you just want to relax after the hustle and bustle of New York City, you can visit Bayonne to the north, Elizabeth to the northwest, Linden to the west, or Perth Amboy to the southwest.
Jackson – Further south than Perth Amboy, Jackson is home to one main attraction: Six Flags Great Adventure. This amusement park is the biggest theme park in the Northeastern United States. It is also home to a safari park and a water park (Hurricane Harbor). Its biggest attraction, however, is Kingda Ka, which is the world's tallest roller coaster at 456 feet above the earth.
Sandy Hook – This narrow strip of land of the coast of New Jersey is home to the Sandy Hook Unit of the Gateway National Recreation Area.
The Jersey Shore – The ultimate destination for summer fun in the Mid-Atlantic is right near New York City.
Atlantic City – The gambling capital of the Eastern U.S. is also home to a popular beach & boardwalk.
Philadelphia, Pennsylvania – If need be, you can always skip New Jersey and go straight on to the City of Brotherly Love.