Stein bei Nürnberg
Stein
, also referred to as "Stein bei Nürnberg" is in
Franconia
,
Germany
, bordering
Nuremberg
to the south and located in the county of Fürth. Stein has a bit under 15 000 inhabitants.
Understand

Stein is home to world-famous pencils. Since Medieval times, several pencil mills have existed that gave rise to the current pencil industry. Faber Castell has its company headquarters in Stein, though most of the actual manufacturing is done in Brazil nowadays.

Get in
While an extension of Nuremberg U2 towards downtown Stein was a part of the original 1960s and 70s plans for the U-Bahn and repeatedly talked about since, empty municipal coffers and fears on the part of the city of Stein about running costs outstripping the yearly budget have kept those a pipe dream for the last decades. As such you will have to change to a bus for public transit access to most points of interest.
By public transit
Buses and local trains are part of the
VGN
Verkehrsverbund
. The train station is not really close to downtown (in fact it is not even inside the municipal boundaries) and you'll likely have to take the bus from there.
By plane
From Nuremberg Airport (
NUE
) take the U-Bahn U2 to and bus number 63 or 64 from there.

Get around


The local bus lines 63 and 64 link the town to the U-Bahn and cover most of it every five to ten minutes on weekdays.

See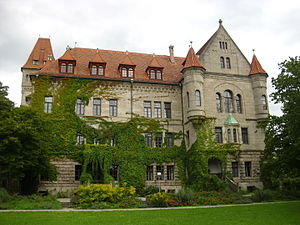 Faber castle

address: Rednitzstraße

The Faber castle (Faberschloss) has been built in the 19th and early 20th century mostly in the neorenaissance style, in the newer parts in neoromantic style.
Do
phone: +49 911 688 35-0

address: Albertus-Magnus-Straße 29, 90547 Stein

a fun bath with many pools, solariums, saunas, how whirl-pools, an open air area and five chutes
Buy
phone: +49 911 99650

address: Nürnberger Str. 2

Selling all the products of the famous pencil-maker, some of them surprisingly high scale and expensive.
Eat
phone: +49 911 67 21 53

address: Unterweihersbucher Straße 12
Sleep
Go next