Stellenbosch
Stellenbosch
(pop. about 100,000) is a city in the
Western Cape
of
South Africa
and is the heart of the
Cape Winelands
, South Africa's prime wine region.
Understand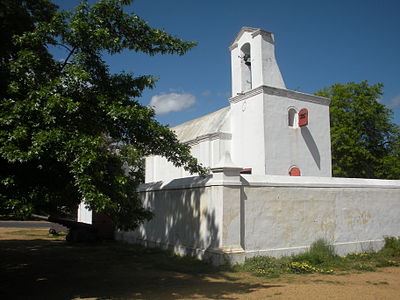 Stellenbosch (founded in 1679) is about 50 km east of
Cape Town
and is the second oldest town in South Africa. It was named (like
Simon's Town
) after the former Governor Simon van der Stel. The town is situated on the banks of the Eerste River ('First River') and has some fine examples of Cape Dutch architecture. It is also known as 'Eikestad' ('Oak City') because of its oak tree lined streets. Wines from the Stellenbosch region are known internationally and rank among the best in the world. Stellenbosch is also home to one of the country's oldest established universities with over 25,000 students. There is a bustling night life during the university term-time, with many night clubs catering for young people.
Get in
By bus
A
van service
runs from hostels in Cape Town to Stellenbosch for about R120/pp, depending on how many passengers there are (just one and it's R200). The main bus companies also go to Stellenbosch.
By train
MetroRail
operates a regular train service to Stellenbosch from
Cape Town
via Bellville. Check the schedule, as trains do not run very often. It is also advisable to travel in groups and avoid busy travel times in the morning and evening on weekdays. is on Adam Tas Street, on the western edge of town; it is a few minutes walk from the station to the city centre. If heading to the northern parts of town, alighting at might also be an option.
By plane
Stellenbosch has its own airfield but the nearest international airport is near
Cape Town
. Cape Town International airport is about 35 minutes away by car and airport shuttle service is available. Most hotels and guest houses will arrange transfers on request: expect to pay around R400-500 for up to four people.
By car
Stellenbosch lies approximately 60km from Cape Town. Drive on either the N1 or N2 highway.
If on the N1, exit at the R304 towards Stellenbosch.
If on the N2, exit at the R310 (Baden Powell Drive) and follow the signs.
The N1 is generally considered to be the safer route, particularly at night.
Get around

Stellenbosch is small enough that the entire city centre can easily be covered on foot. The Tourism Bureau also has a few cycles to rent. A curiosity is that there are no street signs. If you look closely you will see that the street names are indicated in yellow (in Afrikaans) on the edge of the sidewalks.
Unlike many larger South African cities, the centre of Stellenbosch is completely safe at night. There is no need to take taxis for safety - although if you want to eat (and drink) at one of the outlying wine estates, you'll have to.

See
A walking tour of Stellenbosch provides fascinating glimpses of colonial Dutch architecture. The
Stellenbosch Tourism and Information Bureau
, 36 Market St., organizes 1½ hour guided tours M-F at 11:00 and 15:00 (R80pp). Special groups can also be arranged for on request. Alternatively, buy the brochure "Historical Stellenbosch on Foot" from the Bureau for R5 and guide yourselves.
phone: +27 21 887 2937

address: 37 Ryneveld St

The Stellenbosch Village Museum consists of four adjacent houses of historical interest. Each of these homes represents a different period in the architectural development of the city. The houses, their interiors and their gardens have been restored, and furnished, to illustrate the particular style and taste of the time.

The Powder House

address: Blom Rd

Powder, lead and flint were supplied to the inhabitants of Stellenbosch. During the first quarter of the 18th century the annual allowance was 150 pounds of gunpowder, 100 pounds of lead bullets and 300 flintlock stones. This was delivered at the end of September each year for distribution to the citizen army. To avoid damage to the city in the event of an explosion the Powder House was situated away from the main town. These days it houses a small collection of weapons.

Fick House

address: 40 Blom Rd

Well-preserved Dutch house. Inside is an excellent collection of traditional furniture, kitchen equipment, etc. that can be visited in office hours

Theological Seminary

address: Dorp St

On the site of the original settlement, which was on an island in the Eerste River until one of its watercourses was filled in. This became the first university-level institution in 1859. The garden contains two pines from Norfolk Island, near Australia, which the university's students sometimes like to climb!
Do
Stellenbosch University Conservatoire

phone: +27 21 808-2345

address: c/o Victoria and Neethling St

The Stellenbosch Conservatoire is home to the Music Department of the Stellenbosch University. It features the acclaimed 550 seat Endler Hall as well as various other performance and lecture venues. Various concerts take place every week ranging from student concerts and ensembles to performances by renowned artists, both locally and internationally. It is also home to the world-renowned Stellenbosch University Choir.

phone: +27 21 883-8164

address: Bergzight Plein, Du Toit St
Wine tours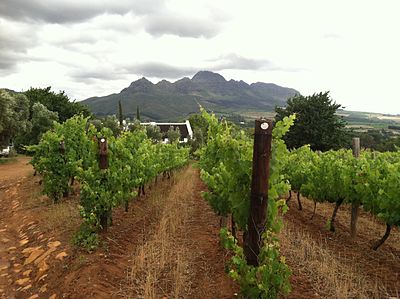 phone: +27 21 551-0467

address: Cape Town

Specialised in wine tours to Stellenbosch and Franschhoek, leaving daily from Cape Town. Small groups with specialised wine guides.
Learn
Buy
Stellenbosch is not short of tourist shops. If you are tempted to take some of the local wine home, don't forget that it will not be accepted in airline hand luggage!
Oom Samie se Winkel means "Uncle Samie's Shop" in Afrikaans. The shop is situated near the lower end of Dorp Street. You will find wines from the local wine estates, antiques, confectionary, sweets, jams, furniture and curios.

Champagne

phone: +27 21 880-1643

address: Blaauklippen road (Paradyskloof)

Relax at Chabivin's Eucalyptus amphitheater while live music and cold bubbles make you appreciate the finer things in life. Either outside on the lawn on giant pillows or in their rustic tasting room.
Eat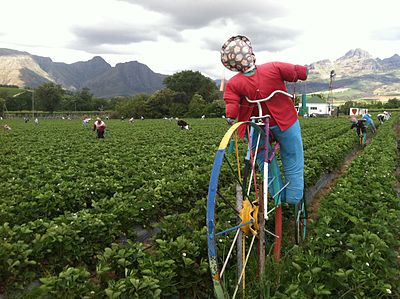 There are many good restaurants in the town. The area around Church Street is informally known as the local restaurant district, with approximately 19 venues within a four-block radius.
phone: +27 21 883-3629

address: 31 Church St

Offers a variety of international cuisine. Reviewed by Rossouw's Restaurants - 7/10 food, 8/10 service

The Farmer's Kitchen at Mooiberge Farmstall

phone: +27 21 881 3444

address: cnr R44 and Annandale Road

A modern take on many traditional South African food, set in a quirky location next to Mooiberge Farmstall, a pick-your-own strawberry farm and store, where you'll be greeted by their "friendly scarecrows."

Binnenhof

phone: +27 21 887 9560

address: 2A Ryneveld St

Formerly known as Zest. Has a lovely hidden courtyard at the back of the old house.

phone: +27 21 887-7506

address: Bird St

phone: +27 21 887 6261

address: 25 Church St

phone: +27 21 883 2893

address: Corner of Bosmans & Distilery rd

There is a festive atmosphere and a variety of local foods to choose from. Come and see what the locals are up to and indulge in a aray of fresh produce, seafood, luxury bakes and fresly baked breads

phone: +27 21 887-5844

address: Cnr Church and Andringa, Central

Wijnhuis offers a wine tasting lounge, wine shop and restaurant in a charming setting situated in the heart of the old town. It is a bustling meeting place for visitors to Stellenbosch, locals and students alike.
Sleep
phone: +27 21 887-0048

address: 193 Banghoek Road, Campus

Great value double rooms with en suite bathrooms, swimming pool and safe on site parking. Dorm available too. Very helpful and friendly staff. Guests are rather relaxed and calm.

phone: +27 82 327-3344

address: Bonniemile Road, Off M12

All rooms equipped with cable television, air-conditioning, Private patio in select rooms, Fully equipped kitchen/kitchenette and dining area in select rooms. Some of its facilities and services are room service, barbeque facilities, massage treatments, swimming pool, laundry service, secure parking, shuttle service and daily excursions and airport transfers, on request.

Bertha's guest flats

phone: +27 21 887-4113

address: 16 Helderberg St

BellaBosch B&B & Self Catering

phone: +27 21 882-9686

address: 7 School St

Friendly hosts, comfortable beds, and excellent breakfast.

phone: +27 21 887-4608

address: 30 Church St

Formerly "D'Ouwe Werf". Offers 44 very good rooms and has an excellent restaurant although it's just a short and completely safe walk from many others. Also 5 apartments on site sleeping up to 4; good value if travelling as a group.

phone: +27 21 883-8842

address: 161 Dorp St

Historic house in the oldest part of town in Dorp Street.

phone: +27 21 886-6832

address: 11 Murray Street, Central

iKhaya Stellenbosch Backpackers

phone: +27 21 883-8550

address: 56 Bird St

phone: +27 21 882-9449

address: 182 Dorp St

phone: +27 21 883-9881

address: 22 Dorp St

27-room boutique hotel with spa, small pool, restaurant and luxurious lounging areas. WiFi and room service available.

Stellenbosch Traveller's Lodge

phone: +27 83 714-3871

address: Corner of Dorp and Stadler Streets

phone: +27 21 887-4049

address: 12 Market Street, Central

Great value backpackers lodge with double rooms and dormitory beds, swimming pool and safe on site parking.

phone: +27 21 887-7221

address: 71 Ryneveld St

Cosy three-star guesthouse with various neat double rooms. Private toilet, washbasin and bath/shower. Good breakfast with the current newspaper, possibly with English breakfast and/or fruit with muesli and delicious yogurt. Can also be eaten outside. Very friendly service, quiet location. Optionally you can rent a bike, a relaxed beach cruiser. On the rooftop you can enjoy the setting sun. Each room has a desk and free internet.

phone: +27 21 887-2914

address: 12 Louw St

Boutique hotel.

phone: +27 21 886-6955

address: 20 Van Riebeeck St

Apartment and guesthouse accommodation.

phone: +27 21 883-8670

address: 14 Neethling St

Rooms are clean and non smoking and in an idyllic location. Offering safe off street parking for guests, and a beautiful solar-heated swimming pool is available on premises.
Go next
Visit the nearby vineyards of the Cape Winelands. Maps, information on vineyards that receive and accommodate visitors and advice on getting to them is all available from the very helpful people at the Tourism and Information Bureau. There are many companies and individuals offering organised and customised tours - or more simply and cheaply, you can take the Vine Hopper minibus which picks up anywhere in central Stellenbosch and takes circular routes around 12 local vineyards (6 each on alternate days). Get off the bus where you want, stay as long as you want, and get on a later bus to take you to the next vineyard or - if you've had enough daytime drinking - back to Stellenbosch. Tickets for the Vine Hopper cost R200 and are available from the Tourism and Information Bureau or the larger hotels. Other activities available in the area include whitewater rafting and tour organizers can also be found at the Bureau.