Stenness
Stenness
is a small village in the
Orkney Islands
, Scotland, on the A965 main road between Kirkwall and Stromness. It's best known for its
UNESCO World Heritage Listed
neolithic sights
: the Stones, Maeshowe and Ring of Brodgar, with Skara Brae a few miles further north.
Get in
Stagecoach bus X1 runs hourly along the A965 between Kirkwall and Stromness via Stenness.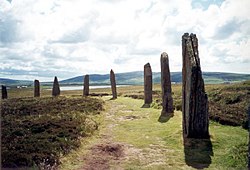 Get around

You can walk between the Maeshowe Visitor Centre, Stones of Stenness and Ring of Brodgar, although there's no footpath in places.
Reaching Skara Brae needs wheels, cycling is ideal. The bus is tedious: Bus 8S runs from Kirkwall at 09:15 via Stenness to Skara Brae (1 hr) then into Stromness; from there at 10:30 back to Skara Brae, at 10:50 on to Birsay, and return to Kirkwall by noon. It also runs from Kirkwall at 13:15 and 16:45 via Stenness and Stromness to Skara Brae (50 min), Birsay and back via Stenness to Kirkwall. A tour bus T11 along this way is advertised, but doesn't appear to be running in 2018.

See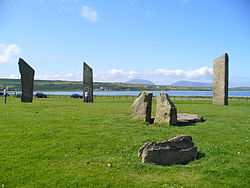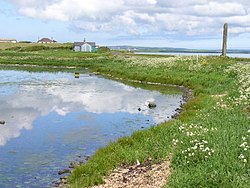 phone: +44 1856 761606

address: Ireland Rd KW16 3LB

This chambered tomb is over 5000 years old and is considered the finest in North-Western Europe. Facing the winter solstice sunrise, the entrance passageway leads to a near perfect interior marked with runes by 12th century Vikings.
You can only enter by booked tour (best online) from the new Visitor Centre, a mile west of the tomb. Plenty of free parking, then a shuttle bus takes you to the site. (So the map marker and directions are for here, not for the tomb itself.) Maeshowe often books solid in summer, and certainly if a cruise ship is in port. Bus X1 passes hourly. Don't go to the old visitor centre near the turn-off for the Stones of Stenness, or the road outside the tomb, there's no access from there.

Tomb of Unstanis a chambered burial cairn, built around 3000 BC. It's unusual for its architecture - midway between Caithness, Cromarty and Orcadian neolithic styles - and for its distinctive pottery, giving its name to "Unstan ware". Skeletons and arrowheads found here indicated that it remained in use into the Bronze Age. The cairn is well preserved: a concrete cap has been added to protect it. It's open all hours, and lies just north of the main road past Maeshowe Visitor Centre, park there and follow the path. Yet it's not on the standard tourist circuit so you'll probably have it to yourself.

Standing Stones of StennessFour tall stones remain from a 12 strong stone circle, dating from about 2500 BC. A "hearth" in the centre was ceremonial rather than in a dwelling. Nearby outside the circle is the "Watch Stone". The site is dramatically set on a narrow neck of land between two lochs. The encircling ditch has been lost, along with the "Odin Stone", a pierced stone through which couples would clasp hands and pledge. In 1814 a local landowner got fed up with this so he smashed it: he was restrained from setting about the rest of the stones.
A short footpath leads from the Ring to the Barnhouse, remains of a neolithic village at the loch-side.
Ring of Brodgar

address: KW16 3JZ

Stunningly set between two lochs, 27 out of 60 standing stones remain in a 100-m diameter circle surround by a ditch and smaller groups of stones and mounds. The Ring was probably built between 2500 & 2000 BC. The surrounding landscape is dotted with ruins and artefacts of similar date.

address: Sandwick KW16 3LR

This prehistoric village dates from about 2500 BCE, so it pre-dates Stonehenge and the Pyramids; but it was only re-discovered in 1850 when a storm eroded the sand dunes. A series of connecting passages and round dwellings were uncovered, complete with stone dressers and implements. There is a visitors centre and cafe.

address: Sandwick KW16 3LR

This is a 17th C mansion house, built by Bishop George Graham and added to by later Lairds. The present building is two storeys set around a central courtyard. It's very close to Skara Brae and is visited on a combined ticket.

Ophir Church and Earl's Bu

address: Gyre Rd Ophir KW17 2RD

Earl's Bu and Church at Ophir date to circa 1200. The ruined church is unusual: it's circular, inspired by the Church of the Holy Sepulchre in Jerusalem. The remains next to it are probably the Earl's residence or "Bu". (That's Bu as in boozing: Viking saga calls it a Drinking Hall.) With small museum.
Eat & Drink
Gerri's ice cream parlour on the main road through the village is open M-F 10:30-19:00, Sa till 17:00, Su till 18:00.
Orkney Brewery is at Quoyloo, 2 miles north of Skaill off the road towards Birsay. It's open 10:30-17:00, Su 12:00-17:00, with tours, and tasting flights in the cafe.
Sleep
phone: +44 1856 850136

address: Stenness KW16 3JX

10 double, 3 family and 4 single rooms; restaurant and bar.

phone: +44 1856 850136

address: KW16 3HA

5 rooms in a converted mill built in 1861.

Merkister Hotel

address: Harray Loch KW17 2LF

Small 3-star at north end of Harray Loch, looking to Stenness Stones at south end.

address: Grimeston Rd, Harray KW17 2JT

Self-catering cottage, sleeps four.

address: Ophir KW17 2RD

B&B in modern timber-frame house near Houton.
Go next
Either west to Stromness or east to Kirkwall.