Stepanavan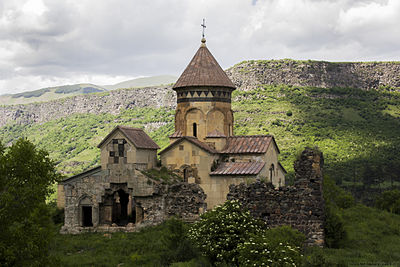 Stepanavan
(
Armenian
: Ստեփանավան) is a city in
Northern Armenia
.
Understand
Stepanavan is the main city in the large Dzoraget River valley area, which is separated from the rest of Lori by high mountains. It's famous mainly because of the ruins of the walled city of Lori located nearby. There is also a rather big museum of Stepan Shahumyan in town and nice Dendropark 12 km south of town.

Get in
The two ways into the Dzoraget river valley region (aside from the Georgian border crossing) are over the mountain from
Vanadzor
, or through the pass at Dzoraget Village along the Debed River Canyon near Tumanyan.
Minibus/van or taxi from
Yerevan
or
Vanadzor
, car rental, or getting a driver are your options for getting transport to this area, aside from hiking or biking in, which are both great options for those with some time (or a bike).
There are 6 buses per day to
Yerevan
(1,500 dram), 5-7 ones to
Vanadzor
(400 dram , 40-60 min), one to
Tbilisi
(3,000 dram), 2 to
Alaverdi
(600 dram), one to
Gyumri
(1,200 dram) and number of other buses to local villages nearby (2015). For details see
Transportation schedule
.
Bus stationIt's actually just a square where buses wait for passengers. There is no real station per se where a person can buy tickets. At the same time, there are a few kiosks selling tickets for a long distance buses heading to Russia, e.g. cities of Sochi, Volgograd, Moscow, etc.
Get around
Same as the options to get in, with local public transport based out of Stepanavan.
Taxis are ready to deliver you any place you want, some taxi fares: around the town 500 dram, to Lori berd 1,000 dram, to Stepanavan Dendropark - 2,000-2,500 dram return with 1 hr waiting.

See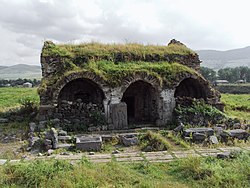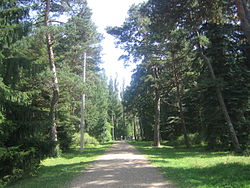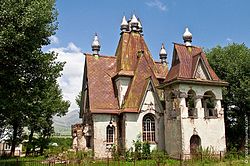 Dzoraget CanyonA popular recreational destination with some exceptional views over the river and mountains.

House-museum of Stepan Shahumyan

address: main square of Stepanavan

Built around Shahumyan family's house. Exhibition is mainly dedicated to the life of Shahumyan, however there are a few interesting findings from Lori berd exhibited as well. Besides, second floor is entirely occupied by local art.

Stepan Shahumyan StatueStatue of Stepan Shahumyan flanked by two orange-coloured tufa stone pillars.

Surp Nshan chapelOverlooking the city from the adjacent hill.

Surp Sarkis Church

Communist CavesServed as a secret meeting place for revolutionary Stepan Shahumyan.
In the vicinity of the town
Lori Berd FortressOnce a huge bastion on a piece of land that juts out surrounded by rivers and protected by cliffs. Enough of the walls remain to show what massive fortifications once stood here, and enough of the ceramic underground piping to know they had hot water long before modern times.

Hnevank MonasteryVery far down the Dzoraget River, approaching where it hits the Debed Canyon, Hnevank is a nice monastery with interesting black and cream stone patterns, which has undergone recent renovations.

Stepanavan Dendropark

address: Gyulagarak Village

Dendropark is in a surprisingly good shape now. The family caretakers have managed to make a serene landscape here, with interesting plants from different parts of the world. A nice place for walking and relaxing. Founded in 1933 by Polish researcher. There is a restaurant a few hundred metres before the park, there is also a hotel close to the park entrance.

Kurtan's village museum

address: Kurtan village

Various utilities used in every-day life in 19th century can be see in this museum.

Sverdlov Village Church

address: Sverdlov Village

A cute old Russian church.

Church of St Nicholas

address: Amrakits village

Russian Church founded in 1846.

Khuchapi MonasteryA stunning monastery that is almost impossible to access via Armenia (road goes through Georgia), a hiker could make it to this gorgeous piece of architecture on foot, and would be amply rewarded by the soaring architecture, the stairwells inside the walls, the carvings, the colours of the stone, the setting...

Khorakert MonasteryIf you make it as far as Khuchapi, you'd be crazy not to continue your hike to Khorakert, a beautiful monastery in a lush forest setting, with a masterpiece of a cupola unique to Armenian architecture.

Kuybishev Lake

address: near Stepanavan

Hidden in the heart of Lori's alpine meadows. The lake is covered with lilies and bulrushes.
Do
This is a hiking, biking, camping wonderland, as there are no fences, few cars, lots of back roads and trails, and very friendly people.
Rafting. Dzoraget River is the only Armenian river suitable for rafting. The commonest rafting route begins at the Dzoraget bridge, near the town of Stepanavan. Rafting on the river is concentrated in the Dzoraget Canyon, which is in some places as deep as 300 metres

Cafe Park

address: intersection of Sayat Nova and Milion St

The park where all the cafes are, where people go to see and be seen, to drink, to eat sunflower seeds and enjoy good weather.

Central Square fountainsThey turn on them every day from 19:00 to 22:00, and accompaned by loud music. This is the time and place when all locals met.
Eat
There are a few places to eat in Stepanavan, some barbecue restaurants on some of the highways and food at some of the hotel/resorts (e.g. SH Resort, Anahit Holiday Hotel).
Kilikia BarKhorovats, beer, friendly, cheap, soviet atmosphere.

Market Restaurant

address: Njhdeh St

Traditional Armenian fare, khorovats, central, often scene of parties and weddings.

Carahunge

phone: +374 99 324300

address: Milion Street

Beautiful mountain chalet style cafe with great food options and drinks.
Drink
Drinks are found where food is served, plus a few cafes in the summer in Stepanavan.

Sleep
Out of town
phone: +374 95 411195

address: next to Stepanavan Dedropark entrance

Bar, billiard, sauna,

phone: +374 256 22005, +374 256 23127, +374 256 22323, +374 256 22457

address: Amrakits Village

Amenities: cold, hot water, TV. Restaurant, sauna, billiards, tennis, a small lake for fishing.
Connect
Tourist information officeFriendly English-speaking staff can help with accommodations and trip itenaries. Although it was closed in July 2015.
Go next
Alaverdi - the town itself has little to offer of historic value, but there several beautiful monasteries in the vicinity of it: Sanahin Monastery, Haghpat Monastery
Gyumri - Armenia's 2nd largest city which once dwarfed Yerevan. Small old town area still shows earthquake damage from 1988.
Vanadzor - Armenia's 3rd largest city with Soviet industrial architecture, although it has a few nice churches