Stockholm/Djurgården
Djurgården
, more properly
Södra Djurgården
, is a park island in the southern
Östermalm
borough in
Stockholm
. The island makes up much of the
National City Park
(
Nationalstadsparken
), and contains several museums and leisure venues, such as
Skansen
and the
Vasa Museum
. It should not be confused with
Norra Djurgården
, a park in mainland Östermalm.
Understand
The Djurgården ("The Animal garden") island has been royal property since centuries, and had been used as a zoological garden since the 16th century. The north-western edge of the island was a shipyard from the 18th century to the 1970s. In 1891, the Skansen open-air museum was founded. As the island hosted an exhibition in 1897, several other museums and pavilions were built. Many of them have been torn down; Nordiska Museet is the largest remainder of the exhibition.
While Djurgården contains several of Stockholm's most expensive private properties, most of the island is open to the public. Though the natural and cultural environment is protected by strict laws, developments are under way to meet the expectations of travellers.

Get in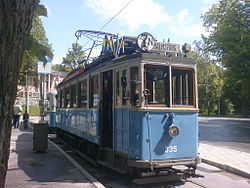 Private cars are not allowed on Djurgården during summer.
The tram line 7, called Spårväg City, runs from the Stockholm Central Station (Norrmalm) to Djurgården, providing a scenic way to travel with ease.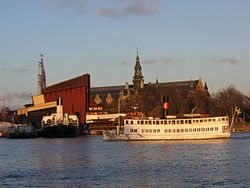 The Djurgården ferry (Djurgårdsfärjan) connect Djurgården with Slussen, the transit hub between Södermalm and Gamla Stan, and Skeppsholmen, an island just opposite, belonging to the district of Norrmalm.

Visit DjurgårdenSells transport tickets, and provides information folders. Rental of bikes, canoes, and golf carts.
See
The Djurgården island contains Sweden's largest cluster of museums and venues, most of them on the western part of the island, within walking distance of each other.
phone: +46 8-519 548 00

address: Galärvarvsvägen 14

This museum displays the Vasa, an original warship built for the Thirty Years War which sank in Stockholm Harbour on its maiden voyage in 1628, during the heyday of Swedish Empire. Salvaged in 1961, the ship is almost wholly preserved, and is the only one of its kind and quality in the world. A must-see, especially since it is uncertain whether current methods of preservation will be able to maintain her condition in years to come. There are adequate lifts to enable travellers with motion disabilities to see all levels of the ship. The museum contains several side exhibitions: full-scale models of the people whose bodies were found in the ship hulk, as well as wooden sculptures, the world's oldest preserved sail, and other salvaged objects.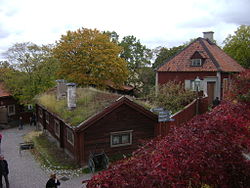 phone: +46 8 442 80 00

address: Main entrance from Djurgårdsvägen

Founded in 1891, Skansen is the world's oldest open-air museum, containing a zoological garden specializing in Nordic fauna, such as moose, reindeer, bear, wolf, lynx and wolverine. It features over 150 historic buildings from previous centuries, from all parts of Sweden. Guides in historic costumes further enhance this attraction, and demonstrate domestic crafts such as weaving, spinning, and glass blowing. The Skansen area is fairly large (700 metres across) with steep slopes and limited public transport (there is a funicular and an escalator to the upper area) so be prepared for long walks. Adults 120 kr, children 50 kr Jun-Aug, lower other times of the year, but with fewer animals and attractions. Skansen is one of few venues open during Christmas Eve, though just a few hours, with most attractions closed.
Skansen-AkvarietDisplays tropical animals such as lemurs, monkeys, snakes, spiders, fish and Cuban crocodiles. The aquarium requires an extra cover charge: Adults 100 kr.

Tobacco and Match MuseumTobaks- och tändsticksmuseet, founded in 1938, with a restaurant named Gubbhyllan.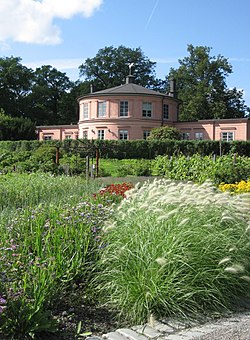 Rosendal PalaceThough the beautiful and central location, this Royal palace is little known. Guided tours during summer.
Rosendal GardensA historic free-entrance garden, worth a visit for travellers not in a hurry.
Art
address: Djurgårdsvägen 60

A contemporary art hall, in business since 1916.

phone: +46 8 545 837 00

address: Prins Eugens Väg 6

Prince Eugen (1865-1947), son of King Oscar II, was a revered artistic painter, and an avid art collector. His palace is now a museum housing his enormous art collection spanning the 1880-1940 period.

address: Sjötullsbacken 8

An art gallery at the eastern edge of Djurgården, reached by bus 69 (not 69K).
Do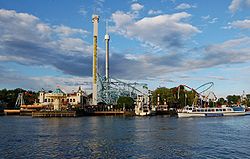 phone: +46 8 587 501 00

address: Lilla Allmänna Gränd 9

Djurgården has Stockholm's only amusement park, with more or less standard attractions and games. The restaurants in the park are expensive and generally far from a culinary experience. No rides are included in the entrance fee. Adults 80 kr (90 kr from mid-June to mid-August, 150 kr from 18:00 on concert nights), ages 0-7 and over 65 for free. Rides 20-60 kr with single tickets, day pass 289 kr.

phone: +46 8 587 230 00

address: Galärvarvsvägen

Astrid Lindgren, author of Pippi Longstocking, Karlsson-on-the-Roof and numerous other children's books, is by far Sweden's most popular writer of children's books. Located on the island Djurgården, like many other child-friendly attractions, Junibacken could be described as an indoor theme-park dedicated to the world of her (and a few other Swedish authors') stories. Story train is destination in itself here. The place also features several large playrooms; claims to have largest bookshop for kids in the country; has a restaurant. See Astrid Lindgren tourism for related destinations.

CirkusAmong Stockholm's largest playhouses, with 1,650 seats. Features musicals and pop concerts.
Buy
Most museums have souvenir shops.

Eat
Budget
Hot-dog and ice-cream stands are ubiquitous around the tourist venues. The larger museums have cafés, and some of them have seats for
camping food
. There are plenty of good spots for picnics, and alcohol can be consumed at most places. Otherwise, dining in Djurgården usually costs more than it tastes.
Mid-range
Blå Porten

phone: +46 8 663 87 59

address: Djurgårdsvägen 64

Blå porten, hidden in the back yard of Liljevalchs konsthall, is the one exception. Delicious food in a lush garden makes the long queues worth it. The excellent cakes and pies also makes this a good choice for a coffee break.

address: Galärvarvsvägen 2

In the same building as the visitor center, with indoor and outdoor seating.
Splurge
Drink
Some of the restaurants and hotels mentioned here, have a bar. Nightlife is busiest during summer.

Sleep
Despite all the visitors, Djurgården has only three hotels.
phone: +46 8 517 343 00

address: Hazeliusbacken 20

A classical hotel on Djurgården.

phone: +46 8 502 541 40

address: Djurgårdsvägen 68

In the same building as the ABBA museum, opened in 2013. This hotel should not be confused with "the other ABBA Hotel": Hotel Rival in Södermalm.

phone: +46 8 551 531 05

address: Beckholmsvägen 26

A 1935 hotel ship with just six rooms, and catering from the Oaxen restaurant.
Stay safe