Stockholm Arlanda Airport
Stockholm Arlanda Airport
(
ARN
), commonly known as Arlanda, is an international airport in the Stockholm County region of Sweden, some 35 km north of central Stockholm. It is by far the busiest airport in Sweden, a close third in the Nordic countries after Oslo-Gardermoen and Copenhagen Airport, and the major gateway to international air travel for most of the country.

Understand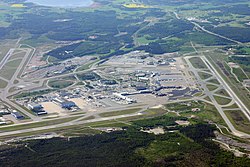 In the late 1950s it became obvious that
Stockholm Bromma Airport
was too small to serve international flight traffic to Stockholm, so a new airport was constructed and Arlanda was inaugurated in 1962. The name is derived from "Arland", an old name for the parish "Ärlinghundra" where the airport is, and also makes as a pun on the
Swedish
verb "landa" (landing). It is in the small town of
Sigtuna
, about half-way between Stockholm, by far the largest city in Sweden, and
Uppsala
, the fourth largest city in the country.
The airport has four terminals called Terminals 2, 3, 4 and 5. One of the main shopping and cafe areas, "SkyCity", is outside of the transit and security zones, between Terminals 4 & 5.
Flights
Arlanda is the busiest airport in Sweden and the third largest in the
Nordic countries
, serving some 25 million passengers in 2016.
Terminals 2 and 5 serve international flights and Terminals 3 and 4 serve domestic ones. All terminals have self-service check-in and baggage drop. Check-in automats can also be found at Stockholm central station, by the Arlanda Express trains, and at Cityterminalen in downtown Stockholm. Of course, all terminals also have staffed check-in desks.
Terminal 2|region1color=#428ccb|region1description=Aeroflot, Air Baltic, Air France, Air Leap (international), British Airways, Croatia Airlines, Czech Airlines, easyJet, Finnair, Iberia, KLM, Nyxair (international), S7 Airlines, Transavia, United Airlines, Vueling Airlines|region2name=Terminal 3|region2color=#ff8735|region2description=Air Leap
Aeroflot, Air Baltic, Air France, Air Leap (international), British Airways, Croatia Airlines, Czech Airlines, easyJet, Finnair, Iberia, KLM, Nyxair (international), S7 Airlines, Transavia, United Airlines, Vueling Airlines|region2name=Terminal 3|region2color=#ff8735|region2description=Air Leap
Terminal 4|region3color=#056553|region3description=Norwegian (domestic)
Norwegian (domestic)
Terminal 5|region4color=#ffce37|region4description=Norwegian (international)
Norwegian (international)
Ground transportation
Rail
Arlanda Central Station
is located in "Sky City" between terminals 4 & 5.
The fastest way to the airport from Stockholm Central Station is the Arlanda Express high-speed train service, making the trip in 20 minutes. The ticket price is fairly high at 280 kr for an adult (26 or older) as of 2018. If you buy tickets on the train, it's even more expensive as a 100 kr printing fee is applied. However, various combo, student/child and advance deals are avalable to the point that four children under 18 can travel free on each adult ticket and said ticket can cost only 154 kr if bought 90 days early - see
here
for more details.
It is possible to use the Stockholm commuter rail service (Pendeltåg) between Uppsala C and central and southern Stockholm. This route takes 38 minutes between Arlanda C station and Stockholm C. The fare is higher from Arlanda compared to other journeys on the commuter rail network (single ticket is 152 kr and supplement to active tickets such as day tickets costs 120 kr), but less than the Arlanda Express. To avoid paying the supplement, one can take the commuter rail service going to Marsta and trasfer to a 583 bus.
Bus
Flygbussarna, Flixbus, and SL operate coaches to and from the airport which stop at some locations in northern Stockholm County and at Stockholm City Centre and Stockholm Central Station. There is also a local bus line no 583 to Märsta, from where there are commuter trains to Stockholm and surroundings, the cheapest way of getting to/from Stockholm (a bus ticket which includes commuter train to stockholm cost 44 kr as of April 2018). Bus 801 takes around 40 minutes to Uppsala and departs every 15 to 30 minutes.
Road
The motorway E4 goes past the airport and connects Arlanda with central Stockholm as well as Uppsala and other cities further north. Terminal parking, short-term and long-term parking is available at the airport. The low price long-term parking requires a free shuttle bus ride. The bus departs every 8–15 minutes. There are rental car facilities at the airport.
Taxi
All taxi companies are required to offer fixed prices when going from the airport, which takes away the guesswork of how much the fare will cost (you can still request use of the taxi meter). Most major companies also offer fixed prices to the airport.
Taxi fares are unregulated in Sweden, meaning taxis can claim any price as long as they follow the price list shown in the taxi and stuck on the side window. But taxis at the Arlanda taxi stations are not allowed to charge more than 675 kr for at single trip to Uppsala or the northern parts of Stockholm.
Get around




Despite being the largest airport in Sweden, Arlanda is not huge but rather walkable. You can take a free one minute train ride between terminals 2/3 and 5.

Wait
There are two playgrounds run by
Junibacken
, an
Astrid Lindgren-themed
theme park in
Djurgården
in Stocksholm. The playgrounds can be found at terminals 4 & 5 after passing security.
Lounges
Menzies has one lounge at terminal 2 and two lounges at terminal 5.
SAS lounge has two longes, one at terminal 4 an one at terminal 5.

address: End of Terminal 5, at the Gate F26-F69 wing

For Emirates First Class and Business class, Qatar Airways (Platinum, Gold, Silver Members, Oneworld Emerald, Sapphire, Ruby Members), Ukrainian International Airlines Business class, Novair, Air Serbia, IranAir and Rossiya Business Class. Coffee, tea, cold beverages and a cold buffet is served. Free access to Wi-Fi and newspapers.
Eat and drink
A lot of restaurants, cafés and bars can be found at terminals 2, 4, 5 and at "Sky City", outside the transit zone between terminals 4 & 5. Terminal 3 only has a café which serves hot drinks and pastry.
Bottled
water
is expensive at Arlanda; 20 kr or more for a 50 cL bottle (similar to the price at gas stations throughout Sweden). Since Swedish tap water is of excellent quality, a workaround is to bring a refillable bottle to the airport, and fill it up from the toilet tap (after security). Some terminals have drinking fountains.
Sky City
Terminal 2
O'LearysPub style. Sports on TV
Terminal 4
O'LearysPub style. Sports on TV
Terminal 5
phone: +46 8 585 541 92

Serves Swedish tapas and the traditional liqueur "Akvavit" along with other alcoholic drinks.

phone: +46 8522 35 500

An indoor food truck offering Chinese cuisine.

phone: +46 76-014 14 94

The only airport restaurant in Sweden mentioned in the White Guide.
Buy
Sky City ArlandaThe airport's main shopping mall.
Connect
The airport has an open Wi-fi called Airport-Guest. Usage up to 3 hours and 100 megabytes is free. Additional megabytes or hours can be purchased, one hour costing 50 kr and 24 hours costing 130 kr. Wi-fi support is open daily 06:00-22:00, and can be reached at +46 10-109 04 50.

Cope
Banking and currency exchange
SEB
has a banking office in sky city and an exchange office by terminal 5 before security.
Forex bank
can be found before security at terminal 2 and SkyCity, and after security at terminal 5.
X-Change
has two exchange offices by terminal 5, before security, and a third one by the terminal 5 arrival hall.
Stuck with old Swedish currency?
Exchange offices will trade these, see "
Stockholm
: Cope / Getting cash".
Cash withdrawal
machines dispensing Swedish kronor can be found at plenty of places around the airport. The machines found in the departure hall in Terminal 5 also dispense euros.
Dry cleaning
SkyCity-tvätten (+46 8 593 616 90), located at SkyCity, offer dry cleaning and shoe repair services.
Health care
The Airport Sky healthcare clinic

phone: +46 8 522 967 30

Offer vaccinations and counseling with doctors or nurses.
Two pharmacies can be found at the airport. One by SkyCity (M-F 07:00–20:00, Sa 09:30–17:00, Su 09:30–20:00) and one at terminal 5 after the security (opens one hour before the first flight from terminal 5 and closes as the last flight from the terminal departures.)
Post services
There are two post boxes at the airport, one by terminal 4 before the security and one by Sky city.
Religious services
There is a chapel by terminal 5 before the security. It is staffed by a priest from the Church of Sweden from Monday to Friday, but is open to people from all religious backgrounds. It is also possible to book the chapel for wedding ceremonies.
Security
Police office

phone: 114 14 (non-geographic number)

address: Tullvägen 7

Storage boxes (+46 10-410 02 00) can be found at terminals 2, 4 & 5 before the security.
There is a lost and found desk by terminal 5 before the security for goods lost at the airport. For goods lost on flights contact your specific flying company.
Sleep
Nearby