Stoke-on-Trent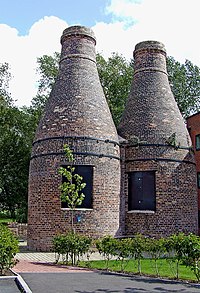 Stoke-on-Trent
(or simply,
Stoke
) is a city in
England
, approximately half-way between
Birmingham
and
Manchester
. It shares a border with the affluent town of
Newcastle-under-Lyme
, and the separation is most evident at Boundary Street in Hartshill. Despite this, the two places are often very much considered to be one large city.
Get in
By road
Stoke-on-Trent lies on the A500 "D-road", just off the M6 motorway, and can be reached by travelling southbound from Manchester or northbound from Birmingham. It is approximately 45 miles from both of these cities. It can also be reached via the A34. Those seeking the city centre by road should look for signs to "Hanley", once they enter Stoke-on-Trent.
By rail
Stoke-on-Trent stationThis is a small but busy mainline railway station that has frequent inter-city services to most destinations in the United Kingdom. There are regular services from Manchester Piccadilly Station, which offers a connection to Manchester Airport. There is a direct fast service from Stoke-on-Trent to Birmingham International train station (near Birmingham Airport and the NEC). Stoke-on-Trent can be reached from London Euston railway station, with services running every 20 minutes at peak times. Journey time to and from London is usually about 95 minutes on the fastest services. There is a large taxi rank at the rail station.
Be careful when travelling from Stoke-on-Trent station as the station displays and staff are not very helpful in distinguishing between express and stopping trains to the same destination, and trains frequently run out of timetable order. For example, there are often two trains to London Euston at around the same time, but one is takes much longer than the other. The same applies when the destination is Manchester Piccadilly where there three different operators. Virgin Trains tickets are marked 'VIRGIN ONLY' and CrossCountry tickets are marked 'XC Only'. It also helps to know the train companies. Train spotters do not have this problem!
By bus
The majority of bus and coach routes into the city arrive at Hanley Bus Station in the City Centre. National Express and GorillaBus coach services serve Stoke-on-Trent from most cities in the United Kingdom. There are also services that serve Newcastle-under-Lyme which is a fifteen minute bus ride from the City Centre, Hanley. The main bus operator in Stoke-on-Trent is First who provide services throughout North Staffordshire and South Cheshire.
By narrowboat
Around 10,000 visitors arrive in the city annually by canal narrowboat, on the Trent and Mersey and Caldon Canal. There are free moorings at Trentham, Barlaston, Etruria/Lock 38, Longport, Westport Lake, and at the Harecastle Tunnel.
By bicycle
The city is on the National Cycle Route No.5, which runs through the city on off-road paths.
Get around

Place names in Stoke-on-Trent can be confusing for the newcomer. The six original towns that federated to form the modern-day conurbation city formed in 1925 continue to have their own identity, giving it a polycentric nature. Thus, asking for directions to the "city centre" may be regarded with bemusement from locals. The now commercial centre of Stoke-on-Trent is Hanley and is rapidly becoming its administrative one too - having until now been Stoke-upon-Trent or just Stoke, where the railway station is located. Roadsigns to the "City Centre" point to Hanley.
Stoke-on-Trent has an intricate public transport service and, while buses are usually easy to come by, although many stops are open to rain and wind. Bus information is also relatively limited, so services such as Traveline can be helpful. Hanley Bus Station is the main transport hub for buses in the city and virtually all areas of the city are reachable from here. There is a tourist information offices located here and maps of required routes are published and easy to find. In order to reach the bus station, it is necessary to catch a bus from outside the station; otherwise, it is a long walk.
The city has over 100 miles (160 km) of excellent off-road bicycle paths, on old railway and mineral lines, and canal towpaths. A free map is available from the Tourist Office, who will also be able to advise on cycle hire.
Taxis are also widely available.

See
Stoke-on-Trent is historically renowned for its pottery industry (hence its nickname of
The Potteries
). Although the industry has suffered from cheap foreign imports and is now in decline, many of the major manufacturers of high-quality pottery still have headquarters in the area including Spode, Wedgwood and Royal Doulton. There are numerous factory shops dotted around the city, including the Potteries Shopping Centre, in Hanley.
Do
Festival ParkHas a wealth of activities. There is a ski slope and toboggan run, ten-pin bowling, a large cinema, shopping, a canalside pub, Waterworld, a four-star hotel, and a large park created from the site of the National Garden Festival.
Stoke-on-Trent has a thriving gay community and the city centre features several bars and nightclubs aimed at the gay and lesbian individuals. The Three Tuns and the adjoining The Club are two of the most renowned gay venues in the city along with Bar Monique. They can be found east of Hanley Bus Station travelling towards Bucknall. Other bars and clubs include Pink Bar and Lounge, Number 3, Blush Cabaret Bar andthe Waterboard.
There is a large purpose-built skateboarding park at Forest Park.
Watch football ie soccer at Stoke City FC. They play in the Championship, the second tier of English football. Their stadium, capacity 30,000, is on Stanley Matthews Way ST4 4EG, off A50 and ring-road 5 miles southeast of city centre.
Stage & screen
There are numerous theatres in the city. Also the university campus (near Stoke railway station) has a public arts cinema that shows intelligent films.
The Queens Theatre

phone: +44 1782 825800

address: Wedgwood St, Burslem, ST6 4JH

The Regent

address: Piccadilly, ST1 1AP

address: 40 Broad St, ST1 4HG

Victoria Hall

address: Bagnall St, Hanley, ST1 3AD

phone: +44 1782 717962

address: Etruria Rd, Basford, ST5 0JG

phone: +44 1782 209784

address: Leek Rd, ST4 2TR
Further afield
Near to Stoke are the following.
phone: +44 871 222 3330

address: Farley Ln, Alton, ST10 4DB

The UK's largest theme park.

Biddulph Grange GardenThe National Trust

phone: +44 1538 422033

address: Hall Gardens Consall, ST9 0AG

Consall Hall landscaped gardens are nearby and in a beautiful setting.

Peak District National Park
Buy
The main shopping facilities are to be found in Hanley the City centre of Stoke-on-Trent. One would be able to find the usual high street stores and includes the second largest Primark in the United Kingdom.
The main shopping attraction for Stoke-on-Trent is the factory shops of the pottery companies. Only Portmeirion, Wedgwood, Dudson and Emma Bridgewater continue to manufacture pottery in the city, and the factory shops can offer heavy discounts on what will be called "second quality" goods, that often have only very minor defects that are frequently very difficult to tell from the main shop goods. Otherwise, shopping is not something that one would come to Stoke-on-Trent for. The city centre of Hanley offers nothing that cannot be found elsewhere. However it still offers a wide range of stores which would fulfill the needs of any traveller with needs of supplies.
Most pottery factory shops will offer a postal delivery service, so that one does not have to carry fragile or heavy items onto a plane when returning home.

Eat
Stoke-on-Trent is renowned for a delicacy known as the Staffordshire Oatcake and many Oatcake shops can be found throughout the city. The oatcake resembles a pancake in look and is a mix of flour, oatmeal, salt, yeast and water. It is often served with melted cheese and a choice of either (or all!) sausage, bacon and tomatoes.

Drink
The pubs of Burslem are renowned, and
The Leopard
and
The Bull's Head Inn
are to be recommended as authentic English pubs.
phone: +44 1782 819644

address: 21 Market Pl, ST6 3AA

phone: +44 1782 834153

address: 14 St John's Square, ST6 3AJ
The Congress Inn
in the Longton area is a nice friendly real ale pub with a large choice of good beers, as is
The Malt & Hops
in Fenton.
phone: +44 1782 596246

address: 14 Sutherland Rd, ST3 1HJ

phone: +44 1782 313406

address: 295 King St, ST4 3EJ
Monday Night is student night in Hanley and students from Staffordshire and Keele Universities and many other young people from the region converge on the city centre. Many of them are chain pubs, with
The Reginald Mitchell
(JD Wetherspoon),
Walkabout
,
Chicago Rock Café
and
Reflex
all represented and popular with the locals at weekends. There do remain some traditional pubs in the centre, all of which have been somewhat battered over the years by the chain venues.
phone: +44 1782 281082

address: Tontine St, ST1 1NQ
Most people wanting to stay out for the night will finish their evenings in either Liquid (around £5 entry), which features mainstream music or, the slightly further away Underground which specialises in rock/indie music and sometimes has live acts. This costs £2 to enter on a Monday, and four quid on a Saturday. Cans of Red Stripe lager will set you back around three pounds.
Sleep
phone: +44 1782 577544

address: Swan Square, Burslem, ST6 2AE

A fine 3-star hotel in an area not known for its accommodation options.

phone: +44 1785 712217

address: ST17 0RJ

A four-star hotel on Festival Park, part of which was originally the mansion of Josiah Wedgwood.

phone: +44 871 221 0191 (reservations)

address: Station Rd, ST4 2AE

Adequate and conveniently-located for sleeping arrangements.
Otherwise, there are a range of hotels available in the surrounding countryside, including options at Alton Towers.
Stay safe
Stoke-on-Trent as a whole is a safe city. As with anywhere care must be taken especially at night, avoid walking alone in dark places. However, if you wish to sample the nightlife, there's no need to avoid the city centres: simply show the same common sense as you would elsewhere, for example by sticking with a group of friends.
As with the rest of the UK, in any emergency call 999 or 112 (from a land-line if you can) and ask for Ambulance, Fire or Police when connected. It is free to call the Emergency Services from Payphones.

Go next
The locale of Stoke-on-Trent makes it ideal to visit other cities in the Midlands and North-West of England. While the city in itself suffers from a long period of industrial neglect and might not be immediately visually appealing, the surrounding areas of countryside are especially pleasant. The
Peak District National Park
can easily be reached from Stoke-on-Trent, either by catching the
Sheffield
-bound bus from Hanley Bus Station, or by catching a train to
Edale
or other place in the Hope Valley, with a change at Manchester.
Birmingham
can be reached on the M6 motorway heading southbound and takes roughly an hour to reach. There are hourly train services most of the day that cost about £12 return and in fifty minutes take one right into the heart of Birmingham (at New Street Station) with its
Bull Ring Shopping Centre
which features around 140 stores and is one of the largest shopping centres in Europe. Birmingham is home to
Aston Villa Football Club
, one of the oldest in England and one of the founders of the football league. Their stadium,
Villa Park
, lies on the outskirts of the city in Aston. They share a healthy rivalry with the more centrally located
Birmingham City Football Club
based at
St. Andrews
stadium.
Heading northbound on the M6 Motorway one can reach
Manchester
, the UK's third largest city (behind London and Birmingham) which is excellent for shopping and sightseeing. It also has one of the biggest gay and lesbian communities in the country. As with Birmingham, Manchester is roughly an hour away by car and cheap train fares are available which will take you right into the centre of the city.
Old Trafford
is the home of the world-renowned
Manchester United Football Club
and tours of the ground are available.
Liverpool
is another location that is easily accessible from Stoke-on-Trent, being slightly north of Manchester and roughly a ninety minute journey by car. Cheap rail fares are available but often require a train change along the way and consequently can take up to two hours to reach. Liverpool is famous for its docklands, museums and being the home of
The Beatles
. It is also the home of the historic
Liverpool Football Club
.
The historic city of
Nottingham
lies to the east of Stoke-on-Trent and once again is easily accessible by car or train. Many coach operators run regular services to Nottingham taking around ninety minutes to two hours and details are available from the tourist information office at Hanley Bus Station. Nottingham is a city renowned for its beauty and medieval architecture and Robin Hood enthusiasts will find much to do there.
The county town of
Stafford
is a place to visit to sample traditional British life and culture. It is around twenty minutes from Stoke-on-Trent via car or train and bus services take around forty minutes from Hanley Bus Station. Stafford is known for its magnificent parks, architecture and its bustling yet traditional high street.