Stone Town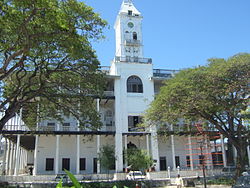 Stone Town
is the main city on
Zanzibar
. It is a city of prominent historical and artistic importance in East Africa. Its architecture, mostly dating back to the 19th century, reflects the diverse influences underlying the Swahili culture, with a unique mixture of Moorish, Arab, Persian, Indian and European elements. For this reason, the town was added to the
UNESCO World Heritage List
in 2000.
Get in
By plane
Zanzibar International Airport
(
ZNZ
) is the only airport on the island and accessible by many domestic and international destinations.

By boat
Boats to Stone Town can be boarded from Dar es Salaam or Pemba. For more information see the Zanzibar article.

By Dalladalla
Most dalladalla leave from the Creek Road at the Darajani Market . All have destinations signboards and numbers, what makes it quite easy to handle.
Nungwi=116; Kiwenga=117; Matemwe=118; Chwaka=206; Uroa=214; Unguja Ukuu=308; Jambiani=309; Makunduchi=310; Bewejuu=324; Kizmkazi=326; Amani=501; Bububu=502; Airport(U/Ndege)=505

See
Old FortAdjacent to the House of Wonders, is a heavy stone fortress that was built in the 17th century by the Omani. It has a roughly square shape; the internal courtyard is now a cultural centre with shops, workshops, and a small arena where live dance and music shows are held daily.

Palace MuseumAnother former sultan's palace, also located on the seafront, to the north of the House of Wonders. It was built in late 19th century, and now hosts a museum about the daily life of the Zanzibari royal family, including items that belonged to Sayyida Salme, a former Zanzibar princess that fled to relocate in Europe with her husband

House of Wonders

address: Mizingani Road on the seafront

Probably the most well-known landmarks of Stone Town. It was built in 1883 and restored after the Anglo-Zanzibar War of 1896. A former Sultan's residence, it became the seat of the Afro-Shirazi Party after the revolution. It was the first building in Zanzibar to have electricity and the first building in East Africa to have a lift. Since 2000, its interior has been dedicated to a museum on Swahili and Zanzibar culture.

Livingstone's HouseA small palace that was built for Sultan Majid bin Said and later used by European missionaries. David Livingstone lived in the house while preparing his last expedition to the interior of Tanganyika.

Old DispensaryBuilt from 1887 to 1894 to serve as a charity hospital for the poor, it was later used as a dispensary. It is one of the most finely decorated buildings of Stone Town, with large carved wooden balconies, stained-glass windows, and neo-classical stucco adornments. After falling into decay in the 1970s and 1980s, the building was accurately restored by the AKTC.

Anglican CathedralPurchased by missionaries, the church sits atop the world's last slave market. The altar is said to be built over the market's whipping post.

Hamamni Persian BathsA complex of public baths built at the end of the 19th century by Shirazi architects for Sultan Barghash bin Said. These baths are not open anymore but are open to visitors. Visits are limited to some areas of the original complex because part of it (e.g., the restaurant) has since been adapted for private residences

Forodhani GardensA small park located in the main seawalk of Stone Town, right in front of the Old Fort and the House of Wonders. They have been restored by the AKTC. Every evening after sunset the gardens host a popular, tourist-oriented market selling grilled seafood and other Zanzibari recipes.

MercuryNear the port, is dedicated to Freddie Mercury who was born on the island. The only interesting thing in the place is the atmosphere and the nice view over the harbor and bay skip the food unless you're in for a stomach ache.

There are a number of historically important (and frankly, just plain beautiful) buildings in Stone Town, like The House of Wonders and The Arab Fort. It is easy to arrange a simple walking tour with a local guide who can teach you some history.
The market in Stone Town is one of the largest, most vibrant open-air markets anywhere. Here, you can find several varieties of bananas, "elephant garlic" unique to the island, the largest avocados you'll probably ever see, and more. Prices are extremely reasonable. Even if you have no intentions of purchasing food, the spectacle alone is worth a visit.
Visit Slave Market, the site of the old Slave Market is quite an experience. Go into the holding chambers to see how this wretched piece of history played itself out in small dark dungeon-type cells. Priced at US$5 (May 2018), it's well worth it.
Do
Roam around Stone Town appreciating the Historical buildings
Be certain to have dinner on the wharf near Blue's Restaurant in Stone Town. Every evening, for just a few dollars, you can sample local fish, food, drinks, and hear local music.
Visit Forodhani Gardens If you are not scared of local food, then this place is definitely worth a visit. It is possibly the cheapest food you will find on the island, and value for money too. Ranging from crab claws, calamari steaks to plain old chips done in big woks. You are well advised to try the local sugar cane juice. The curio market can be found next to the food market. Do not buy the first thing you see. First take a walk through the market, and you will see prices get progressively less. You must always haggle and bargain with the vendors or try to set the prices off against each other. This is their way of doing business and it also ensures that you get the best price.

Tangawizi Bistro Cooking Classes

phone: +255 778883306

Take Swahili cuisine home. The owner, Shara, organizes cooking classes in the morning and afternoon at Tangawizi Bistro and at Dole spice farm close to Stone Town.
Buy
Mitus Spice Tour

phone: +255 652581439

address: Malindi Rd

Offers lunch and tours.

Halai's

phone: +255 717147199

address: Hurumzi Street

A small shop in stone town with colorful textiles at fixed prices.
Eat
Mercury's RestaurantThis restaurant's name and theme are dedicated to Freddie Mercury, the lead singer of the band Queen, who was born in Stone Town.

House of Spices

phone: +255 242231264

Beyt al Chai Restaurant

The Silk Route

Mtoni Marine Restaurant

Hurumzi

address: 236 Hurumzi Street in

Earlier known as Emerson and Green and later as Emerson's Tower Top Restaurant, is well worth a visit. Amazing food and sublime atmosphere. While dinner is quite expensive and has to be booked in advance, the rooftop view of the sunset punctuated by the sound of prayer calls is not to be missed.

KidudeServes traditional Zanzibari cuisine at moderate prices

Forodhani GardensIs a nightly affair by the water. You can purchase 'Zanzibari pizza' or get all sorts of grilled seafood and meat for less than US$1 per serving. Also available are banana and chocolate pancakes which are to die for (Note: bring an extra bar of chocolate for them to add to your pancake) Some consider the market to be overrated -- the food quality can be mixed and there will be papasi or touts who may hassle you. The twilight atmosphere however makes for a nice setting to have a cheap meal.

Amore MioOn Shangani Street, serves good Italian gelati ice cream, pizzas and pasta.

Monsoon RestaurantJust to the west of the Tunnel at the edge of the harbour and the southern corner of Forodhani Gardens.

Passing Show RestaurantA place where they have very decent local food, like pilau, and all sorts of stews. All the men go there in the evening to drink tea. Muslim place, so no alcohol.
Drink
Mercury's RestaurantA really nice bar which also serves a good variety of cocktails
Serena Hotel

address: Stone Town

Has a very nice restaurant with live music almost everyday. Beautiful view of the ocean and excellent, although expensive, food.

Botanic Country ResortTaarab Square and Kipepeo Grill and Pub/Beer Garden with discotheque on weekends, live music on public holidays including outdoor cinema and live sports events on giant screens. Beautiful Gardens, food is from traditional Swahili & Zanzibarian dishes to International Cuisine.

LukmaanA small restaurant on the same road as the slave market does very affordable and delicious food. Point at what you want and you get it right away. The prices and convenient speed makes it a favourite for many lunchers.

Africa House Ice cold beer and a huge balcony that overlooks the ocean - great at sunset.
Taarab Square At the Botanic Country Resort, Tunguu Central Region offers reasonably priced spirits and drinks compared to most of the bars on the island. Live sports bars and the only outdoor cinema showing Indian, African and English movies, discotheque over weekends and live music on public holidays.
Sleep
The cheapest budget hotels start from US$14 for a dorm bed. normal budget hotel prices range TSh 45,000 to 90,000 and that's during the low season, where several hotels actually stay closed due to lack of customers. The quoted prices are after bargaining: low-season is a good time to do so and not having your bags with you when doing so, will also give you a boost.

Budget
Mid-range
Splurge
Uncategorized
Outside Stonetown