Storlien
Storlien
is a
Swedish
ski resort in western
Jämtland
, just 2 kilometres east of the border with
Norway
.
Understand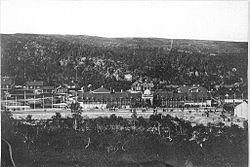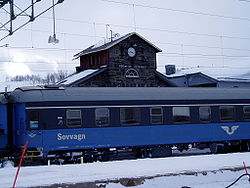 Storlien is a saddle point in the Scandinavian mountain, and the highest point on
Saint Olaf's Way
, a pilgrim route in use since the 12th century.
In Swedish history, it is infamous for a failed military campaign at the new year on 1718 and 1719, where Lieutenant Carl Gustaf Armfeldt led thousands on men back from
Norway
, into a blizzard where most of them froze to death.
As the railway was built in the 1880s, Storlien emerged as a prestigious resort.
The Royal Family
has a house here. During the late 20th century, it has been in the shade of the more developed resort in
Åre
. As living costs in Norway have become the world's highest, Storlien has a retail trade out of all proportion to its small size.
Get in
The Storlien railway station is higher above sea level than any other in Sweden.
By train
SJ
(formerly part of
Statens Järnvägar
) has night trains from
Stockholm
,
Gothenburg
and
Malmö
.
Norrtåg
has day trains from
Sundsvall
and
Östersund
,
Sweden
.
NSB
has day trains from
Trondheim
in
Norway
.
By plane
Vaernes airport
(
TRD
): outside Trondheim is the closest airport, just 73km from Storlien. There are international flights from London and Amsterdam.
At the airport you take the local train to Hell and get off just 3 minutes later (or walk). In Hell, you take the NSB train direct to Storlien railway station; it's worth checking the time of departures from Hell as the train only runs twice a day (in both directions). Generally there is a morning train at around 08:00 and an evening train at around 17:00. Avoid arriving at Hell station too far in advance as it is far less comfortable than waiting a few hours in a café at Vaernes airport. There is also a shopping centre between the airport and Hell.
Åre Östersund airport (OSD): There are domestic flights operating daily from Stockholm to Åre Östersund Airport There are also charter flights from London, Moscow, Helsinki and Copenhagen in winter time.

By helicopter
You can charter a helicopter to pick you up at Vaernes Airport in Trondheim, Norway or at Åre-Östersund Airport on Frösön. The largest operator in Östersund is Jämtlands Flyg which has helicopters for 3-6 passengers.

By car
You will easily reach Storlien by taking the E14 that passes right through the village.

Get around

It's a small village where almost everything is within walking distance.
If you don't want to walk you can call "Wänseths buss" for a taxi.

See
BrudslöjanA beautiful waterfall with a 24 m drop.

Printzskiöldsmonumenteta 1907 memorial to two brothers who died when skiing in a snowstorm.

Rensjösäterns jaktvillaThis "Pink Castle" is a hunting lodge from the 1880s. It is privately owned, and the interior is therefore not open to visitors.

Stenen i grönan dalA strange looking stone which, due to its location near the Trondheim pilgrimage route, has been a tourist attraction since the middle ages.

Stora HelvetetA railway embankment located 300 meters from the border. The name means "Big Hell" and is named after troubles during construction in year 1877. It has caused big problems also year 2012-2018, there is a risk of it being destroyed in a landslide, so it is being rebuilt into bridge during 2017-2018.
Do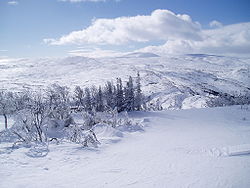 Mountain climbing.
Biking (flat areas or uphill and downhill, mountain biking).
Fishing (great fishing, summer and winter).
Hunting mushrooms and berries.

phone: +47 74 81 36 26

address: Ivarsmyra

Go riding on Icelandic horses.

phone: +47 74 41 41 70

An outdoor climbing and adventure zone with rope-ways and zip-lines.
Winter snow sports
Ice-skating (on the autumn just before the snow arrives).
Snowmobiling.

phone: +46 647-704 77

address: Vintergatan 17

and

phone: +46 647-700 20

address: Vargvägen 2

rent out snow mobiles.

phone: +46 647-704 44

address: Vintergatan 72

Alpine skiing, cross-country skiing and ski touring. The alpine ski area's vertical drop is 191 metres, which is less than other Scandinavian ski resorts such as Åre and Duved, but suitable for children and beginners.
Buy
There are also supermarkets, design shops, fishing stores, etc.
Eat
phone: +46 70-322 08 18

address: Vintergatan 46

Le Ski Restaurant & Night Club

phone: +46 647-701 51

address: Vintergatan 25

Rödluvan

address: Vintergatan 72

A family owned tavern.

Sylvias Kanonbar

phone: +46 647-702 12

address: Vintergatan 21
Drink
Storlien certainly has a nightlife during ski season, though nothing like Åre.
Flamman
Le Ski
Kanonbaren
Sleep
Go next
Hell (Norway) is one of the nearest towns in Norway, with an appeal to English-speaking visitors.
Trondheim is the nearest major city.
Åre, with more ski slopes, is the centre of Åre Municipality.