Stow-on-the-Wold
Stow-on-the-Wold
is a town in the North
Cotswolds
in
England
.
Understand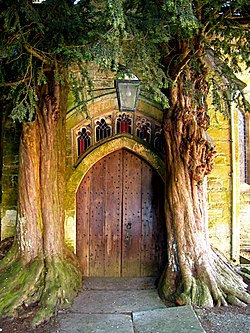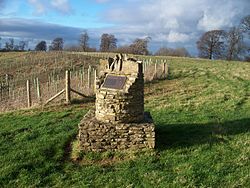 The town is on a hill (highest point in the Cotswolds at 244 m) and back to Iron Ages times, the site was used as a fort. The first settlers were attracted to the nearby village of Maugersbury. However, once a market place was built at Stow nearer the crossroads roads, its commercial successes gradually established as the major town. Stow is at the meeting place of 6 roads helping the development of the market and thus the town; one of those roads being the famous Roman road – the Fosse Way.
During the English Civil War, in 1646 the Royalist Army was marching through the Cotswolds trying to reach Oxford to join the King's forces. However, they were met by the Parliamentary forces just outside Stow and The Battle of Stow-on-the-Wold took place 1 mile N of the town. The retreating Royalist forces moved back to the town and fought on through the streets of Stow before surrendering in the Market Place. The church was then turned into an emergency prison to hold the 1000 Royalist troops.
Weekly markets were granted in 1107 and the right to hold an annual (7 day) fair granted in 1330 (though that was changed to two 5 day fairs in 1476). The wool trade and sheep livestock used to play a major role in the fairs, but as the wool trade declined, so horse trading became more important and today the fairs have been moved from the Market Place to a field outside the village near Maugersbury. The fairs are very popular attracting large numbers of visitors, blocking roads in the area. The large number of visitors has not always been welcomed by locals and many shops and pubs in the area close during the fairs to avoid the risk of theft and vandalism.
Get in
By road
Driving from Cirencester, follow the A429 (the Fosseway) North, pass through
Bourton-on-the-Water
and you'll reach it (after another 3 mi (5 km)). There will be obvious signs saying you've entered the town. From the North, follow the A429 South towards
Cirencester
.
By train
The town's railway station was closed in 1948. The two nearest stations are:
Moreton-in-Marsh Railway Station

address: Station Rd, Moreton-in-Marsh GL56 0AA

Station managed and services operated by Great Western Railway. On the Cotswold Line running between Oxford-Hereford.
By bus
By bicycle
Walkers would do well to avoid the busy A429 road.
See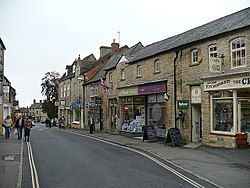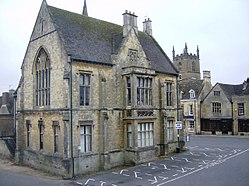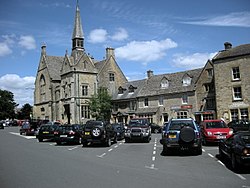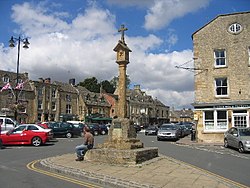 The town centre, whilst small, is extremely beautiful, focused around the large market square and the pretty little streets leading off it.
St Edward's ChurchMedieval church with interesting doorway.

phone: +44 1451 831319

address: The Manor House, The Square, Stow-on-the-Wold GL54 1AF
Do
FoxholesSpectacular spring bluebells & bird life.
Buy
Eat
Drink
Sleep
phone: +44 1451 870048

address: Digbeth Street, Stow on the Wold, GL54 1BN

Also a historical landmark. Free Wi-Fi

phone: +44 1451 870994

address: Wells Cottage, Digbeth St, Stow-On-The-Wold GL54 1BN

phone: +44 1451 830344

address: Sheep St, Stow-on-the-Wold GL54 1AG

AA 4
*
phone: +44 1451 830674

address: The Square, Stow-on-the-Wold GL54 1AF

phone: +44 1451 833669

address: Digbeth St, Stow on the Wold GL54 1BN

phone: +44 1451 832273

address: Sheep St, Stow on the Wold GL54 1AA

No children under 12, no pets
Connect
phone: +44 1451 830406

address: The Square, Stow on The Wold GL54 1AB
Go next