Strasbourg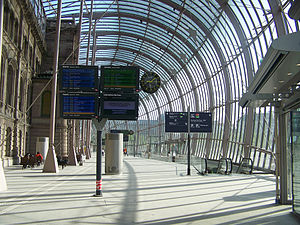 Strasbourg
(German:
Straßburg
, Alsatian:
Strossburi
) is the capital of the
Grand-Est
region of
France
and is most widely known for hosting a number of important European institutions. It is also famous for its beautiful historical centre - the Grande Île - which was the first city centre to be classified entirely as a
World Heritage Site
by UNESCO.
Understand
Strasbourg is one of the nine largest cities in France with nearly half a million inhabitants in a metropolitan area spanning across the river into the
German
city of
Kehl
, on the eastern bank of the Rhine.
The city is the seat of the Council of Europe, the European Court of Human Rights, the European Ombudsman, the Eurocorps, the European Audiovisual Observatory and, most famously, the
European Parliament
, which also holds sessions in
Brussels
.
Strasbourg is a popular tourist destination primarily thanks to the beautifully preserved and pedestrian friendly city centre, which can be explored on foot or bicycle in a few days. Don't forget that Strasbourg's appeal now brings tourists to the city throughout the year, with large tour groups especially frequent during the summer months and during the annual winter market.
address: Place de la Cathédrale

If you ask whether they have maps they try to sell you one for 1,50 EUR - be sure to ask if they have free maps, what you then get is basically the same as the paid one. They also sell a variety of self-guided walking tours through the town (Middle Ages, Renaissance, Modern and Contemporary) for €1 each, and can arrange bike tours through the Faubourgs (the suburbs of Neudorf and Neuhof).

A smaller tourist office
Talk
While you will very likely find people who will engage in a conversation with you in
German
, the lingua franca of Strasbourg (and all of Alsace) is
French
. It is possible to hear German spoken on the streets, especially around the Cathedral. Alsatian (the historic Germanic language of Alsace) is a declining language, spoken mostly by the region's older residents or in rural areas but efforts are underway to revive it. Due to the presence of the EU, chances are you might actually encounter locals that speak pretty good English.
Get in
By plane
Strasbourg has its own airport, however there are (relatively) nearby airports which have a wider range of destinations:
Due to the excellent train connection to Paris, it may make sense to fly into
Charles de Gaulle airport
and take the TGV from there. Air France and some of its partners offer combined tickets in an
air rail alliance
.
By train

Strasbourg is well served by regional, national and international train services, predominantly by SNCF (French Railways), but also by Deutsche Bahn (German Railways).
Strasbourg is the eastern terminus of a major
high speed rail
line and thus served by numerous TGV and some ICE trains, most of which continue onwards to Paris or Germany respectively. Unfortunately this has also resulted in the end of many long running
sleeper trains
such as the original
Orient Express
.
Major destinations include the following major towns and cities with multiple daily departures. Journey times are approximate, some require TGV trains:
Paris
1h 50m,
Dijon
2h,
Lyon
3h 40m,
Metz
1h 15m,
Nancy
50m,
Marseille
5hr 30m,
Besancon
1hr 40m,
Luxembourg
1hrs 40m,
Mulhouse
50m,
Basel
1h 25m,
Frankfurt
1h 45m,
Stuttgart
1h 20m,
Munich
3h 40m,
Saarbrücken
1h 30m by direct local train,
Brussels
3h 40m.
The TGV Est Européen provides direct services to:
Paris Charles de Gaulle Airport
2h 25m,
Lille
3h 20m (for same-station connections via Eurostar to
London
),
Rennes
5h 15m,
Nantes
5h 10m,
Bordeaux
6h 45m.
From
Saarbrücken
, Saar-Elsass ticket can be purchased for €35 on weekends that enables round-trip for up to 5 travellers. More details are found
here
.
The main train station in Strasbourg is the
address: 20 Place de la gare
. The station, impressively renovated with a new glass cocoon frontage, is located a short walk west of the town center on Place de la Gare. There are connections to the tram system and buses, with many taxis waiting outside (to the left of the station forecourt).
For details of all services, and to make reservations, contact
SNCF
. For regional travel, check
SNCF TER Alsace
who co-ordinate the efficient and well served regional train network. When planning trips east of Strasbourg into Germany or countries beyond, you could save money by comparing the fares offered by
Deutsche Bahn
to those of the
SNCF
.
By bus
Eurolines provides bus services to the city. Services call at the new bus stop situated at the entrance of the center, few meters from the Etoile-Bourse tram stop.
Deinbus.de serves Strasbourg on its route from Konstanz to Trier.
Flixbus is by far the biggest player in the German market and a big player in the French market as well.
Bus station
address: Parc de l'Étoile
Drop off point for ALSA, Eurolines, Flixbus, Ouibus.
Getting there:
take A, D trams.
By tram
The German town of
Kehl
just across the border got linked to the Strasbourg tram network in 2017. It is one of only a handful of places worldwide where you can just hop on an
urban rail
service and let it take you across an international border. Both sides being within the
Schengen Area
, you don't need to take a passport or answer the question "business or pleasure" and you'll likely not be asked by customs agents how much booze you are carrying, either (and the limits are
very
generous at any rate). There are of course fare inspectors, so don't forget to get a ticket.
By car
You can reach Strasbourg by various highways:
from the west (Paris, Benelux) taking the A4 highway (E25). About 4 hours from Paris and 2 hours 15 minutes from Luxembourg.
from the south (Switzerland, Lyon), taking the A35 highway (E25). About 5 hours from Lyon
from the north and east (Germany), taking the A5 highway (E35).
Driving into Strasbourg's old city is relatively easy although there are a few streets off limits to cars. There are many large garages surrounding the old city if your hotel does not have its own parking facility. Some carparks are more expensive than other, especially for longer stays. The one at
Petite France Ste Marguerite
is the cheapest at €7.20/24 hour and €5.20 for each consecutive day.
Tickets P+R
(parking for the day plus return fare on the tram for up to 7 passengers of the car): €4.10, P+R Rotonde: €4.60.
Get around
Strasbourg is most easily explored on foot, and the historic city centre can easily be explored in a day or two. To be able to cover more ground, you should consider hiring a bike or using the public transport network.
By bike
Strasbourg is ideal for cycling - the city center is flat and there are plenty of bike lanes and bike paths. You can rent bikes at:
the automatic or manned bike sharing stations vélhop.
rue du Maire Kuss, in front of the train station
rue des Bouchers, on the south bank of the Ill river, near the rue d'Austerlitz and the Porte de l'Hôpital tramway station.
Bikes are allowed on trams except during peak hours.
More information on cycling in Strasbourg is available
on the Strasbourg website
.
By bus and tram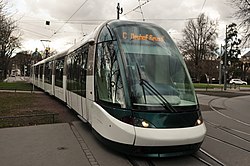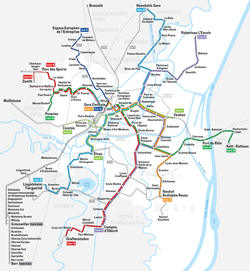 Buses and trams in Strasbourg are operated by the
Compagnie des Transports Strasbourgeois (CTS)
. A few dozen numbered bus lines and six tram lines (named A to F) serve the city. A single ticketing system covers both bus and tram. Tickets are sold in 'tabacs' (newsagents), tourist offices, CTS boutiques or from vending machines at tram stops. Tickets should be validated before use, either in the machines on tram station platforms or in the machine by the driver when you board the bus.
Summary of fares (as of Oct 2018):
Aller Simple (one way) €1.80 (€2 on board)
Aller Retour (round trip) €3.50
10 x Aller Simple (1 contactless ticket suitable only for one person) €14.10
24H Individuel (24hr ticket for one person) €4.50
Trio (one day ticket for up to three people) €6.90
Prices are slightly lower (e.g. €1.70 one-way) if loaded onto a Badgéo card, CTS App or topped up on contactless ticket. CTS App works only with French Sim cards (as of Oct 2018).
If using the buses and/or trams a lot, Europass tickets are available from all automatic ticket machines for either 24 hours or seven days. The Europass Mini is valid on all local tram, bus and train services, including those that cross the border to
Kehl
. The full Europass ticket also covers the local transport of the Ortenau Tarifverbund in Germany including
Offenburg
(information in German only)
.
See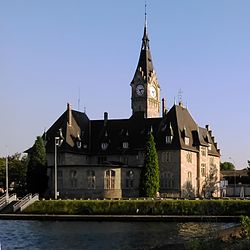 Grand Île
Petite France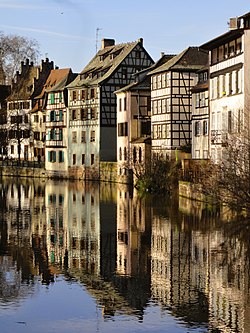 Petite France is the name given to the small area between the rivers, just south of the Grande Île. It is home to some of Strasbourg's prettiest and most photogenic streets and buildings, with half timbered townhouses leaning out over the narrow cobbled streets. Petite France resembles
Colmar
(a city an hour south), with picturesque canal and half-timber houses.
European district
Use
bus lines #6, 30, 72
to get there.
Council of Europe's seatbuilt in 1977 by Henry Bernard.

European Court of Human RightsBuilt in 1995 by Richard Rogers

European ParliamentBuilt in 1999 by Architecture Studio. The parliament tends to meet in Brussels more and the arrangement with the parliament moving shop between Brussels and Strasbourg several times a year has been criticized as wasteful of money by EU skeptics and penny-pinchers.
Elsewhere in Strasbourg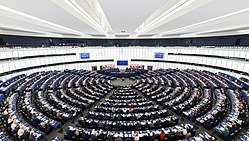 Parc de l'OrangerieA beautiful classical park. It has a small free zoo featuring birds and a few other animals. Also has an excellent playground for young children.

StockfeldGarden city built in the early 20th century in the south-east of the Neuhof (southern part of the town). Use bus line #24 to get there.

ARTE Television headquarters

address: 4, quai du Chanoine Winterer

B-line tramway terminus at HoenheimBuilt in 2001 by the contemporary architect Zaha Hadid.

Place de la RépubliqueA central crossroad encircled by neoclassical public buildings.

Museum of Modern and Contemporary ArtIt's recommended also because of the interesting building.

Historical MuseumMuseum of Strasbourg's history.
Do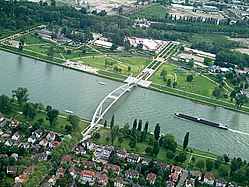 Christmas Markets
can be found in many places, but the most important and beautiful are place Broglie and place de la Cathédrale, although they are crowded. They are the best places to drink hot wine (
vin chaud
) and to eat Christmas cookies (
Brädeles
).
Even when there are no special events on in Strasbourg, walking around the old town is a very nice way to pass a day. And there are lots of good cafes to stop and rest in as you make your tour.
Boat tours
along the Rhine offer views over both Strasbourg and neighbouring Germany.
Batorama
offer several river tours lasting from around 45 minutes to a few hours, costing around €10 per person. 45 min tours run around the town center and the European district. Boats can be found below Place du Marché aux Poissons.
Buy
From time to time, the city organizes a general market in vast parts of the center, where many street vendors offer various products and the shops join in with special discounts. Then, the city center on the island is partly closed for parking or driving and the trams don't go on the rue des Francs Bourgeois. Information about regular market dates is hard to find on the net. If you manage to track down the date of this market, write it here and don't miss it.
Marché aux Puces

address: rue de Vieil-Hôpital

address: 24, place des Halles

A shopping center with over 100 shops and restaurants north of the city center, but within walking distance.

Shopping centre Rivetoile

address: Place d'etoile

This new development has shops similar to Place des Halles as well as higher budget shops and a selection of cafes.
Try Galeries Lafayettes at rue du 22 Novembre and Printemps at 1-5 rue de la Haute Montée.
Rue Hellebardes and Gutenberg
offer designer clothes and men's clothes.
Bruno Saint Hilaire
has designer clothes for men and a shop in 8, rue Gutenberg. There is a low-budget, secondhand clothing shop in 6, rue de la Lanterne, and various gadget shops can be found in rue des Juifs.
For cheap groceries, including local wines and beers, try one of the
three outlets of NORMA
, a German discount chain whose three outlets are conveniently located at the corner of rue St Michel and rue Ste Marguerite near the central train station; at 79, Grand'Rue near the center of Grand Île; and at 27, rue des Frères near the Cathedral. Open M-F 10AM-8PM, Sa 9:30AM-7PM.
Eat
Alsatian specialties are numerous and can be eaten in many traditional restaurants, in the city or in the neighborhood. Particularly you shouldn't visit Alsace without having the
sauerkraut
(
choucroute
in French). Choucroute seems to have a standard price throughout Alsace of 14 Euros. Don't be too dismayed by this seemingly high price as what is brought to you is a heaping plate of Sauerkraut (big enough for 2 people) as well as sausages and other meats. This is usually translated as "garnished sauerkraut" on English menus, when in doubt ask your server. Other specialties include the Alsatian pork-butcher's meat,
Flammeküche
or
flams
(
tartes flambées
in French) which is a sort of wafer thin pizza made with onion-cream sauce,
Baeckeoffe
, beef and pork stew cooked, with potatoes and carrots, usually served for two or more persons and
Fleischnackas
, mixed beef meat presented like spirals and served with salads.
Budget
address: 22 Rue des Veaux

This a restaurant and microbrewery. Try one of their beers and a tarte flambé for about €10. Has a small children's menu.

Al Boustane

address: 31 Rue de la Krutenau

on rue de la Krutenau. This Lebanese restaurant features sandwiches and kebabs.

phone: +33 3 88 36 36 90

On rue des Frères near the Cathédrale. Serves a great variety of flams (tartes flambés) and has an amazing winelist for a budget joint.

address: 6 Rue du Vieux Seigle

Features sandwiches "tartines" (about €4). Food from noon to night. Tables on street and inside.

Le Frangin

address: 33 Rue des Frères

two doors down from Flam's on Rue des Frères serves a wide range of home-cooked pasta and pizzas at reasonable prices. Pizza and pasta main courses range from €8-9, meat dishes €14-15 and an Alsatian beer €2.50. The owner is friendly and the food is good, satisfying Italian cooking.

Restaurant universitaire La Gallia

address: 1 Place de l'Université

The oldest university restaurant in France, in a 19th-century building, built by the Germans (which explains the ceiling decorations). It is the last French university restaurant that is managed by students. Not a culinary triumph, but very affordable.

Le Saladin

phone: +33 3 88 32 12 32

address: 41, Grand'Rue

Tunisian/Algerian couscous and kebabs. No alcohol.

Le Zorba

address: 61 Rue de Zurich

This little Greek restaurant in the Krutenau area features sandwiches, souvlaki, and kebabs.
Mid-range
address: 4 Rue des Dentelles

Very friendly.

Chez YvonneUsually frequented by Jacques Chirac, when he comes to Strasbourg, because of its well-known tête de veau (cooked veal head). More expensive.

address: Les Docks, Presqu'île André-Malraux

This chain restaurant is kid-friendly, with a small children's menu, highchairs, and a toy and coloring book for young children, and will satisfy a craving for red meat at a reasonable price.

address: 4 Rue du Saumon

just one block from the Vox cinema on rue des Francs Bourgeois in the center of Grand Ile. This local Alsatian favorite features Fischer brews for €2-3 and tartes flambés for €7-8.

Restaurant Avanos

address: 20 Grand'Rue

Spécialités orientales: couscous, döner, grilled meats, fish. 3 plats du jour choices every lunchtime. 10% off takeaway meals every evening.
Traditional restaurants
phone: +33 3 88 15 78 78

address: 6 Rue de la Douane

on rue de la Douane, near the cathedral, next to the Ill river. A big restaurant for tourist groups. You are almost sure to find a place here even if you have no reservation. Mid-range prices.

address: 2 Quai de la Bruche

in the Petite France district, serves well-prepared flams and Alsatian specialties in a small room with smiling waiters. The chef usually comes by at the end of the evening. Great terrace during the summer under a big tree on the bank of the river. No reservation, mid-range prices.

address: 17-19, rue du 22 novembre

The restaurant is above a fine Alsatian specialty food shop on the ground floor.

address: 13, place de la Cathédrale

Try the choucroute aux trois poissons; it is very fresh and a wonderful take on the traditional sauerkraut dish. They also serve the traditional choucroute garnie, with up to seven types of meat, including headcheese.

Le Sanglier

address: 11 Rue du Sanglier

on rue du Sanglier in the Carré d'Or district, near the cathedral. A small restaurant with a traditional setting. If you want a Baeckoffe, you must inform the restaurant 24h before. Mid-range prices.

Restaurant La Vigne

address: 14, rue de Sébastopol

This charming and friendly winstub has more moderate prices than its counterparts in La Petite France or near the cathedral, with choucroute garnie and baeckoffe under €15 and bottles of Alsatian wine for about €20.
Modern restaurants
Moozé

address: 1 Rue de la Demi Lune

on rue de la Demi-lune near Place Kleber: sushi restaurant. Sushi moves on a conveyor belt in front of you.
Drink
Beer : Alsace is the first beer-producing region of France and Strasbourg has many breweries. Best known are Kronenbourg and Fischer, whose factories can be visited for free, with free drinks at the end of the tour.
Alsatian white wine: usually drunk with Alsatian food, but also with fish. The main varieties are Gewürtztraminer, Riesling and Pinot Gris. They have a particularly floral flavour and are well worth investigating.
Bars
phone: +33 3 88 32 81 18

address: 18 Rue des Tonneliers

Beer bar located on the Rue de Tonneliers in the proximity of la place Gutenburg. Spacious with an agreeable atmosphere.

phone: +33 3 88 16 22 03

address: 3 Rue des Francs-Bourgeois

Bar with an intimate interior. Great place to enjoy a game of backgammon.
Sleep
There are many hotels around the station, especially in the
place de la Gare
and in the
rue du Maire Kuss
, but this area does not offer consistent quality for accommodations. Most international hotel chains are represented with the usual 2- or 3-star hotels, many of which host the large tour groups who come on weekend breaks. If your budget allows, try staying on the Grande Île (city centre). Most of Strasbourg's hotels are fully booked during the Christmas Market period (December) and when the EU parliament is in session for a few days every month, usually for the period around the tenth. Book ahead if in doubt, as last minute accommodation can be difficult to find during these periods.
Budget
Mid-range
Splurge
address: 8, avenue de la Liberté

An old building in the heart of the city.

address: 5, rue des Moulins

Perfect location.

phone: +33 3 88 154900

address: 4, place Saint Pierre le Jeune

Not far from both the Cathedral and Petite France.
Stay safe

Strasbourg is by a fair margin the safest of France's largest cities, being even safr than many mid-sized places, and tourists have little to fear. With that said, the standard precautions still need to be applied: watch out for pickpockets near the Cathedral (and even inside, according to the signs) during the high tourist season and throughout the old town. Some areas in the south (Especially the Neuhof neighborhood, which often ranked as one of France's roughest areas) and west (Hautepierre, Cronenbourg) might be iffy, especially at night. But otherwise, the city of Strasbourg is not known for violence.

Connect
Phone
Local mobile phone services are provided by Orange, SFR and Bouygues Télécom. Payphone kiosks are plentiful and international calling cards can be purchased in post offices and 'tabacs' (corner shops). Most of the internet cafés listed below are also equipped for making online telephony calls (Skype etc.).
Internet
In most McDonald's in Strasbourg you get free WLAN.
Cope
Go next