Stratford-upon-Avon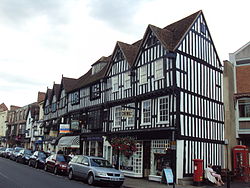 Stratford-upon-Avon
is an historic town on the River Avon in the
English
county of
Warwickshire
, best known as the home town of the great English playwright and poet,
William Shakespeare
. Today, it is a major theatre-going destination as the home of the Royal Shakespeare Company. As such, it represents one of the most popular tourist destinations in the country.
Although it's often abbreviated to just "Stratford", when organising transport or accommodation always refer in full to "Stratford-upon-Avon". There's a large district of London called
Stratford
, where you don't want to go by mistake.
Understand

Stratford-upon-Avon has its origins in the Saxon culture of medieval England (the name "straet-ford" indicates that it was a river crossing). For many centuries it was little more than a small market town on the road to London; even today, it has only 24,000 permanent residents. Though it has developed some industrial capacity, Stratford is now known mostly for its association with Shakespeare. The town benefits tremendously from the resulting tourism and cultural activity, and has gone to great lengths to preserve those buildings that have survived since Shakespeare's time. As a result the centre of town is quaint and attractive, drawing many thousands of tourists each year to its cultural and historical amenities.

Get in
By plane
The closest international airport is
Birmingham Airport
(
BHX
), with many flights domestically and across Europe. Intercontinental destinations include Istanbul, Newark NJ, the Gulf States, Amritsar and (who knew?) Ashgabat in Turkmenistan. Trains run from the airport to central Birmingham, change there for Stratford, and reckon 90 mins.
The London airports, especially Heathrow (LHR), have a wider intercontinental choice. Reaching any of them from Stratford by public transport will take at least 3-4 hours, as you have to go into central London then out again. By car Heathrow is only 90 mins away if the motorways are clear . . . but when would the M25 and M40 ever be clear?

By train

Wikivoyage has a guide to Rail travel in the United Kingdom.
There are frequent direct trains to Birmingham Snow Hill station (around an hour) and Warwick (around 30 minutes). For London there are only 3 direct trains, taking 2 hours to London Marylebone station. The journey usually takes 3 hours, changing either in Birmingham for trains to London Euston, or at Leamington Spa for trains to London Marylebone.
Stratford-upon-Avon railway station is half a mile west of the town centre, an easy walk. Don't get off at the other station, Stratford-upon-Avon Parkway! That's at the northwest edge of town, handy for motorists on the A46, but 3 km from the centre.

By bus
National Express run direct coaches to Stratford from London Victoria (about 3 hr), Birmingham (1 hr) and Oxford (1 hr 15).

By car

From London follow the M40 motorway and exit at Junction 15 for A46 south. Distance 102 miles (164 km), journey time approximately 2 hours. See also the town's Park and Ride website.

By boat
At Stratford the navigable River Avon meets the Stratford canal, which connects to Grand Union Canal and the entire English waterway network. You could even reach Birmingham, Liverpool and Manchester, given enough time, and a slim barge to wriggle through the narrow locks. Historically this was important, creating a freight route between Bristol to London in the early 19th C; and then in the 20th C it was the cause which focus efforts to rescue the national canal system from neglect.

Get around
The town is compact and most sights are in easy walking distance. However Anne Hathaway's Cottage is in Shottery, a mile west from the centre, and Mary Arden's Farm is three miles west in Wilmcote. For these either use your own car, or take the open-top bus tour, or cycle. Cyclists will also enjoy Stratford Greenway, 5 miles of traffic-free track on the edge of town.
address: Seven Meadows Road CV37 6GR

Cycle Hire and cafe located in refurbished railway carriages.
Those unable to walk can hire a mobility scooter from Shopmobility, located on the ground floor of the Bridgefoot multi-storey car park.
See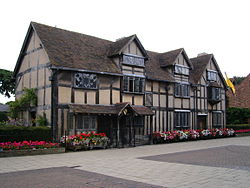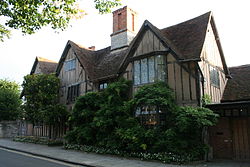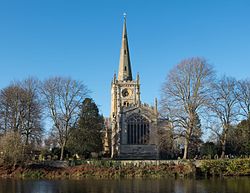 There are five sites closely associated with Shakespeare, and managed by the Shakespeare Birthplace Trust. A combi-ticket (called "The Full Story") is best value and they can all be seen in the course of an afternoon. Three are central:
Shakespeare's birthplace
on Henley Street is the obvious starting point. In later life he bought a house at
New Place
- it's long been demolished, but you visit to see the garden there, and the adjoining Nash's House where his grand-daughter Elizabeth lived. His daughter Susanna married Dr John Hall, and
Hall's Croft
was their house. A mile west in the hamlet of Shottery is
Anne Hathaway's Cottage
, where she grew up before marrying Shakespeare. Three miles west in Wilmcote is
Mary Arden's Farm
, childhood home of Shakespeare's mother.
Further afield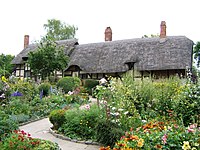 Do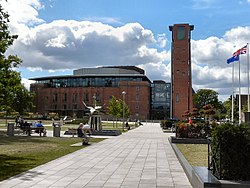 phone: +44 1789 403493

address: Waterside, CV37 6BB

Do see a production of Shakespeare, if you possibly can. You may have had boring experiences in the past, at school or with second-rate productions, or reckon you've seen enough of it on TV. But what the Royal Shakespeare Company bring to the plays in live performance is on a whole higher dimension. They perform here and in London but don't tour very much, so this is the place to see them. They do other plays as well and family-friendly versions of Shakespeare, see the RSC programme. And book early! Tickets are in high demand.
There are three RSC theatres in town, which can be toured. The Royal Shakespeare Theatre within the Waterside complex is the main space for performing Shakespeare; it has 1018 seats with a thrust stage. Also within the complex is Swan Theatre, used for performing Shakespeare's contemporaries, and Restoration and newer work. It has 426 seats around a deep thrust stage. Some 150 m south along the river is The Other Place. This has a 200-seat theatre (incorporating the former Courtyard Theatre) plus rehearsal and studio space.
phone: +44 1789 290969

address: Bell Court CV37 6JP

Hoaky re-imagining of the "lost years of William Shakespeare" - he was a wizard, apparently - plus lots and lots of merchandising (but thankfully no Harry Potter).
Hire a rowing boat and take a trip up and down the river.
Stratford Town Walk is a guided sightseeing walk, daily at 11:00 plus Sa Su at 14:00. The walk starts from the Swan fountain on Waterside, near the Royal Shakespeare Theatre and opposite the junction of Sheep Street. The walk takes about two hours, adults £6, no booking. The same team also runs:
- Stratford Town Ghost Walk on Saturdays at 19:30 (90 mins), adults £7, book on 07855 760377 or 01789 292478.
- Cruises on the River Avon, with ghostly stories and, uh, mind-reading.
phone: +44 1789 299666

address: Alcester Rd, Wildmoor CV37 9RJ

Day membership may be available.
Buy

Stratford sounds like an ideal place to stock up on Shakespeare... but is it? A book of the complete works of Shakespeare can be bought online for less than £4 plus postage, a Kindle version for less than £1, and a simple text download for free. That's because the works are deemed to belong to the common heritage of the English-speaking peoples, with no copyright restrictions, and there are innumerable print editions and e-sources out there. So Old Bill could be adding class to your bookshelves long before your trip.
On most summer Sundays there is a craft-market on the Waterside. The produce isn't particularly local though.

Eat
Stratford eating places are well geared to theatre-goers. Usually there's a pre-theatre rush at 5 pm, then it all goes quiet between 6 and 7 pm before the evening crowd starts coming in. But there's not much of a late night scene, as you'd find in London's West End or in Edinburgh.
Kingfisher

address: 13 Ely St CV37 6LW

Delicious fish and chips, take-away, cash only.
The One Elm 1 Guild St CV37 6QZ, just off High Street (daily 11:00-23:00). Great food all day & lovely back courtyard.
Barnabys 25 Sheep St CV37 6EF, across the road from RSC (daily 11:00-20:00). Good inexpensive fish & chips and other fast food.

phone: +44 1789 295 705

address: 13-14 Meer St CV37 6QB

Fast & friendly cafe serving traditional English cafe food. Low prices considering the tourist-trap surroundings. Frantic at lunch-time, but somehow they still manage to serve quickly. Chicken, leek & ham pie recommended.

Dirty Duck / Black Swan

phone: +44 1789 297312

address: Waterside CV37 6BA

Pub with inexpensive food and lively thesp atmosphere: try the rhubarb pie. Part of the Greene King franchise. The sign reads "Dirty Duck" as you approach from town, "Black Swan" as you go into town from Holy Trinity Church. Note there was also a "Black Swan" on Ely St, but it's closed down.
Baraset Barn Pimlico Lane, Alveston CV37 6RJ, 2 miles northeast of Stratford off B4086 (M-Sa 11:00-23:00, Su 12:00-17:00). Nice gastropub.

phone: +44 1789 297 999

address: 8 Ely St CV37 6LW

Smart Italian restaurant, family-run with good fresh home cooked food.

phone: +44 1789 292 554

address: 12 Sheep St CV37 6EF

First rate restaurant, the lamb is excellent.
Drink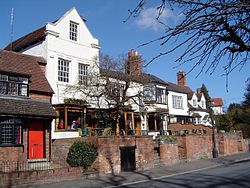 The One Elm: see "Eat" listing.
Dirty Duck / Black Swan: see "Eat" listing.
Sleep
Reliable mid-range chain hotels in Stratford-upon-Avon include Mercure, Premier Inn, Best Western and Crowne Plaza.
Virginia Lodge, 12 Evesham Place CV37 6HT: a nice B&B about 5 minutes' walk to Stratford town centre.
YHA Hostel Alveston has basic dorms in a grand Georgian villa, 2 miles northeast of Stratford off B4086 Wellesbourne Rd in Alveston.

address: Waterside CV37 6BA

Splurge at this boutique hotel with large elegant rooms and excellent restaurant. Free parking.

phone: +44 1789 740000

address: Banbury Rd, Ettington CV37 7NZ

4-star hotel in Victorian manor, often booked out to conferences.

phone: +44 1789 266804

address: Banbury Road Bridge Foot, CV37 7LT

On the banks of the River Avon.
Go next
Map of places with Wikivoyage articles nearby
Warwick – One of Britain's most famous and best preserved castles.
Wellesbourne – Large village known for its airfield and close to Charlecote Park, a manor house and deer park that William Shakespeare allegedly poached in.
The hills to the south are the Cotswolds, with a series of charming villages.
Cheltenham to the south of the Cotswolds, and Royal Leamington Spa on the railway line north of Stratford, are elegant spa towns.
Oxford to the south-east is a must-see.
Head for Birmingham for big city attractions.