Stratford (Ontario)
Stratford
is a town in the
Canadian
province of
Ontario
that is internationally known for the Stratford Shakespeare Festival, acclaimed for its presentation of Shakespearean, classical and musical theatre.
Stratford Tourism office
address: 47 Downie Street
Understand
Climate
Get in
By car
From
Toronto
: follow Highway 401 west to Kitchener, then west via Highways 7/8.
From
London
: east via Highway 7.
By bus
phone: +1-800-567-1600

For Stratford Shakespeare Festival theatre-goers, the Festival offers direct bus service between Toronto and Stratford for performances from July to October. Online booking is available. People with special needs should book by telephone.
By train
VIA Rail
has two daily trains on the
Toronto
-
London
route that calls in Stratford, with one also running to/from
Sarnia
. Journey time from
Toronto
is just over two hours.
address: 101 Shakespeare St
By plane
Travellers arriving at
Toronto Pearson International Airport
, Kitchener-Waterloo International Airport, or London International Airport will require another mode of transportation to get to Stratford.
Stratford AirporterProvides shuttle service between Stratford and Toronto Pearson International.
Get around
By taxi
Taxis are plentiful and service is available for a flat rate of $8 within Stratford (as of July 2009).
City Taxi

phone: +1 519 272-2222

Taxi Dispatch Stratford Limited

phone: +1 519 271-2600

Radio Taxi

phone: +1 519 271-4242
See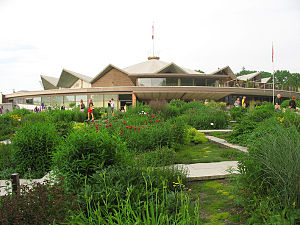 *
Stratford Shakespeare FestivalDrawing more than 600,000 visitors each year, the Stratford Shakespeare Festival is North America's largest classical repertory theatre. While always including some plays of William Shakespeare, the Festival also produces many other classical and contemporary works: the 2013 playbill features 12 plays and musicals.
The Festival runs from April to October at the following theatres:
Festival Theatre

address: 55 Queen Street

Tom Patterson Theatre

address: 111 Lakeside Drive

Avon Theatre

address: 99 Downie Street

Studio Theatre

address: 34 George St. East
In addition to the play performances, the Festival hosts a wide range of tours and events. Check the Festival website for more details.
Other attractions include:
phone: +1 519 393-5311

address: 4275 Huron Rd

A community museum dedicated to the cultural heritage of Stratford and Perth County.

phone: +1 519 272-0429

address: Lakeside Drive between North and Front Streets

An outdoor gallery representing the works of regional artists.

phone: +1 519 271-5271

address: 54 Romeo Street

Exhibits of contemporary and historical art.

Shakespearean GardensThis garden is modeled after traditional English gardens and includes an herb garden, a rose garden, and a picturesque gazebo. It is the perfect place for a picnic.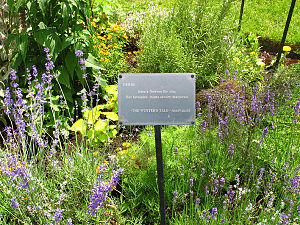 Do
The park system around the Avon River: Stroll the shaded path around the lake. There are lots of benches for people-watching and picnicking. There are many swans, ducks and geese to be seen in the city. You can rent a canoe or pedal boat from the York Street Visitors Kiosk, +1-800-561-7926 or +1 519 271-5140.

Culinary Walking Tour+1 519 273‐7818. A 1 1/2 hour walking tour of food shops with the opportunity to sample local treats. Meets at the Stratford Tourism office at 47 Downie Street. Tu and Th 10:45AM, rain or shine. Adults, $7.50.

Stratford Summer Music Festival

phone: +1 519 271-2101

Stratford Summer Music (July/August) is an annual multi-week concert series set in various outdoor and indoor venues around town. A mix of free and ticketed events are offered.
Stratford is the home town of pop superstar Justin Bieber. The city has a guide of places he used to hang out at. The schools are not open for tours, and has no places where he lived.
Buy

Startford's downtown core has an eclectic assortment of stores to browse, including bookstores, clothing boutiques, toy stores, and craft stores. Stroll along Ontario, Wellington, and Downie Streets to get an overview. The stores downtown are generally open 7 days a week during the theatre season. Most stores open at 9:30AM and close at 5:30PM, and many stay open until 8PM on Friday evenings.
The Theatre Stores, located at the Festival Theatre and the Avon Theatre, +1 519 271-0055 x2320, sell gifts, clothing, books and music related to the current year's Stratford Festival playbill.

Eat
For a pre-theatre meal, be sure to make a reservation.
Splurge
phone: +1 519 273-3424

address: 70 Brunswick Street

Modern French. Dinner tasting menu $85-$110, vegetarian/vegan options available. A la carte mains $34-$49. Reservations required.

phone: +1 519 271-5052

address: 151 Albert Street

Reservations required.

phone: +1 519 271-6442

address: 9 Cobourg Street

Reservations required.
Drink
phone: +1 519 271-1400

address: 161 Ontario Street

Comfy local pub with a good selection of well-kept beers on tap. Pub food. Live music..

The Dominion House Bar & Grill

phone: +1 519 271-3870

address: 3 Guelph St

Daily lunch and dinner specials. Live entertainment every Friday and Saturday night, and Karaoke Sunday nights. Licensed
Sleep
There are variety of accommodation options for visitors to Stratford, including a large number of B&Bs. This is a small sampling of what's available, the Stratford Tourism Alliance website has a more complete list. Prices quoted below are for high season, which runs from approximately mid-April to mid-November.
Budget
Cottages
phone: +1 519 998-1337

address: 279 Thomas Street

St. Marys (15 minutes from Stratford). Backs onto the scenic Thames river. Two bedrooms, fully equipped kitchen, three-piece bathroom with jetted tub, breakfast nook, well-appointed living room with sofa bed.
Vacation Rentals
address: 7 Cobourg St

Available for rent, May-Oct with a living room offering sweeping views of Lake Victoria and parklands, two bedrooms with queen size beds and bathrooms en suite, both with down comforters and pillows. The house does not have an elevator. Seasonal, healthy breakfasts are included, prepared each morning by your own private chef. Dinner may be served in the house during restaurant hours, and should you wish to use the house for small meetings or parties, they will be glad to cater these for you. Tariff is $595.00 per day, plus 13% H.S.T.
Motels/Hotels
Bed & Breakfasts
Connect

Stratford Public Library, 19 St. Andrew Street, +1 519 271-0220, . Free computer/internet access.

Go next
Brickman's Botanical Gardens

address: Perth Line 44

Located 15 minutes outside of Stratford, this is a beautiful botanical gardens and a mini farm zoo. Adjacent to a garden nursery where you can buy several of the plants on display.

address: 3995 Line 9

Wildwood Conservation Area is located 11 km west of the City of Stratford, and 7 km east of from the Town of St. Marys. The park encompasses a campground, wetland area, a reservoir with boat launch and walking trail and more. Many events and outdoor activities are held here.
Some options for further travel include:
Niagara-on-the-Lake - for more theatre, visit the Shaw Festival in this picturesque historic town