Stryn
Stryn
is a village and district in
Sogn og Fjordane
,
Norway
. Stryn sits at the junction the high mountains and glaciers of the interior, and one of the great fjords cutting deep into the bedrock. The area is famous for its lovely lakes and easy access to arms of the great glacier. Stryn district also includes
Olden and Loen
.
Understand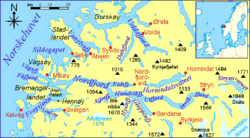 Stryn district occupies the innermost (easternmost) part of the Nordfjord region. Nordfjord region is the area surrounding the Nordfjord, one of the major western fjord systems. The arms of this majestic fjord cuts deep into the mountains where its extensions are seen as green valleys and romantic lakes. While the many lakes in Stryn district are moderately deep (100-200 meters), next door Hornindal lake is one of the deepest in the world (500 meters +) and the deepest lake in Europe. Hornindal lake has such a big volume that rivers takes an average of about 15 years to flow through.
Stryn district is the transition area between the great fjords and high mountains creating the barrier to eastern Norway. Stryn has deep valleys, mountain passes and the northern part of the
Jostedalsbreen
glacier as well as other glaciers. These glaciers are used for summer skiing. About 15 % of the district is covered by glaciers or permanent snow. About 2/3 of the area is above the treeline.
Get in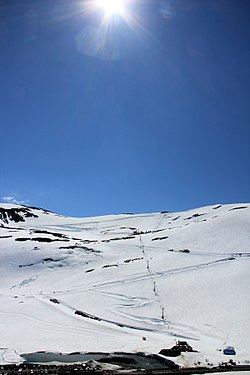 By car
The old road (Gamle Strynefjellsvegen), county road 258 between Grotli and Videsæter, is open in summer, this road is a National tourist route of Norway
Road 60 from Byrkjelo (south) or Ålesund and Hellesylt (north), ferry connects Hellesylt to Geiranger in summer
By bus
By plane
phone: +47 67 03 20 21

()

phone: +47 67 03 21 00

()

phone: +47 67 03 21 21

()
By train
See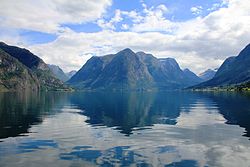 OppstrynsvatnLovely lake worth driving or cycling around.
Do
address: Old Stryn mt road (route 258)

This ski resort is open in summer only!
Eat
phone: +47 57 87 05 30

address: Tonningsgata 19

Bryggja Fiskerestaurant

phone: +47 901 68 134

address: Perhusvegen 11
Drink
Base Camp

phone: +47 907 27 896

address: Tonningsgata 31
Sleep
Go next