Stuart Highway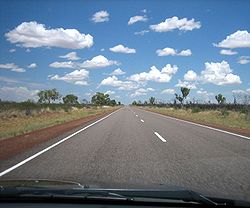 The
Stuart Highway
known as "the Explorer's Way" is a highway running north to south through the middle of
Australia
, linking
Darwin
(
Northern Territory
) with
Port Augusta
(
South Australia
). It spans 3,200 kilometres, a vast magnificent country of arid lands in the south via Central Australia to the tropical Top End.
From there, the Princes Highway connects it with
Adelaide
and the
Eyre Highway
will lead you to
Western Australia
. In the north of South Australia, the Stuart Highway also provides an entry and exit point for the more adventurous "Oodnadatta Track", a dirt road that takes you to some old outback towns the newer Stuart Highway now bypasses. This track may be closed after heavy rains, but the Stuart Highway is much more reliable in bad weather.
Along the highway, you will encounter towns such as
Katherine
(
Northern Territory
),
Tennant Creek
(
Northern Territory
),
Alice Springs
(
Northern Territory
),
Coober Pedy
(
South Australia
), and
Woomera
(
South Australia
)
Today's explorers have the same fascination for the vast expanses without the risks and privations of the past. Take lots of photos, leave nothing but footprints. Chat to the locals and fellow travellers and take time to go exploring off the beaten track on walks and tours. Use common sense if "going bush" in the
Outback
.
Precautions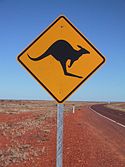 There are services around every 200km along the highway, but not all are open 24hours. In many cases you will have to plan your trip so arrive at fueling stops when they are open. A good idea is to get fuel at every truck stop you see - this will ensure that you have enough to get to your next stop.
The highway sees regular traffic at all hours, however it pays to make sure you have some food and drinking water if you happen to get stranded. Extreme temperatures are possible in summer, and temperatures overnight can also drop to near freezing.
If you leave the main road, you could be entering remote country. When outside of towns, services are limited so make sure you are well prepared and self-sufficient for yourself and your car. Many vehicles carry at least two spare wheels. Ensure that your vehicle's jack is a substantial one, as it may be difficult to change a wheel on some of the rough roadsides. Ensure that you have an adequate toolkit. Carry additional spare parts, such as fuses and other items which can be easily changed by the driver, as auto parts stores are few and far between, and may not even be open when you need them. Many vehicles carry additional fuel in jerrycans or other approved containers on roofracks or special outside fuel racks. Though as always plan ahead.