Stuttgart
Stuttgart
is the capital of the
Bundesland
of
Baden-Württemberg
in
Germany
. With a population of approximately 632,000 in the immediate city (2017) and more than 5.2 million people in the metropolitan area (2013), Stuttgart is the 6th largest city in Germany.
Stuttgart is known as a centre of mechanical and automobile engineering with the headquarters of the world-famous Bosch, Mercedes and Porsche within its metropolitan area. It does not, however, resemble most other industry hubs, as it is a rather sparse city spread over many hills and valleys, with forests, parks, and even vineyards within the city.
Understand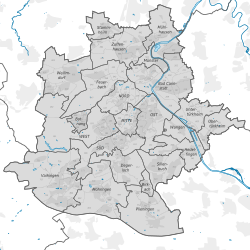 Stuttgart consists of 23 districts (
Stadtbezirke
), which are further divided into 152 localities (
Stadtteile
). The five inner districts are named
Mitte
,
Nord
,
Ost
,
Süd
and
West
("centre", "North", "East", "South" and "West", respectively). The outer districts are mostly former towns with their own names - of note are
Zuffenhausen
(Porsche headquarters and museum),
Untertürkheim
(headquarters of Daimler-Benz and Mercedes-Welt, as well as sports arenas sponsored by Porsche and Mercedes).and Bad Cannstatt (nice old center, mineral water and lots of vineyards)
Despite being one of the smaller and most densely populated among major German cities (when looking at the statistics), Stuttgart appears anything but. This is because the population is not concentrated in the, relatively small and hardly "metropolitan", centre, but is quite evenly spread over the hills contained within the city area, with multiple population centres stemming from the small towns that were incorporated into the present-day Stuttgart. Therefore, you will find many points of interest quite far away from each other and the use of Stuttgart's very convenient public transport system quite necessary.
Language
Stuttgarters are amazingly friendly people who will forgive you if German isn't your first or second (or any) language. If you do speak German well: beware that some people still speak the local
Schwäbisch
dialect natively, which may somewhat affect their standard German. They love to practice other languages (especially English) and will try to help you. Stuttgart is a big city with a small-town atmosphere.
Get in
By plane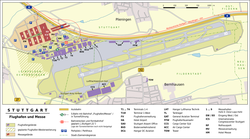 phone: +49 711 948-0
The 6th busiest airport in Germany, reflecting the city's size and importance. It is on the southern outskirts of the city and connected via local rail (S-Bahn) and in the future will also be connected to mainline high-speed railway.
Airlines and destinations
The airport is a base for Lufthansa's low-fare sister airline
Eurowings
. Moreover, most major European carriers have connections to Stuttgart from their main hubs, so there is a wide choice of direct flights to other German and European cities, and even if there is no direct flight from your origin, you will easily find a connection through any of the hubs.
Moreover, Stuttgart's main railway station (
Hauptbahnhof
) is just an hour away by high-speed train (ICE) from
Frankfurt Airport
, which is one of Europe's major aviation hubs. Many airlines offer flights to Frankfurt
with a connecting train
to Stuttgart instead of direct flights to Stuttgart, and as this is very quick and convenient (landing you in the very city center), you should consider this option as well.
Delta Air Lines has non-stop service from
Atlanta airport
to Stuttgart. American Airlines offers codeshare service from Frankfurt Airport on the ICE high-speed trains to the Stuttgart Hauptbahnhof (
ZWS
). These tickets are often cheaper than buying a flight solely to Frankfurt, despite having the additional segment.
Additionally, there is a significant charter/holiday traffic between Stuttgart and the popular holiday destinations in southern Europe and North Africa, mostly served by dedicated carriers such as TUIfly. There is growing low-fare traffic to Stuttgart as well, with easyJet, Ryanair and Vueling all serving the airport from their bases across Europe.

Ground transportation
The best way to get from Stuttgart airport to the city centre is by using public transport which is clean, cheap and safe.
The S-Bahn line S2 or S3 will bring you to Stuttgart's center (€3.70) within 27 minutes (see Timetable from station 'Flughafen' to station 'Hauptbahnhof'). Tickets can be purchased at vending machines at the level below the airport and above the platform. Tickets should be validated at orange boxes on the platform before boarding the train.
Several bus lines head for other destinations (e.g. Tübingen (828) and Reutlingen (X3)).
Taxis will be waiting at the airport. The airport's taxi service number is 0711/948 4409; Stuttgart's Taxi-Auto-Zentrale is 0711/55 10 000. Expect to pay around €30 to get to the city center.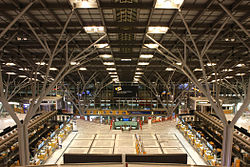 Terminals and orientation
Stuttgart Airport nominally has four terminals (numbered 1 to 4), but in fact Terminals 1 to 3 share a common airside - the number of the terminal indicates in which concourse the check-in and luggage drop-off is in the main hall (1 is the westernmost concourse area, the 3 is the eastern one and the 2 is between the main concourse). Terminal 4 is separate, although connected by a walkway on the landside (not on the airside, so you have to make sure you go through security there if you are flying from Terminal 4).
Terminal 1 serves mainly Lufthansa and most other Star Alliance carriers (Austrian, SAS, Swiss, Turkish)
Terminal 2 serves Eurowings
Terminal 3 serves intercontinental flights (Delta, United), Aegean Airlines and other non Star-Alliance airlines, including Condor and Tuifly
Terminal 4 is used mainly for charter and holiday flights
Departures are one level above arrivals and two levels above the S-Bahn station. See the airport's terminal guide for detailed floor plans.

Hotels
There is a Moevenpick and a Wyndham Hotel at the airport. For nearby hotels, some with shuttle service (for a fee) see Leinfelden-Echterdingen and .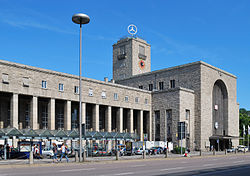 By train
Stuttgart 21
In the late 20th century, transportation experts at (then) Deutsche Bundesbahn had an idea: the historic terminus stations, that is, stations which can only be entered from one side, were to be replaced with through stations, stations which a train can pass through en route from one stop to another. Besides the immediately obvious benefits of through running and getting rid of sometimes lengthy detours into and out of cities, it was hoped that extensive inner city real estate could be converted from tracks into housing or retail. The heads of DB shopped this idea, named (city)21 due to the 21st century for which it was deemed the transportation solution, to various cities, including Frankfurt, Munich and Stuttgart. However, various reasons made the project fall through in most places (Neu Ulm 21 has been built already and Lindau 21 is getting closer to finalization) except Stuttgart. The original plan called for a total redesign of rail infrastructure in and around Stuttgart, a new high speed link to Ulm (for faster connections to Munich) and new tunnels for access to the airport and trade fair area. It was hoped that the project would "pay for itself" through extensive redevelopment of former railway real estate and the city of Stuttgart was promised a new station, a new neighborhood and huge federal investment all on the federal and state dime. However initial cost estimates proved to be - as they often are - far too low, there were doubts that the new station could achieve the capacity of the old station and locals felt ignored and badly informed by politicians and Deutsche Bahn. The protests against Stuttgart 21 grew and the erstwhile local issue began making national headlines. One particularly memorable moment was when heavy handed policing during a demonstration resulted in the blinding of an elderly protester who was hit by a water cannon. The 2011 state elections had been declared a "referendum" on Stuttgart 21 and the "natural governing" Christian Democratic Union was defeated in part due to the controversy. The Greens, second biggest party ahead of the Social Democratic Party (SPD) formed a coalition with the SPD and passed a law to hold a referendum on Stuttgart 21. The referendum however resulted in a 58.9% majority against canceling the project so construction continued. Since then there have been many cost overruns and calls to end the project but construction is ongoing.
Stuttgart HauptbahnhofTimetables for trains and booking are available on the webpages of Deutsche Bahn AG. Stuttgart main station is being redesigned (while still running) for the somewhat controversial "Stuttgart 21" project (see infobox). Once the project is completed Stuttgart main station will have transformed from a terminus to a through station with faster connections in most directions. For getting on from Stuttgart Hauptbahnhof and around in the city of Stuttgart, see Public Transportation below. Stuttgart is also served by Flixtrain. They run one train each way daily on their Stuttgart-Berlin route. Trains have a lower top speed than the ICE and are thus a bit slower, but tickets are significantly cheaper. When booking via Flixbus, make sure to book a departure labeled "train" as you'll otherwise be sitting on a bus.
By bus
The long-distance bus market has been exploding in Germany since 2013. There are dozens of daily services from most major cities, which are often significantly cheaper than trains. Most buses offer amenities like Wi-Fi and power outlets and some can even transport bicycles. The best resource for checking connections is this German website. As of 2018 there is no public central bus station and all of those listed below are well outside the city center. While they are all connected to public transit, plan some extra time getting to/from your station and remember to figure in the price of the S-Bahn when comparing bus and train tickets. For intercity bus stops in Germany, the Stuttgart area is actually better than the often quite disappointing average in terms of facilities and modernity.
ZOB Zuffenhausen

address: Burgunderstraße

Fernbushaltestelle Stuttgart - Vaihingen

address: Vollmoellerstraße 5

Fernbushaltestelle Stuttgart-Flughafen/Messe

address: Busterminal Messe Ost, Flughafenentlastungsstraße

Flixbus, DeinBus Stuttgart Berlin Bus (different position)
By car
Stuttgart has the inglorious title of being Germany's traffic jam capital, so try to avoid the rush-hour as car traffic can easily break down. Also parking is definitely a problem in most inner city areas. Expect a lack of parking facilities and high parking fees. Stuttgart is connected by the two major autobahns, the west/east-highway A8 to the south and the north/south-highway A81 to the west as well as smaller autobahn-like highways B10, B14, B27. Generally, follow the sign "Stuttgart Zentrum" to get to the center of Stuttgart.

Get around
Stuttgart has a very compact city center with most destinations in walking distances. Nearly all visitors arrive at the main train station (Hauptbahnhof). From there the remarkable 1.2-km-long pedestrian shopping street called "Königstraße" leads through the heart of the city, passing the Schlossplatz with the amazing New Palace, to the Rotebühlplatz (Stadtmitte). Other main sights (e.g. museums, opera) are just around the corner.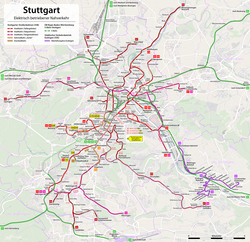 By public transport
Stuttgart's public transportation system comprises two light rail system - the Stadtbahn (or U-Bahn) and Schnellbahn (S-Bahn), as well as a city bus system. It is managed by
VVS
and is fully integrated in that there is one fare and ticketing system for all forms of transit, so that a single ticket can be used on any mixture of buses and trains that may be required to complete the journey.
The VVS's network called is divided in zones. The city of Stuttgart is only Zone 10 (inner city) and 20 (outer city). Most lines will lead via Hauptbahnhof, ending in a layout that is pretty centralized: If you want to go somewhere, chances are, you have to ride via Hauptbahnhof. The following Stadtbahn or S-Bahn stations are in the heart of the city: Hauptbahnhof, Schlossplatz, Charlottenplatz, Stadtmitte (Rotebühlplatz), Feuersee, Rathaus, Staatsgalerie and Berliner Platz (Liederhalle). For a complete description see the official map of
VVS-network
.
From Sunday to Wednesday public transportation stops around 01:00. On the weekend the S-Bahn is running hourly the whole night on all lines. So the inner city route from Hauptbahnhof to Schwabstraße is connected frequently. Additionally there are several night buses running, all starting from the Schlossplatz. On Thursdays there are night buses at 01:20, 02:30, 03:40. Be careful if you have a very early airplane since there are no connections weekdays to the airport in the early morning between 01:00 and 05:00.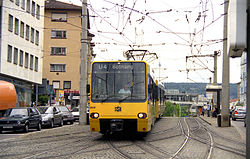 U-Bahn (Stadtbahn)
Stuttgart's
Stadtbahn
is a combination of suburban light rail, tramway/streetcar system and underground metro (subway). In the very centre of the city, the tracks run underground, and the overground sections run along city streets, partially grade-separated and partially integrated into city streets like tramways. That way, the yellow carriages of the
Stadtbahn
can travel all the way from the suburban hillsides to the central hub by the
Hauptbahnhof
, allowing convenient commuting with minimal amounts of changes.
To distinguish the
Stadtbahn
from the suburban trains of the
Schnellbahn
, it is referred to as

U-Bahn, and its lines numbered from U1 to U15. U-Bahn stands for underground/metro/subway in most other cities in German-speaking countries, even though in Stuttgart it runs underground over only a small portion of the network.
Most of the U-Bahn lines go through the underground section in the city centre, stopping at either the
Hauptbahnhof
,
Charlottenplatz
or both - with the exception of line
U3
, U 8 and U13 which go to their destinations without crossing the city centre. See map for details. The numbers
U11
and
U19
are reserved for special lines only operating during major events in the
Neckarpark
. The
U10
moniker is reserved for the
Zahnradbahn
(see below)., Since rebuilding the lstation Staatsgallerie is under way there are some temporary lines in effect. Check the map at your station for information for these temporary lines.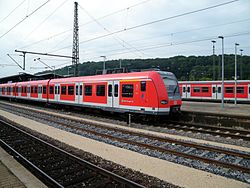 S-Bahn (Schnellbahn)
The
Schnellbahn
(or

S-Bahn
), literally meaning "fast railway", is a system of regional trains operated by the Deutsche Bahn for VVS. They run over mainline and railway track sections separate from the Stadtbahn, with fewer stops/stations and reaching farther beyond the city that the Stadtbahn. As the S-Bahn is separate from the U-Bahn, not all stations are integrated - there are S-Bahn stations with no connections to the U-Bahn system. That said, they are covered by the same ticket/fare system and compliment itself well.
You will most probably find the S-Bahn most convenient to use when covering larger distances or getting to locations not served by the U-Bahn, like the airport or Porsche Museum in Zuffenhausen. The S-Bahn lines are numbered from S1 to S6, plus the extra line S60.
All of the lines travel through the so-called
Stammstrecke
(common track) in the city centre, between the
Schwabstraße
station and the
Hauptbahnhof
. From there, the lines extend in all directions towards the extremities of Stuttgart. Of particular interest are the
S2
and
S3
, which extend to the Airport. Both go through the city centre to
Bad Canstatt
and split in
Waiblingen
towards their separate termini. While the airport station (
Flughafen
) is the terminus for
S3
, the
S2
continues to
Filderstadt
beyond the airport.
Zahnradbahn and Seilbahn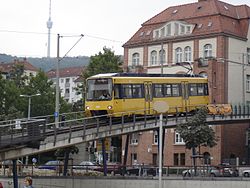 There are two fascinating transportations in Stuttgart, which are worth riding just because of the vehicle. The rack-railway (
Zahnradbahn
, commonly called
Die Zacke
) is the only urban rack-railway in Germany and comes with an amazing view over Stuttgart. It has 8 stations and runs between its termini:
Stuttgart-MarienplatzThere is an underground stop of U1 and U14 at the Marienplatz next to the Zahnradbahn's overground terminus.

Stuttgart-DegerlochAn U-Bahn stop is parallel to the Degerloch Zahnradbahn terminus, served by U5, U6, U8 and U12
The historic cable-car (
Standseilbahn
) line connects
Stuttgart-Heslach
with the
Waldfriedhof
cemetery on the hill. It only has two stations - one downhill and one uphill:
Standseilbahn Talstation

Standseilbahn Bergstation
Both rack-railway and cable-car do not require a special ticket, instead all normal tickets valid in Zone 10 (including day tickets) are valid.
Tickets and fares
Several ticket option are available (as of Dec 2018):
3-Day-Ticket - if you are staying for more than a day, for added mobility buy a special "3-Tage-Ticket" for unlimited rides throughout Stuttgart. These are available in hotels, at the airport and the tourist information at the end of Königstraße near Hauptbahnhof - but make sure you take proof that you're a tourist (e.g. hotel booking confirmation). There are two types of 3-day tickets available. One covers the main Stuttgart city including Fellbach and Korntal (tariff zones 10 and 20, €14), and the other is valid for the entire VVS network, including Ludwigsburg (€19.50).
Single Day Ticket - called EinzelTagesTicket, are also good value for visitors (1–2 zones: €5.20, 3–4 zones: €8.60, entire network: €13.20) They allow as many journeys until the end of day.
Group Day Tickets - GruppenTagesTickets for up to 5 persons (1–2 zones: €12.30, 3–4 zones: €17.10. entire network: €19.90).
Single Ticket - A Single Ride Ticket entitles the rider to one ride in the same direction, but changing lines as well as ride interruptions are permitted. The tickets remain in effect for two hours from purchase (1 zone: €2.50, 2 zones: €2.90, 3 zones: 4.20....)
StuttCard - provides free access to museums and a number discounts on purchase, can be combined with a 1-, 2- or 3-day travel pass.
In the Stadtbahn and the buses stamping machines are available inside the cars, while on the S-Bahn they are at the entrances of the stations and there is no possibility to stamp once you are in the train. (If you do forget to stamp your ticket in the S-Bahn, either get out at the next station, stamp and wait for the following train, or write the current time and location on the stamping field with a non-erasable pencil – this will also be accepted by the inspectors most of the time.)
Fare-dodging is severely frowned upon and plain-clothes inspectors are on constant patrol. Fines are steep, starting at €60 per person for the first offense.
By car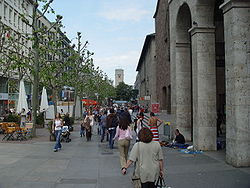 If you intend to drive by car inside Stuttgart, the only possibility to park are parking blocks at about €1.50 per hour. Some parking blocks are closed during late night, providing no way of getting your car out. The street layout and numerous tunnels in Stuttgart can be confusing for tourists. Driving by car is not recommended.
By taxi
Taxis are expensive. For €10 you will get about 4 minutes of a taxi drive. With two or more people, getting a taxi together at night (when public transportation has stopped) can make sense. Call a taxi in Stuttgart: Phone Nr. 0711/55 10 000 -
Taxi-Auto-Zentrale Stuttgart
. There is a special offer for women traveling at night for more safety. If you are a woman or a group of only women traveling after 20:00, you can request a Frauen-Nacht-Taxi, which will have a female driver and the costs are reduced by €5.
See
Stuttgart, once owned a reputation of the conservative capital in the south-west, turned into a bustling metropolis with world-class culture, great shopping and night-life. The capital's architecture is an appealing mixture of historical and modern buildings with green parks and even vineyards throughout the city. The unique cauldron-shaped landscape offers plenty scenic outlooks and formed a dense city center where nowadays fortunately most of Stuttgart's main attractions are. In the heart of the city center the Palace Square is a must for visitors and an ideal starting point for a tour.
City Centre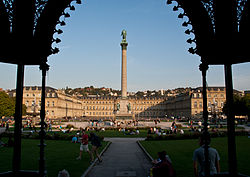 SchlossplatzThe Schlossplatz is the largest square in Stuttgart, right in the middle of the Mitte in front of the Neues Schloss. It was created as parade grounds for the palace, and is now a public green area with lawns, flowerbeds, twin fountains and a decorative bandstand. It immediately adjoins the Koenigstraße, and a number of key buildings can be accessed immediately from it. In warmer months, the Schlossplatz is always full of locals, students and tourists enjoying its relaxing atmosphere.

Neues SchlossThe arguably most recognizable symbol of Stuttgart was constructed between 1746 and 1807 when the Duke of Württemberg, Carl Eugen, found the Altes Schloss and the erstwhile ducal residence in Ludwigsburg to be insufficiently stately. The new palace was a grandiose undertaking that took many decades, architects and four successive Dukes of Württemberg to complete, given the ever-changing tastes and plans, as well as constant scandalization within the Duchy regarding the costs of the lavish residence. The result is a palace inspired partially by Versailles and other grand royal residences, which gave the centre of Stuttgart an airy, garden park feel. The palace became a state museum in 1918 when the last King of Württemberg abdicated, and was almost completely destroyed in World War II. It was rebuilt in 1958-1964 to serve as a seat for the local government of Baden-Württemberg. It now houses the Ministry of Finance and Economy for the Land, and can be visited during guided tours. Tour dates are announced in advance on the palace's website, and visitors are invited to sign up. Several rooms and halls in the palace can also be rented for special events.

Altes SchlossBuilt as a fully-functional fortified castle at the turn of the 10th century, it grew together with Stuttgart as it rose from a small settlement to the capital of County, and later Duchy of Württemberg. It was in the 16th century that the castle got its current form of a renaissance palace with a cloistered courtyard. The moat around the Altes Schloss was filled in in the 18th century, and became today's Schillerplatz. Today the Altes Schloss houses the Landemuseum Württemberg.

Alte KanzleiThe construction of the mighty monument on the northeast side of the Schiller Square lasted three years from 1542 to 1544. Only 22 years later, in 1566, the construction of the building has been extended. Nowadays the Old Chancellery would be comparable to the function of a town hall. Today the building is used as a restaurant and a bar.

KönigsbauThe Königsbau was erected 1856-1860 directly in front of the Neues Schloss as a multi-functional building to host commerce and special events, at the order of King Wilhem I (hence the name, which means "king's building"). Its Schlossplatz facade, with 34 columns over 135 metres, serves as a balance to the equally imposing palace opposite. In the latter half of the 20th century, the rebuilt Königsbau became shortly the seat of Stuttgart's stock exchange, and a part of a large shopping centre called Königsbau Passagen, which extends behind the main building.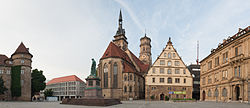 SchillerplatzNamed after the great poet Friedrich Schiller, whose statue stands in the middle of the square.

StiftskircheBuilt in 1175.

PrinzenbauBuilt 1750.

OpernhausPass the New Palace to the left and you find yourself in the beautiful Schlossgarten with the Opernhaus in front of a artificial lake, as part of the Staatstheater Stuttgart. Also the parliament of the state of Baden-Würrtemberg is there.

HauptbahnhofThe Railway Station was built in 1920 as a terminus station. The 56-meter-high tower with its rotating and illuminated Mercedes-Benz is one of the most famous city landmarks. On top of the tower there is an exhibition of the most controversial infrastructure project in Germany called S21. The plan is to convert the main line terminus station into an underground through station by turning the tracks with a 90-degree angle to the present station. It's free to climb up and grants awesome views of Königstraße and the city.

MarkthalleA beautiful Jugendstil market hall built in 1910.

Wilhelmspalais(1834-1840)
Close to centre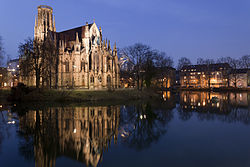 Liederhalle(1956)

JohanneskircheAlthough there is no Cologne Cathedral in Stuttgart, there are a few churches worth visiting. Most beautiful is the Johanneskirche, which is surrounded by the lake Feuersee and lighted at night. Other interesting churches are: Mätthauskirche (St. Matthew's Church), Domkirche St. Eberhard (St. Eberhard's Cathedral Church), Hospitalkirche (Hospital Church), Leonhardskirche (St. Leonard's Church), Veitskapelle (St. Vitus Chapel), St. Catherine's Church (English-speaking Anglican Church).

BohnenviertelThe Bohnenviertel is the only preserved part of Stuttgart's old town, having miraculously survived to the present day largely intact. Built mainly in the 14th century, it used to house the poorer part of the population, who fed mainly on beans which were grown all around the quarter in gardens and even hanging from the houses' walls, hence the name meaning "bean quarter". Today, the Bohnenviertel is thriving on artisanry and small, old-style retail, as well as gastronomy.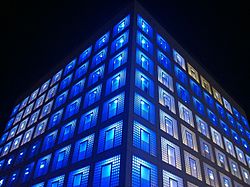 Stadtbibliothek am Mailänder PlatzStuttgart's city library moved into this spectacular new building in 2011. It took 13 years of planning, an international architectural competition (which was won by Eun Young Yi from South Korea) and €80 million to complete it. On the outside, it is a sombre, nine-storey cube with a glass-brick facade. Inside, the whitewashed surfaces and bright lighting provide an almost unreal ambiance. There is quite a lot of innovative features and facilities inside, not only related to the rather simple layout and fit-outs, but rather to the way the library itself works - for example, you can borrow not only books, but also works of art, or work with music and sound clips in the sound lab. There is also a cafe on the top floor (open 10:00-18:00), and you can get a free map and audioguide from the reception on the ground floor.

Qingyin gardenA small Chinese garden, with a pond, ornamental walls and a mini-pagoda included, hidden on one of the hills close to the Hauptbahnhof.
Farther out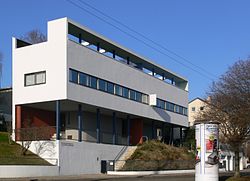 address: Rathenaustraße 1- 3

A world heritage listed housing estate built for exhibition in 1927, features residential buildings by such famous architects like Le Corbusier, Peter Behrens, Walter Gropius and Ludwig Mies van der Rohe. In two semi-detached houses designed by Le Corbusier, there is a museum dedicated to the area. The historical building is not suitable for people using wheelchairs.

Schloss SolitudeThe Solitude palace was built as a hunting lodge and summer residence in in 1769 and looks from the outside like a classical rococo palace. It is on a high plain outside Stuttgart and offers views to the north. During the opening hours there are guidance every 45 minutes. Ask for English guidance.

Old Town and Market in Bad CannstattBad Cannstatt is older than Stuttgart, and has been a thriving town when today's centre of Stuttgart was still a horse pasture. Moreover, unlike the centre of Stuttgart, the old town of Bad Cannstatt survived the Second World War relatively unscathed. Therefore, you can still get an authenthic, medieval feel wandering around its winding narrow streets, which all lead to a peculiarly-shaped market square. On the market square, you will find the town church of Cannstatt (Stadtskirche) and the old town hall, still in use as the district's government seat (Bezirksrathaus), both from the late 15th century.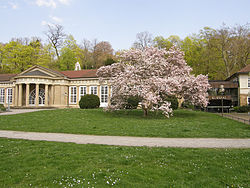 Kurpark in Bad CannstattCannstatt owes the Bad in its name to numerous mineral water springs. To enable locals and visitors to enjoy them, a small but very peaceful Kurpark was arranged for in the 19th century, along with a large Kursaal (spa hall) building, which today is a restaurant and special event venue. Right next to it is the MineralBad-Cannstatt spa-wellness-fitness complex with a large pool covered by an impressive glass dome.

Gottlieb Daimler Memorial

address: Taubenheimstraße 13 (Bad Cannstatt)

Stuttgart in general claims to be the birthplace of the automobile, but if you want to see the actual place where it was born, head to the Kurpark in Bad Cannstatt, where the garden house that Gottlieb Daimler converted into his workshop still stands. There he and Wilhelm Maybach worked in the latter half of the 19th century on combustion engines and motorized vehicles they have eventually so successfully developed. Today, it houses an exhibition maintained by Mercedes-Benz Classic that tells the story of the early days of the Daimler motor car company.
Museums
Stuttgart is home of a wide range of very good museums including 5 state museums and two automobile museums.
address: Konrad-Adenauer-Str. 30-32

There are two exhibitions in different buildings. "Alte Staatsgalerie" ("Old": Art from 1500 to 1900) and "Neue Staatgalerie" ("New": Modern art). You can walk inside from one exhibition to the other. The permanent exhibits are free on Wednesdays and Saturdays.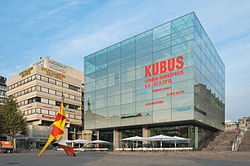 phone: +49 711 216 21 88

address: Kleiner Schlossplatz 1

The simple glass cube of the Kunstmuseum contrasts with the lavish historic architecture of its surroundings, while not being intrusive thanks to its transparency. Its collection of modern art pieces is now over 15,000-strong, but obviously not all of them are displayed at the same time, but rather selected ones in temporary thematic exhibitions. Apart from exhibition spaces, the building hosts a large thematic bookstore, as well as a high-end restaurant Cube and o.T. bar, affording splendid views over the Schlossplatz.

Württembergisches Landesmuseum

address: Altes Schloss, Schillerplatz 6

The Landesmuseum is a direct descendant of a collection of local antiquities formed in 1862 by King Wilhelm I of Württemberg, and since 1948 has the Altes Schloss as its main seat. The museum's collections are a potpourri of archeological artifacts and works of art from different periods, mostly related in one way or another to the region. This includes a large collection of folk art. While the museum actually manages many locations across Stuttgart and the entirety of Baden-Württemberg, it is in the Altes Schloss where the main exhibitions take place. There are small permanent exhibitions of a cross-section of the museum's collections, and temporary themed exhibitions in the Schloss.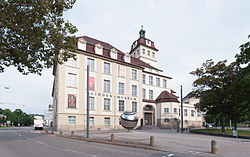 address: Hegelplatz 1

The Museum is named after Karl von Linden, the president of the Württembergischer Verein für Handelsgeographie, who started the collection of various artifacts acquired from all corners of the world. The museum is housed in a purpose-built property from 1911, together with which it became a public property in 1973. There are permanent exhibitions devoted to all regions of the world except for Europe, as well as temporary thematic exhibitions. The on-site restaurant offers an exquisite menu in the evenings and a very affordable lunch menu on weekdays until 14:00.

Staatliches Museum für Naturkunde Stuttgart

address: Rosenstein 1

Two exhibitions: one features biology and evolution and the other features paleontology and archeology.

Haus der Musik in FruchkastenThe collection of Landesmuseum of local, European and extra-European instruments spanning centuries from prehistoric to contemporary is displayed in the historic Fruchtkasten, the granary in Schillerplatz. More than just a display of historic artifacts, the museum tries to engage and educate its visitors through temporary, thematic exhibitions and an interactive audioguide.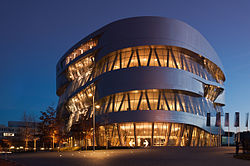 address: Mercedesstraße 100, Bad Cannstatt

Built in 2006 in an astonishing architecture, the Mercedes-Benz museum houses a collection of automobiles built by the company over its long history. Both pioneering vehicles, significant technological breakthroughs as well as those significant for their participation in history (record-breaking or winning sportscars, cars used by famous personalities) are exhibited brilliantly. The museum ticket includes the use of an electronic audioguide, but the visit may be enhanced by a guided tour (extra €4), of which there is a variety to choose from. You can also combine your museum visit with a tour of the factory in Unterturkheim (€4, 90 min, Tu F 11:45 in English). There is an on-site cafe and high-class restaurant in the Museum and a museum shop. There are special events throughout the year, so do browse the page to see what is on on the days of your visit to Stuttgart.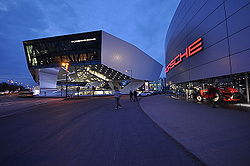 address: Porscheplatz 1, Zuffenhausen

The building is an architectural marvel in itself, inside and out, but the highlights are obviously the exhibited examples of historic Porsche cars (and cars that Porsche designed for other companies, like the legendary Volkswagen "Beetle"), taken from Porsche's impressive collection of more than 500 historic and significant automobiles. A visit may be combined with a factory tour (you have to contact the museum to arrange for that).
Towers and scenic outlooks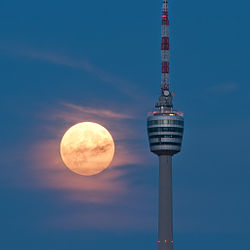 Stuttgart is picturesquely located in a valley surrounded by green hills, which the locals call
Kessel
, or a cauldron. Therefore, one of the main attractions are the views from the hillsides and hilltops around the city. There are several options to enjoy an extraordinary view over the Swabian capital:
Fernsehturm StuttgartThe world's first TV tower constructed from reinforced concrete was built from 1954-1956. It is the prototype for all modern TV towers, and affords visitors a beautiful view over Stuttgart. The Stadtbahn U15 to Ruhbank (Fernsehturm) gives you a wonderful view of the city. Entrance is €7 per person and is worth it for the near-fairground quality of the ride in the lift to the top. There's a nice cafe at the top which serves fresh food and drinks.

BismarckturmA small tower northwest of the city centre, not far from Killesberg Tower

Grabkapelle WürttembergThe Württemberg Mausoleum stands in Rotenberg on the peak of the Württemberg Hill overlooking the Neckar river. The memorial was built for Catherine Pavlovna of Russia, the second wife of William I of Württemberg. The remains of William I and his daughter Maria Friederike Charlotte of Württemberg are also housed in the mausoleum. The mausoleum was constructed between 1820 and 1824 based on a design drafted by Giovanni Salucci.

KarlshöheA hill that separates the western and southern city. Walk uphill 10 minutes southern from S-Bahn-Station "Feuersee" through a park (via Senefelder Str, right to Reinsburgstr, left to Jean-Améry-Weg). Have an outlook and enjoy the beer garden.

WeißenburgparkA hill opposite to the Karlshöhe. Easy approach: it is a short hop from Station "Bopser" (U5, U6, U7). Outlook and nice Jugendstil-restaurant and beer garden (closes at 23:00)

BirkenkopfA debris mountain made of 15 million m³ of rubble from World War II as a memorial to everyone who died in the war. It is the highest point in Stuttgart.

KillesbergturmA tower in the "Killesberg Park" (see also "green U" under Parks & Gardens), north of the city centre.
Parks and gardens
"Das Grüne U"
: Most of Stuttgart's many parks and gardens are usually referred to by locals as "das Grüne U" (the green "U") because of the U-shaped form in which they are located around the city centre. They form a long and beautiful path around the city, starting at the Schlossgarten at the northern façade of the new palace (Neues Schloss), continuing through Rosensteinpark with the natural history museum and a rear entrance to Wilhelma (the zoo), and ending in Killesberg Park. Walking at a reasonable pace, you can walk the entire circuit in about 2 hours. There are beer gardens (look for Biergarten signs) and restaurants along the way, and the Killesberg Park is a real treat. It was designed for a huge botanical expo several years ago and remains a truly stunning park, especially in spring when in full bloom. If you're interested in architecture, be sure not to miss the structural engineering wonder Killesberg Tower, a minimalistic steel construction composed of one central support and a cable outer support system.
Rail transport systems
Killesberg Railway, a small railway in Killesberg park, on weekends using steam-powered engines!
Stuttgart Cable Car, an old cable car running to the forest cemetery
Rack Railway Stuttgart, Germany's only urban rack-railway. It uses modern cars like the light railway and offers a nice view
Do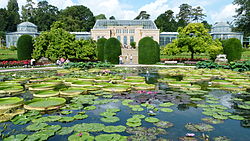 Culture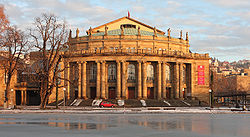 Sports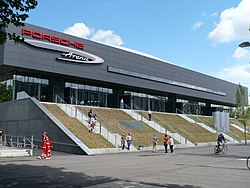 Seasonal festivals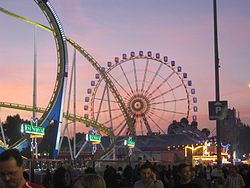 Around Stuttgart
From Stuttgart you can arrange many nice day trips:
Buy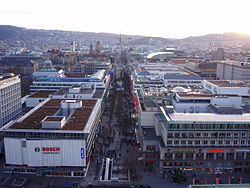 Shopping around the Königstraße
The main shopping street in Stuttgart is the Königstraße which starts at the main railway station. Left and right of Königstraße are interesting shops, too, but Königstraße is a good startpoint for navigation in the inner city. Stores and shops usually open their doors M-Sa 10:00 to 20:00.
Big department stores and shopping malls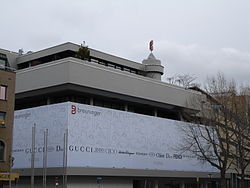 address: Sophienstraße 21

In September 2014, this shopping mall with 86 international brands opened extending the Königstraße. There are clothing shops, a food court and two supermarkets inside the building.

MilaneoOpened in Ocotober 2014 this new shopping mall north of the main station is the largest of its kind in Baden-Württemberg. In the three connected buildings there are more than 200 shops and plenty of eating options.

KönigsbaupassagenA modern shopping centre inside the historical Königsbau in the middle of the city at the Schlossplatz with a number of apparel chain stores and a food court.

address: Marktstr. 1-3

Breuninger is Stuttgart's homegrown department store, which now has outlets in many other German cities and became one of only three surviving major department store chains, alongside Kaufhof and Karstad. The secret of their success is focusing on high-end fashion and other branded premium/luxury goods. In Breuninger's Stuttgart flagship store, you will find a selection of local German and global brands in both apparel, accessories, sportsgear, cosmetics and home decoration spread over six levels. There are multiple restaurants/cafes, hairdressers' and a cosmetic treatment salon on site. Parking is provided across the Hauptstatter Straße with an underground passage from the garage to the store.

Galeria KaufhofKaufhof is one of the two traditional department store chains in Germany, offering a broad range of consumer goods (apparel, sports gear, household goods, media and some foodstuffs) at midmarket prices. They have three locations throughout Stuttgart.
Galeria Kaufhof Eberhardtstraße

Galeria Kaufhof Königstraße

Galeria Kaufhof Bad Canstatt
Clothing
address: Kleiner Schlossplatz 13/15

Mostly casual, trendy designer clothes, shoes and accessories for both women and men.

Dorotheenquartier

address: Sporerstraße 11

New quarter with shops like Tiger of Sweden, Louis Vuitton, Gap, and Diesel. Quite expensive.

phone: +49 711 220 2000

address: Stiftstraße 1A

One of the best German clothes stores with designer labels (Acne, Bottega Veneta, Moncler, the White Briefs and many others) catering to women and men.

GeschwisterliebeA boutique carrying streetwear by young designers from all over Europe.

phone: +49 711 305 841 19

address: Kronenstraße 3

A part of a chain of stores carrying sport shoes, clothing and equipment. A large selection displayed over four stories.
Music stores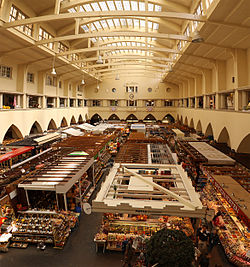 Food markets
There are weekly food markets in almost every district. Days and opening times vary a lot. To get an overview on the website of
Stuttgarter Wochenmärkte
Marktplatz am RathausPublic market on Tuesday, Thursday and Saturday mornings

WilhelmsplatzSomewhat smaller public food market on Friday.

MarkthalleExotic wares, exotic prices, crowded.
Eat
There are restaurants all over Stuttgart. The traditional
Swabian cuisine
with onion-topped roast pork, think noodles called "Spätzle" or Maultaschen (stuffed noodles) is very tasty. Of course there are also restaurants serving styles from many other parts of the world.
Stuttgart publishes a book annually entitled
Stuttgart geht aus
(Stuttgart goes out). This is available at most book stores on Königstraße (e.g. Wittwer). This book, published in German, is a great guide to restaurants in the city.
Budget
Café CamäleonThe south-west of Germany is known for the best Brezels. Very common are "Butterbrezel" with some butter on it. Try the traditional bakery Hafendörfer in the Eberhardstraße with the attached Café Camäleon. Other than that you'll find them in every bakery and also on the small wooden cabins on Königstraße.

Dilan KebabThere are döner (excellent Turkish fast-food) stands all over the city, plenty of them around the Rotebühlplatz. Take care to order "mit scharf" (dried chili, hot) or "ohne scharf" (not hot). "Mit scharf" and "ohne scharf" are incorrect German and would literally translate to either "with spicy" or "without spicy". Instead, "scharf" (spicy) or "nicht scharf" (not spicy) would be proper German.

Veggie Voodoo KingA great vegan falafel shop.

Udo SnackOf course McDonald's, Burger King and Subway are in town, too. If you want to try their locally renowned single shop competitor, go to Udo Snack in Calwer Straße or XXL Burger on Steinstr., which is run by an old couple.

Lou's MaultäschleStreet vans that can be found in different locations around the city depending on the day of the week. Great Maultaschen.
Mid-range
Carls BrauhausOpened in April 2014, the Carls Brauhaus at the beautiful Schlossplatz serves decent Swabian cuisine.

Restaurant Cafe Markthalle

phone: +49 711-24 59 79

address: Dorotheenstraße 4

Restaurant attached to Stuttgart's international marketplace for produce, meat, and cheese (which is a nice shopping experience by itself). Serves regional and seasonal dishes. Also serves substantial breakfasts if you are hungry for more than bakery fare.

address: Wilhelmsplatz 4

The pizzeria at the Wilhelmsplatz stands for great and reasonable Italian food. Delicious wood oven pizzas and special pasta offers at lunch time gets it crowded all day long. If you can't get a table, there are other good options at the Wilhelmsplatz. The concept of the owner works out fine. There are two more Il Pomodoro restaurants in the districts West (Silberburgstraße 72) and now also in Süd (Filderstraße 25).

Sonja's Biergarten im Schlossgarten

phone: +49 711-22 612 74

address: Am Schlossgarten 18

Beautiful setting and reasonable prices. Order cafeteria style or sit down to be waited on. Free live music on Sundays from May - September.

phone: +49 711-61 09 62

address: Marienstraße 28

Brewpub serving regional specialties and its own beer. A lovely bar with impressive decorations.

phone: +49 711 66419600

address: Schlachthofstraße 2

phone: +49 711 2265191

address: Schlossplatz Tunnel 4

Old-fashioned traditional cuisine at the Königstraße. It is very famous for tourists.

address: 70178 Stuttgart Buschlestraße 2

Real regional Swabian specialities like Rostbraten, Käsespätzle, Kutteln, Bubenspitzle, Linsen mit Spätzle und Saiten, Maultaschen and wine from Stuttgart. In the summertime also outside in the beergarden.

phone: +49 711 4898430

address: Rotebühlplatz 21

Spanish restaurant: tapas, gambas, enchiladas.

phone: +49 711 887522

address: Ingersheimer Straße 12, Weilimdorf

Good Italian food, friendly efficient service.

King's Palace

phone: +49 711 782 6993

address: Hauptstraße 28, Vaihingen

Good Chinese restaurant

Vaihinger Marktstüble

phone: +49 711 7353552

address: Vaihinger Markt 24, Vaihingen

Small friendly Italian restaurant.

phone: +49 711 72246790

address: Vaihinger Markt 28, Vaihingen

Good friendly Indian, although you should ask them to spice the food up otherwise you get German strength.

Restaurant Van

phone: +49 711 70727292

address: Katzenbachstraße 46

Good Asian restaurant.

phone: +49 711 85 14 24

address: Auerbachstraße 182

A place known mostly to the locals only (do not expect much command of English from the staff) offers a stunning view over Stuttgart from a steep vineyard hillside, while being metres away from a bus stop. Cuisine is simple and not quite remarkable, but the service is efficient and quick and you will for sure not leave hungry.
Splurge
phone: +49 711 6408848

address: Alte Weinsteige 71

Star-rated restaurant with traditional "schwäbische Küche"

SpeisemeistereiAnother Michelin-starred restaurant in the Hohenheim palace.

phone: +49 711 719-9590

address: Sigmaringer Straße 49, Stuttgart-Möhringen

Renowned chef Jörg Mink cooks up a storm with schwäbischer recipes like your German grandmother used to make. Kalbshaxenfleisch in seiner eigenen Soße mit Riesling und Sahne verfeinert dazu Austernpilze und Handspätzle, Kartoffelsalat in Schüsseln finished at your table is a recommendation at €23.50.
Breakfast
In the morning, locals definitely want to get some fresh bread (and brezels and broetchen ) from the baker's shop and serve them with butter, cheese, ham, honey, jam and eggs from the fridge. Many locals and visitors will enjoy breakfast at the bakery itself, in the "Stehcafe" - literally, "standing cafe". These are usually a corner of the shop with tall tables which you stand at rather than sit at. Orange juice together with coffee or tea or hot chocolate will fit nicely. The breakfast in hotels will also look more or less that way.
You can also order this breakfast setup in some or the other cafe or pub, but you'd have to know the good places at first, if you don't want to end up with a poor dish. There are 3 Starbucks coffee shops along Königstraße (a 4rd in the high-end districk on Calwer Straße). But don't look for low-fat muffin or cream cheese options.
Drink
Stuttgart has developed a vibrant nightlife with many clubs and pubs in the heart of the city. The most popular street for clubbing is the Theodor-Heuss-Straße ("Theo"). Several bars, clubs and lounges have opened here. During the summer, there are also many opportunities to have a drink outside. In the "Theo" you can listen to good house, drum'n'bass, hip-hop and other kinds of electronic music. However it is not always easy to get into most clubs because of the restrictive door policy!
For a more laid-back atmosphere try the area surrounding the "Hans-im-Glück" ("Lucky Hans") fountain just a stone's throw from Königsstraße. In this charming quarter in Stuttgart's old town centre, many pubs and bars are crammed next to each other. Especially in the summer months a unique southern flair mixed with a great party scene with open-minded people make this area special.
Concerts, nightclubs and events are covered by local magazines (generally not in English). Try
Lift
and
Prinz
.
Because street drinking is still legal in Germany budget-travellers can save some money if they buy their drinks at a supermarket. A beer is there, e.g. only €0.50 compared to €3 and more in pubs. There are two of the REWE supermarkets at the beginning and the end of the Königstraße. There you can buy cheap snacks, softdrinks and alcoholic drinks from Monday to Saturday up till 22:00. Lots of young people do so and hang around the beautiful Schlossplatz.
Bars and pubs
Palast der Republik

address: Friedrichstraße 27

In a former public toilet house, the "palace" is the place to hang out in hot summer nights. Get your beer at the fastest barkeeper you've ever seen and find your place outside (maybe on the ground).

Mata HariAt the Mata Hari you can get exotic beer in an old-fashioned tea-house style. At long tables and benches young folks sit together and drink their beer. Contact to others comes therefore almost automatically.

Biddy EarlysA good place to go where everyone speaks English is Biddy Earlys, an Irish pub just west of the city centre/Königstraße, a 5-minute walk from the major public transport station "Stadtmitte" (S-Bahn, Stadtbahn). Keep a sharp eye because the entry is a mere doorway wide which leads down the stairs to the basement. Good bands on the weekends. €2-3 cover, €4 on weekends (plus a bag charge if you have a backpack). Everybody always welcome and you don't have to apologize for your poor German here! They show Premier League Championship and other British football here, you can celebrate or commiserate with only a handful of other drinkers.

The Sky BeachOn top of the Kaufhof department store close to the main railway station. All sandy roof top bar. Opened only in summer time.

address: Hirschstr. 36

Ever changing music program with guests dancing in addition, superior live concerts of Indie to Black Metal and the unconstrained atmosphere on all floors of the multi-storied cult store - all this makes the Schocken to a well-earned an inalienable institution in the Stuttgart night life.

address: Hirschstr. 27

Noble café atmosphere in the first floor. In the basement mostly alternatives and hipsters sit on benches and drinks itself straight through the great drinking menu. Gets very crowed on weekends with a laid back outside area. No entrance fee but with DJs.

address: Silberburgstr. 88

Rustic atmosphere, little offside in Stuttgart-West.

KisteTwo great Jazzclubs are in the Hauptstätterstr (Stadtbahn-station "Rathaus"). The "Kiste" (means "box": indeed a tiny club) charges €5 (added to the drink) for a concert, daily starting at 21:00 or 22:00. The "Bix" named after Bix Beiderbecke offers local to top-class-acts, entry from about €7-30, depending on the artist.

address: Theodor-Heuss-Straße

A posh bar/lounge with minimalist, urbane and undercool interior. People in the smart casual look sip their cocktails or wines around the large dance floor. On weekends the bar changes into a big party club exemplary for the night-life on the "Theo" party street.

Fou FouA stylish champagner bar in a conglomerate of brothels and hotels letting rooms by the hour called the "Bohnenviertel" (Bean Quarter) between Hauptstätter Str. and Olgastr.
Clubs
DelaylaThe renovated basement rooms get crowded in the night. Don't try to go there before 02:00.

address: Marktstr. 6

The best independent HipHop club in town.

Classic Rock CafeAnother great bar is the Classic Rock Cafe which is a few blocks away from Biddy Early's. No cover charge here even on weekends and the music is great! Interesting decor too. And everyone is welcome!

KowalskiA stylishly designed electric club for an older audience. Here local DJs play fine electronic dance music, and sometimes an international bookings. Check the website for latest information.

address: Berliner Platz

Reopened in 2014 this hip club has a great range of national performers of HipHop and electronic music.

UniversumThis rock club is inside the underground stop "Charlottenplatz". It's on the right way out at the exit signed with "Landtag". Playing a lot of concerts in rock or independent music.

address: Tübinger Straße 12

Established in 1977 and still famous for the after-work-party that starts at 18:00 with a free buffet. Especially on Thursdays it gets very crowded so try to get on the guest list a few days before.

Keller Club(indie dance music)

address: Heilbronner Str.

If you're looking for a posh club, you can try the Penthouse. In such places, it's hard to be overdressed. But even if you "dress to impress", there's no guarantee that the doormen will let you in.

address: Stresemannstr. 39

Also a posh club outside the city center.
Gay & lesbian
Eagle (men-only leather bar)
Boots (men-only country style bar)
Kings Club (mixed dance club)
Jenseitz (mixed gay bar)
Zap
Sleep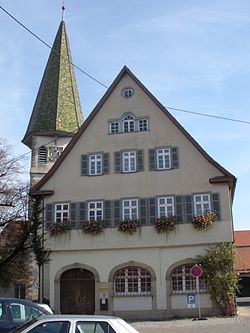 To stay in the city centre (Mitte) around the Königstraße is probably the nicest, but also most expensive option. Still in walking distance are the beautiful districts of West and Süd. Other accommodations further out in the districts Nord, Canstatt, Feuerbach or Vaihingen are perfectly reachable by public transport. If you intend to arrive by car check at the hotel for parking possibilities. If you have an early morning flight, it is possible to spend the night in the airport, as check-in areas stay open at night.
Budget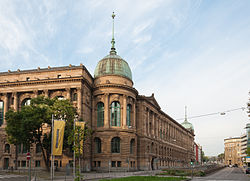 Mid-range

Splurge
Connect
The main telecommunications provider in Germany is Deutsche Telekom which trades under the names of T-Home (for landline phones), T-Online (for Internet connections) and T-Mobile for mobile communications. Anything relating to these companies are easily identified by the bright pink "T" logo. There are often shops in German towns called "T-Punkt" (Literally T-Point) where you can buy cell phones and get other information.
Net
Commercial WLAN-Hotspots are available at the airport and few other places.
Usenet, see group: stgt.general
IRCnet: join channel #stuttgart
Stay safe

Stuttgart is quite safe. Even at night one may walk alone through the city without fear. One rare exception is the central city park, which should be avoided during late night hours. The biggest danger for a pedestrian in Stuttgart is probably the cars. As the city centre is at the bottom of a relatively deep valley and the traffic situation is far from satisfactory, Stuttgart has an endemic smog problem that gets worse when the weather "traps" the air in the valley. While there are attempts to combat the air pollution, for example by issuing discounted or free public transit tickets on smog days, the problem is likely to persist for some time.

Go next
Black Forest — In Triberg (120 km south), a beautiful old village in the heart of the black forest which specializes in grandfather and cuckoo clocks, you can see the largest waterfalls in Europe.
Swabian Mountains — The Schwäbische Alb (hilly mattock landscape) covering natures highlights like the mystical colored "Blautopf" and stalactite caves like "Bärenhöhle". Can be a nice day trip for families with children.
Visit the charming university cities of Tübingen, Heidelberg (80 km northwest), Freiburg (120 km southwest) or Ulm (80 km east).
By train
For connections and timetables see
webpages of Deutsche Bahn AG
.
For connections to nearer cities in the area which may be worth a visit (e.g.
Esslingen
,
Ludwigsburg
with their historic centres), you may also try the "S-Bahn" commuter trains which will take you there and back at least every half an hour. See
Public transportation
above for more information and timetable links. Other nearby cities that may be of interest include
Tübingen
and
Reutlingen
.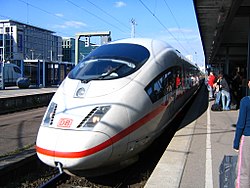 Fast inner-German connections
From main station Stuttgart Hauptbahnhof: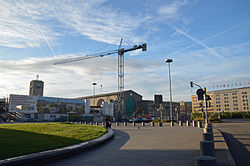 Fast European connections
From main station Stuttgart Hauptbahnhof: