Subantarctic Islands
Subantarctic Islands
is about
islands
in the Southern Ocean that are between 45 and 60 degrees south.
Islands
There are also the , which are in the Southern Ocean but are considered to be part of
South America
.
Other destinations
Understand
The Southern Ocean is formally defined as the waters south of 60° latitude, but is often broadened to include the waters containing various Subantarctic Islands south of 45° and north of 60°, islands with a distinctly southern climate and geography (i.e. cold and rugged).

Get in
The easiest way to visit these islands is on a boat headed to Antarctica, usually from
New Zealand
or
Ushuaia
.
Some of these islands might be quite hard to get to, but they are easier to reach than the
Antarctic Islands
.
Get around
The lack of development on these islands means that there are no roads or even any form of paths on most of them.

See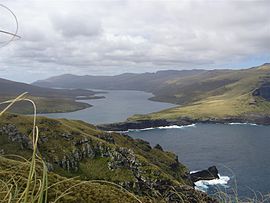 Subantarctic scenery almost never contains forest and has a tundra-like appearance. There are usually a lot of rocky outcrops and grasslands; there may be ice caps at high elevations, but not low elevations.
The main attraction of these islands is the Subantarctic wildlife, such as sea birds (including penguins), seals and whales.
Do
These little-explored islands are quiet places with little or no population, so
hiking
is really your only option.
Stay safe
Weather

The environment is extreme, with latitudes called the roaring forties, filthy fifties and screaming sixties for good reason. Storms sweeping off Antarctica, unobstructed by any land, bring cold strong winds, rain or snow and rough seas to the region. This part of the world is the preserve of deep sea fishing ships (not boats), warships on fisheries patrols, oceanographic research ships, round-the-world yachts and the occasional icebreaker on its way to Antarctica. If you get into trouble, you must be prepared to rescue yourself, as emergency rescue services may be thousands of miles and several days away.

Go next