Suceava
Suceava
is a city in
Southern Bukovina
.
Understand
Although it has a very long history, it's not a particularly interesting city but it's worth coming here as a starting point to visit the
Painted Monasteries
in Bukovina.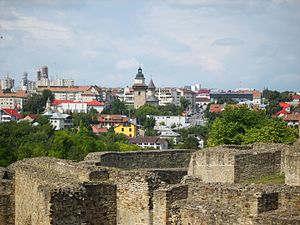 Get in
By plane
Stefan cel Mare International AirportThere are flights from Bucharest with Tarom, twice daily except Saturdays, and flights from London (Luton), up to 11 times weekly (in peak season), Milan (Bergamo), up to 5 times weekly, Rome Ciampino, Munich Memmingen and Bologna 3 times weekly with Wizzair (as of Aug 2019). The airport is very small with few services. There are metered taxis at the airport that will take you to Suceava (see below for rates).
By train
The main train station is Suceava's Gara Suceava (formerly
Gara Burdujeni
) - plainly Suceava on the timetables.
The connections from large cities around the country are as follows:
From
Bucharest
,
Ploiesti
,
Buzau
and
Focsani
there are 4 Rapid, 1 Accelerat and 2 IC type trains. There is little difference between the IC and Rapid trains on the route. There is one night Accelerat and one Rapid train, both with couchettes and sleeping cars. Both offer seating in 1st and 2nd class as well. 2 Rapid trains continue to
Suceava Nord
station, 10 km away from Dragomirna Monastery.
Average travel time: 7 hr from Bucharest, 6hr from Ploiesti, 5 hr from Buzau and 3½ hr from Focsani
From
Cluj-Napoca
there are 3 or 4 Accelerat trains with an average voyage of 7 hours. From
Timisoara
there are 3 A trains, with 14 hours travel time. There is one daily A to
Brasov
, taking about 8½ hr.
From
Bacau
there are 2 Personal, 3 Accelerat, 4 Rapid, 2 IC trains a day. The journey takes about 2 hours by A, R and IC and 3 hr by P. From
Iasi
there are 5 Accelerat and 4 Personal trains (same travel time as from Bacau).
From
Constanta
and the Black Sea, there is one daily Accelerat (9 hour journey).
Also, there is a daily pair of international trains 382/3 from
Moscow
,
Kiev
,
Chernivtsi
and
Sofia
.
By bus
Suceava is a local transportation hub and there are many inbound connections from towns in the region such as Iasi and Bacau. There is also infrequent bus service to the border town of Siret. There is a daily bus from
Chernivtsi
(Ukraine) as well as some daily, but very early morning (between 05:00 and 06:00), buses to
Bălţi
and
Chisinau
in Moldova. The bus from
Ukraine
leaves Chernivtsi at 05:00 and 07:00 every morning, arriving in Suceava about 3-4 hours later. The same bus leaves Suceava in the afternoon (13:00?) reaching Chernivtsi early evening. Since this bus is used by ordinary Ukrainians who try to take with them (say smuggle) 1-2 cartons of cigarettes into Romania to sell for a small profit, expect some time to be spent at the border crossing into Romania. Tourists are unlikely to be searched thoroughly by Romanian customs officials. On the way back from Romania, the bus spends less time at the border.
Busses use the central bus station in the heart of the town, which is not close to Suceava's train stations (the main one being Suceava and the minor being Suceava Nord). The central bus station is just up the hill from the mini-bus station, which has the best currency exchange rates in town. The central bus station also sits up the hill from a set of buildings, which includes the tourist bureau where you can buy train tickets. There are also infrequent services to Greece, Germany, England, Spain and Italy.
From
Sighetul Marmatiei
, there is one direct bus leaving at 09:04, arriving at 15:30 (Transagria), or you can take the Tur
minibus leaving at 11:00 arriving at Falticeni at 16:30 (55 lei, Sep 2018), then transfer to a frequent minibus across the road for the 30-min trip to Suceava (7 lei, Sep 2018).
By taxi
Taxi rates are about 1.8 lei/km; they can be useful for traveling to out-of-the-way places or at off hours. You can agree to a fare with the driver or pay a metered rate.
Get around
The city bus travels on 7 lines:
Line 2: Suceava Train StationBurdujeni neighborhood--Shopping City Suceava--Iulius Mall--Bazaar--Center--Stadium--Hospital--Metro Cash&Carry--Obcini neighborhood--George Enescu neighborhood--Marasesti St.--Center--Iulius Mall--Bazaar--Burdujeni--Suceava Train Station
Line 3: Suceava Train Station--Burdujeni neighborhood--Iulius Mall--Bazaar--Center--Stadium--Hospital--Obcini--Scheia--George Enescu neighborhood--Center--Iulius Mall--Bazaar--Burdujeni--Suceava Train Station
Line 4: Cinema Burdujeni--Burdujeni Market--Shopping City Suceava--Iulius Mall Suceava--Bazaar--Center--Stadium--Marasesti St--George Enescu--Obcini--Metro Store--Obcini Grocery Store--George Enescu--Kaufland Store--Center--Iulius Mall--Bazaar--Burdujeni Square--Cinema Burdujeni
Lines 1 and 5 connect Itcani neighborhood and Suceava Nord Station to Center and Obcini neighborhoods.
Line 10 is Itcani-Center-Scheia.
Line 21 is Burdujeni Village-Center-Scheia.
Line 28 is Burdujeni Village to Itcani (Suceava Nord station)
Maps can be found
here
There are numerous "maxi-taxi" lines, although the local authorities are trying to limit their reach and increase the number of buses.
See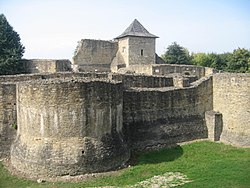 Suceava FortressWalking from Piata Unirii, take the park path to the right of the McDonald's and follow it up the stairs to a dirt road that runs through the village museum. When it ends, walk to the left along the paved road a few hundred metres. It was begun by Prince Peter I in the 14th century, and improved by Stefan the Great in the 15th century. It was never conquered in fighting by the attackers. It was been well restored and is worth visitong. Ask at the ticket office for a brochure with explanations in English. Guided tours are available. There are various interactive exhibits, but many of them are not functioning in September 2018.

Saint John the New Monastery

Zamca Armenian MonasteryArmenian monastery with huge fortifications, in the middle of a large park.

Hagigadar Armenian MonasteryBuilt on a small hill in 1512, this Armenian Monastery is famous throughout the region for legendary healing powers. Believers will crawl around the church on their hands and knees three times in order to heal that which ails them.

Planetarium
There are many interesting churches all around.
Near Suceava
Fălticeni, a cultural city at the border of Bukovina and Moldova, best reached by bus, but not the most interesting one for the foreign tourist. It can be reached by train (more visible schedules) but there's a 25-km detour and you need to buy two tickets, one for CFR (to Dolhasca), one for Regiotrans (Dolhasca-Fălticeni).
Vatra Dornei, a mountain town whose glory days were back during Austro-Hungarian rule. A revitalization is being attempted, with winter sports being the primary focus, followed by hiking trips. A good winter destination and easy to reach. There are 6 Accelerat and 2 Personal trains, taking 2½-3 hours.
Putna Monastery is served by 4 trains daily, about 3-hr journey from Suceava.
Do
Go visit the Painted Monasteries in the surroundings. For information about how to reach them or to joined a planned trip, there are two tourist information centers in the main square, Piata Unirii. They can speak English.
Eat
You can eat in Chagall. It's a popular pub where you can eat traditional food or very good pizzas for a good price. There are 2 Chagalls in Suceava. One is in the center next to the main square (ask, everybody knows) and it's underground. The other is next to the University Stefan cel Mare, and it has a big popular terrace outside. Always full of people taking beers and eating.
Suceava also has a McDonald's in walking distance from the center.

Sleep
A bunch of new hotels and pensions are appearing in Suceava superseding older, communist buildings.
Budget
phone: +40 721 28 01 00

address: Aleea Nucului Nr.1, Building 1, Apartment 3

Clean hostel accommodation with use of facilities (free Wi-Fi, tea, coffee). It is 20 m to the right of the bus station as you exit. Staff speak English and can organise tours to the monasteries (€40 per person with lunch), etc. Reception open 06:00-23:00.

phone: +40 747 086 329

address: Aurel Vlaicu Street No 195

It's on the edge of the city, in the country in this peaceful, spacious and ultra-modern two-floor house. Spacious rooms and a wonderful view of the surrounding hills. There is courtyard, a dining area with a barbecue surrounded by flowers and green trees and a private vegetable garde. Includes a full breakfast based on products from the village's nearby orchard.
Mid-range
Hotel Imperium, Bld. Sofia Vicoveanca 17, a four-star hotel at the very edge of the city, in a good location for escaping from the city, but in a bad location if using public transit. Prices are listed at 129 lei for a single, 159 lei for a double and 259 lei for an apartment.
Pensiunea Leaganul Bucovinei, this 3-star pension offers reasonable prices (90-110 lei for a double room, 160 lei for an apartment). The location is similar to that of the Hotel Imperium above.

phone: +4 0749 202 234, +4 0330 101 191, +4 0330 101 194

address: Strada Gavril Tudoras, nr. 36

A 4-star pension on the outskirts of town.

phone: +40-330-401784

address: Calea Unirii, Nr.35

A 3-star pension located near Iulius Mall.
Go next
For Dragomirna Monastery there are also "maxi-taxi" (minibus) services from the center, for about 5 lei. The minibus # 16 will take you at least to Mitocu Dragomirnei village. Only some go all the way to Dragomirna. It's better to ask a local which buses go to Dragomirna (it should be written on the bus but you never know). The station by the McDonald's in the city center as well as the one by Iulius Mall are stops for the # 16 minibus.
The schedule is not published from the city center, but from the end of the line minibuses leave (as of Aug 2019).:
*M-F: 09:00, 12:00, 15:30, 16:30, 19:00; Sa Su 07:00, 10:00, 11:00, 12:00, 17:00
*From the Monastery, the buses leave: M-F 05:30, 06:50, 10:00, 13:00, 16:30, 17:30, 19:40; Sa Su 08:00, 11:00, 12:00, 13:00, 18:00
Some will recommend hitchhiking. There is a spot under the DN2 bridge 100 m away from Suceava Nord station where normal people will wait for rides. To go to Dragomirna, they will ask for about 10 lei per person. A taxi would cost around 25 lei.
Gura Humorului, possibly the most interesting town in Southern Bukovina, where Voronet and Humor monasteries are located (each about 6 km from the center of the town). Just under a 1-hour train ride to reach Gura Humorului from Suceava.
Radauti can be reached daily by 5 Personal trains from Suceava, with a 1½-2 hr journey time. It is close to a number of monasteries, including Arbore, Sucevita and Putna. There isn't much to do but it is a clean and quiet city suitable for rest and leisure activities.