Sudan
Sudan
(Arabic: السودان
Al-Sudan
) is the third largest country in
Africa
. Getting a visa for Sudan is an expensive hit-and-miss affair, but if you do manage to get in, and you stick to the safe areas, you will probably have a memorable experience. The Sudanese people are very hospitable, and you can visit some awesome tourist attractions without even seeing another tourist.
Regions
Cities
— the national capital, which also consists of Omdurman and Khartoum North (Bahri)
— simultaneously part of both Sudan and South Sudan until a referendum can be held in the area
— capital of North Kurdufan state
— capital of Gedaref state
— capital of Darfur
— Sudan's main Red Sea port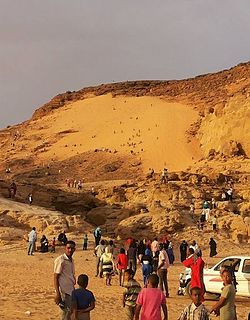 Other destinations
— ancient Egyptian/Kush ruins with ruins of several temples, palaces, & a few pyramids. A UNESCO World Heritage site.
— ancient Nubian royal city on the banks of the Nile, home to over 200 pyramids. A UNESCO World Heritage site.
Understand
History
The area around the banks of the River Nile was once known as
Nubia
, one of the world's earliest civilisations that was the main rival of its northern neighbour, Egypt. The city of Kerma is believed to have been the capital of the first centralised Nubian state. Nubia would be annexed by Egypt in the 16th century B.C. under the rule of Pharaoh Thutmose I, with its southern limits extended all the way to the city of Napata, leading to the fusion of Egyptian culture with their own native culture by the Nubians.
With the weakening of Egyptian control, a de facto independent Nubian state would re-emerge in Napata, becoming the Kingdom of Kush. The Kingdom of Kush would grow in strength, eventually conquering Egypt in the 8th century B.C., thus establishing the 25th Dynasty, with its rulers popularly known as the "black pharoahs" due to the colour of their skin that stood in contrast to the lighter-skin Egyptians. The southern part of the kingdom was home to the city of Meroë, known for its Nubian pyramids, which while clearly influenced by the Egyptian ones, are also built in a distinctively Nubian architectural style, which later became the capital of the kingdom. During the height of
Roman
power, while Egypt was conquered by the Romans, the Kingdom of Kush managed to fend of the Romans under the leadership of the warrior queen Amanirenas, also known as the One-Eyed Queen due to having lost an eye during a battle with the Romans. Eventually, the Nubians proved so difficult to fight that the Romans agreed to a peace treaty, thus maintaining Nubia's independence.
Sudan was afflicted by civil wars for more than 40 years until
South Sudan
became independent in July 2011, following a referendum. When the colonial map-makers divided up Africa, they included in Sudan the predominantly Muslim people of the north (including Nubians and Arabs), who share much of their history and culture with Egyptians, and the largely Christian and Animist Bantu people of the south, who have more in common with the rest of sub-Saharan Africa than with their northern countryfolk. Minor conflicts still linger in the western region of Darfur, and hotspots do occur on the eastern front, next to the border with Eritrea. From 1989 to 2019, Sudan was under the authoritarian rule of Omar Hassan al-Bashir until a coup spurred by ongoing protests led to a new military government taking power.
Geography
Sudan is as geographically diverse as it is culturally; in the north, the Nile cuts through the eastern edge of the Sahara: the Nubian desert, the site of the Ancient Kingdoms of Cush and Meroe, and the land of the Seti. Here, some modest farming and husbandry supplements the staple crop of date palms. The East and West are mountainous regions, and much of the rest of the country comprises savannahs typical of much of central sub-Saharan Africa. The vast majority of its population are Sunni Muslims and proselytization of non-Sunni beliefs is not allowed.
Along the border of Egypt with Sudan there is the strange stateless limbo of
Bir Tawil
, which is not claimed by either state and thus legally the only piece of dry land outside
Antarctica
not belonging to or claimed by any state.
People
Sudan has nearly 600 different ethnic groups. Sudanese Arabs are the largest ethnic group and other ethnic groups include Nubians, Copts and Beja.
Get in
Visa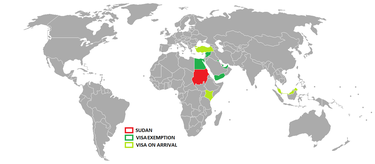 Sudanese travel visas are expensive and difficult to acquire for some nationalities in some countries or for people with an Israeli stamp in their passport. It is advisable to obtain a Sudanese visa in your home country if possible.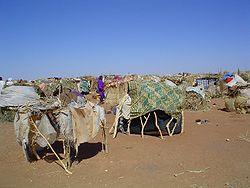 From Egypt:
Cairo and Aswan are the easiest places to get one (usually a couple of hours after application), it costs US$150 (as of November 2018), payment is now possible in Egyptian pounds. A letter of invitation/introduction from your embassy is no longer needed.
From Ethiopia
- getting a visa from the Sudanese Embassy in Addis Ababa is extremely unpredictable, although it is cheaper (around US$60). Your name is first sent to Khartoum merely for approval. An official has stated, "It could take two weeks, it could take two months." Once your name has been approved, the visa itself only takes a couple of days. Britons and Americans are generally given more of a run around, but no nationality is guaranteed swift receipt of a visa. Expect to wait a minimum of two weeks for approval. If your trip continues from Sudan to Egypt and you already have your Egyptian visa you may be given a one-week transit visa for Sudan in only a day, which can be extended in Khartoum (at a hefty cost, though). The British Embassy in Addis Ababa charges a steep 740 birr (over GBP40) for their letter of invitation/introduction.
Possibly out of date information: From Kenya - as in Addis Ababa, the Sudanese Embassy in Nairobi sends your name to Khartoum for approval. The time it takes is similarly ambiguous, although the embassy is far more professional and efficiently-run than Addis Ababa's.
From Kenya
- visa applications are submitted between 10:00 and 12:00 and visa collected next day 15:00-15:50. Price is 5,000 Kenyan shillings (Ksh) (US$50). Letter of support for application can be obtained from own embassy (e.g. British Embassy, charges Ksh8,200, turnaround time depends on availability of the Consul who needs to sign the letter). Sudanese Embassy is located in Kabarnet Road, off Ngong Road (10 minutes walk from Wildebeest Campsite accommodation in Kibera Road, and near Prestige Shopping Plaza). Google, Visa HQ, etc., show the old address (Minet ICDC building), which is not correct. Generally the experience at the Nairobi Sudanese Embassy is less confusing than in Egypt (with its jostling queues at three anonymous but different windows).
Hours-long waits for customs clearance are not unheard of, and landing in Khartoum can be tricky. Entering or exiting by land usually goes smoothly. Alcohol is forbidden in Sudan, and attempting to import it could bring strict penalties.
Permits and other legal requirements
Registration is obligatory within 3 days of arrival. It costs SDG540 (as of November 2018) and can be done at any of the entry ports, including Wadi Halfa, Khartoum, Port Sudan and Sawakin. Do not be tempted to skip registration, as it is very likely to cause problems when you leave the country - you might not be allowed to board your flight! Although anecdotal evidence suggests registration can be done when departing from the Khartoum airport.
Hotels used to complete the registration on your behalf, but it not clear that they still do so. Registration in Wadi Halfa shouldn't take more than an hour. Here, you may be approached (particularly if you're in a group) by an English-speaking man who will offer to take your passports and do everything while you wait outside. This is easier than doing it yourself (it is a ping-pong procedure between offices, counters, desks, etc.) but you'll find the fee he's added to each person's registration cost is USD2-3. It's not really that difficult.
There is a departure tax at the land borders of SDG130. In case departing by air, departure tax is already included in the airline ticket price.
The travel permit and the photo permit are no longer required as of 2018.
By plane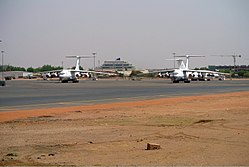 Khartoum Airport (KRT

)
is the main gateway into Sudan by air. There are also some international flights which use
Port Sudan
airport.
Khartoum Airport is served by various European, Middle Eastern and African airlines. Among the cities with direct air links with Khartoum are
Abu Dhabi
(Etihad, Sudan Airways),
Addis Ababa
(Ethiopian Airlines),
Amman
(Royal Jordanian, Sudan Airways),
Amsterdam Schiphol
(KLM Royal Dutch Airlines),
Bahrain
(Gulf Air),
Cairo
(EgyptAir, Sudan Airways, Ethiopian Airlines, Kenya Airways),
Damascus
(Syrian Airlines, Sudan Airways),
Doha
(Qatar Airways),
Dubai Airport
(Emirates, Sudan Airways),
Frankfurt Airport
(Lufthansa),
Istanbul
(Turkish Airlines),
London
(British Airways, British Midlands, Sudan Airways) and
Nairobi
(Kenya Airways, Sudan Airways),
Sharjah
(Air Arabia low cost airline)
Port Sudan airport handles flights to
Jeddah
,
Saudi Arabia
and
Cairo
. These flights usually begin/end at
Khartoum
.
The airport is served by dilapidated yellow taxis that will routinely overcharge. Alternatively you can book taxis with a Khartoum taxi company called LimoTrip that use metered taxis and good vehicles at better rates - +249 183 591 313 or info@limotrip.net.
By train
There are train routes between Sudan and South Sudan from the city of Babanusa in Sudan to Wau in South Sudan.
By land
One way to get in from
Ethiopia
is via the border village of
Gallabat
. The road crossing from Egypt periodically closes, depending on diplomatic and trading relations between the two countries. Check for information before trying this route.
===By bus===
When open, there are buses from
Aswan
, Egypt; be prepared for a long 5-6 hours delays at the border.
There is no updated information about public transportation between Sudan and newly-independent
South Sudan
.
By boat
The most reliable way to enter Sudan from Egypt is via the weekly ferry from
Aswan
in
Egypt
to
Wadi Halfa
. It runs on Mondays to Sudan and back on Wednesdays, and costs US$33 per person. The boat is old and crowded with people and goods (the best place to sleep is on deck amongst the cargo) but it takes in some magnificent views (including that of Abu Simbel). Food and drink are available on board. There are frequent ferries from
Saudi Arabia
. If travelling from the south, ferry tickets can be purchased at Khartoum's main train terminal in North Khartoum.
Get around
By plane
Apart from Khartoum, there are small airports in
Wadi Halfa
,
El Debba
,
Dongola
,
Port Sudan
,
El Fasher
,
Wad Madani
,
Merowe
and
El Obeid
, all served by
Sudan Airways
. Most flights operate from Khartoum. Be prepared for changing timetables and cancelled flights.
By train
Although Sudan has one of the largest rail networks in Africa much of it is in a state of disrepair. There is reason for optimism about train travel in Sudan again. The
Nile Express
, with new trains brought in from China, now whisks passengers between
Khartoum
and
Atbara
on renovated tracks. More tracks are being renovated but for now other services are limited to local trains around the capital Khartoum, a weekly service from
Wadi Halfa
, timed with the ferry to/from Egypt, and a
very
sporadic service with
Nyala
. Sole operator of trains in Sudan is the
Sudan Railways Corporation
.
By car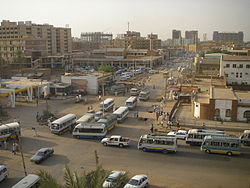 Driving in Sudan is chaotic but not especially dangerous by African standards. Visitors to the area who are inexperienced at international driving are advised to hire a taxi or a driver. In most of the country, a 4WD is essential; Sudan's main highway is sealed for much of the way but most of the roads in the country are dirt or sand tracks. Crossing in to Sudan from Egypt via the ferry from Aswan to Wadi Halfa now has the benefit of the Chinese financed tarmac highway covering the 400km south to Dongola, and then right through to Khartoum, another 500 km. This road is quick for overlanders as there are few military roadblocks, and very little other traffic.
By bus
While buses do run frequently in the better travelled areas, in remoter areas people tend to use trucks or "boxes" (Toyota Hiluxes) - they're usually just as crowded as the buses but have fewer people sitting on top and get stuck in the sand less often. They tend to go whenever they fill up, which can take half a day or so. If you have money to spare, you can hire a whole one to yourself
By bicycle
It is legal to cycle around Sudan, although it might be advisable to forget to mention your mode of transport when getting your permit to travel. "Cycling" will often consist of pushing the bike through sand or rattling along corrugations but the scenery and the warmth of the Sudanese people may compensate for the physical and bureaucratic hassles. Check carefully the availability of clean, drinkable water. Theft is not a problem; it is generally safe to leave bicycles unattended in villages and towns. Flies, puncture-generous thorn trees and, in the far north, lack of shade, can be real annoyances.
Talk
The official languages in Sudan are
Arabic
and English, according to the 2005 constitution. English is not widely spoken except by officials and hospitality workers. In contrast to many places in the world, it is the older generations that tend to speak the better English, though highly-educated people among the younger generation can speak English.
See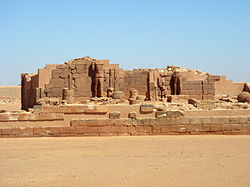 In Khartoum/Omdurman you must see the Sufi ritual of drumming and trance dancing, about one hour before sunset and Friday prayer. These rituals take place northwest of the Nile river in Omdurman. Very welcoming, festive atmosphere.
A walk around Tuti Island, situated in the middle of the confluence of the two branches of the Nile, can take about four hours. The less populated northern section is pretty, with its shady lanes, and irrigated fields, and there is a great little coffee stall under a tree on the western side.
The pyramids of Meroe are 2.5 hours north of Khartoum (leave early to avoid Khartoum traffic). On the same route visit the sites of Naqa and Musawarat. Permits are required before visiting the sites. You pay at each site (Meroe: 150 SDG, Naqa/Musawwarat: seems to depend on how well your driver gets along with the guards). Naqa and Musawarat are signposted beside the Nile Petrol station (about 1hours 15 minutes north of Khartoum) and the track is fairly clear but sandy. It is probably good to carry a GPS to avoid getting lost in the bush.
After 4pm take a good coffee at the Burj Al-Fatih - also known as Corinthia hotel -, with high altitude view over Khartoum, the Nile, and Omdurman, and stay to watch the sunset. Worthwhile.
About 1.5 hours south of Khartoum visit the dam. Just north of the dam (downstream) the Nile is also very wide; on Friday/Saturday the area is popular is day visitors.
There is good diving near Port Sudan, either on live-aboards or from the new Red Sea Resort (north of Port Sudan). Beware the windy season (Nov/Dec/Jan/Feb) unless you're not prone to seasickness (2.5 hours dingy ride from the coast in rough seas can be testing!).
Buy
Money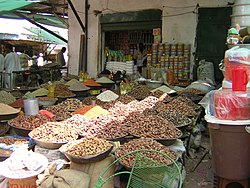 The currency of the country is the
Sudanese pound
(Arabic: جنية
jeneh
, ISO currency code:
SDG
). The pound is divided into 100 piastres (coins). The "G" in the currency code stands for "guinea".
The pound was introduced in January 2007, to replace the Sudanese dinar (Arabic: دينار
dinar
, SDD). The new pound is worth 100 old dinars.
Unfortunately, things are not so simple when it comes to price quoting. Instead of new pounds (which are hardly used for quoting) and dinars (more commonly used, especially when quoting in English), most people still talk in terms of the
old
pound, although there are no more old pound notes in circulation. One dinar is worth 10 old pounds. Hence, when a person asks for 10,000 pounds, they actually want 1,000 dinars from you. And just to add to the confusion further, people usually do away with the thousands when quoting in pounds. So, your taxi driver may ask you for 10 pounds, which actually means 10,000 old pounds, which is equivalent to 1,000 dinars, which should be referred to once again as just 10 pounds! To clear any confusion, you could try saying "new pound" or جنية الجديد
jeneh al-jedid
.
Easy summary: 1 new pound = 100 dinars = 1000 old pounds (long out of use)
Bring only foreign cash into Sudan
, preferably US dollars (often accepted in hotels), Bank of England pounds and, to a lesser extent, euros are also fairly easy to exchange at banks in big cities. Travellers cheques, credit cards and
foreign bank automatic teller machine cards are not accepted in Sudan
, partly because of the US embargo.
There are many banks in Khartoum and throughout Sudan but not all of them have foreign exchange facilities. There are several money changers in
Khartoum
, especially in Afra Mall. There are also several Western Union agents in Khartoum which will do payouts for money transferred from overseas.
The currency is not fully convertible, and there
is
a
black market
with rates a little higher than the official rates: black market dealers quoted the pound at 50 to the dollar compared to an official rate of 47.50 in Oct 2018. The Sudanese pound is a closed currency, so be sure to change it back before you leave the country.
Credit cards
Because of the US embargo,
no credit cards can be used in Sudan
. The only exception is Diners Club which is accepted by the Khartoum Hilton. All transactions have to be in cash making it unsafe as you will be carrying large sums of money with you. Carrying out on-line transactions while you are in Sudan can cause problems, as some merchants (especially American ones) will pick up your Sudanese IP address, and refuse to do business with you. If you attempt to use an American Express card for any on-line transaction while in Sudan, you are likely to have the card summarily cancelled.
Eat
Sudanese cuisine
Sudanese cuisine has various influences, but none of them dominates the regional culinary cultures. Among the influences are from Egyptian, Ethiopian, Yemeni and Turkish cuisines (meatballs, pastries and spices), but there are also numerous dishes that are common to all Arabian nations.
Foul, made from fava beans, is a common dish. It is eaten daily in breakfast by many Sudanese and can be considered the national dish.
Local Sudanese breads are Kissra, a bread made from durra or corn; and Gurassa, a thick bread from wheat flour similar to pancake, but thicker. Sudanese also class Aseeda, a porridge made from wheat, millet or corn, as a bread.
One local Northern Sudanese dish is Gurassa Bil Damaa, which is a bread of unleavened wheat similar to a pancake but thicker, topped up with meat stew or chicken.
Some Eastern Sudanese dishes are Mukhbaza, which is made of shredded wheat bread mixed with mashed bananas and honey; Selaat, which is lamb cooked over heated stones; and Gurar, which is a kind of local sausage cooked in a similar way to Selaat.
One of the popular dishes from western Sudan is Agashe, meat seasoned with ground peanuts and spices (mainly hot chilli), and cooked on a grill or an open flame.
Fresh fruits and vegetables are very common.
Restaurants and food shopping
There are many modern restaurants/cafes such as Mexican, Korean, Italian, Turkish, Pakistani, Indian and Chinese in Khartoum and in Kharto North.
One of the main attractions is Sug al Naga (the camel market) north of Omdurman, where you can select your meat of choice and then hand it over to one of the ladies to cook it for you in the way which you prefer.
Drink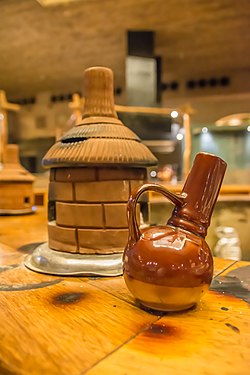 Islam
is the official religion of the country, and
alcohol has been banned
since sharia was imposed in the 1980s. Sudanese people frequently drink
tea
, usually sweet and black. Sudan also has some refreshing drinks such as karkade (hibiscus) which can be served hot or chilled, aradeeb (tamarind) and gongleiz (made with the baobab fruit). The local energy drink is a carbohydrate-laden drink known as madeeda. There are several types of madeeda, made with dates, dukhun (millet) or other ingredients blended with fresh milk, and usually heavily sweetened with sugar, though reduced-sugar versions may be available if you ask. Sudanese
coffee
is available in most souks and is similar to Turkish style coffee; thick and strong, sometimes flavoured with cardamom or ginger with a powerful kick and altogether delicious. Not to be taken before bed though if you want an undisturbed night's sleep!
However, while alcohol is strictly illegal in the Muslim north, locally-brewed alcohol is widely available in various forms and at various degrees of potency. A local beer (merissa) brewed from sorghum or millet is cloudy, sour and heavy and likely to be brewed with untreated water and will almost certainly lead to the 'Mahdi's revenge' (the Sudanese version of '
Delhi belly
'). Aragi is a pure spirit distilled from sorghum or in its purest form, dates. It is potent and should be treated with respect, and beware that it is sometimes contaminated with the likes of methanol or embalming fluid to add flavour and potency! Be aware though that all these brews are not only potentially hazardous for your health but illegal, and being caught in possession can result in the full implementation of Islamic law punishments.
The general advice is not to drink
tap water
; in most rural areas, you will not be able to, as there are no taps. Where there are no bore holes (which often yield water that is fine to drink), water is often taken directly from the Nile.
Sleep
Larger towns and cities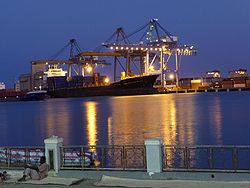 Most larger towns and cities have affordable hotels, although not as cheap as you might imagine. Quality is generally consistent within the price range.
Basic hotels provide a bed and a fan with shared bathroom/toilet facilities. There may be more than one bed in the room but you are usually expected to pay for the whole room. The bigger the group of travellers, the more economical these rooms are, as more beds are often put in a room (within reason) to accommodate everybody without the price being changed. Some hotels have cheaper beds outside in the open as in smaller towns and cities. These hotels are not very clean but are cheap and perfectly acceptable for short stays.
Lower mid-range hotels - more likely to be found in Khartoum - offer the worst value for money. They may have en suite bathrooms, (mostly evaporative) air conditioning and satellite television, but for what you're paying (two or three times that of basic hotels depending on your bargaining skills) the rooms are extremely tatty and hotel owners will almost always subscribe to the philosophy of: 'Only fix something if the guest complains'. There will sometimes be rooms minus the bathroom/air conditioning/television for prices a little above those in basic hotels.
Upper mid-range hotels are the next step up, with spotless rooms of a far higher quality but prices (usually quoted in dollars) closer to what you'd expect in the West. You'll have little to find fault with, though.
Top-end hotels are commonly of the five star variety, and include the Hilton. The few are found mostly in Khartoum. They are much more expensive than the upper mid-range hotels.
Outside larger towns and cities
Outside larger towns and cities hotels don't normally go above basic. That means bedframes with either simply a string mesh or with thin mattresses; that is not to say they are uncomfortable. They are offered (generally in fours or fives) in rooms where there is often a ceiling fan to keep things cool. The beds are usually cheaper - and more fun to sleep in - out in the courtyard under the stars, although there is obviously less privacy and security. As with the basic hotels in larger towns and cities, it is more often than not impossible to rent one bed in a room as you might in a dormitory. Hotel owners insist that you rent the whole room. Rooms become unavailable quickly at certain times (weekends, for example). Showers may be bucket showers, with water straight out of the Nile if your route follows that river.
Camping in the wild is easy in rural areas outside the south as long as the usual precautions are taken.
Stay safe
Safety in Sudan has many dimensions. On one hand, theft is almost unheard of, you'll never be robbed in the street and people will go to great length to ensure your well-being. On the other hand, Sudan has a long history of conflict, the government is not particularly open or accountable, and under the surface corruption is rife.
Sudan is an Islamic country and consumption of alcohol is illegal.
Armed conflict
Sudan was at 40-year civil war between the Khartoum based central government and non-Muslim separatist groups from the South, at the time when
South Sudan
was still part of Sudan. Relations between the two countries after the independence of
South Sudan
remain fluid and somewhat tense or complicated
The well-publicized conflict in Darfur is still taking place, making traveling to the western parts of Sudan totally inadvisable.
Transportation
Sudan is one of four countries worldwide that do not to comply with international flight safety protocol. The fleet of the state-owned Sudan Airways is mainly composed of 1950s-era Soviet aircraft. Some planes have no navigation, lighting, or are missing critical pieces of landing gear. Sudan is a very dangerous country for internal air travel.
Entering Sudan via personal car is also challenging. Sudan has a highly militarized border with its neighbor Egypt and Westerners run into problems at the border if they wish to cross.
Bus travel is also not without its issues. Some buses are better than others - some are excellent, with icy-cold AC and complementary drinks, others may be less salubrious, e.g. sitting in a hot bus (did we mention no A/C?) with jabbering Egyptian tourists for nearly an entire day.
Personal safety
There is almost no likelihood of being physically attacked (mugged) for your possessions, but keep an eye on your things in public places, e.g. street cafes. Sometimes thieves operate in pairs: one distracts you while the other makes off with your stuff. There have been cases of pickpocketing in Sudan as well
Women travelers
While
solo women
will raise a few eyebrows, travel may be relatively safe (in areas unaffected by civil war) if they dress and act appropriately for an Islamic country. Traditionally, women in Sudan wear loose flowing robes due to restrictive laws against wearing trousers and short or tight skirts; thousands of women are arrested and flogged for indecency every year, and laws can be applied arbitrarily.
In general, it is best for women to travel in groups, and even better, with men.
Police and army
You will see armed policemen and military personnel everywhere but you will not have any problems with them unless you have infringed some rule,
e.g.,
taking photographs or filming in prohibited areas. Sudanese police are sometimes known to target travelers for
bribes
. So, If you are pulled over for whatever reason, be sure to pay them.
Taking pictures
Sudan has very strict rules about taking pictures. First and foremost, you need a permit to take pictures (see "
Get in
" section above for details) which will tell you where you can and cannot take pictures. Photographing or filming military personnel or installations is a
quick way
to get into trouble. People have been arrested for taking pictures at the confluence of the Blue and White Niles in Khartoum.
LGBT travellers
Under Sharia law, homosexuality is a crime punishable by
death
, so gay and lesbian tourists should be careful and self-aware. The death sentence for homosexuality is mainly only enforced after the second or third repeated offense. Mainly the first offense it is usually imprisonment and about a thousand lashes for men and women (which is virtually the death penalty anyway, it would be surprising if anyone could survive that sort of harsh punishment). If a foreigner is arrested for committing a homosexual act, that person may probably either be given a warning if "truly remorseful" or be dealt with in the same manner as the Sudanese national. Ask for consular assistance from your government if you are arrested.
Stay healthy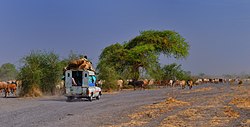 Sudan is a
malarial
region, so be especially cautious during the rainy season. Poisonous snakes, spiders and scorpions are common to the southern areas.
Be cautious when drinking
water
. Make sure you choose bottled water, or use purifying tablets. Also, avoid any fruit drinks, as they are obviously made with the local water. And remember, that any ice cubes (for example, in sodas) are only frozen local water.
On long trips (particularly during the hot season) on public transport it is often impossible - or would be expensive - to carry the amount of bottled water you need, and it may be scarce at certain remote stops. Therefore, keep plenty of your chosen means of purification close at hand (not in your luggage strapped to the roof!). Sanitation in some areas is nonexistent, so wash your hands frequently.
Food from streetside vendors is generally fine if it is being prepared and served frequently. Empty restaurants and street cafes often indicate that food is standing uncovered and unrefrigerated for hours at a time.
Sudanese currency is notoriously dirty, and even the Sudanese handle small bills as little as possible. A hint would be to carry antibacterial wipes or gel in your luggage to treat your hands after handling filthy currency notes or shaking too many unwashed hands.
Sudan has reported Ebola outbreaks in 2004 and it is not advised to take local hospital treatments unless there is a real urgency. If you have malaria-like symptoms, seek medical assistance when possible, medical treatment is also available in many private clinics with high standards and reasonable price here are some of these private clinics: (
Doctors clinic
, Africa St,
Fidail medical center
, Hospital road Downtown,
Yastabshiron medical center
, Riyadh area,
Modern medical center
, Africa St,
International Hospital
, Khartoum north-Alazhary St)
Schistosomiasis/Bilharzia - Avoid bathing or walking through slow-flowing fresh waterways. If you have been in contact with such water or develop an itchy rash or fevers after your return, seek medical attention. Doctors in the West may only think to test you for malaria - you may need to see a tropical medicine specialist.
Respect
Religious sensitivities
Sudan is an Islamic nation, and the government has imposed a form of Sharia law. Alcohol and drugs are forbidden, though many people dip a kind of snuff, and a few make moonshine. Sudanese women tend to wear very conservative clothing and cover their heads, so foreign women would be wise to do the same, even if they observe other tourists who do not respect this custom. Men should wear long trousers, not shorts. If in doubt, play it safe and cover up.
The Sudanese do not expect foreigners to adhere to Ramadan, the holy month of fasting, but it would be tactless to eat, drink or smoke in public. (Many people, e.g., diabetics and those travelling more than a certain distance, are exempt from Ramadan, so it is possible to find open restaurants during the day but they are not well advertised.)
Foreigners will be treated exactly the same as a local, and dealt with accordingly, in many cases, given a jail sentence of several months and a whipping, the minimum being forty lashes (it may be more, according to the discretion of the local cleric). Distances between towns or villages being far, and news may travel very slow because of the political unrest, so your government, if it even knows or cares to interfere, may not be willing or able to help you.
Do not under any circumstances show images, statues or figures of the prophet Muhammad. A heated controversy erupted when a British schoolteacher in Sudan allowed one of her students to name a teddy bear "Muhammad", prompting angry protests in Sudan. Although the schoolteacher returned safely to her home country, other related controversies such as the Pope Benedict XVI and the Jyllands-Posten Muhammad drawings led to violence.

Local customs
To show the bottom of your foot is an insulting gesture, as is the touching of the thumb to the index finger while extending the rest of the fingers (the North American sign for "O-kay"). Although Sudan is a moderate Muslim culture, foreigners are still discouraged from speaking directly to local women unless spoken to, and even then it would be polite to ask permission from the man accompanying her before responding. Try to avoid physical contact with women if possible.

Conversation
During conversation, avoid asking direct questions about people's political opinions unless you know the person quite well and sense that they would be comfortable; repercussions could be serious for them. Tact is a necessity in a country that has suffered the trauma of more than 40 years of civil war, and refugees from affected areas are spread around the country, especially Khartoum.

Connect
Telephone
Sudan's international direct dialling code is
249
. Its international direct dialling access code is
00
although mobile phone users in Sudan will be able to dial overseas numbers by putting "+" in front of the country code.
Prepaid mobile phone packages are easily available in Sudan. The two telecommunications companies in Sudan are
ZAIN
(Tel: +249 91 230000) and
MTN
(Tel: +249 92-1111111). Zain has a cheaper prepaid package (SDG10) than Mtn (SDG20). The customer service line for MTN, should you need to call them for any problems, can be difficult to get through.
Coverage maps
Mobitel (zain SD)
MTN Sudan
Sudani