Sukhothai
Sukhothai
(สุโขทัย) is a small city (population 35,713) in
Lower Northern Thailand
, 427 kilometres north of Bangkok. Its attraction lies in the ruins of the ancient city Sukhothai, a
UNESCO World Heritage Site
. The name translates as "the dawn of happiness".
Understand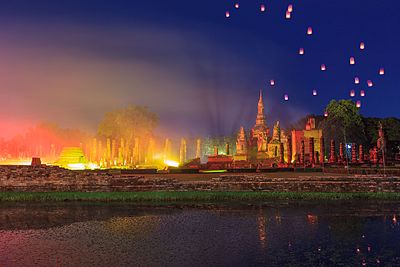 History
Ancient Sukhothai was the first capital of the
Sukhothai Kingdom
, a long arc of territory that ran through what is today's Laos and western Thailand as far as the Malay states. The kingdom was established in 1238 by Phokhun Si Intharathit, the founder of the Phra Ruang dynasty. It was the state that eventually had the greatest influence on the later Siamese and Thai kingdoms. Traditional Thai history has it that Ramkhamhaeng the Great, the third ruler of the Phra Ruang dynasty, developed the capital at Sukhothai. He is also venerated as being the inventor of the Thai alphabet and being an all-round role model for Thailand's politics, monarchy, and religion.
Today
The province's temples and monuments have been restored and the
UNESCO-listed
Sukhothai Historical Park
covers a wide area with numerous sites. Other interesting places include Ramkhamhaeng National Museum, Ramkhamhaeng National Park, Sri Satchanalai National Park, and The Royal Palace and Wat Mahathat.
Climate
While enjoyable all year, Sukhothai is most comfortable during the cooler weather of Nov-Feb.
Get in
By plane
Bangkok Airways
has daily flights from
Bangkok
Suvarnabhumi Airport (BKK) to Sukhothai Airport (THS), which then continue on to
Lampang
(LPT). Fares from Bangkok start from 1,700 baht (1 hour 20 minutes), from/to Lampang: from 1,100 baht (around 40 minutes).
Air Asia has daily flights from Bangkok Don Mueang Airport (DMK) to Phitsanulok airport (PHS). You can book a combined ticket with Air Asia to travel from DMK to Sukhothai. This consists of the flight (1 hour), transfer to ground transport (30 minutes) then the road trip Tharaburi Resort in Sukhothai (1 hour 40 minutes).
By train
Take the (express) train (7 hr from Bangkok or Chiang Mai) to
Phitsanulok
and go by bus from there (1 hour). A tuk-tuk to the bus station costs 60 baht.
By bus
Sukhothai only has a small bus station, but the old and new city can be easily reached from all points. The bus station is out of town and should cost you 50-60 baht to get into town by tuk-tuk (40 mototaxi). From the new city bus station it costs 15 baht via the local shuttle to reach the new city center.
There are direct buses from Bangkok Mo Chit Terminal (at least hourly 07:00-13:30, some in the afternoon, every 30 min 20:00-22:30, see
schedule
).
The journey takes 7-10 hrs, including some stops at bus terminals of major cities on the way.
First class air-con buses are operated by
Wintour Travel
(378 THB) and
Phitsanulok Yanyon Tour
(from 328 THB).
Buses from the main bus terminal take about 4 hours. The cheaper 2nd class buses make many stops and take about 5 hours and a half (Wintour: 195 baht as of May 2017).
Minibuses run regularly from the station behind the market. The journey takes about 3 hours, passing through
Tak
on the way. 130 baht.
Air conditioned buses operate approximately every 45 minutes from the main bus terminal until approximately 18:00 and take about 1 hour for the 58-km trip. These are often crowded so be waiting early for the bus if you'd like to get a seat. 39 baht.
If you're feeling rich you can get a direct tuk-tuk. It costs 1,000 baht from the train station (one of the fixed prices posted on a sign in front of the station).
Get around
It's an easy 15-minute walk from the into New Sukothai town along a dirt path in front of the bus station (although the tuk tuk drivers will tell you that it is not possible to walk). To find it, exit the front of the station and walk straight (west) for a few meters until you reach the shops in front of the station. There will be the leading off to your left (south) that passes by some fields and houses. Follow the path for 350 m and you will hit a concrete road; continue straight along this road for another 320 m, where you will reach "No. 4 Guesthouse". Turn right and after 200 m you will hit Jarodvithi Thong (Charodwithitong), the main street with many guesthouses.
Purple #1
songthaews
run the length of Charodwithitong Rd and also serve the bus station. Without the shortcut, the trip is 3 km and should cost 10 THB.
Large blue
songthaews
to Old Sukhothai leave from the well recognisable roadside on Charodwithitong Rd, approximately opposite of a 7-Eleven, about 200 m west of the bridge. It stops about 750 m from the entrance to the central zone of the historic park. Fare is 20 baht. Drivers often ask 30 baht from foreigners, but if you insist or start to walk away they should agree for 20 baht.
As of Nov 2018, you can pick up the large blue Songthaew at the Bus Station - it has a sign on the front saying where it goes including the Old Town and that the price is 30 baht. The journey is definitely a novelty but seems to take a while so if you're in a rush it may be worth paying the extra for a tuk tuk.
Tuk-tuks will try to get 600 baht out of you for a trip to the Old City (main ruins) some 15 km out of town. The correct price is 300 baht and this is for at least a couple of hours. When you have seen the part you are at and want to move further in the same area, the driver takes you there. 600 baht is a fair price for a full day.
Scooters can be rented from Chopper on Prewet Nahkon Alley, just behind near the bridge of New Sukhothai. The bikes are pretty new and well maintained. Rates are 60 baht for 1 hr, 250 baht for the day (return at 20:30), 300 baht for 24 hr.
See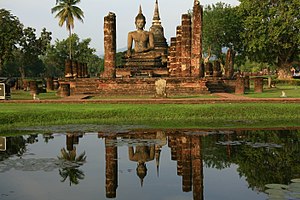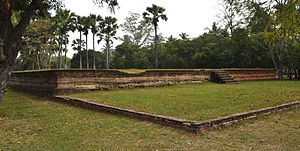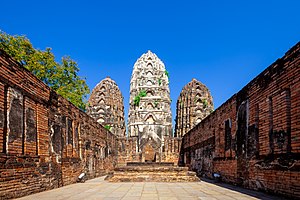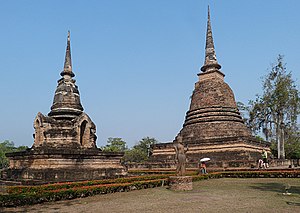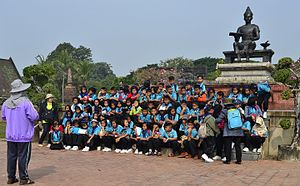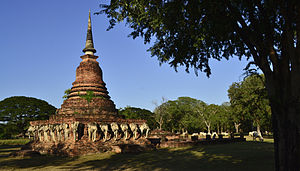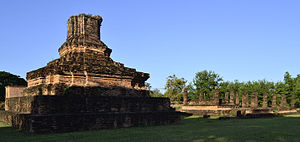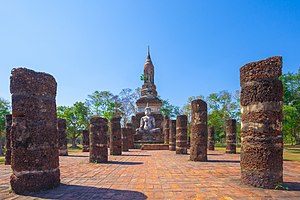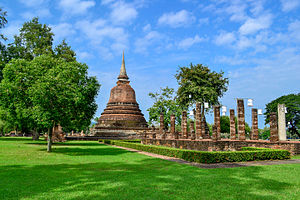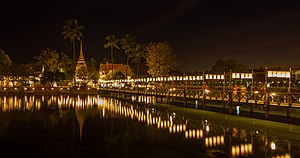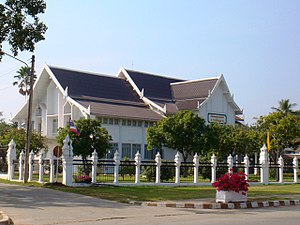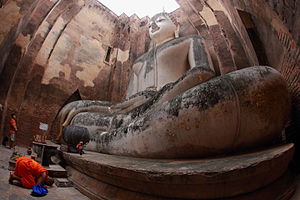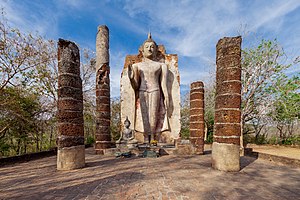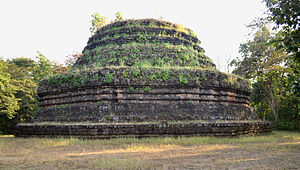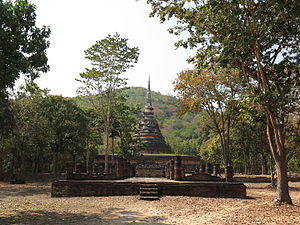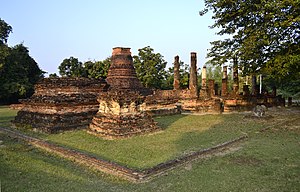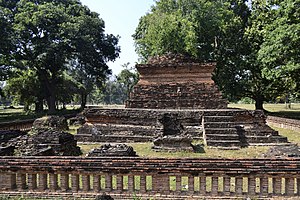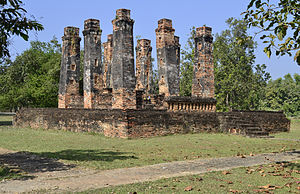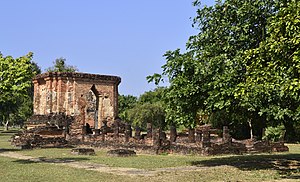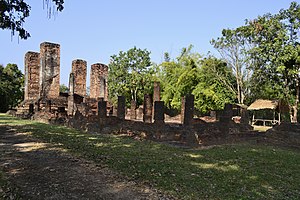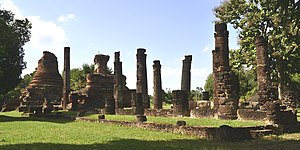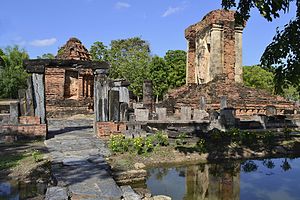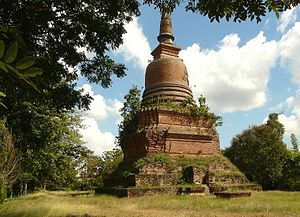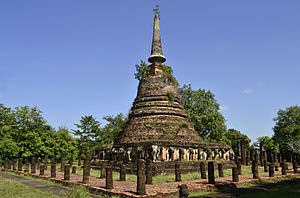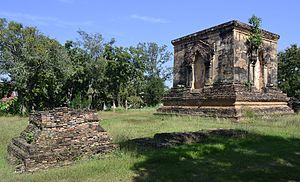 Sukhothai Historical Park
(Thai: อุทยานประวัติศาสตร์สุโขทัย) (14 km to the west of New Sukhothai). This was the capital of the Sukhothai Kingdom from 1238 to 1438 and contains many ruins from that period. Its importance has been internationally recognised and it is now a UNESCO World Heritage Site. The old city is a popular tourist attraction, and the site has seen much restoration since the 1960s. It is well maintained, exceptionally clean and well furnished with vendors, though with only a minimum of touts. The heavy restoration is worth noting, since with some ruins and Buddha figures it can lead to a feeling that it is a little over-sanitised, especially in the central zone. The other zones are much less "restored" and trips down unmarked tracks can lead to ruins in their untouched state.
The whole site covers an area of approximately 70 km² (~27 square miles) and contains 193 ruins. The park is divided into 5 zones namely: Central, Eastern, Southern, Western and Northern Zones. The central zone contains the majority of the ruins and a museum. Maps are free at the ticket office. Every zone has an entrance fee of 100 baht each, however a combined ticket for all the zones is available for 350 baht. Admission to each of the zones is 100 baht for Westerners and 20 baht for Thais. Vehicles cost extra, bicycles 10 baht, motorbikes 30 baht. The park is open daily from 06:30 to 19:30 (21:00 on Saturdays).
It is feasible to walk around the central and northern zones in 6 hours or so. There is also a 60-baht guided tour by electric tram available.
The best way, however, to see the ruins is by bicycle. These can be rented from a shop opposite from the main park entrance.
The best time to see the ruins is mornings when it's a little cooler and before the buses arrive, at noon when they have lunch, or after 16:00.
Sukhothai Historical Park (Central Zone)
The Central Zone of the Sukhothai Historical Park contains about 22 monuments enclosed inside a rectangular walled complex. The north and south walls are 2000 m long while those on east and west measure 1600 m. The walls are punctured by four gateways on each of the four sides.
Kamphaeng Hak Gate
,
Sanluang Gate
,
Namo Gate
,
Or Gate
The East Gate (Kamphaeng Hak Gate) is the most accessible of the four gates.
Wat Maha ThatIt is the most important temple of the Sukhothai Historical Park. The temple's name translates to temple of the great relic. The temple was founded by Sri Indraditya, between 1292 and 1347 as the main temple of the city as well as the Sukhothai Kingdom. The design is based on a mandala, representing the universe, with a principal stupa, built in 1345 to enshrine relics of the Buddha, surrounded by smaller stupas in eight directions. The main stupa has the shape of a lotus bud, which characterizes Sukhothai architectural arts. Its base is adorned with 168 stuccoed sculptings of Buddhist disciples walking with their hands clasped together in salutation. The eight smaller stupas, of which the four at the corners are in Mon Haripunchai - Lanna style and the four in between show Khmer influence. At both sides of the main stupa has two nine metre tall standing Buddha images called Phra Attharot (Thai: พระอัฏฐารส). The temple also includes an assembly hall (vihara), mandapa, ordination hall, and 200 subordinate stupas.

Noen PrasatIt is the remains of the royal palace of the Kingdom of Sukhothai. The palace was built on a square base with the dimensions of 200 x 200 m. Nearby were two small ponds where the archaeologists found the remains of terracotta pipes which probably been used to supply water from a city lake to the ponds. In the southwest, there are the remains of a 1.5-m-high brick platform on which they found ashes and bones inside, so It can be assumed that it was the royal cremation place. The Noen Prasat was discovered in 1833 by Mongkut, who had made a pilgrimage to the north of Siam as a monk.

Wat Si SawaiIt is one of the oldest temples in Sukhothai. The temple was founded in the late-12th or early-13th century as a Hindu Shrine for Vishnu and the place for the Thiruppavai ceremony before the liberation from Lawo and foundation of Sukhothai Kingdom. The temple has three well-preserved laterite prangs, representing the Hindu trinity, enclosed by a double rampart and a moat. The lower parts of prangs are apparently Khmer, while the upper have been expanded or renovated by Thais in brick and stucco. The central prang is held in Lawo or Hindu-style. Each prang contains a cella, possibly a podium for lingam and crypt. There are few remaining stucco works on the top of central prang. Later around the 14th century the temple was adapted to the needs of the Buddhist faith: vihara were added to the south of the central prang. Chinese porcelains and Hindu god statues had been found in the area. One of artifacts is the Shiva statue discovered by Vajiravudh in 1907.

Wat Sa SiLocated almost at the centre of the central complex, Wat Sa Si is on a island surrounded by a man made lake, known as Tra Phang Tra Kuan. It is located west of King Ramkhamhaeng Monument and north west of Wat Maha That. It includes a huge white sitting Buddha with a bell shaped chedi in the background. Also in the complex is a vihara and the ordination hall.

King Ramkhamhaeng MonumentThe giant statue of King Ramkhamhaeng stands almost at the centre of the Sukhothai Historical Park. King Ramkamhaeng ruled Sukhothai between 1279 and 1298 and was the third king of the Phra Ruang Dynasty, approximately. Built in 1971, the bronze statue is about twice life size, and depicts the king sitting on the Managkhasila-Asana throne.

Wat SorasakLocated near the north gate (Sanluang) Wat Sorasak a bell shaped chedi (stupa). The base of the brick built chedi is surrounded by 24 elephant statues and it seems that the elephants are carrying the structure on their back. It was built in 1412 and named after its builder, Nai Intha Sorasak.The chedi was restored in the 1980s by the Thai Fine Arts Department. Next to the chedi are remains of an alter and an assembly hall.

Wat Son KhaoThis lotus bud shaped chedi (stupa) is just south of the north gate (Sanluang). There is no stone inscription and nothing mush is known about the history of the temple. Wat Son Khao might have ben part of the Wat Sorasak. It was restored in 1965 by the Fine Arts Department.

Wat Traphang NgoenBuilt in 14th century the name literally translates into Silver Lake Temple. The temple consists of a giant lotus bud chedi (stupa) along with a smaller chedi and an assembly hall. There is a giant statue of Buddha in sitting position along with a standing statue of Buddha, popularly known as the walking Buddha. Wat Traphang Ngoen is located west of Wat Maha Tat and is separated by a lake, The lake houses an island with the ruins of an assembly hall.

Wat Chana SongkhramWat Chana Songkhran is just north of the Wat Maha Tat and houses one of the largest chedis (stupas) of Sukhothai. The temple was probably built in the 14th century. Its name translates to Temple of the Won War. Remains of an assembly hall can be seen on the east but the statue of Buddha is no longer there.

Wat Traphang ThongWat Wat Traphang Thong is an active temple on an island in the middle of a lake near the east gate (Kamphaeng Hak Gate). THe pond is located west of the The Ramkhamhaeng National Museum. The bell shaped chedi (stupa) is the oldest structure of the complex. The ordination hall is a much more recent structure, built about a century ago. A recently built mondop houses a Buddha footprint sculpted in stone. The footprint was made in 1359 during the reign of King Li Thai.

Ramkhamhaeng National MuseumHouses many artifacts found from archaeological excavations in Sukhothai, as well as those donated by the locals. The museum is divided into three premises: the Lai Sue Thai Chet Roi Pi Memorial Building, Museum Building, and Outdoor Museum.
The central zone of the Sukhothai Historical Park contains several other monuments of lesser importance
Ta Pha Daeng Shrine
,
Wat Tra Phang So
,
Wat Mum Muang
,
Wat Tra Kuan
and
Wat Mai
.
Sukhothai Historical Park (North Zone)
Located on the northern side of the central zone this zone contains about 10 scattered monuments out of which Wat Phra Phai Luang and Wat Si Chum are the most visited.
Wat Phra Phai LuangJust north of the central zone, the Wat Phra Phai Lung group of monuments stands on an area surrounded by a moat 600 m long on each side. The group of structure consists of several monuments constructed over different phases and provides an insight into the evolution of Sukhothai art and architecture.The oldest monument in the temple are 3 buildings constructed in prasad form (imitated Hindu Shikhara Vimanas) out of which only 2 stands to this day.

Wat Si ChumWat Si Chum complex is north west of the central zone and south west of Wat Phra Phai Luang. It is known for its giant Buddha statue known as Phra Achana (Buddha who is not afraid) and Phra Poot Dai (speaking Buddha).
The northern zone of the Sukhothai Historical Park contains several other monuments of lesser importance
Wat Tao Thu Riang
,
Wat Sangkhawat
,
Wat Maechon
and
Wat Traphang Pan
Sukhothai Historical Park (West Zone)
Located west of the central zone and is approachable by the Or Gate it contains more than a dozen monuments scattered over a large undulating area. The wooded foothills were thought to offer an ideal spot to practice the Buddhist way of life and open the mind to dhamma.
Wat Saphan HinLocated on top of 200-m-high hill Wat Saphan Hin is the most visited monument in the western zone. It contains a 12.5-m-high statue of standing Buddha, known as Phra Attharot. The name Saphan Hin translates as 'stone bridge' and refers to the slate and stone pathway that leads to the top of the hill where the original temple once stood. Today apart from the giant statue only a handful of pillars stand. According to an inscription King Ramkamhaeng would ride his white elephant up to Wat Saphan Hin on the full moon to pay his respects to Lord Buddha.

Wat Khao Phra Bat NoiWat Khao Phra Bat Noi literally translates into Temple of the Hill of the Lesser Buddha Footprint. It is atop a small mound south west of Wat Saphan Hill and approximately 2.5 km from the Or Gate.A large bell shaped chedi (stupa) dominates the monument. There is a smaller chedi and remains of a assembly hall. The Buddha Footprints are exhibited at the Ramkhamhaeng National Museum.

Wat Chedi NgarmLocated on a small mount and is approachable by a path way paved with stone slabs. It literally means the Temple of the Beautiful Chedi (Stupa). Wat Chedi Ngram is in between Wat Kamphaeng Hin to the north and Wat Tam Hip Bon to the south. With no inscription nothing is much known about the history of the Chedi.

Wat Tham Hip BonLocated on a quiet shaddy hilltop of abot 200 m high, Wat Tham Hip Bon comprises two chedi flanking a modestly sized viharn (assembly hall). The remains of a smaller assembly hall and a few other structures are scattered about the site.

Wat MangkornWat Mangkorn, literally meaning the Temple of the Dragon, is about 2 km west of the west gate (Or Gate) and is directly on the road leading to the Wat Tham Hip Lang. A relatively large complex, the bot, surrounded by large leaf-shaped boundary stones.

Wat Pa MamuangLocated slightly north of the road leading out of the Or Gate (West Gate) this shrine consists of the remains of building in the temple include the ordination hall and chedis (stupa).

Ho Thewalai MahakasetLocated about 500 m west of the Or Gate (West Gate) Ho Thewalai Mahakaset literally means the Building of the God or the Palace of the Gods in the Field. The temple consists of a mondop comprising eight brick columns on a sturdy base.

Wat TuekLocated about 150 m east of Ho Thewalai Mahakaset and about 800 m west of the Or Gate (West Gate). Wat Tuk literally means Temple of Masonry. The temple comprised a rectangular viharn (assembly hall) to the east and a sturdy mondop (statue pavilion) to the west.

Wat Si ThonLocated about 200 m east of Wat Tuk and about 500 m west of the Or Gate (West Gate) the ruins include a manฺdฺapa and a vihara. The mandapa once housed an image of Buddha, which is now in ruins. Wat Si Thon was a place where a learned monk with knowledge of the Tripitaka from Sri Lanka stayed.
The western zone of the Sukhothai Historical Park contains several other monuments of lesser importance
Wat Pa Sak
,
Wat Phra Yuen
,
Wat Tham Hip Lang
,
Wat Chang Rop
and
Wat Aranyik
Sukhothai Historical Park (South Zone)
Unlike the northern and western zone the southern zone is more compact and has lesser number of monuments.
Wat Kon LaengWat Kon Laeng is about 600 m south of Namo Gate (South Gate). The small complex main chedi on an elevated base like the one of a lotus - bud shaped chedi, a vihara and subordinate chedis made of brick.

Wat Ton ChanWat Ton Chan literally meaning Temple of the Sandalwood Tree is about 500 m south of Wat Kon Laeng. It consists of a spacious assembly hall and a large brick built chedi on the west, It is surrounded by a moat, presently almost dry. The assembly hall contains the torso and legs of an enormous seated Buddha.

Wat ChetuphonWat Chetuphon is the most impressive of the southern zone. Literally meaning Temple of the Divine General it stands 1.6 km south of the South Gate (Namo Gate). The centre of attraction is a elevated mondop (image hall) four Buddha statues facing the cardinal directions, sadly two of the statues are heavily damaged.

Wat Chedi Si HongWat Chedi Si Hong literally means Temple of the Four Rooms is 200 m southeast of Wat Chetuphon. The temple comprises a fairly small but artistically significant chedi, surrounded by more than a dozen subordinate chedi. The ruins of a spacious viharn (assembly hall) are located to the east. Stuccoed reliefs decorating around the base of the main chedi depict male and female in different attire with ornaments and their hands holding vessels with flora emerging from these containers, symbolizing fertility and prosperity. The stucco also includes elephant and lion figures.

Wat Si Phichit Kirati KanlayaramWat Si Phichit Kirati Kanlayaram literally meaning Temple of the Glorious, Honorable, and Beautiful Building is about 800 m south east of Wat Chedi Si Hong. Built in 1403 it is one of the few temples in Sukhothai where record of the foundation date and sponsor survive. A tall Sri Lankan styled chedi dominates the structure. Aprt from the chedi remains of an assembly hall survives to this day.

Wat Wihan ThongWat Wihan Thong is 1.6 km southeast of the South Gate (Namo Gate). A lotus bud shaped chedi dominates the ruined complex.
The southern zone of the Sukhothai Historical Park contains couple other monuments of lesser importance
Wat Asokaram
Wat Phrong Men
and
Wat Mumlangka
Sukhothai Historical Park (East Zone)
Like the south zone the east zone also contains a handful of monuments. The monuments are scattered along the road leading to the Kamphaeng Hak Gate (East Gate) of Sukhothai Historical Park.
Wat Chedi SungWat Chedi Sung is 1.2 km east of the East Gate (Kamphaeng Hak Gate) and is about 200 m south of the main road. It houses the second tallest chedi in entire Sukhothai (only Wat Mahatat is higher) but the free-standing chedi seems to look taller.

Wat Chang LomWat Chang Lom is about 500 m east of the East Gate (Kamphaeng Hak Gate) and about 100 m north of the main road. Like Wat Sorasak, whic is located inside the central zone, Wat Chang Lom also consists of 32 elephants along its base.

Wat Tra Phang Thong LangWat Tra Phang Thong Lang is about 600 m east of the East Gate (Kamphaeng Hak Gate) and about 100 m south of the main road. Its highlight is the square brick mondop with fine stucco work.
The eastern zone of the Sukhothai Historical Park contains couple other monuments of lesser importance.
Wat Chide Yot Hak
Wat Phra Non
and
Wat Ton Makham
Outside Sukhothai Historic Park
Si Satchanalai National ParkProclaimed a national park on 8 May 1981. With a total area of in Si Satchanalai and Thung Saliam Districts, Si Satchanalai offers trekking routes through waterfalls and caves. There is Tad Dao Waterfall, originating from the Tha Pae stream. Thara Wasan Cave, with fantastic stalactites and stalagmites, is about away from the park's office. Wildlife is found here, including hundreds of thousands of bats. Tad Duan Waterfall, about 500 m from the office of the park, is ideal for swimming.
Phra Mae Ya ShrineThe shrine is highly respected by Sukhothai residents. It houses an idol of Phra Mae Ya, a stone figure with a long face, tapered chin, long halo and dressed as an ancient queen. The idol is supposed to have been built during King Ramkhamhaeng the Great's reign as a dedication to his late mother Nang Sueang. In this connection, the word Phra Mae Ya or grandmother in Thai is literally a term of endearment since the local people regarded King Ramkhamhaeng the Great as their father. The statue was formerly housed in a rock shelter of Phra Mae Ya Mountain. The Sukhothai residents later relocated it to the present shrine situated in front of the City Hall. The shrine is also believed to house the spirit of King Ramkhamhaeng the Great. The Phra Mae Ya Fair is held annually in late February.
Fish MuseumIt displays a variety of fresh water fish mentioned in Thai literature, such as the travel poems titled Kap Ho Khlong Nirat Phra Bat and Kap Ho Khlong Praphat Than Thongdaeng, and the Kap He Ruea boat song by Chaofa Thammathibet (Chaofa Kung).

Sawankhaworanayok National MuseumHouses exhibits in a two-storey building. Upstairs houses sculptural collections from various periods, mostly those formerly collected within the compound of Wat Sawankharam and offered by Phra Sawankhaworanayok. In addition, there are Buddha images, relocated from the Ramkhamhaeng National Museum, from the pre-Sukhothai to the early Ayutthaya period.
Centre for Study and Preservation of Sangkhalok KilnsOnce the industrial area of Si Satchanalai. Numerous celadon wares in broken, as well as perfect, condition have been discovered. The kiln is oval in shape with a curved roof like that of a ferryboat and is 7–8 m long. The centre consists of two buildings situated on the kiln site area with two kilns Nos. 42 (ground level) and 61 (underground) exhibited in situ. There are also exhibitions on artifacts, academic documents, and on the evolution of ancient ceramic wares.
Sangkhalok MuseumThe museum displays more than 2,000 pieces of Sangkhalok ceramic wares collected from various local and international sources.

Ramkhamhaeng National ParkIt covers an area of about , or 213,125 rai. It is full of wildlife and natural beauty, including tropical jungle and mountain. The park, in the province of Sukhothai, is surrounded by the districts of Kirimas, Ban Dan Lan Hoi, and the provincial capital, Sukhothai.
Central Zone: It contains 11 ruins in 3 km², interspersed with moats, lakes and bridges to some island-bound ruins. Mat Mahathat is one of the most spectacular, with a large seated Buddha figure set amid the pillars of a now-ruined sala, and a central chedi flanked by two standing Buddha figures. Wat Sra Sri also has a large chedi and Buddha figure, but is reached by a bridge to the island. There are some nice views from the other side of the lake.
West zone The West zone is a hilly and forested area that contains over a dozen little visited monuments. The area is west of the walled old town between the road to Tak (Route 12) and the road through the Or gate in the ancient Western city wall. Spread out over an area of several kilometers, it contains mostly small monuments in the forest and on hill tops, most of them a single stupa or other structure. In the days of the Sukhothai empire the area was known as Aranyika. Monks studied the Tripitaka and practised meditation in forest temples. An ancient stone inscription mentions that Ramkhamhaeng, the third King of Sukhothai, visited the area regularly to pay his respects to a Buddha image, believed to be the standing Buddha image of the Wat Saphan Hin.
North zone Wat Phra Phai Luang contains the remains of a number of buildings plus a large prang with stucco reliefs. More impressive is Wat Sri Chum, which contains a massive seated Buddha figure peering through an opening in its enclosure. Look for a stairway on the left as you enter the enclosure; it leads up and behind the Buddha image, though the passage is not always open. Only if you want to have a close look for Wat Phra Phai Luang you need to pay.
The Holy Heart LandAn apparently artificial heart-shaped island inside a heart-shaped water basin (from birds-eye view), with a shrine in the center.
Festivals
Phor Khun Ramkhamhaeng's Day Festival (or King Ramkhamhaeng the Great Memorial Fair (งานวันพ่อขุนรามคำแหงมหาราช)
Phor Khun Ramkhamhaeng's Day Festival, annually held on January 17. It honors of the Great King of Sukhothai Kingdom. In this day, people will visit the Monument of Phor Khun Ramkamhaeng the Great for praising Phor Khun Ramkhamhaeng. People will make merit and present food to a Buddhist priest. At night, there is merrymaking and many shows that all people can enjoy. There are fireworks, too.
Song Nam Aui Than Festival
Song Nam Aui Than Festival is annually held on 12 April, Songkran Ceremony in the SriSathanalai Historical Park. It exhibits the Buddha image procession from Wat Phra Prang to the Historical Park for people who want to pour the water over the Buddha image.
Si Sachanalai Ordination Celebration
Si Sachanalai Ordination Festival is called by Thais as "Buat Chang Hat Siao", held annually during 7–8 April at Ban Hat Sieo, Si Sachanalai District. It features a spectacular procession of ordination candidates in colourful costumes on the backs of some 20-30 decorated elephants.
Sukhothai Loi Krathong and Candle Festival
The tradition which was founded in Sukhothai on the banks of the Yom River several hundred years ago derived from traditional Tai beliefs common to communities living along the banks of a river or waterway. It has become a need to worship and supplicate the Khongkla to avoid bad luck, to worship the gods in the Brahmin tradition, or to revere the Buddha's footprint. The celebrations are normally organized in the 12th month when the tide is high and the air is cool. Sukhothai's Loi Krathong is held annually on the full moon night of the 12th lunar month at the Sukhothai Historical Park. The Krathongs, or floats, have been made in the form of lotus. There is also a reference, in the Sila Charuek, to candle lighting and playing with firework in a grand festival believed to be similar to the candle lighting and firework as practiced in the current Loi Krathongs Festival. In this festival, there are Nang Nopphamat procession, exhibitions, lighting of lantern at the historical site, Loi Krathong, fireworks over all waterways, and a Krathong competition.
Phra Mae Ya Homage Paying Fair and Sukhothai Red Cross Fair (งานสักการะพระแม่ย่าและงานกาชาดจังหวัดสุโขทัย)
This is held at the beginning of February every year around the Sukhothai City Hall, Nirakasem Road, Tambon Thani. A procession paying homage to Phra Mae Ya, a local sports competition, an exhibition, a local handicraft demonstration and entertainment, are held.
Si Satchanalai Elephant Back Ordination Procession (ประเพณีบวชพระแห่นาคด้วยช้างของชาวหาดเสี้ยว)
A traditional ceremony of the Thai Phuan, citizens of Ban Hat Siao, Si Satchanalai Elephant Back Ordination Procession or Buat Chang is held annually during 7–8 April at Ban Hat Siao, Si Satchanalai District. The 7th is the crux of the event, when a procession takes place. On the 8th features a spectacular procession of ordination candidates in colourful costumes on the backs of some 20-30 decorated elephants. The ordination ceremony includes head shaving, bathing, and dressing up candidates, as well as, elephants. The procession is held around the village and the Si Satchanalai District Office.
Songkran and Mueang Sawankhalok Festival (งานประเพณีสงกรานต์และเทศกาลเมืองสวรรคโลก)
This takes place during 11–15 April annually on the bank of the Yom River, in front of Wat Sawang Arom, by the Yom River, and at the Stadium of the Sawankhalok Municipal School. The procession of Miss Songkran, the Sawankhalok Food Festival, ceremonies of giving alms to monks and bathing rituals for Buddha images and monks are performed in the festival.
Songkran Festival (งานประเพณีสรงน้ำโอยทาน สงกรานต์ศรีสัชนาลัย)
An annual celebration of the Thai New Year is held during 12–13 April at Si Satchanalai Historical Park, Si Satchanalai District; this festival carries forward Sukhothai's tradition. It was mentioned in the famous stone inscription "The Sukhothai people are generous, abide by precepts, and always give charity", which is believed to be inscribed during the reign of King Ramkhamhaeng the Great of the Sukhothai Kingdom. The highlights of the event include the elephant procession, offering rituals to pay respect to Phra Suea Mueang, the tutelary spirit and kings from the Phra Ruang Dynasty, Miss Songkran beauty queen contest, local sport competitions, and cultural performances.
Hae Nam Khuen Hong Festival (งานประเพณีแห่น้ำขึ้นโฮง)
This is organized annually during 18 – 19 April at the plaza of Chaopho Mueang Dong Monument, Tambon Ban Tuek, Si Satchanalai District. The ceremony is held to honour "Muen Nakhon" or "Chaopho Mueang Dong", the establisher of Dong City. He was talented and courageous, as well as specialized in catching elephants and utilising them in war. Later, he was executed to prove his loyalty to King Tilokkarat. Then, the villagers organized a ceremony to pay homage to Chaopho Mueang Dong by preparing a more-than-50-elephant parade wonderfully decorated, passing the village to pay respect to the shrine of Chaopho Khao Mung and onward to the plaza of Chaopho Mueang Dong Monument to pay homage to Chaopho Mueang Dong.
Khao Luang Winning Day (งานวันพิชิตยอดเขาหลวง)
This is a yearly event that Sukhothai province has organized for tourists and the local people to climb up to the summit of Khao Luang in the Ramkhamhaeng National Park, Khiri Mat District. The event is held around November every year.
Do
Rent a bike and explore the ruins of Old Sukhothai (walking will kill you).
Visit the park at sunrise and admire the Buddha figures in the orange glow of the morning sun.
Pay a visit to the ruins at Si Satchanalai Historic Park, 55km from New Sukhothai. Few tourists, great sites, quiet. Bike rental at entrance.
Cycling Route along the Orchards Some visitors enjoy cycling around the orchards and tasting a variety of fruits like pomelo, santol, sapodilla, coconut, star fruit, various kinds of bananas, as well as the tasty and fleshy plum mango (Bouae Macrophylla) with its chicken-egged size.
Cycling Tambon Ban Tuek Community of Si Satchanalai District. This is a small and peaceful community filled with trees, paddy fields, and scenic mountain ranges, while tourists can enjoy the traditional life of fruit growers. Different types of fruits grown along the hilly terrain include longkong, langsat, mangosteen, durian, banana, pomelo, rambeh, and rambutan.
Buy
A Buddha figureAvailable in all historic styles, sizes, and materials. It's forbidden to export Buddha figures from Thailand, even though it is commonly done.

Thongchai WittayuA large electronics shop with good prices for digital cameras, memory cards, MP3s, etc.
Khanom Kliao (ขนมเกลียว) Snacks of Sukhothai made from wheat flour and egg, seasoned with salt and pepper, and made it into a twist shaped-dough. Fried until crispy and further glacé. It has a sweet taste and is available everywhere.
Sangkhalok ceramics (เครื่องสังคโลก) These replicas arguably look as good as the originals.
Thung Luang terra cotta (เครื่องปั้นดินเผา) of Khiri Mat District come in unique patterns. The products include flower pots, vases, basin, water jar, lamps, with perforated decorations of animal fiqures like frogs, bullfrogs, and dogs.
Butter-baked Banana (กล้วยอบเนย) A well-known snack of Khiri Mat District, it resembles another local sweet called Khanom Rang Nok made from sweet potato. This butter-baked banana snack is made from slicing raw banana horizontally, left to dry for half a day, seasoned with salt, deep fried, adding sugar, and giving it a good stir. Sprinkle with sesame seeds and add butter. This product is available everywhere.
Local Snacks: Khanom Phing, Thong Muan, Thong Phap, Thong Tan(ขนมผิง ทองม้วน ทองพับ และทองตัน) Famous crispy snacks of various shapes: square, round tube, and thick roll.
Fried peanuts (ถั่วทอด) of Si Samrong District, also called "200-year fried peanuts", are a tribute to a technique which has been inherited for many generations. The recipe is a mixture of rice flour, wheat flour, eggs, coconut milk, salt, pepper, chopped wild yam, which are then deep fried.
Ancient gold reproductions (ทองโบราณ) of Si Satchanalai District are entirely hand-made by skilled workers. These replicas of the Sukhothai style products include necklaces, wristlets, bangles, earrings, rings, etc.
Ancient silver reproductions (เงินโบราณ) These replicas are entirely hand-made with distinctive skill. They are available at all silver shops in Si Satchanalai District.
Hat Siao fabric (ผ้าหาดเสี้ยว) comes with nine beautiful patterns woven with the use of a supplementary weft technique, done by the descendants of Thai Phuan, who migrated from the north of Vientiane in Laos.
Marble products (ผลิตภัณฑ์หินอ่อน) The marble products from Amphoe Thung Saliam - Thoen include tables, chairs, flower pots and alarm clocks.
Eat
Sukhothai has its very own specialty noodle dish simply called Sukhothai noodles. They are a blend of Thai rice noodles (
khanom chin
) mixed with crispy pork, garlic, green beans, coriander, chili, and peanuts in a broth flavored with dark soy sauce.
New Sukothai
Ban Kru Eiw

address: 203/25 Wichien Chamnong Rd

One of Sukhothai's noodle restaurants. Not only Sukhothai noodles, but also Sukhothai-style pad Thai, Vietnamese food, desserts. The restaurant is only open in the daytime which mainly serves for brunch and lunch.
Chopper Bar

address: Pravetnakorn Rd

A rooftop restaurant and bar with good service, live acoustic guitar music, and Thai and Western menus.
phone: +66 55 612801

address: 86/1 Singhawat Rd

In a charming rustic old Thai house, serves up a good selection of Thai and Western dishes. Attentive service, eclectic music, and charming decor. There is also a small guesthouse at the back. Chat with the owner Chabah if she's there. She is a genuine renaissance woman, Thai-style.
Fueng Fah

address: 107/2 Th Khuhasuwan

Mainly serves dinner. Also a drinking spot where you can enjoy sipping beer by the Yom River. The food is called "fish food". Sukhothai local fish (bla) dishes.
Poo Restaurant

address: Jarod Withitong Rd

This is a Belgian-run restaurant offering Thai and Western food and a wide selection of cocktails.
Sukhothai Night Market

address: Th Ramkhamhaeng

Varieties of local food stalls. The night market is called "to-rung". It encompasses the food stalls along the Rachathani temple's fence.
Sleep
Budget
No name Thai Guesthouse

phone: +66 89-2627251

address: 25/4 Rach-U-Thid Rd

Just old house with shared bathroom. Concession rate applied for long-stayers. Handy access to market, banks, conves, net-cafe. Free to use utensils and hot water. Always-helpful-manager is also a certified Thai Massage

No 4 Guesthouse

phone: +66 55 610165

address: 140/4 Soi Maerampan, Jarodwitheethong Rd

Thai style garden bungalows with private bath and veranda with daybed. Has a restaurant; cooking classes and massage available.

4T Guesthouse

address: 122/7 Soi.Maeramphan

Large bungalows with Fan or A/C. Has a large pool and a restaurant

Baan Thai

address: Pravetnakorn Rd

This is a typical guesthouse, with a restaurant and a number of rooms available. Rooms contain a fan and share a bathroom, with hot water available.

Gardenhouse

phone: +66 55 611395, +66 81 5968624

A selection of rooms and bungalows. Free Wi-Fi.

Happy Guest HouseSimple, uninspiring guest House a bit a way from the bussy main road. Staff is friendly but tries to sell. Bargain hard to get a reasonable price! Free wifi and computer access. Some travelers report that the owner wasn't clear about charges per night and they felt they were overcharged

phone: +66 81 8886378

address: 52/7 Loethai Street

A nice place to stay. Clean rooms with free Wi-Fi. There is a big difference between rooms. Take some time to check and bargain the price. You also get two Singha (500 ml) water bottles per day and dodgy bicycles to choose from for free. Plus they run a nice homey restaurant with OK prices. The staff are friendly and attentive.

New City Guesthouse

address: 82/7 Moo 13, Charodwithithong Rd

Clean rooms with big bed, fan and private bathroom with hot shower. Run by a Thai- and English-speaking Japanese woman and her tuk-tuk-driving Thai husband.

address: 3/49 Moo 1 Wat Khooha Suwan Rd

Very welcoming and efficient young staff. Rooms are nicely decorated, the bungalows are very nice too. Rooms have fan or air-con and shared or en suite bath.

phone: +66 55 611663

Family-run guesthouse. Rooms with fan and air-con and bungalows with fan. All with private shower and toilet. Free Wi-Fi. Motorbikes for rent. Advice on touring the old and new city. Good for the price.

Yupa

address: Pravetnakorn Rd

This is a teak house with a small number of basic rooms and some dorm beds. With fans, cold water and shared bathrooms, these are a good value.
Mid-range
At Home GuesthouseVery friendly staff, good information and free maps, very clean rooms with private bathrooms. Wi-Fi in all rooms. Small restaurant. Tuk-tuk price from bus station: 40 baht (day), 100 baht (night). The owner organises great trips around town. Wide selection of maps, guides and travel info at your disposal.
phone: +66 55 621 484

address: 170 Ratchathanee St

A cosy boutique hotel in the heart of town. All rooms are in Thai-style teak houses with verandas, surrounded by fish ponds, lotus flowers and beautiful tropical gardens. The lobby is an excellent place to relax and read a large selection of magazines, books and newspapers. Other services include local transport, travel bookings, cars with driver, and guides in French and English.
phone: +66 55 601111

address: 23/3 Moo 8

Guesthouse with 6 rooms and swimming pool. Breakfast included. Owners very helpful and will take you to and from the historical park, which is 4 km away.
Orchid Hibiscus Guesthouse

phone: +66 55 633284

address: 407/2,Old City Sukhothai

A small guesthouse with clean rooms, a swimming pool, and Italian/Thai owners. It is within biking distance to the old city, but there are only two restaurants within walking distance of the hotel. The owner is well-versed in English and is very helpful. There is Wi-Fi, breakfast and a garden.
phone: +66 55 612444

address: 181/20 Soi Pracharuammit, Jarodwithithong Rd

A big Thai house with a nice swimming pool in the city. Helpful staff.
phone: +66-88-559-9089

Eco-friendly hotel. 15 bungalows, all featuring a comfy bed, hardwood floors, private bathroom with hot water, AC, TV, fridge, kettle, desk, terrace. Free Wi-Fi accessible from the whole property, 24-hour security, friendly staff members, with the front desk ones speaking an excellent English. Free buffet breakfast 07:00-10:00. Extra services such as free cookies & tea/coffee all day long, umbrellas provided when it rains. Bicycle rental possible. Snack bar. Plenty of restaurants around. Swimming pool 09:00-21:00. English landscape garden with benches, hammocks, wooden games for adults and kids.
phone: +66 55 611567

address: 56/2-5 Singhawat Rd, City Central

Rooms are air-con with TV and bar fridge. Has a restaurant and there are others within walking distance including street stalls.
phone: +66 55 610453

address: 68 Wicheanchumnong Rd

A family guesthouse with clean rooms, beautiful decorated garden. You can relax in front of the room on a teak terrace. The Panang curry is a highlight of the restaurant.
Thai Thai Sukhothai Guest House

phone: +66 84 9321006

address: 407/4 Moo 3 Napho-Khirimas Rd, Old City Sukhothai

Beautiful bungalow-style guesthouse. Each bungalow is air conditioned and has a small terrace and garden view. Reception lends bicycles (50 baht/day), so everywhere you need is only a 5-min ride away. Massage in your room possible.
Cope
Medical
Sukhothai town has one main government hospital, . Another large government hospital called Srisangworn Sukhothai Hospital, is in Si Samrong District, 22 kilometers distant. Ruam Phaet Sukhothai Hospital is the only private hospital in the province and is across from Sukhothai Hospital.

Go next