Sukhumi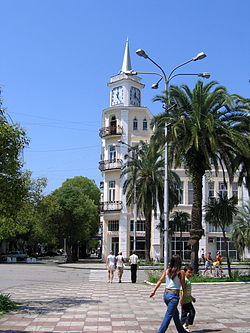 Sukhum
(Abkhaz: Аҟəа /Aqwa/, Georgian: სოხუმი, Russian: Сухум) is the capital and principal city of
Abkhazia
. It has for the better part of the last century been famous throughout the former Soviet Union as a prominent subtropical beach resort, complete with palm trees, botanical gardens, and citrus plantations, backed by the high alpine peaks of the Greater Caucasus Mountains.
You can easily see Sukhum's urban sights in one afternoon; spend the rest of your time on the beach or doing day trips to northern
Abkhazia
. The region is relatively small, so Sukhum is a great base to explore it all.
Understand

First settlement was founded here in the second and early first millennia BC by local Colchian tribes. Later in the mid-6th century BC it was replaced by the Milesian Greek colony of Dioscurias. It remained one of the Roman (and later Byzantine) strongholds in Caucasus up until being sacked by the Arabs in 736. Afterwards restored and flourished during the reigns of Abkhazian and Georgian kingdoms in the 12th–13th centuries. However, it fell to the Turks about 1570, when they built new fort here. In the late 18th century it became a capital of independent Abkhaz kingdom. Short after that in 1810 Abkhaz kingdom signed a treaty with Russian Empire to become part of it. Sukhum was a centre of the 1992–1993 Georgian-Abkhaz conflict, and thereafter was severely damaged. It has lots signs of it till nowadays.

Get in
If you enter Abkhazia with a travel permit issued by the Ministry of Foreign Affairs of Abkhazia, you'll need to visit Sukhum, as this is the place where (if you require a visa) you will have to exchange your permit for a proper visa. The consular service is located at the ground floor of the Ministry of Repatriation on ul. Sacharova 33 (from 09:00, lunchbreak from 12:00). Visit the consulate first to establish if payment is required (e.g. for UK nationals the entry permit may be sufficient). If required, then pay your visa fee ($10 for 10 days) at Sberbank, Lakoba Ave. (opposite no. 37, 09:00-17:00) before returning to the consulate as you will need the receipt in order to obtain the visa.
By plane
Sukhum Babushara Airport
address: village of Babushara
It handles only local flights due to the disputed status of Abkhazia.
By train
The direct sleeper train from
Moscow
has departures at least twice a week with more connections added during the holiday seasons. Departure time from
Moskva Paveletsky
station is 17:20, arriving in Suhkumi 13:07 two nights later. A local train also connects with the Russian summer resort of
Sochi
across the border, journey time is 5 hours. There are no train services from
Georgia
.
Train station
By bus and marshrutka
Regular services connect Sukhum with the Russian border (2 hr 30 min, hourly), and much rarely with a few towns in
Southern Russia
. If you are coming from or going to
Georgia
, you should pick a service from/to the South Abkhazian town of
Gali
, where marshrutkas and taxis go to the Abkhazian military checkpoint at Inguri bridge, leading towards
Zugdidi
, Georgia.
Long-distance coaches and marshrutkas going in east bound direction depart from the square in front of the Railway station. Including the ones going to
Southern Russia
cities, Russian border (PSOU),
Gagra
(2 hr),
Gudauta
,
New Athos
(30 min, ),
Pitsunda
.
Marshrutkas heading south and westward depart from the central market (Rynok), incl.
Dranda
,
Gali
,
Ochamchira
(1 hr, ).
Get around
Most can easily be done on foot; book stores sell quite decent maps.
Frequent marshrutkas and lesser frequent trolleybuses ply the roads. To get to the bus/train station ("voksal") take any marshrutka/trolleybus going to the central market and then board trolleybus #1 or #3.
There are three trolleybus routes:
№1 Central Market ("rynok") - Noviy rayon. Via train station.
№2 Central Market ("rynok") - Kashtak. Via city center and then further southward along city coast line.
№3 Central Market ("rynok") - Zheleznodorozhniy Posyolok. Via train station
See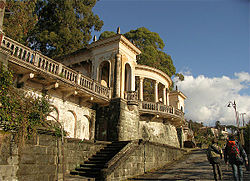 Although some of the major sights of the city were destroyed by the war, Sukhum's principal attraction remained intact: an almost tropical climate with beaches, mountains, lakes, palm trees and of course the warm welcoming of locals, always mixed with a curiosity towards westerners. Russian tourists invade the seaside during the summer; the influx of new money permitted the reconstruction of the main sites, and progress, albeit slow, is visible everywhere.
PromenadeSeaside promenade stretches some 4 km long westwards from the government buildings. Summertime it is always full of life: locals as well as Russian tourists stroll along, chat, eat ice cream, drink beer and enjoy the sun. There are several restaurants to the west of hotel Ritsa; this is the area where bathing in the sea is permitted, and if you need accommodation, here you'll find many babushkas sitting on plastic chairs with "komnata" ('room') sign, they are more than happy to assist you.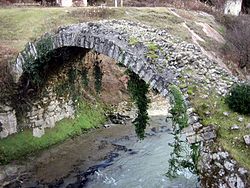 Beslet arcaded bridgeMedieval bridge over the Besletka river. It was built during the reign of queen Tamar of Georgia in the 12th century.

Sukhum fortressThe very first fortress here was built by the Romans in the early 2nd century AD. Then rebuilt by Ottomans in 1724. It was later used as a prison, destroyed in the Soviet years. What remains now is only southwestern tower of Turkish period and the northern wall with the remains of the gate.

Castle of Bagrat IIIIt was built in the times of prosperity of the Abkhazian kingdom on behalf of the king of Abkhazia Bagrat III (980-1014). Its main purpose was to protect the southern approaches to the city, as well as controlling the port. Castle offers magnificent views of Sukhumi and its surroundings.

Great Abkhazian WallThe wall featured about 300 towers, most of them now entirely or largely ruined. Most likely was constructed by the early modern Mingrelian and Abkhazian princes amid their territorial disputes in the 6th century AD.

Sukhumi lighthouse37-m-high lighthouse. It was made in France in 1861 and then brought and installed in Sukhumi. Lighthouse overlooks New Athos and Sukhumi.

Cathedral of the AnnunciationConstructed in 1909-1915 years at the funding of the Greek Orthodox community of the city. Built in neo-Byzantine style.

Old Soviet buildings and remnants of war: for those who seek for this, Sukhum is a paradise. Among all the abandoned, destroyed and sadly dilapidated buildings that you still find literally everywhere, the most famous one is indisputably the gigantic old government building of the Abkhaz Autonomous Republic (two corners westwards from the Botanical gardens), sacked and burnt out two decades ago. The railway station at the western edge of the town is also worth a look; the huge building nowadays a burnt-out shell -- seems to have had enough space for all the travellers of an entire metropolis like Moscow. (These days travellers are served by a much smaller, reconstructed building to the west of it.)
Museums
Abkhazian State Museum

House-museum of Gulia

Art Gallery

phone: +7 840 226-65-51

address: 31, Lakoba st.

Displays over 3000 paintings of local and foreign artists.
Further afield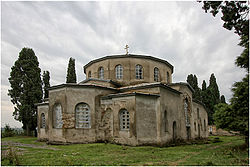 Kaman Monastery

address: Kaman village

The 11th-century church was erected, according to tradition, over the tomb of Saint John Chrysostom. Since 2001 it has been an active monastery.

Dranda Cathedral

address: Dranda village

Possibly was built in 551 by Roman Emperor Justinian I. It underwent significant restoration but small original brick portions may still be seen in what was intentionally left untouched. It operates as a monastery, they sell some basic souvenirs, books and maintain a smallish monastery hotel.
Do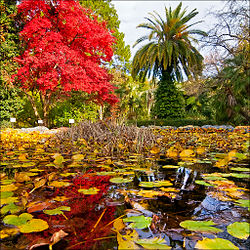 Swim at the moderately well maintained pebble beach.

Abkhazian Drama TheaterGives quite frequent performances. In Russian, no subtitles.

Abkhazian State Philarmonic
Parks
Botanical gardenThis nicely refurbished park is incredibly popular with tourists who are keen to take pictures with the odd-shaped trees. Botanical plant names given for many species. Garden was established in 1840, which makes it one of the oldest botanical gardens in the Caucasus.

Monkey parkOnce a research centre and alleged training place for the monkeys sent to the space by the USSR, now it's a pretty sad zoo around a huge monkey sculpture. The cages appear relatively small and outdated by western European standards.

ArboretumIt's now being used as an Abkhazian president residence and thus is closed for public admittance. However, it's surrounded by a big forest and there is a small nice park nearby which are both open for access.
Buy
Since tourism returned to Sukhum, it's not difficult to find some local flavour you can bring home for your beloved ones. Most souvenir stalls are located at the Sokhumi seaside and sell the usual kitsch — the same shells that you may buy at any Mediterranean resort, but some of the notable are Abkhazia flags, T-shirts, fridge magnets, photo books, home made honey. Abkhazian brandy, vodka and chacha (a local spirit) are also available everywhere and make a good gift.
Shops open M-F from 09:00 to 18:00, Sa till 14:00. The produce market operates on weekends. Small grocery shops are open till late night.
The city has several banks where you can exchange currencies. There are several ATMs in the city centre accepting Visa and Mastercard cards. It is also possible to withdraw cash from these cards at all bank's counters for a 2% commission fee. Many tourist-oriented places, such as restaurants, accept credit and debit cards.
Eat
There is a fair share of restaurants in Sukhum, which cater mostly Russian or Caucasian style dining. Many of them are at the coast next to Hotel Ritsa; they are designed to cater Russian tourists, and while they are not exactly cheap on local standards (a diner with two courses and wine can cost up to €15-20), most of them are decent and reliable. Walk along the seaside and choose what you like most (and where you find a free table, which can be tricky during the summer). Some new openings are visible around the town, especially around the tourist-invaded botanical garden.
Sushi Restaurant and Bar "Kibo"Serve Japanese cuisine.

Restaurant AmraThe restaurant/bar at the pier is the poshest and even has sushi. It's also a good place for a drink. No English menus.

Bely Parus

address: Naberezhnaya Machadzhinov 48

A nice downtown garden restaurant, not very different from its neighbours, but serves good fish and meat dishes, decent service.

Café Lika

address: Lakoba 57

If you want to taste really hearty local food far from the tourist crowds, this is the place to go. Auntie Lika only cooks two or three dishes a day, but all are culinary masterpieces. She loves to show the hidden gems of Caucasian cuisine to foreigners in her simple café, and we would dare to say that she's among the best cooks in Abkhazia. You'll never forget her Caucasian borscht and hartsho soups. Even the ketchup she gives with your breakfast sausages is home-made tomato jam prepared with plums and local green spices. She closes when the last guest goes home.
There is also a truly authentic cafe on the parallel street to pr. Mira, next to a bookstore. Authentic (Mokka type) coffee, great for breakfast.

Cafe Ashkhyts

address: near the intersection of Kogoniya and Sakharova streets

The only place in the city to get Syrian/Syrian-Abkhazian food. The owner serves homemade Arab yogurt, falafel, kibbeh, harissa, and other typically Levantine Arab dishes. On request. she can also serve Abkhazian dishes such as Abista (white bean stew) and Akud (mamaliga/polenta) with a Syrian twist.

Ekmek Bakery

address: 25 Abazinskaya st.

One of the best bakeries in the city. Try the bublik (a type of Russian bagel covered with sesame seeds) for .
Drink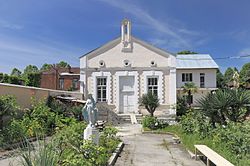 Plenty of places along the coast. Walk along the coastline and take your pick. The places on the pier are great for a sundowner.
Beer-bar "Apsalas"

address: ave. Aiaaira 179

Serve draught beer 'Pitsunda'.

Bar "Agara"

address: Victory ave.

Very average bar.

Nightclub "Aytar"Restaurant on the beach that has a beautiful view, nice atmosphere and a great food. It turns into club in the evening (plays mostly club music).
Sleep
Home stays
Prices and quality vary, but in summer it's not always easy to find a decent home stay in Sukhum. Head for one of the several old ladies who work as housing agents behind their plastic tables at the Promenade, some 500 m westwards from Hotel Ritsa; they'll find you something. Another alternative is checking on Akirtaa street where a number of houses have signes advertising homestays. The longer your stay, the higher your chances are to find a good deal; looking for accommodation for one night can be a kind of nightmare. Expect to pay at least for a double room.
phone: +7(940) 775-18-87, +7 940 713 10 02

Quite decent rooms for the lowest price in the city. Although its not in the city center.
Hotels
The big international hostelling sites are now allow to book Sukhum hotels, so no more problems with this. During summer having a reservation can be essential, as hotels can be fully booked weeks in advance. Prices vary, a central room in a nicely refurbished hotel can easily cost €100 (while you can grab a bed at a no-frills home stay for as low as €4 per bed per night).
Hotel "Beliy Parus"

phone: +7 (840) 229 4311, +7 (840) 229 4306

A small apart hotel at the seashore opened in 2012. Nice air-conditioned double rooms and family apartments.

phone: +7 840 226 88 98

Until mid-2009 the hotel as a base allocation of the UN mission. The territory of the hotel is more than 5 acres of subtropical park with artificial lakes, which are well blended into the landscape between shady pine alleys. It is cool even in summer heat and all the features for a pleasant relaxing stay.

phone: +7 840 229 76 74

address: 4, Аiaaira st.

The nearby major attractions and best restaurants in town. The hotel is designed in elegant, respectable style, its rooms and the interior features high comfort and cozy atmosphere. On the fourth floor of the hotel is a large outdoor terrace, which overlooks the sea and surroundings. In the cozy patio - an oasis for relaxing and socializing guests.

phone: +7 940 226 00 62

address: 109 Lakoba Ave

In the central city waterfront, the hotel has a developed infrastructure and OK rooms and apartments.

Pension "Kyalasur"It is next to the arboretum, in its own park area with tropical plants, pines and oleanders. Nearby flows the purest mountain stream - Kyalasur from which to start the Great Wall of Abkhaz, the remains of which can still be seen today.

phone: +7 840 223 32 42

address: 2 Leona ave.

One of the most romantic and beautiful hotels in Abkhazia. It is located on the central promenade of Sukhumi, a few meters from the Black Sea. Luxury three-storey building of the hotel operates all year round. Most rooms with sea views.

Hotel "Sinop"Located on the territory of the former government residence in a unique arboretum, practically on the shore of the Black Sea. Cozy and comfortable hotel offers maintenance and service of high quality. Hotel - four-story. On each floor there are lounges with sofas and TV. Comfortable rooms equipped with modern furniture and appliances. The cafe is organized meals.

Mini-hotel "Sukhum"Modern 3-storey hotel building stands on the right bank of the river near the Basley Red Bridge. With an open terrace offers stunning views of the sea. Near the hotel is the famous restaurant "Ertsahu" and a ten-minute walk to the Botanical Garden. The hotel has a cozy atmosphere and unusual interior design.

Hotel "Yasemin"Modern city hotel, built in 2004. It is in the center of Sukhumi on the street Lakoba - a 15-minute walk to central market and 300 m from the beach and promenade. The road to the beach passes through the park.
Out of city
Pension "Eucalyptus Grove"

address: village Kyndyg 20 km from the city of Sukhumi

It is in protected territory on the coast in a relic eucalyptus grove. It has cafe, restaurant with national cuisine, disco and lots of sports fields.
Connect
Internet can be found in restaurants with Wi-Fi and in a few Internet cafes.
There are 2 local mobile operators A-Mobile and Aquafon, both offer 4G networks. Foreign SIM cards usually do not work, with the exception of Russian branded operators MTS, Beeline, Megafon.

Go next