Sulmona
Sulmona
is a secluded and somewhat overlooked small city in
Abruzzo
. Surrounded by imposing mountains at about four hundred metres above sea level, it doesn't feel like it has 25,000 inhabitants. It is close to the ski resorts of Roccaraso and the beaches around Pescara. Sulmona is one of the oldest towns in
Abruzzo
, with many buildings from the Middle Ages or earlier. It is well known for being the native town of the poet Ovid.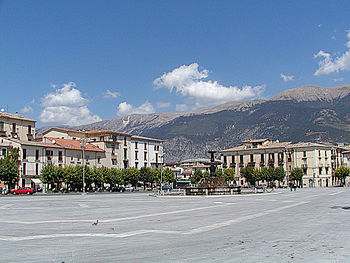 Get in
Sulmona is very well connected to
Rome
,
Pescara
and other cities in Abruzzo, via train, bus and autostrada.
By train
The train across the mountains from Rome (via
Tivoli
and
Avezzano
) is spectacular and slow, perfect for checking out the scenery. There are about six trains daily from Rome Tiburtina station (first at 07.51, last at 18.38) which take about 2 hours 45 minutes.
About ten Trenitalia trains run daily from Pescara Centrale station (first at 04.50, last at 21.00) which takes about an hour. .
By bus
The quickest way from Rome is to take the regular buses to and from Rome Tiburtina bus station which takes around two hours. There are also ARPA buses from Pescara and L'Aquila.
By car
Driving from Rome takes about 1.5 hours along the Autostrada A25 (Roma–Pescara). The roads are excellent and traffic light most of the time, but be prepared for traffic getting out of Rome. The toll will cost around €9 all the way (pick up a ticket going out of Rome, hand the ticket to the booth at the Sulmona exit).
It's possible to drive from pescara in less than 1 hour.
When parking it's best to avoid the old town and park just outside. There is a good car park next to the fire station (follow signs to the 'Vigili del fuoco' from where it is a short walk up to the old town.
Get around
There are local buses that go to and from the station into town, and to the surrounding towns (buy tickets in the tabacchi outside the station or in the centre). Buses don't run on Sundays.
When arriving by train is possible to walk to the centre in about 15 minutes (turn right out of the station). There is usually a taxi or two waiting for the train, if there is not then try phoning from the taxi phone outside the station. It's not unusual to be offered (or to ask for) a lift in someone's car up to town.
For private car or bus hire there is a friendly and English speaking company called
Vedaviaggi
that can take various sizes of groups around the area.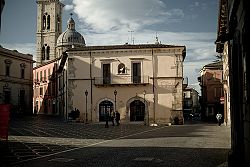 See
Cattedrale di San Panfilo. Dating from 1075 this cathedral shows layer upon layer of architectural renovations after successive earthquakes.
Piazza XX Settembre. One of the main squares of the city, bustling with people during the early evenings. A bronze statue of the Roman poet Ovid takes up the centre of the square.
Piazza Garibaldi The largest square in the town, featuring a large Baroque fountain and the location of weekly markets on Saturdays and Wednesdays.
Palazzo Annunziata Palace and a museum complex depicting the city's Roman history.
Chiesa di SS. Annunziata. Beautiful Baroque architecture with exquisite interior.
Church of Santa Maria della Tomba is a beautifully restored church constructed in the location of a pagan temple for Jove, the 14th century Porta Napoli.
Aqueduct is a striking part of the main square and dates back to 1256.
Santa Chiara monastery - Museum of Modern Art and a collection of embroidered clothes worn by priests.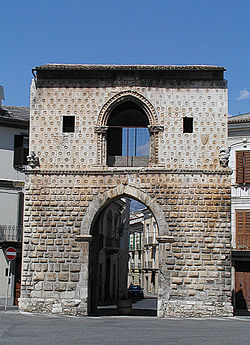 Do
Cafe's, restaurants, barsThe old town is full of cafes and bars and is great for hanging out during the morning and late afternoon, and especially in the evening.

Passeggiata

address: Corso Ovidio

The disappearing tradition of walking the main street is alive and strong in Sulmona. Corso Ovidio gets very busy with the daily passeggiata, but especially at weekends and on holidays. Great for people watching.

Giostra CavallerescaIn the last week of July there is a reenactment of the classic Renaissance jousting competition with lots of period costumes, music and hearty food. The whole town is taken over and everyone gets involved.

phone: +39 0864-212207

address: Via dei sardi, 9

The Camerata Musicale Sulmonese organise a series of concerts from classical to opera to jazz.

address: Via Aragona, 14 - 67039 Sulmona

A yearly event in November, takes over the Cinema Teatro Pacifico and a few other venues to show local, Italian and international film.

Pacifico cinema

phone: +39 0864-210953

address: Via Roma 27

Usually shows popular Italian films.
Buy
"Confetti of Sulmona" and the Pelino HouseLots of shops along the main street sell "Confetti", the local speciality of highly colourful candy-coated almonds. The almonds (or sometimes chocolate or other nuts) may be wired together to look like a daisy, and given to guests attending a wedding. The Pelino museum and factory can be visited for free on Via Stazione Introdacqua 55.

Boutiques of Corso OvidioThe main street is lined with fashion boutiques, from large names such as Sisley and Benetton to local brands like Carpisa and Chagall. Plenty of shoe shops.

Markets

address: Piazza Garibaldi

The weekly markets sell vegetables, meats and local produce, as well as a hit-and-miss selection of furniture and antiques. Look out for local farmers and their families with a couple of jars of honey or a few cloves of garlic for sale on an upturned crate.
Eat
address: Via Barbato, 1, 67039 Sulmona

A very family run affair, Biffi won't usually give you a menu, offering instead daily specialities cooked by his mum. Excellent selection of local wines. Closed on Mondays

Osteria Il tempo perso

address: Vico del Vecchio 7, 67039 Sulmona

An excellent pizzeria (with fantastic tasting dough) popular with a young crowd, with local wines and some exotic beers.
Il Vecchio Muro Ristorante Pizzeria - good pizzas at a reasonable price - Via Manlio D'Eramo, 20bis, 0864 50595.
Ristorante Clemente - the 12 samples of Abruzzo antipasto is a meal in itself, friendly service, no English spoken - Vico Quercian 5, 0864 52284.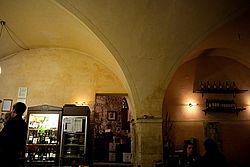 Drink
SciazzaBar and gelateria with their own brand of ice creams. Also Panini and pastries, closed on Thursdays

Cafe des ArtistesLocal wines, hot chocolate in the winter. Free Wi-Fi.

phone: +39 086452653

address: Via P.Mazara n. 18 Sulmona

A good selection of wines.
Sleep
Connect
The Sulmona Tourist Office is located inside the Annunziata di Sulmona building on Corso Ovidio. They are friendly and have free Wi-Fi. +39 0864 210216.
comune.sulmona.aq.it

Go next
Walking, hiking, cycling, mountain biking, skiing in the local hills and mountains
Day trip to the beaches of Pescara
Regular local buses to Bugnara, Introdacqua, Pacentro and Scanno for exploring other hilltowns and hiking - timetables at the Info Centre, tickets from the tobaccanist, find out which side of the main park the bus will leave from - there are two bus-stops one on each side.