Sumava
Bohemian Forest
(Šumava) is a national park in
South Bohemia
part of
Czech Republic
.
The forest is a part of largest protected forest area of Central Europe and both the woods and the mountain range that forms its backbone stretch in Germany, Czech Republic and Austria. Important parts of the area are made up of the
Bavarian Forest National Park
, which protects the most untouched and dense parts of the forest.
Understand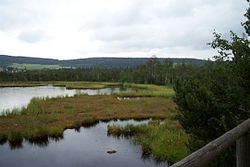 History
The origin of the current name Bohemian Forest goes back to 400 BC. The Boii people (Roman name of the three ancient Celtic tribes) spread across Europe - and the area was named "Boiohaemum", the home of Boii. In 1st century AD, they were replaced by Germanic tribes and Gallo-Romans, and in 6th century AD, forefathers of the later Czech people arrived here. The Czech name "Šumava" has been attested in 15th century. While the folk etymology connects it with Czech words
šumění
(denoting a noise of trees in the wind), the most accepted opinion amongst linguists derives Šumava from a theorized Proto-Slavic word *šuma = "dense forest".
Landscape
The low mountain range extends from Plzeň Region and South Bohemia in the Czech Republic to Austria and Bavaria in Germany, and form the highest truncated uplands of the Bohemian Massif, approx. 45 km wide. They create a natural border between the Czech Republic on one side and Germany and Austria on the other.
The central area is relatively flat, but the borders contain multiple deep ravines and canyons -
Bílá strž
,
Křemelná
,
Vydra
,
Čertova stráň
at
Boubín
stream,
Čertova stěna
at
Vltava
river.
Flora and fauna
Climate
Average temperature of the area is between 3 (at highest elevations) and 6°C, humidity around 80%. The absolute temperatures vary greatly though - the lowest measured temperature is -41.6°C, while the highest one is 36.8°C. The yearly amount of rainfall is between 800mm and 1600mm (on the most exposed country border peaks).
Fees and permits
Most of the area is freely accessible, except for a few parts. The
official map
shows in brown color, which areas are forbidden due to nature preservation.
See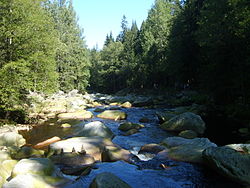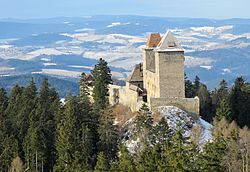 Kašperk castleA medieval castle, said to be the most highly located royal castle in Bohemia.

Rabí castleRuins of the largest czech castle (in terms of area).

address: Domažlická 1, Koloveč

A museum of technics and manufacture
Do
Sleep
Lodging
Camping
Backcountry
Go next

The is geographically part of the Sumava area.