Summerland
Summerland
is in
British Columbia
,
Canada
. It is a small community of 11,600 (2016) people in the
Okanagan Valley
. The architecture of the downtown area is done in Old English Tudor.
Understand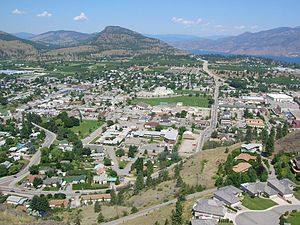 Summerland began its life on the lake. At first,
Summerland
was nestled in the tiny strip of land between Okanagan Lake and the foreboding clay cliffs that covered the settlement in shadow by mid afternoon. The first recorded settler to this area was in 1887, and some of his family's descendants are still in the area. The area had electricity in 1905, telephones in 1907, and a newspaper the next year. Growth was fast.
This area is commonly referred to as
lower town
.
With the arrival of the
Kettle Valley Railway
in 1915,
West Summerland
(the location of the present town centre) was born. When the alignment of Highway 97 was moved from lowertown up to the plateau in 1955 and the post office was moved to "West Summerland" in 1964 the 'West' was dropped and the entire area was then referred to as Summerland.
Summerland has grown to include
Trout Creek
, which arcs into Okanagan Lake south of town,
Prairie Valley
, which leads west of town, and the huge agricultural benchland that sits behind Giants Head Mountain.
Get in
By air
There is no airport in Summerland.
Penticton
airport is 18 km (11 mi) to the south.
Kelowna
airport is 65 km to the north.
By bus
By car
Highway 97 is the only highway into town. It runs south from
Kelowna
and north from
Penticton
.
Vancouver
is 420 km (261 mi) to the west.
Calgary
is 689km (428mi) to the east.
Seattle
is 519km (322mi) to the southwest.
Get around
Public transportation is very limited (handi-dart). There are plans to increase the system, and it is widely hoped that this increase will include public transportation to Penticton. There is a Taxi Service in Summerland 250-494-6651. The downtown core is easily walked in under 15 minutes from end to end. While Summerland has a modest population, the residential area is spread over a huge area with many steep hills to climb while you enjoy the breathtaking views this wonderful town has to offer.

See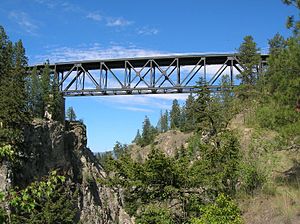 Trout Creek Canyon and Trestle, Canyon View Road. This bridge was built in 1913 as part of the Kettle Valley Railway, considered one of the greatest railway engineering feats of its time. The last train rolled over the bridge in 1985 and the tracks were removed ten years later. Today you are welcome to wander across and see if you can withstand vertigo when peering down 73 m (238 ft) to the rushing creek below. This trestle is the highest railway trestle in British Columbia, and the third highest in North America.

Gartrell Barn

address: 3117 Gartrell Road

It may be dilapidated today, but this barn which was built circa 1890 by one of Summerland's pioneer families is a tangible link to the past. Please be respectful of the many families that live in this area.
Giant's Head Mountain is an extinct volcano in the center of town, has 360-degree views of Summerland to the north and west, Okanagan Lake to the east, and Penticton to the south. The entire mountain is designated as parkland, and there is a narrow windy road that leads to a parking area near the top. A ten minute climb will take you the rest of the way. There is also a time capsule at the top, to be opened in 2067 coinciding with Canada's bicentennial.
The pristine Summerland Ornamental Gardens, 4200 Highway 97, +1 250 494-6385 . Part of Agriculture Canada's fruit tree research facility created in 1916, the gardens feature a picnic area on a vast lawn as well as annotated displays of the local flora. Also features stirring views of Trout Creek Canyon and the Trout Creek Trestle. Hours 8AM-sunset. $3 suggested donation.

address: 9251 Wharton St

Visit displays and collections that provide insight into this area's vast and interesting history and heritage. Contains town records and photographs dating from 1909.
Do
Spend the day at one of Summerland's six beaches:
Powell Beach, Trout Creek.
Gordon Rotary Beach, lowertown.
Kin Beach, lowertown.
Peach Orchard Beach, lowertown.
Sun-Oka Beach Provincial Park, Trout Creek.
Crescent Beach, lowertown.
Bottleneck DriveStep off the busy highway and enjoy this self-guided winery tour. As of May 2014, there are 14 wineries. Visit 5 wineries, collect a stamp at each of them, and you could win a prize (draws monthly).
address: 18404 Bathville Road

A two hour round-trip on the only remaining part of the historic Kettle Valley Railway. Only 16 km. Disembark and enjoy the view from the Trout Creek Trestle, 73 m (238 ft) above the creek. operates May-October, December, Mothers Day, and Easter. Reservations required.
Buy
Homemade preserves, fruit leather, and ice cream from Summerland Sweets.
Fruit leather from Kettle Valley Dried Fruit.
Wine from one of the many local wineries. New wineries pop up all the time. And old ones change hands or names. Note, winery store hours vary seasonally.
Eat
Cellar Door Bistro

phone: +1 250 494-0451

address: 17403 Hwy 97 N

Part of Sumac Ridge Estate Winery.

Zias Stonehouse Pub

address: 14015 Rosedale Avenue

Upscale dining in an old converted stone house.

Santorinis

address: 13229 Henry Avenue

Locally owned and operated. Standard fare. Good prices.

Vanilla Pod Restaurant

address: 9917 Main Street

Yaki's Pizza and Subs. Try the tank sub. If you can eat it all in one sitting you probably need to go on a diet.
Drink
Peacocks Perch and Liquor Store, 14218 Rosedale Avenue, +1 250 494-9727. The only pub in uppertown. Pub menu. Friendly staff. Pool table, darts. Pub-style menu.
Local Lounge Grille - Set on Lake Okanagan near Penticton, it offers a fantastic view and good food. - 12817 Lakeshore Dr. North - +1 250 494-8855

phone: +1-250-494-8815

address: 7311 Fiske St, Summerland, BC V0H 1Z2

Vineyard with excellent views of a the steam railway. Ask the staff about the story of the establishment.
There are nightclubs. You will have to go fifteen minutes south to
Penticton
.
Sleep
Bed and breakfast
address: 6111 Tavender Court

phone: +1 250 494-6845

address: 17404 Logie Rd

address: 11919 Jubilee Road West

Built in 1907.

address: 25808 Wild Horse Road

Hill House Bed & Breakfast

phone: +1 250-494-2971

address: 17007 Logie Road

Antiques and Gardens Bed and Breakfast

phone: +1 250-494-2876

address: 13809 Theed Cres.

address: 5680 Hespeler Road

Excellence in Tourism award-nominated B&B. Has two large decorated A/C suites with gorgeous lake and mountain views. Each suite has a private entrance and ensuite, balcony or veranda, comfortable queen bed, fireplace, in room coffee/tea, 42 inch TV and Blu-Ray DVD, computer w/Internet plus Wi-Fi. Has both fine dining and continental breakfast. Also has sun decks and an outdoor hot tub. Smoke-free.
Hotels and motels
RV parks