Sun Valley (Idaho)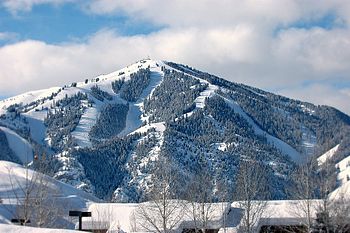 Sun Valley
is a mountain resort city at 6,000 ft (1,830 m), in central
Idaho
. It was founded in 1939.
Understand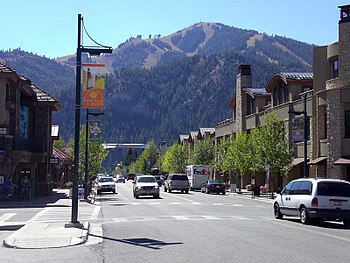 Sun Valley is located in Blaine County, which began its life over a century ago in much the same way other Idaho mountain communities did: as a hardscrabble mining area. By 1900, mining was clearly in decline in southern Idaho. Many Idaho mountain mining settlements eventually became ghost towns, but the Blaine County communities managed to hang on, mostly due to the sheep industry.
In 1936, tourism entered Blaine County in a big way with the opening of the Sun Valley resort, which attracted the rich and famous from day one. A particularly famous early visitor was Ernest Hemingway, who spent his final days in the area and is buried in Ketchum. Today many well-known people maintain first or second homes in Blaine County.
Sun Valley revolves around tourism, with skiing in the winter and outdoor activities in the nearby
Sawtooth National Recreation Area
in the summer dominating the itinerary. The area has a reputation as a highbrow and unapologetically liberal enclave in largely conservative Idaho. While vegan and organic lifestyles may be openly scoffed at only a few miles away, it's no problem at all to indulge in them here.
Get in
By plane
Friedman Memorial Airport,the nearest airport, is served by Horizon Air and SkyWest Airlines. It is reachable from the gateway cities of Boise (ID), Seattle (WA), Los Angeles (CA), Oakland (CA) and Salt Lake City (UT). These cities are served by most major airlines and are met by Sun Valley's two connecting carriers. Horizon Air now offers daily direct, non-stop flights between Sun Valley and Los Angeles, Oakland, and Seattle.

Charter companies such as Sun Valley Air Charter and Air Charter Advisors offer access to a variety of charter planes across the country for flights to Sun Valley, ranging from economical single and twin-engine planes to luxury Gulfstreams and business jets.
By bus or shuttle
Sun Valley Stages offer charter service to Sun Valley from
Boise
,
Twin Falls
,
Pocatello
, and
Idaho Falls
.
Sun Valley Express offers daily bus service to the resort from the Boise, Idaho airport.
By car
Sun Valley is located adjacent to the town of Ketchum on Idaho State Route 75, about two hours north of Twin Falls.
Get around
phone: +1 208-788-RIDE

Operates a free, year round transportation busing system with fixed route service in and around the cities of Sun Valley and Ketchum. Newly Expanded service to Hailey and Bellevue costs around $2 round trip.

Walk and bikeSun Valley is a walking village. Vehicles park next to the Sun Valley Lodge. Everything in Ketchum is accessible by walking as well. There is a walking/bike path between the two cities, about 1 mile. Bicycle rentals abound.
See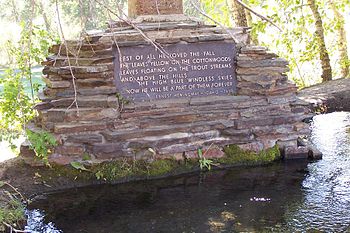 phone: +1 208 726-3493

address: 415 Spruce Ave

One of the only privately owned and operated libraries in the country. Free Internet.

World Class Ice Skating Performances

phone: +1 208 622-2135

address: Sun Valley Ice Rink - 1 Sun Valley Rd.

Saturday nights during the summer. Tickets can include a buffet dinner or just the show.

Sun Valley Serenade

address: 1 Sun Valley Rd.

The film is shown several times a day at the Sun Valley Opera House. Scenes were shot at Sun Valley in March 1941.

The Hemingway Memorial

The world's first chairliftsInstalled on Proctor and Dollar Mountains in the fall of 1936. The chairlift design was adapted from banana loading equipment used on banana boats in the tropics. The single-seat chairlifts were developed at the Union Pacific headquarters in Omaha in the summer of 1936. The chairlift went on to replace the primitive rope tow and other technologies used at ski areas at the time.
address: 500 East Avenue; Ketchum

The last remaining examples of the unique, massive ore wagons from the town's mining days. To see the wagons up close, get a key from city hall across the street.

phone: +1 208 726-8118

address: First Street & Washington Ave, Ketchum

Located in historic 1933 buildings, the museum showcases exhibits that detail the region's cultural heritage: from the first inhabitants, to miners and ranchers, to destination skiers, to artists and athletes.

Trailing of the Sheep

phone: +1 208 622-5607

A free outdoor Symphony that features nationally known classical musicians. Concert in August at the brand new symphony pavilion at Sun Valley Resort.
Do
SkiingMagnificent skiing! Baldy's 13 chairlifts, including high-speed quads, have a capacity of over 23,000 skiers per hour. With an average of 3,500 skiers per day (fewer than 6,000 skiers per day during peak periods), Sun Valley has kept the lift lines to a minimum, a rarity among major resorts. Also Dollar Mountain for novices, a great place for children.

FishingIdaho in general is a mecca for fly-fishing. Nearby walk and wade options include the Big Wood, Big Lost, Little Wood, Copper Basin, Silver Creek and the headwaters of the Salmon. You will find a variety of fishing guides in the area who offer Walk and Wade trips.

Hiking

River RaftingIdaho is the Whitewater State. A number of river rafting companies offer 1 to 5 day trips on the Salmon River of No Return just north of Sun Valley.

Ice SkatingAt the Sun Valley Ice Rink or free at Atkinson Park in Ketchum.

Mountain BikingSun Valley and Stanley are home to more miles of buffed singletrack than any destination in Idaho. The huge trail variety makes the Sun Valley/ Stanley area the perfect place for beginner to advanced riders to explore the surrounding Pioneer, Smokey and Sawtooth Mountains. With so many options pick up a local guide book or try a Mountain Bike Guide company to ensure you find the best trails in the area.
Events
Wagon Days

address: Ketchum

Wagon Days spans four days of Old West entertainment with street theater, dances, live music, food, antique shows, arts and craft fairs, and the highlight: the Big Hitch parade, the longest non-motorized parade in the Northwest. With more than a hundred museum-quality buggies, carriages, tacks, carts, buckboards, and wagons of every variety in existence today. Featuring giant ore wagons pulled by a sixteen-draft mule team.

phone: +1 208 726-5454

An annual meeting of discerning readers and writers who come together to consider ideas set forth in fiction, nonfiction, journalism, poetry, and filmmaking. While covering a great breadth of subjects, the conference is always anchored by important literary figures and frequently includes policy makers who have authored respected books.

Sun Valley Arts and Crafts Fair12-14 Aug 12.

Sun Valley Music FestivalIn August. Northern Rockies Folk Festival presents regional folk and western bands in Hailey city park.

Sun Valley Wellness FestivalProvides education on health and wellness though programs and events. Past keynote speakers have included Deepak Chopra, Ram Dass, Marianne Williamson, Byron Katie, Dr. Marasu Emoto, Mariel Hemingway, and Debby Ford.

Sun Valley Ketchum US Half MarathonExperience one of the most scenic and traffic-free courses imaginable. The US Half Marathon, Sun Valley Ketchum runs primarily along the Sun Valley and Wood River paved path and trail system.

Camp Fideaux

Food & Wine Festival

Center for the Arts Wine Auction

Ketch'em Alive
Buy
The Sun Valley area is not cheap by any stretch of the imagination, either to visit or to live in. Out of sheer economic necessity, many people who work in the area commute daily from as far away as
Twin Falls
. If money is no object, pretty much anything can be had here. Otherwise you may want to do as many of the locals do: see the sights, then head for less expensive locales.
Eat
phone: +1 208 726-4660

address: 520 East Ave Ketchum

One of the areas best.

phone: +1 208 726-3139

address: 320 N Main St, Ketchum

THe best prime rib.
Sleep
phone: +1 208 726-5336

address: 260 Cottonwood St

Austrian-style guest rooms that overlook Baldy Mountain. Amenities: smoke-free, continental breakfast, outdoor hot tub, exercise room, free Wi-Fi, game room, free shuttle to ski areas. Dogs up to 80 pounds allowed in limited number of pet rooms for additional $20/day.

phone: +1 208 622-4111

address: 1 Sun Valley Rd

Built in 1936, offers rooms featuring French country interiors and furnishings, marble appointed bathrooms and large-screen televisions, as well as the Lodge Dining Room, Gretchen's, the Duchin Lounge, Sun Valley Salon & Day Spa, massage center, sauna and heated swimming pool, workout facility, bowling alley, game room, room service, gift shop and ice skating that runs all year long. Pets are not allowed.

phone: +1 208 726-3344

address: 291 Walnut Avenue, Ketchum

in the heart of Ketchum. Indoor pool, hot tub. Pets are allowed for $25 fee.
Connect
phone: +1 208 726-2882

address: 191 4th St W Ketchum

Coffee, food, and free Wi-Fi. Nice, casual, and friendly atmosphere. The back room looks like someone's living room, sort of.

The City of KetchumFree wireless Internet throughout the city.
Go next
North on Hwy 93, will take you over Galena Summit and into the beautiful town of Stanley. From there, Hwy 21 leads to Boise, or Hwy 93 continues on to Challis and Salmon, then into Montana.
South on Hwy 93 leads to the Sun Valley airport and Hailey, Idaho, 11 miles from Sun Valley, then onwards to Twin Falls or Boise.