Suncheon
Suncheon
(순천,順天) is in
South Jeolla
province on the south coast of the Korean Peninsula.
Understand
Suncheon is a middle-sized town of 250,000 people near the sea, and is an important center of industry and agriculture. It is about 1 hour from the major city of
Gwangju
.
The downtown of Suncheon has an old town (구도심) and a new town (신도심). You can experience some historical traces of modernization and industrialization of a small city of Korea in the old town. And in new town, you can feel the general life style of small city of Korea. You can also visit more historic places in the suburb of Suncheon, an hour's bus ride away.
Get in
By bus
There are a number of buses from the Express Bus Terminal (고속버스터미널) in Seoul. It takes 3 hours 50 minutes from Seoul.

Get around
By bicycle
Like many other Korean cities, Suncheon is not a very bike-friendly place. But riding a bike through the Dongcheon stream to Suncheon Bay is recommendable. Suncheon has a well managed public bicycle service.
By bus
Almost every city bus in Suncheon passes the Suncheon station and bus terminal.
Some useful bus lines are shown below. City bus 77 is the most useful and frequent line that connects the old town with the new town by crossing the city.
| Line | Terminal | Stops | Turn place | Interval |
| --- | --- | --- | --- | --- |
| 1 | Haeryong (해룡) | Suncheon-station > Bus terminal > Suncheon-univ. | Seonamsa (선암사) | Every hour |
| 66 | Jeil high school (제일고) | Bus terminal > Suncheon-station > Suncheonman garden | Inanchogyo (인안초교) | Every 30 min. |
| 67 | Jeil high school (제일고) | Bus terminal > Suncheon-station > Suncheon bay ecological garden | Inanchogyo (인안초교) | Every 30 min. |
| 111 | Haeryong (해룡) | Suncheon-station > Bus terminal > Suncheon-univ. | Songgwangsa (송광사) | Every hour |
| 77 | Jeil highschool (제일고) | Old town > Suncheon-station > New town | Gwangyang-terminal (광양터미널) | Every 10 min. |
See
The old town
Suncheon national university museum

phone: +82 61 750 5041

address: 315, maegok-dong

Some historic artifacts from the east of South-Jeolla province area. Quite new building has two stories of small collections.

Maesan-roadThere are some historical buildings built by christian missionaries in early 20th century.

MunhwauigeoriSmall street that has traditional tea shops, cafes, restaurants and handicraft shops.
The new town
Suncheon drama open setMany Korean films and dramas based on the age 60s to 80s were shot in here.
Suburbs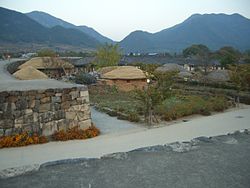 Naganeupseong CastleA Joseon dynasty era castle built in 1397 and one of the most well preserved in Korea. It takes an hour from downtown.

Suncheon Waeseong CastleSuncheon Japanese Castle was built during the second Japanese invasion of Korea in 1597.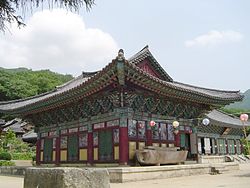 Songgwangsa TempleDating from 867, this is one of Korea's oldest temples. It takes an hour and 30 minutes from downtown.

phone: +82 61-754-5247

address: Address 450, Seonamsa-gil, Seungju-eup, Suncheon-si

A large temple complex dating from 861, with natural tea fields cultivated for many hundreds of years. It takes an hour from downtown. One out of seven Korean mountain monasteries to be inscribed on the UNESCO World Heritage List in 2018.

phone: +82 61 749 6052

address: 513-25, Suncheonman-gil
Do
Jukdobong ParkWith 30 minutes walk there is a nice view of the old town of Suncheon. You can start from Origolmok (오리골목, Duck-dish street) in Jogok-dong or Railroad official residence village (철도관사마을) in Jogok-dong.

DongcheonRide a bike or walk through Dongcheon.

SuncheondaehakroExperience the night life of the small regional college students of Korea. Quite old-fashioned but has its own unique atmosphere.

Hanokgeulbang

phone: +82 61 749 4033

Read a book in a small library in Korean style Building (Hanok, 한옥). But bring your own books unless you read Korean, as the library owns no foreign-language books.
Buy
Suncheon Ssinae-mallUnderground arcade shopping mall in old town. Mainly sells usual clothes, but you can also find some souvenirs here.

Jungang-dongSuncheon version of Myong-dong (명동). Glimpse the fashion styles of Suncheon. Street foods are also available here.

UtjangOne of the two big old markets in Suncheon. Famous for pork stew.

AraetjangThe biggest old market in Suncheon and one of the biggest in the whole country. You can find every kind of seafood, vegetables, fruits and various street foods.
Eat
The old town
Pork stew street

address: 40, Bukmun-gil

Ut-jang (웃장) market has a pork stew street.

Mud hopper stewThis can be quite a gross dish even for a Korean. It's like another version of maeuntang (매운탕, spicy seafood stew) or Chueotang (추어탕, loach soup).

Duck dish streetSouth-Jeolla province is famous for its duck dishes. It produces 50% of the duck meat in Korea. Many restaurants serve duck stew and/or duck barbecue.
Drink
Reed teaTry a cup of tea made with the reeds of Suncheon Bay.

IpsaejuThe regional soju of South-Jeolla province can be drunk at almost every restaurant and bar in town.
Sleep
There are some guesthouses near the Suncheon station. Or you can find a motel around bus terminal and the new town. And there is a brand new high class hotel in the new town.

Go next
Yeosu is about 40 minutes to the south