Sundarbans
The Sundarbans
is a huge mangrove forest on the coast of the Ganges delta by the Bay of Bengal. 60% of the forest lies in southwestern
Bangladesh
; the remaining 40% in
West Bengal
,
India
. It is a
UNESCO World Heritage Site
and famous as a sanctuary of the Bengal tiger.
Regions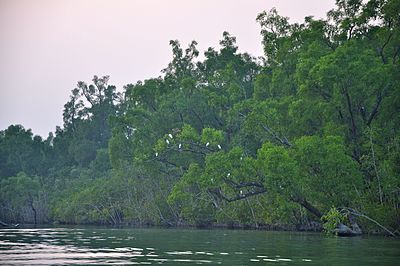 Sundarbans South Wildlife Sanctuary, Bangladesh
Sundarbans East Wildlife Sanctuary, Bangladesh
Sundarbans West Wildlife Sanctuary, Bangladesh
Sundarbans National Park, West Bengal
Understand
The Sundarbans are the largest littoral mangrove belt in the world, stretching 80 km (50 mi) into the Bangladeshi and Indian hinterland from the coast. The Sundarbans has been declared a UNESCO World Heritage Site. The forests aren't just mangrove swamps though, they include some of the last remaining stands of the mighty jungles which once covered the Gangetic plain. The Sundarbans cover an area of 10,500 km 2 , of which about one-third is covered in water or marsh areas. Since 1966 the Sundarbans have been a wildlife sanctuary, and it is estimated that there are now 400 Royal Bengal tigers and about 30,000 spotted deer in the area.
Flora and fauna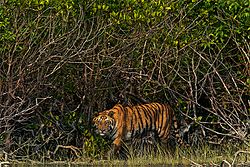 The chief predators are the Bengal tiger, clouded leopard, saltwater crocodile, black panther and fishing cat. The Sundarbans is home to many different species of birds, mammals, insects, reptiles and fishes. Over 120 species of fish and over 260 species of birds have been recorded in the Sundarbans. The Gangetic River Dolphin (Platanista gangeticus) is common in the rivers. No less than 50 species of reptiles and eight species of amphibians are known to occur. The Sundarbans now support the only population of the Estuarine, or Salt-Water Crocodile (Crocodylus parasus) in Bangladesh, and that population is estimated at less than two hundred individuals.
The park is also home to sea gypsy fishing families who catch fish using trained otters.
Climate
October to February — winter, cool and temperate
March to May — summer, hot and humid
June to September — the monsoon season, wet and windy
Get in
From Bangladesh
Safaris
are available from
Dhaka
and
Khulna
. These trips range from being overnight to a week and are probably the best way to experience the Sundarbans. Some of the agencies offering package tours:
Arranger Tours and Travels, 6 Farazi Para Main Road, Khulna, Tel: +88041723031, +8801817-403070,
Ever Green Tours, Tel: +8801711-942555, +8801911-080077
Pugmark Tours and Travels, KDA Building, Shibbarirmore, Khulna, Tel: +8801715-167740, +8801919-298001,
As of December 2018, the price for 3-4 day trip is around Tk 15-20000.
Organizing your own trip from Munsiganj-Satkhira, Mongla or
Khulna
is possible (and cheaper, if you're a shrewd negotiator), but questionably worth the hassle. You need a permit from the Divisional Forest Office in Khulna. With permit in hand, it's possible to hire a boat from
Mongla
or Dhangmari to get you to Hiron Point. From Hiron Point you will have to hire a guide to take you into the park.
Day trips from Mongla are not very interesting, and probably better avoided. After negotiating the price of a boat down to something only slightly less ridiculous you'll most likely be taken to Karamjal Wildlife Center, where there are some tame deer to feed and some monkeys, crocs and snakes in cages. But surely you didn't come all this way to see a rundown zoo filled with depressed animals and raucous Bangladeshis. Boatmen seem to want no less than
Tk
200 for the trip (locals pay Tk 50/day), and the center charges a very steep Tk 750/day entry fee for foreigners.
From Kolkata
Sundarban is located in south eastern fringe of Indian state West Bengal. Inhabited areas of Indian part of Sundarbans are well connected with kolkata by both roadways and railways.
Godkhali Port-
opposite Gosaba Island and Gosaba, it is the last inhabited islands towards Sajnekhali Wild life sanctuary and Sundarban Tiger project area of Sundarban reserve forest. The shortest route distance to Godkhali port from Kolkata is 82 km and 95 km from Kolkata airport (Netaji Subhas Chandra Bose International Airport).
Koikhali-
nearer to the Haliday wildlife sanctuary and Tourists attractions like Bonnie camp, Kalas Island and beach, Haliday Island etc. of Sundarban reserve forest. Koikhali is 83 and 92 km away from Kolkata and Kolkata airport respectively.
Namkhana-
117 km away from Kolkata and 123 km away from Kolkata Airport. Namkhana is also connected with railway from Kolkata and distance is 109 km. This place is closer to Bhagabatpur crocodile project and Lothian wildlife sanctuary of Sundarban.
Canning-
the nearest railway head to the Sundarban Tiger Project. Railway distance from Kolkata to Canning is 45 km and 29 km away from Godkhali Port. Public transportations are available between Canning and Godkhali port.
One of the Sundarban tour operators in Kolkata offering various package tours
Dream Safari
: There are areas like Burirdabri, Netidhopani'r ghat, Kalas island, Boney camp etc that are located outside the normal Sajnekhali range. These areas are beautiful and are seldom visited by all.
Dreamsafari
can arrange your visit to such locations if you are interested.
Fees and permits
Divisional Forest Office, Circuit House Road, Khulna, +20665 is the place to apply for the mandatory permit.
For visiting the tiger reserve (West Bengal, India), permission is given by:
Field Director,
Sunderban Tiger Reserve,
Port Canning.
Entry Permits can be obtained from Bagna, Canning and Sonakhali for
STR (Sundarban Tiger Reserve)
and at Namkhana, Canning and Raidighi for Western region of Sunderban Forest.
For permits, foreigners can contact:
The Joint Secretary (Forest),
Govt. of West Bengal, 4th Floor, G-Block,
Writers' Building,
Kolkata- 700 001.
Tel: 225-5601 Ext: 411/754.
Entry permits can also be obtained from Sajnekhali Tiger Reserve Office.
Get around
You have to rely on boats for visiting the various tourist spots of the Sunderbans. You can also hire your own boat but the charges are pretty steep (
₹
1500-2000 per day). However, in case you wish to move around on your own, make sure to hire a guide or else the boatsmen may take you for a ride (the waterways of the Sunderbans are so similar to one another that even if your boat makes round of the same place, you won't be able to tell the difference without the services of an experienced guide). The
Sajnekhali Tiger Reserve
(West Bengal, India) is the place from where you can hire a guide.
See
Hiron Point a beautiful spot, great for spotting tigers and other wildlife
Tin Kona Island another popular spot for wildlife spotting.
Katka a base for safaris, and good spot to see tigers and for bird-watching.
Dublar Char Island it's possible to fish here.
For people visiting the place from India (West Bengal), the following should form a part of the itinerary:
Sudhanyakhali Watch Tower - Most of the tigers are sighted from this tower. Some other wildlife like axis deers and crocodiles may also be seen from this watch tower.
Sajnekhali Watch Tower - Another watch tower that also houses a museum, a Bonobibi Temple and a crocodile park within its premises.
Dobanki Watch Tower
Bhagbatpur crocodile project
Buridabri
Netidhopani - It has a temple that's 400 years old
Kanak - Ideal for viewing the Olive Ridley Turtles
Haliday Island - It is famous for the Barking Deers
Watch towers locations in indian part of Sundarbans
Do
Apart from visiting the tourist destinations, you may also take some time-out to go to a nearby village to see the life-style of the local people and talk to them to have an insight into their lives.

Buy
Wild Honey collected by local people from the jaw of Royal Bengal Tiger during April - May.
Some handcrafted articles made by the local people could be good mementos to bring back home.
Eat
Organic vegetables and rice cultivated by local peoples is the best option for the food. It's best to savor the delicious dishes made of fresh catches from the water like shrimp, crab, ilsha, vetki, pangas, partsay, boal, ruhu, or katla. Some of the lodges also have their own kitchen garden to give the guests a sample of fresh produce.

Drink
It is wise to carry own drinking water or carry water purifier tablet or liquid drop. Coconut water is easily available. You may opt for coconut water obtained from local people because it is cheap

Sleep
Lodging
Suranjana Resort

phone: +880 9163914473

address: Dayapur, opposite Sajney Khali Forest Office,

24-hour buffet. Cultural programme every evening. Morning forest sightseeing by boat each day part of package.
Hotel Gateway Resort, Dulki, +880 9038055530
Camping
Backcountry
Stay safe

While as a tourist you are unlikely to face any danger from the local wildlife, it is wise to be informed that two of the most potentially dangerous animals on Earth reside within the Sundarbans. The Sundarbans is well known as the only place left where Bengal Tigers still hunt and kill humans, and they do it regularly. These victims are always locals who live within the Sundarbans and rely on it for survival, hence there is a "live and let live" policy between man and tiger.
Saltwater Crocodiles also inhabit the Sundarbans and are well known to be the largest and (along with the Nile Crocodile) most aggressive reptile on Earth. In the Sundarbans you are unlikely to be in crocodile territory without a large boat, so the risk is minimal.
While living in the Sundarbans is extremely dangerous, very little risk is posed to the average tourist. Snakes exist, but are primarily either shy or nocturnal, unless you plan on venturing off into the bush alone you don't have much to worry about.

Stay healthy

As with the rest of tropical Asia, mosquito-borne diseases including malaria and dengue fever are present within the Sundarbans at varying levels dependent on the season (the wet season representing the greatest risk.) The most feared animal (by locals and tourists) within the tropics is the mosquito and represents a greater threat than any man-eater could. Also, as with any rural part of India, drinking water should be limited to bottled only and always use your best judgment when choosing what to eat.