Sunshine Coast (British Columbia)
The
Sunshine Coast
, named for its 2,400 hours of annual sunshine, is north-west of
Vancouver
, a 40 minute ferry ride from Horseshoe Bay in the
North Shore
. It is a 180-km (110-mi) stretch of rainforest, seashore and mountains. This is the secret destination of many individuals, where the island life is found on the mainland. Here is a slower pace of life, where those who appreciate the beauty of outstanding marine parks and marshland bird sanctuaries, old growth forest and alpine peaks will find the perfect destination.
Cities
Lower Coast
— setting of the 1970s TV show The Beachcombers.
— Mostly rural area with a number of small communities on the coast. It includes Skookumchuck Narrows, a tidal rapid that is popular with kayakers.
Upper Coast
Other destinations
— An island with a tropical feel accessible from the end of the Sunshine Coast highway.
—
Major ferry terminals
— ferry terminal that connects to Horseshoe Bay (West Vancouver); the main point of entry into the Sunshine Coast
and — 50 minute ferry crossing Jervis Inlet, dividing the Lower (South) and Upper (North) Sunshine Coast
Understand

The southern portion of the sunshine coast is almost a bedroom community of Vancouver. There are a number of people who commute to Vancouver on a regular basis, in this area.

Get in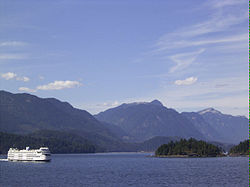 Access from
Vancouver
to Sunshine Coast is primarily by
BC Ferries
. The ferry out of
Horseshoe Bay
leaves every 2 hours and it is a 40-minute ferry ride to
Langdale
on the Sunshine Coast (Sechelt Peninsula). First ferry leaves Horseshoe Bay at 7:20AM and the last ferry leaves Langdale at 8:20PM. Cost is $12.85/$6.45(adult/child) in peak season; cars are $43.20. The fare to Langdale is return, so you do not have to pay to leave.
Sunshine Coast Connector
operates a Vancouver —
Powell River
bus service four days a week that includes stops in all the major communities of the Sunshine Coast.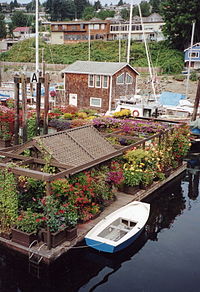 Get around
The automobile is the easiest way of getting around the Sunshine Coast. Car rentals are available at a number of locations on the Sunshine Coast, but it is generally considerably cheaper in
Vancouver
. The Sunshine Coast only has one main road, BC-101 which runs along the coast.
See
Skookumchuk Narrows Provincial Park is the site of some of the strongest and most spectacular currents in western North America. These narrows occur where the water enters into the Sechelt Inlet. There can be as much as a 2-m difference in sea level between Sechelt Inlet and the Jervis inlet. The water can be moving at speeds of up to 16 knots and creates standing waves up to 1.5 m and whirlpools. Access to the best place to view the narrows is about a 1½-hour hike from the parking lot. This is in the fishing village of Egmont.

Princess Louisa InletOne of BC's most beautiful natural locations. The wide opening of Jervis Inlet narrows to become a 64-km (40-mile) long fjord ending in Princess Louisa Inlet. Accessible only by boat. On the journey up, your boat will navigate past dozens of waterfalls that trickle down from steep, craggy granite bluffs that loom over you on both sides.
Once past the geological constriction called Malibu Rapids, Princess Louisa Inlet opens up revealing the glacier-fed Chatterbox Falls, the highlight of this sheltered inlet. This region is protected and preserved within the 65-hectare Princess Louisa Marine Provincial Park.
Beside Chatterbox Falls, there is a dock with water, but no electricity, for boaters. There is also moorage available for at least twenty boats.
Boardwalks will take you along trails to the falls, where the air is so moist that the trees are covered with thick moss and ferns.
Tours leave for Princess Louisa from Egmont on a scheduled basis all summer long.
Do
TrailsWhile visiting the lower Sunshine Coast (Langdale to Earl's Cove and Egmont) be sure to check out the hundreds of trails for hiking and biking. Many of the trails have been built by members of the very active mountain bike community and most are multi-use - meaning you may encounter hikers, mountain bikers, horseback riders and sometimes ATVs. However, the majority of users are hikers and bikers.
Eat
Backeddy Marine Pub

phone: +1 604-883-3614

address: Backeddy Road

Known for its gigantic "Skookum Burger".

West Coast Wilderness LodgeThe fine dining at the Lodge is all about the view. It has floor-to-ceiling windows that span the entire dining room, and was built high up on a bluff overlooking Sutton Islands and the Sechelt Inlet.
Stay safe
The Sunshine Coast is an extremely safe place. Although growing rapidly, it still maintains a "small town" feel, noted especially in the Roberts Creek and Pender Harbour areas. Crime is minimal, and there are no particular areas to avoid.

Go next