Suphanburi
Suphanburi
(สุพรรณบุรี) is a town and a province in the
Chao Phraya Basin
region of
Thailand
.
Understand
Just a hundred kilometres away from Bangkok, Suphanburi is an ancient town rich in natural and historical heritage. The province was once an important border town involving battles and important wars during the period of the Ayutthaya Kingdom. Artefacts and archaeological evidence shows that Suphanburi is history dates back to 3,500-3,800 years ago. Archaeologists found artefacts from the New Stone Age, Bronze Age, and Iron Age.
Suphanburi's politics have long been dominated by the rich building contractor
Banharn Silpa-archa
(1932–2016). He held different ministerial posts (including transport and communication) and even served as prime minister from 1995 to 1996 (drawing international ridicule when he addressed the Queen of England as "Queen Elizabeth Taylor"). He redirected considerable amounts of state funding into the infrastructure of his home provinces hence its roads and telecommunicazion networks are much better than in most Thai provinces. Several public institutions in the province are named in honour of Banharn and his wife Jamsai, leading to jokes that the whole city was "owned" by Banharn or might be renamed "Banharn-buri".
Get in
===By car===
Within an hour of Bangkok, Suphanburi is accessible via many routes:
#Via Bang Bua Thong of Nonthaburi Province, tourists can drive directly to the province, a distance of 107 km, which is the shortest route.
#Via Lat Lum Kaeo of Pathum Thani Province, the route leads to Suphanburi, a distance of about 115 km.
#Via Ayutthaya to Suphanburi, the route is 132 km.
#Via Singburi Province, Suphanburi is accessible at Doem Bang Nang Buat. The route is 228 km.
#Via Ang Thong Province, the road leads to Suphanburi, a distance of 150 km.
#Via Kamphaeng Saen of Nakhon Pathom Province, Suphanburi is 164 km from Bangkok via this route.
By bus
Scheduled buses and air conditioned coaches leave the Northern Bus Terminal at Mo Chit 2 daily for Suphanburi. Contact
the Transport Co. Ltd.
Tel. +66 2 9362852-66 ext. 311 or 442 for more information. Buses to Suphanburi also leave from the Southern Bus Terminal, on Boromma Ratchachonnani Rd. Check the bus schedule at Tel. +66 2 4351199, Dan Chang Tour Co. Ltd., Tel. +66 2 4352727, Tha Chang Tour Co. Ltd., Tel. +66 2 4357502. and air conditioned coach at Tel.+66 2 8849522.
By train
A train leaves Bangkok Station daily for Suphanburi at 16:40 and reaches the province at 19:32. On the return trip, the train leaves at 05:00 and arrives at Bangkok at 08:10. For more details, call the service centre at Tel. 1690, 0 2220 4334 or visit the website .
Get around
You can use many public transportations in Suphanburi such as a motorbike, a tuk-tuk, a songtaew, a bus or a van. In the city, tuk-tuk, songtaew or bus can be used for traveling around the city of Suphanburi. At the same time, you can use a songtaew, a bus or a van for going to other districts.

See
Banharn-Jamsai Tower (หอคอยบรรหาร-แจ่มใส) This country's first and highest viewpoint tower overlooking Chaloem Phatthara Rachini Park allows to enjoy a bird's eye view over the province at a height of 123 metres. The tower has four viewpoint decks.
Chaloem Phatthara Rachini Park (สวนเฉลิมภัทรราชินี) The park houses many spots of interest; namely, Ex-Prime Minister Banharn's performance building, water park, Thai design garden, pigeon garden, flower garden, child playground, dancing fountain and an exercise area.
Ban Yamaratcho (บ้านยะมะรัชโช): This group of traditional Thai houses on stilts was honoured and awarded for good urban architecture conservation. The house once belonged to Chaophraya Yommarat (Pan Sukhum), the regent of King Rama VIII.
Ancient Town Walls and Gate (กำแพงเมืองเก่าและประตูเมือง): An earthen wall and moat remain between Wat Pa Lelai and the City Pillar Shrine. The wall on the eastern side has all disappeared as it was dismantled during the reign of King Maha Chakkraphat. The Fine Arts Department rebuilt the town gate, on Malai Maen Road, on the location believed to have been the site of an old gate.
Bueng Chawak Chalerm Phra Kiate is a zoo and an aquarium on the shore of the Chawak Lake. There are lots of different types of animals and aquatic animals. If you visit there, you need to walk through the tunnel under the water like you walk under the ocean. Bueng Chawak is opened during 08:00 am – 4:30 pm on Monday – Friday and 08:00 – 18:00 on Saturday – Sunday.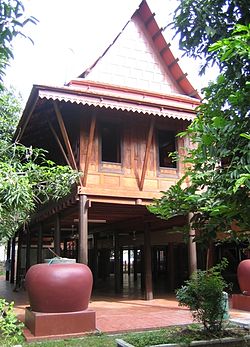 Wat Pa Lelai Worawihan (วัดป่าเลไลยก์วรวิหาร)
: It is a royal temple as evident from the royal emblem of King Rama IV on the gable of the wihan. A huge Buddha image known as
Luangpho To
in the elegant image hall or wihan is the centre of faith for Buddhist people. In the backyard of the temple is a showcase of a traditional Thai house known as 'Khum Khun Chang'.
Industrial Promotion Centre Region 8 (ศูนย์ส่งเสริมอุตสาหกรรมภาคที่ 8)
: Only a kilometre away from Wat Pa Lelai, on Malai Maen Road opposite Suphan Buri Water park.
Tha Sadet Bird Park
(Tha Sadet Bird Sanctuary) (สวนนกท่าเสด็จ): The sanctuary is in private fruit orchards whose owners are kind enough to let the birds live undisturbed. Presently, the area has been developed as an attraction of the province under the management of the Royal Forestry Department.
Sa Saksit (Sacred Pond) (สระศักดิ์สิทธิ์)
: The six ponds here are considered as sacred ponds whose water has been used for royal ceremonies. The Fine Arts Department has registered them all as historical sites, but none has been renovated.
The Western National Theatre of Suphan Buri
(โรงละครแห่งชาติภาคตะวันตกจังหวัดสุพรรณบุรี) The regional theatre is established for promoting and supplying knowledge about local cultural performances, music and classical dances of western provinces.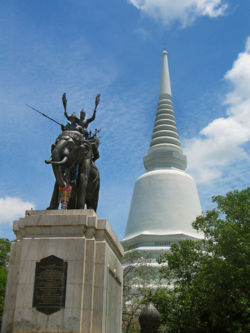 Don Chedi Monument (พระบรมราชานุสรณ์ดอนเจดีย์)
: The royal monument of King Naresuan the Great and the pagoda were built to commemorate the victory over the Burmese troops. The Royal Thai Army renovated the pagoda in 1952, and built a new pagoda over the ancient one.
====Bueng Nong Sarai Historical Site====
(โบราณสถานบึงหนองสาหร่าย): The huge lake was involved in the war when King Naresuan defeated a Burmese army. It is pitiful that the lake, at present covering an area of only 29 rai (11.6 acres), is in poor condition.
Wat Pa Phruek's Fish Sanctuary (อุทยานมัจฉา วัดป่าพฤกษ์)
: Around the temple's waterside is a big school of various fish such as Nile tilapia, iridescent shark-catfish, and black-eared catfish.
Buffalo Villages (บ้านควาย)
features the rural lifestyle in the central region such as Thai farmer villages, rice-threshing ground water, buffalo ranch, traditional Thai houses on stilts.
Soil-less Cultivation Centre (สวนพืชไร้ดิน)
: The country's largest soil-less plantation acquires an area of 200 rai. The vegetables are grown on sponge, sand, pebbles sawdust or on a hydroponics system.
Old Sam Chuk Market along Tha-Chin River (ตลาดสามชุกริมน้ำร้อยปี)
: This Chinese community and old-fashioned market with wooden shop houses remain in Thai original style a century ago.
Banharn-Jamsai Tower.jpg
Bueng Rahan (บึงระหาร)
: The large lake is 38 kilometres from Mueang District. Restaurants and the rest area around the lake make it a nice place for relaxing
Bueng Chawak (บึงฉวาก)
: This natural freshwater lake covers a huge area of over 2,700 rai (1,080 acres). The lake was declared a wildlife sanctuary area in 1983 and by its great variety of flora and fauna, the government registered Bueng Chawak as an important wetland under the Ramsar Convention. As a new destination of Suphanburi, Bueng Chawak houses many interesting attractions as follows: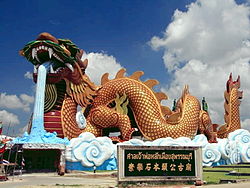 Bueng Chawak Aquarium (สถานแสดงพันธุ์สัตว์น้ำบึงฉวากเฉลิมพระเกียรติ)
exhibits various species of fresh-water fish. Its first building exhibits fresh-water fishes such as Mekong giant catfish, clown feather back, bony tongue, tiger perch.
Freshwater Crocodile Pond (บ่อจระเข้น้ำจืด)
Landscaped for a natural look, the pond houses 60 Siamese crocodiles of 1.5-4.0 metres.
Tiger and Lion Cages (กรงเสือและสิงโต)
The cages house different kinds of the cat family such as lions, tigers, clouded leopards, leopards, Indian leopard cat, as well as tiger cubs fed by milk from pigs. Nearby are rare animals such as waterfowl, peacocks, pheasants, zebra, camels, and ostriches.
Native Vegetable Garden (อุทยานผักพื้นบ้าน)
: The landscaped garden houses over 500 species of native vegetables nationwide, including herbs, annuals and perennials. Attractions in the compound include agricultural produce exhibition, agro-tourism centre, and nursery.
Lao Si-Lao Khrang Weaving Group (กลุ่มทอผ้าพื้นเมืองจกลวดลายโบราณลาวซี่-ลาวครั่ง)
The village is the last place in the province that keeps the Lao Si-Lao Khrang textile pattern alive. Until now, the colourful woven textiles of the last century have remained.
U Thong National Museum (พิพิธภัณฑสถานแห่งชาติ อู่ทอง)
: It exhibits archaeological evidence and art objects from different periods found in Suphan Buri. Outside is a mock-up house in the style of the Lao Song ethnic group featuring traditions, clothing and tools.
Phu Muang Forest Park (วนอุทยานพุม่วง)
Phu Muang Forest Park acquires a total area of 1,725 rai (690 acres), which is covered by mixed and bamboo forests. Its attractions include:
Nature trail (เส้นทางเดินศึกษาธรรมชาติ)
: The 1.5-kilometre trail leads you through forests packed with various kinds of trees such as Makha, bamboo, etc.
Ancient elephant kraal (คอกช้างดินสมัยทวารวดี)
: The earthen elephant kraals date back to 1,500 years ago. There are a total of three kraals covering an area of 10 rai (4 acres).
Laterite Base of Draravati Building (ฐานวิหารศิลาแลงสมัยทวารวดี)
: The laterite foundation dates back to the Draravati period. It is presumed to have been a venue for royal rituals before catching wild elephants.
Namtok Phu Muang (น้ำตกพุม่วง)
: This waterfall was mentioned in the literature Khun Chang -Khun Phaen. With five tiers, it cascades by the elephant kraal and laterite foundation. Lush forest on the mountain range, Khao Phra, has various kinds of tree and stony field where cycads dot around.
Wat Khao Di Salak (วัดเขาดีสลัก)
: It houses quite a special Buddha's footprint, a bas-relief footprint carved out of red sandstone. Archaeologists presumed that the footprint is an art object of the Dvaravati style, dating back to 9th -11th century. Furthermore, Buddha images and artefacts were discovered from a rock cavity.
Agricultural Promotion and Development Centre (ศูนย์ส่งเสริมและพัฒนาอาชีพการเกษตร (พันธุ์พืชเพาะเลี้ยง))
: Located in Tambon Phlapphla Chai. The centre was established to develop agriculture and plants.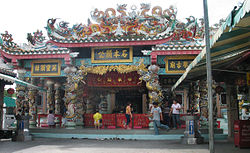 Biotechnological Pest Control Centre (ศูนย์บริหารศัตรูพืชโดยชีวภาพ)
The centre educates farmers about agricultural methods to control plant pests by natural resources rather than chemical treatment. The centre comprises a nursery for attacking insects, hydroponics plant house and chemical.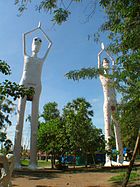 Affinite Orchids (สวนกล้วยไม้แอฟฟินิท)
At Mu 9 Tambon Chorakhe Samphan, the orchid nursery grows orchids of different families for study and sale such as Dendrobium, Cattleya, Vanda.
Wat Phai Rong Wua (วัดไผ่โรงวัว)]
: Around its compound are mocked-up important venues of the Lord Buddha. Furthermore, there is the world's largest cement Buddha image, the world's largest bronze multi-spired building known as 'Phra Wihan Roi Yot' and Dharmmacakra or 'Wheel of the Doctrine' as well as various other things in huge size. Its most exciting attraction is the "Hell Garden" with thousands of statues showing punishment in afterlife for Buddhist rules broken on earth.
Wat Thap Kradan (วัดทับกระดาน)
The temple has a museum dedicated to a famous singer of Thai folk song, Phumphuang Duangchan. She spent her childhood around this temple. So, her belongings, equipment, photographs and news clipping are displayed in this temple. An annual ceremony to commemorate her death attracts lots of people to the temple.
Tham Weruwan (ถ้ำเวฬุวัน)
: The cave houses a Buddha image in the Pa Lelai posture. In the temple compound, district official have set up a bamboo garden in honour of Their Majesties where over 10 bamboo species are grown.
Krasiao Dam (เขื่อนกระเสียว)
: This country's longest earthen dam is built on Krasiao Stream in Tambon Dan Chang. Its reservoir, with maximum water storage of 240 million cubic metres, is also a major fish-breeding site.
Phu Toei National Park (อุทยานแห่งชาติพุเตย)
: The park occupies an area of 198,422 rai (79,368.8 acres). The lush forest with a lot of flora and fauna is a major watershed of Suphanburi and Kanchanaburi. The mountain range of Phu Toei is home of thousands of mountain pines and also the best viewing point.
Attractions in the park can be divided into two groups, according to its units as follows:
Unit 1 (Phu Toei) (หน่วยพิทักษ์อุทยานที่ ๑)
: The unit comprises a camping ground and exhibition about the forest.
Phu Toei National Park Headquarters (ที่ทำการอุทยานแห่งชาติพุเตย)
: The headquarters is at Ban Huai Hin Dam, Tambon Wang Yao, Dan Chang District, 12 kilometres from Unit 1.
Mountain Pine (ป่าสนสองใบธรรมชาติ): The mountain pine forest grows up naturally on the mountain range of Phu Toei 12 kilometres from Unit 1. Four-wheel drive vehicles can only go for 10 kilometres and then trek the rest.
Giant Cycad tree (ต้นปรงยักษ์)
: The big cycad trees grow on Phu Toei Mountain, dotting around the pine mountain forest. At a height of 6–8 metres, each cycad tree is 200–300 years old.
Namtok Taphoen Khi (น้ำตกตะเพินคี่)
: The two-tier waterfall cascades all year round to nourish the forest and Karen village, which has settled there for over 200 years. Lush forests allow naturalists to enjoy ecotourism and adventure.
Taphoen Khi Karen Village (หมู่บ้านกะเหรี่ยงตะเพินคี่)
: The drug-and-drink-free village is Buddhist. In the full moon period of the 5th lunar month, the village holds a large celebration for three days and three nights to worship Chulamani, the sacred place of worship made from sharpened bamboo at the village's ground.
Unit 2 (Phu Krathing) (หน่วยพิทักษ์อุทยานฯที่ 2 (พุกระทิง)
: The unit is in Ban Wang Hora of Dan Chang District. Around the unit are:
Lam Taphoen Reservoir (อ่างเก็บน้ำลำตะเพิน)
: The large reservoir is next to the unit.
Namtok Phu Krathing (น้ำตกพุกระทิง)
: The waterfall is seven kilometres from the unit, near the reservoir.
Tham Nakhi, Tham Mi Noi, Tham Yoi Raya, and Tham Pha Yai (ถ้ำนาคี ถ้ำหมีน้อย ถ้ำย้อยระย้า ถ้ำผาใหญ่)
: These caves are only two kilometres away from the headquarters.
Museums
National Museum, Suphan Buri (พิพิธภัณฑสถานแห่งชาติ สุพรรณบุรี): Exhibitions feature development of the town from the pre-historical, through Dvaravati, Lop Buri, Ayutthaya, and Rattanakosin periods. The museum also displays ethnic groups in the province, noteworthy persons, famous votire tablets from different temples and songs of different famous folk singers.
National Museum of Thai Rice Farmers (พิพิธภัณฑสถานแห่งชาติ ชาวนาไทย) On Phra Phanwasa Rd, in the compound of Mueang Suphan Buri District Office, the museum building is a blend of a traditional Thai house and farmer's granary.
Temples and shrines
Wat Pa Lelai Woraviharn (Pa Lelai Woraviharn Temple) is the most important temple in Suphanburi. This Buddhist temple is located in the center of this province. There is the great golden Buddha image "Luang Pho To". Don't miss this temple! Sam Chuk Market is the 100-year-old classic market. There are traditional desserts, food and cheap souvenirs. This place shows the traditional life style here.
Wat Suwannaphum (Wat Klang or Wat Mai) (วัดสุวรรณภูมิ) In the temple's compound, the Museum of the Supreme Patriarch (Pun Punnasiri Mahathera) displays many special items of antiquity as well as a glazed ceramic alms bowl of the Sukhothai period or around the 13th century. It is the only one of its kind in Thailand.
Wat Phra Rup (วัดพระรูป)
The ancient temple houses a reclining Buddha statue, which is said to have the most beautiful face in Thailand. Another interesting antique is a wooden Buddha footprint. Delicately carved on both sides of Paduak wood, it is the only one of its kind in Thailand. Wat Phra Rup is also the original place of the famous Phra Khun Phaen amulet.
Wat Pratu San (วัดประตูสาร)
: Beautiful murals in the Phra Ubosot are worth a visit. In 1848, a royal painter painted the delicate murals featuring the life of the Lord Buddha. Besides, a series of painting on wood pieces, which seem to copy the murals, are well kept in the temple's image hall.
San Chao Pho Lak Mueang (ศาลเจ้าพ่อหลักเมือง)
: The shrine was rebuilt as an edifice in Chinese style, housing a Mahayana Buddhist bas relief of Bodhisattra Avalokitesvara. On the full moon day of the 7th Chinese lunar month, the shrine with support from Chinese Association, hosts an alms-offering ceremony for the poor.
Wat Phra Si Rattana Mahathat (วัดพระศรีรัตนมหาธาตุ)
: The temple was once in the heart of the ancient town Suphannaphum. The main stupa once housed relics of the Lord Buddha, but it was raided for treasure and neglected in ruins.
Wat Khae (วัดแค)
: houses a huge tamarind tree, which is around a thousand years old. Nearby the tree is "Khum Khun Phaen", a traditional Thai house built as part of the literature and historical conservation park. The temple houses special antiques such as Lord Buddha's footprints called "Phra Phutthabat Si Roi".
Wat Phra Loi (วัดพระลอย)
was built to house a Buddha image that drifted along the river. The white sandstone Buddha image seated under the Naga hood, presumably carved in Lop Buri period, was taken from the water to be enshrined here.
Wat No Phutthangkun or Wat Makham No (วัดหน่อพุทธางกูรหรือวัดมะขามหน่อ)
Buddhists flock there for admiring beautiful murals in the old Ubosot. Painted in 1848 during the reign of King Rama III but still remains in excellent condition, the delicate murals feature the story of Lord Buddha's life.
Wat Phra Non (วัดพระนอน)
is famed for its large fish sanctuary that occupies some part of the river as well as beautiful shady park which is the main recreational area of the province. The image hall or Wihan of Wat Phra Non houses a special reclining Buddha image. While most reclining Buddha images lie on one side this Buddha image lies supine.
Wat Phrao (วัดพร้าว)
The temple's Wihan has distinguished architecture in the Burmese style. The hall houses a Buddha footprint. In the backyard is the library for Buddhist scriptures, which is located in the middle of the pond. Large flocks of flying foxes live on the Java plum trees in the backyard of this temple.
Wat Sanam Chai (วัดสนามชัย)
: The Northern Chronicle says that King Katae assigned his brother to build this temple and to renovate Wat Pa Lelai at the same time. There is a big ruined octagonal pagoda surrounded by a wall with small pagodas at four points of the compass.
Wat Phra That or Wat Phra That Sala Khao (วัดพระธาตุหรือวัดพระธาตุศาลาขาว)
Local people call it Wat Phra That Nok because of the stupa which is similar to the one in Wat Phra Si Rattana Mahathat. With a height of 25 metres, the ruined stupa is a bit smaller with a rounder spire.
Wat Ban Krang
(วัดบ้านกร่าง): This temple is famed for sacred votive tablets known as Khun Paen. It is presumed that, this temple was built after the war between King Naresuan and the Burmese troops. At the temple entrance, old-fashioned wooden shop houses reflect the easy lifestyle of the people.
Wat Sam Chuk (วัดสามชุก)
: The ancient temple houses the Buddha footprint, sandstone Buddha statue from the Ayutthaya period, and a pair of bronze swans.
Wat Lat Sing (วัดลาดสิงห์)
: The temple houses a 500-year-old Buddha image and three pagodas standing for King Naresuan, King Eka Tossarod, and Phra Suphan kanlaya.
Wat Khao Khuen or Wat Khao Nang Buat (Wat Phra Achan Thammachot) (วัดเขาขึ้น หรือ วัดเขานางบวช)
A former monk resident of this temple, Phra Achan Thammachot, played a key role in the ancient war against the Burmese troops. The temple's image hall houses the Lord Buddha's footprint. And nearby is a pagoda made from a pile of stone slabs.
Wat Hua Khao (วัดหัวเขา)
: The temple's entrance is at kilometre 2 or 3, and then 212 steps lead to the temple on the hill. To mark the end of Buddhist Lent, the temple always organise a large merit-making ceremony on the 2nd day of the waning moon of the 11th lunar month.
Wat Doem Bang (วัดเดิมบาง)
: The temple houses precious wooden pulpit carved delicately in a mixed Thai and Chinese style by a Chinese artisan. The temple also keeps oyster shell alms bowl cover, ceremonial fan and food carrier, which were presents from King Rama V. There is also a beautiful bell tower and murals in the Ubosot here.
Wat Khwang Weluwan (วัดขวางเวฬุวัน)
: The temple houses a 400-year-old Buddha image from the Dvaravati period.
Wat Khao Phra Si Sanphetchayaram or Wat Khao Phra (วัดเขาพระศรีสรรเพชญาราม หรือ วัดเขาพระ)
: It is presumed that this hilltop temple was founded since the Dvaravati period as a lot of archaeological evidence has been found. On the hill, a ruin of a pagoda from the Ayutthaya period is found together with the Buddha's footprint carved from stone.
Lauda Shrine
(ศาลเลาด้า): It was built to commemorate the 223 passengers of Lauda Air Flight 004 who died when the plane crashed on 26 May 1991.
Do
Festivals
Don Chedi Memorial Day (งานอนุสรณ์ดอนเจดีย์)
: The annual celebration is held on 18 January of each year. Fair goers can enjoy watching a mock-up war on elephant back, performance on stage. The fair always runs for nine days.
Kam Fa Tradition (ประเพณีกำฟ้า)
: The ancient tradition of the Thai Phuan ethnic group is always held in February. Thai Phuan people dress up in traditional attire, offering food and sweets to monks and celebrate in a large party at night. This traditional practice remains in Thai Phuan villages in Amphoe U Thong, and Tambon Makham Lom of Bang Pla Ma District.
Bun Bang Fai or Rocket Festival (ประเพณีบุญบั้งไฟ)
: Thai Phuan and Thai Wiang also enjoy the local rocket festival on the full moon day of the sixth lunar month, worshiping the rain god in the monsoon season. A parade of great fun will be held before the rocket launching at the temple. The tradition remains in many tambons such as Ban Khong, Ban Kham, and Don Kha in U Thong District, and Tambon Wat Bot, and Makham Lom of Bang Pla Ma District.
Thing Krachat (งานเทศกาลทิ้งกระจาด)
: The merit-making festival is held annually around August–September in the municipal area. Thousands of poor people gather for free food and necessities.
Tak Bat Thewo (ประเพณีตักบาตรเทโว)
: A large event of merit making is always held to mark the end of Buddhist Lent in October. Buddhists prepare various food and items, particularly the so-called 'Khaotom Luk Yon' or seasoned sticky rice wrapped in coconut leaves to be offered to monks.
Lao Song Wedding Tradition (ประเพณีแต่งงานของไทยโซ่ง)
: Lao Song or Thai Song Dam ethnic group always hold a wedding ceremony during the waxing moon periods of the 4th, 6th and 12th lunar months. Thai Phuan people in Tambon Suan Taeng, Amphoe Mueang, and Tambon Ban Don, Tambon Don Makluea, and Tambon Nong Daeng of U Thong District still have such ceremony.
Buy
Well-known products from Suphanburi Province include bamboo and rattan basketry. Suphanburi artisans show their talents by putting patterns of bullet wood flowers, plumeria blossom and Suphan Buri's durian thorn in the basket. Suphanburi is famous for local chiffon soft cake Sali Suphan, canned water chestnuts, canned bamboo shoots, termite mushroom, honey roasted duck, baked chicken, small-scale croaker, sun dried fish and sun-dried beef.
Salee Ekachai is the most popular store where every tourist buys souvenirs. There are lots of desserts, especially salee, to be souvenirs. This store is opened daily during 07:30–21:00. You can pay by using cash, Visa, MasterCard or JCB.

Sleep
Mind HotelClean rooms with private bathroom, 400 baht for air-con, 250 baht for fan-cooled room. Includes TV, towel, soap and toilet paper. Free coffee and cooled water downstairs.