Surrey (British Columbia)
Surrey
is a suburb of
Vancouver
. It is the largest city in land area in the
Lower Mainland
region and the second largest city in population after Vancouver proper.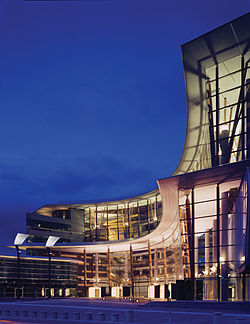 Understand
Surrey is Vancouver's largest suburb in both population and area, containing a sizable immigrant population from South Asia (30.9%), primarily from India's Punjab province, as well as a sizeable population from other parts of Asia (16.9%). Because of this, Surrey is very culturally diverse. Surrey is mostly a working-class suburb, but it also has a sizeable industrial area mostly factories and warehouses.
The city is divided by North and South, mostly by demographics and economics. North Surrey is for the most part middle class, while South Surrey is much more affluent. South Surrey, often referred to as
White Rock
(actually a different city), borders the
United States
and the Pacific Ocean through the beaches of
Whiterock Beach
,
Crescent Beach
, and
Mud Bay
.
Surrey has a number of neighbourhoods, officially known as "town centers". A concept very similar to the
boroughs
of New York City, though much smaller in population. These include:
Surrey City Centre - A gleaming new high-rise neighborhood around the Surrey Central Skytrain station.
Whalley - North of the city, on the Fraser River.
Newton - An old village, absorbed by Surrey, and now home to corporate office parks. It's roughly in the middle of Surrey (by land area).
Guildford - Home to Guildford Town Shopping Centre and Guildford Surrey Public Library. It is east of the city center.
Cloverdale - Cloverdale is a historic village known for its small town charm. If you love antiques, then you have come to the right place. The traditional Cloverdale Town Centre is well known for being the "Antique Capital of BC", famous for its antiques and collectibles. Also notable for being the setting of "Smallville", a fictional location used during the filming of the popular American television series Smallville.
Crescent Beach (see under White Rock) - One of the sunniest beaches in the Greater Vancouver region. Popular activities at Crescent Beach include swimming, kayaking, crabbing, fishing, and boating. There are shops nearby and restaurants with ocean views. It is in South Surrey, but usually referred to as part of White Rock.
Get in
By plane
The nearest airport to Surrey is Vancouver International Airport (
YVR
) in nearby Richmond. Surrey is a 30 minute drive from the airport via Highway 91. Taxis and airport limosines available at the airport will also take you to Surrey.
Abbotsford International Airport (YXX) is a smaller, easier to navigate option to the east of Surrey easily accessed via 16th Ave.
Bellingham International Airport is immediately south of Surrey, just across the US Border. It offers a limited range of direct destinations but with connections can be a good way to get cheaper fares than YVR offers.
Boundary Bay Airport is located in South Surrey and accepts private aviation traffic.

By bus or train
Generally, long distance bus or train services terminate at Vancouver's Pacific Central Station. From there, public transit can be taken directly to Surrey via Expo Line Skytrain.

By public transit
Surrey is part of the regional Translink transit system, with some bus connections with neighbouring municipalities. Bus #301 provides service to Richmond, while #320, #501, #502 and #555 connect to Langley.
The Expo Line Skytrain connects Surrey to Vancouver, with stops in Burnaby and New Westminster along the way. The end of the line is at the King George station, which is about a 45 min trip from Waterfront Station in downtown Vancouver.
The standard adult transit fare (effective ) from Vancouver to Surrey is on weekdays and on weekends and evenings after 6:30PM.

By car
Both of Greater Vancouver's two major freeways, Highway 1 (the Trans-Canada) and Highway 99, run directly through Surrey, linking it with Fraser Valley to the east and Vancouver and its eastern suburbs to the west. It also has two secondary highways: Highway 91 links Highway 99 with the suburbs of Burnaby and New Westminster, and the Pacific Highway (BC 15) links BC 1 with the USA/Canada border at Blaine.

Get around
King George Highway (BC 99A) is the major surface street that runs from South Surrey to North Surrey.

See
phone: +1 604 501-5050

address: 13750 - 88 Ave

This community park offers the Bear Creek Gardens as well as the Surrey Arts Centre.

phone: +1 604 501-5050

address: 170 St

This horticultural paradise is without equal in the region for it's variety of rare and native plants, shrubs and trees. Gifted to the City of Surrey by Francisca Darts upon the death of her husband, Edwin, the city maintains the garden with the help of the Darts Hill Garden Conservancy Trust.

phone: +1 604 681-5199

address: Port Kells

Barnston is a small island, only about 2-3 square miles. You get to it by taking a 5 minute ferry ride across Parson's Channel to the island. The ferry ride is free. The ferry is a barge operated by a small tug which serves Barnston Island. The ferry holds only about 7 vehicles per sailing, and, you have to back on the ferry on the return trip. It is a very unique and a fun experience. Barnston Island is flat, with not much on there but farms. It is under the landing circuit for Pitt Meadows airport just to the north, so you can frequently see small planes 1000' overhead. It takes about an hour to bike around the whole island.
Learn
Kwantlen Polytechnic University offers trades training and full degree programs in traditional academic areas through 2 separate campuses in the city (and 2 in the surrounding region). This school operates primarily as a traditional community college with many students transferring to nearby Simon Fraser University and the University of British Columbia; however, with its upgraded status to a university this is changing.
Simon Fraser University Surrey is in the Central City building and operates as a satellite campus to SFU Burnaby. Most classes offered here are part of the Faculty of Business or the Mechatronic Systems Engineering Program.
Do
Fraser Valley Heritage Railway

phone: +1 604-574-9056

address: 17630 56 Ave

A heritage railway operating a BCER interurban car as well as speeders and velocipedes.

River's Bend Winery tasting

phone: +1 604 574-6106

address: 15560 Colebrook Rd

The only winery in Surrey, and thus the best.

Surrey Vasaiki ParadeThis is the largest Vasaiki parade outside of India with crowds in the hundreds of thousands of people, where free food is handed out throughout the route during the whole the event. Typically this annual parade occurs either a week before or a week after Easter. Although this event is in celebration for the Sikh religion, all are welcome.
Golf
There are many golf courses in Surrey. Several PGA tournaments have in the past been hosted in Surrey and parts of the movie Happy Gilmore was shot here.
Morgan Creek
Peace Portal
North View
Nico Wynd
Guildford Golf and County Club
Coyote Creek
Buy
Surrey has several major shopping malls, including its biggest, Guildford Town Center. There are other smaller malls scattered all through the city. In addition, the largest South Asian retail area in Western Canada is located in Surrey. And to get to one of Canada's biggest malls, Metrotown, a Skytrain ride will get you there in 20 min.
Predominantly South Asian shopping areas (128 St between 76 Ave and 86 Ave, and Scott Rd between 88 Ave and 96 Ave).
The most notable Asian shopping area is within a block of 152 St and 101 Ave.
Historic Cloverdale (the 5000 block of 176 Street and vicinity) has a high concentration of antiques shops.
phone: +1 604 574-1111

address: 5754 176th St

A modest storefront leads to a shop crammed with antique furniture, crockery, and glassware, plus the odd late 1950s vintage pulp science magazine.
Eat
Surrey has many of the standard national and international fast food chains and mid-range family restaurant franchises. In addition, Surrey has a number of East Indian Restaurants which offer popular Indian dishes such as Butter Chicken, Tandoori Chicken, and Samosas. Meals are authentic Indian cuisine and can be had for $5-10. There are also a number of Chinese restaurants, although the food here is largely "Westernized". Japanese food is equally prevalent and there are a number of reasonably priced sushi restaurants throughout the area. Finally, Pizza is popular in and interestingly enough, many owner operated pizza restaurants are operated by people of East Indian descent, making the taste quite distinct from the national franchises. These owner operated pizza restaurants are often very competitive in price. Surrey doesn't have much fine cuisine; more choice is available in nearby
Vancouver
.
Sea Shanty

phone: +1 778 571-1721

address: 5737 176 St

Don't be fooled by the unassuming 'diner' look. The friendly staff make everything fresh on the premises, which means that simple dishes like fish and chips are a cut above the usual. Breakfast served all day. A variety of fish, including halibut and salmon.

phone: +1 604 591-6161

address: 7948 120 Street

Steak. Steak and potatoes. Steak and crab. Steak and beer. But mostly steak. A chain restaurant.

phone: +1 604 596-2313

address: 13483 72 Avenue

This restaurant began as an old train station, but has been The Old Surrey Restaurant for as long as anyone can remember. Providing a five star experience, the establishment specializes in French Cuisine with the ChateauBriand Bouquetiere being a perennial favorite special. Reservations recommended

phone: +1 604 576-4243

address: 5764 176th Street in Cloverdale

Home of fabulous food, wicked wines and mouth watering martinis.

Villa Verdi

phone: +1 604 591-2123

address: 13620 80 Ave

A great splurge for a fine dining Italian experience. Service is only matched by their tasty Italian treats. Reservations recommended.

phone: +1 604 585-3331

address: 9470 120th Street

A great place for authentic Punjabi Cuisine. Punjabis don't go out for Indian food often, but when they do, they go to Mahek.

phone: +1 778 294-0737

address: 840, 3041 152 Street

Offering traditional Teppanyaki grill. Choose from chicken, beef or seafood and fresh vegetables served over steaming hot rice or Yakisoba noodles topped with Teriyaki Sauce. Offers dine in or take out with a kids menu as well.

Spice 72 Indian Restaurant & Lounge

phone: +1 604-503-1172

address: 12025 72 Ave, Surrey, BC, V3W 2M1

A trendy new restaurant offering traditional Indian fare from various regions of India. There are several areas where guests can enjoy themselves - the lounge, the private dining room, the bar, or the patio.
Drink
Surrey has a number of neighborhood pubs where food can be found reasonably cheap - usually $5-8 for a burger and fries and around $10 for an entree. It is worth noting that BC has very high taxes on liquor, so although the food is reasonably priced at pubs, alcoholic beverages can be quite expensive with a jug of beer costing between $12 and $18 and highballs upwards of $5 each.
Those looking for a vibrant nightlife are advised to look to
Vancouver
, which has a number of popular bars and night clubs on its Granville strip.
Mirage

address: 15330 102A Ave

The rare night club in Surrey. Fairly upscale with cheap drinks (by Vancouver standards) and a young crowd.
Sleep
Motel 6

phone: +1 604 582-9288

address: 15269 104th Ave

279 guestrooms and suites available with city or mountain views. Some rooms have fridge, microwave or jacuzzi. Internet is available in all rooms for a fee.

phone: +1 604 576-8888

address: 8255 166th St

A mix of queen and king size rooms. Kitchenettes and jacuzzi rooms are also available. Amenities include a shuttle service, indoor pool with slide and fitness classes. All rooms come with flat screen TV's, Ipod alarm clocks, pillow-top beds and free Wi-Fi.
Stay safe

Parts of Surrey suffer from an image problem with a perceived crime and drug problem. However, Surrey's crime rate is often lower than many other cities in British Columbia. The Whalley area in particular has a reputation for crime, especially at night. Interestingly enough, Surrey is attempting to rebuild the area and has even attempted to rid the area of the "Whalley" name as it carries with it negative connotations. The area is now often called "Gateway" or "Surrey Centre" and there are many new residential and business buildings in various stages of completion in the area. In this regard, the area is in a stage of transition, as although new million dollar developments are sprouting up, homelessness and drug dealing can be found within the same city blocks in some cases. Compared to tougher parts of similarly sized US cities, no area in Surrey is very bad though.

Go next
White Rock
, with its popular beach, water view dining and pier, is surrounded by South Surrey. To the east is
Langley
, which has historic Fort Langley and the Vancouver region's zoo.