Suwon
Suwon
(수원,水原) is a city in the southern central part of Gyeonggi-do. Suwon's district has four general districts: Jangan District, Kwonseon District, Paldal District and Yeongtong District. The adjacent cities are Yongin City to the east, Ansan City to the west, Hwaseong to the south and Uiwang City to the north.
It is the political, economic and administration center of Gyeonggi-do because it has the Gyeonggi Provincial Government. Major subways and expressways are connected to Suwon, making it a transportation hub. It is the most populous city in Korea.
Representative attractions are Suwon Hwaseong, a world heritage, and Samsung Electronics headquarters.
Districts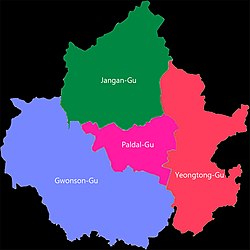 Jangan-gu (장안구): The northwest of Suwon. The origin of the name 'Jangan' is Janganmun in Jangan-dong.
Gwonseon-gu (권선구): The southwestern part of Suwon. Gwonseon-gu is the largest in Suwon and has a large population.
Paldal-gu (팔달구): The center of Suwon. There are several government offices including Gyeonggi-do Provincial Government, Suwon City Hall, Suwon Tax Office and Incheon Gyeonggi Regional Military Service.
Yeongtong-gu (영통구): The eastern part of Suwon. Here are being built the transferred Gyeonggi-do Provincial Government and Gwanggyo New Town.
Understand
Climate
Suwon's climate is very similar to that of nearby Seoul other cites like Ansan. Compared to Incheon or Seoul, Suwon is relatively hotter and colder. It has a continental climate.
Traffic
Suwon is connected to neighborhood cites by various transportation (e.g. train, subway, bus). You can go to Suwon and travel here by them (add to taxi, bicycle and on foot).
Geography
Suwon's Geography is inland and nearby many cities(include to Seoul). Suwon's Geographic character is help us understand why Suwon has flourished until now(and Why Suwon has many cultural heritage).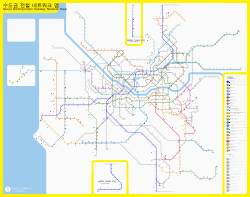 Get in
For visitors to
Seoul
, Suwon can be treated like another suburb although it will still take around an hour to get there.
By subway
If you want to go Suwon, take the Seoul subway. In
Incheon International Airport
, you can use the Airport railway and go Seoul station. If you arrived in Seoul station, you take line 1 (blue) south - Cheonan/Shinchang line. It takes about 2 hours. Ensure that you are on the correct section of the train, as it later splits and travels on two lines: the Incheon line (west) and Cheonan/Shinchang line (south). You can transfer to the correct train at Guro station if you're not on the right one. Prior to this station there is a notification about the transfer option.
By train
It is also possible to take a commuter train from Seoul station. This is much faster (25-35 min), but runs less frequently.
KTX: It operates 5 times a day and takes 30 min. It costs about ₩8,400.
Mugunghwa train: It operates 10 times a day and takes 25-30 min. It costs about ₩2,600. Morning rush-hour service (05:00-08:00) in crowded.
By bus
If you use bus in Seoul you can use various route.
From Gangnam station in Seoul, there are bus (number 5100, 3000, 3003, 3007, 3002) go to Suwon.
From Sadang station in Seoul, you can take bus (number 7000, 7770, 7001, 7780, 7800).
There is a one way go from Seoul station to Suwon station( number 8800).
There is also a bus service connecting Castle Hotel in Suwon with
Incheon International Airport
, which takes 60-90 min. This service operates 06:20-22:30 to the
hotel
and 04:50-20:30 to the
airport
, every 20-30 min and costs ₩12,000.
Get around
By bus
The bus lines in Suwon are reliable and cheap. Most major stops have a list of available bus lines with route information. Green buses typically run inside the city, and larger blue and red buses take passengers to Seoul and neighboring cities. While mainly listed in Korean, most major stops and points of interest are also listed in English. English announcements on the bus are only for stops of tourist interest. Suwon bus station is not the terminal station for the bus lines, so make sure you board the correct traveling direction.
By taxi
Taxis are prevalent in Suwon, and easy to use. Several offer free translation services. You should know a major feature near your destination as the taxi drivers may not know specific addresses or minor building names, however with a little patience and understanding you will find a taxi willing to get you near your destination. Some will even call English-speaking friends or relatives to help.
Taxis are easily identified, mainly gray, white or black with lit signs on top and in the front windows. Black taxis are called "luxury" taxis, tend to be more comfortable and larger cars, go slower, and cost more. The gray or white taxis tend to get you there faster and cheaper, but may drive more recklessly.
By train
Suwon station (수원역) is the major station in Suwon. High speed
KTX
trains stop at Suwon station, as well as the slower Neuriro, Mugungwha, Saemaeul trains.
This train station is also on
Line 1
of the
Seoul
metro network.
By subway
There are four stops on Seoul subway Line 1(Blue) that service the Suwon area. Suwon Station is the most central and largest, the second largest in the country, and also houses the train station proper, where you can catch a train to nearly anywhere else in South Korea. Another subway line is under construction to serve other parts of the city.
By bicycle
Cycling in Suwon is easy as the sidewalks are wide and many are combination sidewalk and bike path. There are only a few challenging hills in Suwon and pedestrian traffic is not congestive in most areas.
On foot
Suwon is a large city, but walking can be a nice alternative to driving around downtown, the markets and the fortress proper. Whilst the walk between Suwon train station and the fortress is doable at a stretch, the Intercity Bus Terminal on the south side is too far away, via a polluted mess of urban sprawl.
See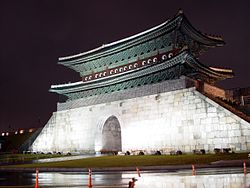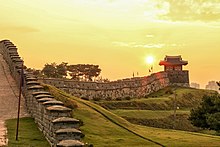 phone: +82 31 290-3600

address: 320-2, Yeonghwa-dong, Jangan-gu

A stunning fortress constructed between 1794 to 1796 and a UNESCO World Heritage Site. It features four main gates with the north and south (Janganmun and Paldalmun) being particularly impressive with their unique structures. In addition small sentry posts (Porus) and two command posts (Jangdaes) can be found dotted around the walls. The SeoJangdae outpost, found within the forested hills on the western side of the fortress, offers great panoramic views of the city below. Walking the circumference along the wall takes 2-3 hours or visitors can opt for the electric train option. 10-minute bus ride from the central subway station to the Paldalmun roundabout. Several bus lines go there, including 11, 13, 13-3, 36. Buses don't terminate at the Suwon station, so make sure you're on the correct traveling direction. Or, it's a 30-minute walk from Suwon station to Paldalmun Gate.

Hwaseong Haenggung

phone: +82 31 290-3600

address: 825, Jeongjo-ro, Paldal-gu

It was a temporary place where King Jeongjo stayed when he visited the tomb. It used to be used as a place where the vice-president or Yoo Soo used to work. It was built on the eastern foot of Paldalsan Mountain in 1789 (the 13th year of King Jeongjo's reign) after the construction of a new town in Suwon. It has 567 square cars, the largest size of Korean royal palaces. Japanese occupation, however, nangnamheon Japanese national culture and history of every facility excluding with extermination policy were destroyed. In the late 1980s, as a result of steady and active restoration campaigns by meaningful local citizens, the restoration project began in 1996, the 200th anniversary of Hwaseong Fortress, and the first stage restoration was completed with 482 compartments and opened to the public in October 2003. In October 1789, King Jeongjo traveled to Hwaseong 13 times in 12 years until January 1800 (the 24th year of King Jeongjo's reign) after moving Hyeonreungwon, the tomb of his father's apostolic, and stayed there every time. It was designated as Gyeonggi-do Monument No. 65 and was elevated to a private level on June 8, 2007. Every Tuesday through Sunday, the 24-hour martial arts demonstration is held from 11 a.m. to 30 minutes.

Paldalmun

phone: +82 31-228-2765

address: 780, Jeongjo-ro, Paldal-gu

It was designated as Treasure No. 402 on September 3, 1964. It was built in 1794 (the 18th year of King Jeongjo's reign) and has five squares on the front and two squares on the side of the gate and a medium-class right-winged roof. On the Hongye-mun Gate of the stone pillars, a middle-class structure was built with four sides of the gate, a half-moon shape, and a traditional Korean structure was built. Inside the gate, a single row of garlands was placed in the center, and all the upper and lower masses were connected to them. The upper and lower layers of fear are internal and external osmosis trees, and the inner layers are all decorated with door-to-door ornaments.

Manseok Park

address: 434-2, Songjuk-dong, Jangan-gu

It covers 355,800 m². The park was constructed in 1998 and is centered on a reservoir called Manseokgeo. Manseokgeo is a reservoir built by people who moved in nearby areas while building Hwaseong Fortress in Suwon in 1795. The reservoir was built and 10,000 more rice were produced, so it was called a full seat. But now it is called the Japanese Imperial Reservoir or Gyopjeongbangjuk. The name gyo-gujeong was called because the pavilion was located in the south of the reservoir. But now, there is a movie theater built in 1996. In addition to the pavilion, there are also water fountains, 33 vines, 54 lighthouses and 146 pavilions as rest facilities. Sports facilities include a multi-purpose playground, a tennis court, a gated ballpark and a soccer field, and a convenience facility for two parking lots and restrooms. There is also a Suwon Museum of Art in the park, so you can relax and enjoy artwork. It is a 20-minute walk from Hwaseo Station on Gyeongsu Line and is located nearby Suwon World Cup Stadium, Suwon Fortress Wall, and Korea Folk Village.

phone: +82 31 202-2002

address: 310, World cup-ro, Paldal-gu

Also known as the Big Bird, Suwon's World Cup Stadium hosted one of the quarter-finals for the 2002 FIFA World Cup and is now home to the 'Suwon Blue Wings of the K-League.

phone: +82 31-230-3200

address: 20, Hyowon-ro 307beon-gil, Paldal-gu

Gyeonggi Culture Hall is a comprehensive cultural and artistic venue located in Ingye-dong, Paldal-gu, Suwon, Gyeonggi Province. The building is equipped with an anti-aircraft performance hall, a small performance hall, a war market, a convention center, and an outdoor concert hall. The anti-aircraft performance can feature various types of indoor performances, including concerts, operas, ballet and musicals. The exhibition hall will feature exhibitions of paintings, photographs, calligraphy, sculptures and crafts. Various planned performances will be held at the outdoor concert hall.

phone: +82 31-271-9777

address: 9, Jangan-ro 458beon-gil, Jangan-gu

It is a museum where you can learn about Korea's history through poop. From the past to the present, we can see the culture of Korean bowel movements. You can also learn about not only Korea but also the culture of bowel movements in the world.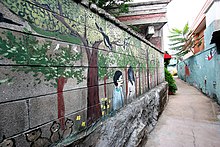 Haengung-dong Mural Village

phone: +82 31 244-4519

address: 41, Hwaseomun-ro 72beon-gil, Paldal-gu

In 2013, the city of Suwon restored the old residential area by painting murals as part of a project to create an ecological city. It is a fun place to find more vivid and rich murals through the participation of artists and to leave unique photos. Guides are available free of charge from an alley commentator on a team of 5 to 15. It takes about an hour to take the course of Hwaseong Haenggung Palace - Sinpungcho Wall Rock Gallery - Hwaryeongjeon - Naheseok Sangga Site Alley - Eco-traffic Village - Mural Alley - Ssamji Park - Suwon Traditional Culture Center - Janganmun - Hwaseomun - Hwaseong Haenggung Palace.
Cultural heritage
geobugsandangYeongdong Turtle Sandang is a congregation that performs Dodang-gut which is one of the representative village gut in Suwon. The Yeongdong Turtle Mountain Hall celebrates Dodang-gut every October on the 7th lunar calendar to pray for the prosperity of the Youngdong market and the peace of merchants. The Turtle Mountain Hall is 507 cm in length and 266 cm in length, and the roof is placed on the roof of the Gonggi, facing northeast. Built in 1964, it was renovated in 1986 as the Suwon City's No. 2 Cultural Heritage Site, and was renovated in 1994. Inside the house, there are two paintings of the altar, the images of the Great King (Yamla Great King), the Turtle Dodang Grandfather, and the Turtle Dodang Grandmother.
mileugdangIt was renovated in 1959 as a house where Miseol Buddha, believed to be the patron deity, was renamed to "Hwaghwadang." It is a small building made of bricks of 1 square and 3.1 m³. Maitreya is only exposed in the upper body and the lower body is almost sunk. The height of the upper body section is only 244 cm, chest width 107 cm, head height 114 cm and made of granite. In general, it is known to be a Maitreya statue combined with civil beliefs since the middle of Joseon Dynasty because of its familiarity with the native carving technique.
HangmijeongHang Mijeong (杭 尾 亭) is the sperm in Seodun-dong, Gwonseon-gu, Suwon-si, Gyeonggi-do. In 1986, it was designated as the first ruins of Suwon City. Hang Mijeong is to the west of the Chukje Embankment. It was built as an agricultural reservoir for the 23rd year of Joseon Dynasty (1799), and it is commonly referred to as West Lake because it is located on the west side of the embankments (mangakje, cheonmanje, and fountain festivals). Hang Mijeong is a specialty that makes the West Lake scenery and scenery more beautiful and compelling.
Monument to General Kim Joon-ryongIt is on the natural rock wall about 400 m above the middle of Suwon Gwanggyo Mountain(Mountain 1-1, Hagwanggyo-dong, Jangan-gu). He fought a great victory over the Qing army in Qing invasion of Joseon, and it was made to commemorate this victory.
kkochmoe jesayujeogjiRuins of Hwaseo-dong, Paldal-gu, have been reclaimed from the hole pattern earthenware of the Bronze Age and the relics of the Three Kingdoms and Joseon Dynasty. In addition, it was confirmed that it is an important sacred site from the Three Kingdoms period, and in the village, all residents participated in the period before and after Chuseok to raise Dongje (Town Festival). The name 'Mormo' hanged on this mountain after a maiden who had a long-time ill father's father who had worked hard together, hung up on this mountain. Since then, people have called it "Mormo" in consideration of the virgin who was filthy.
Hwaryeongjeon
address: 15, Sinpung-ro 23beon-gil, Paldal-gu 31-251-4435
Historic Site No. 115. Hwaryeongjeon Hall is a shrine that houses the portrait of King Jeongjo built inside Hwaseong. On June 28, 1800, King Jeongjo ascended as a 46-year-old diary and at first, he had his portrait taken to the tomb of the Apostolic at Bongangak, Hyeonreungwon, but after the completion of the Hwaseong Haenggung Palace, he moved it to Haenggung. However, Haenggung was not originally a place to serve the portrait, so in 1801, Hwaryeongjeon Hall, which will house the portrait, was constructed next to the palace.
Suwon changseongsaji jingag gugsa tabbi
phone: +82 31-238-1634
address: 160-45 in Haengung-dong, Paldal-gu
The monument was created in the 12th year of King Wu of Goryeo (1386) as it chronicles the life and achievements of Chen Hui, the Jin Gak Guksa Temple who entered Changseong Temple. Chun-hee entered the Buddhist world at the age of 13. The 57-year-old decided to study in China at a late age and returned from studying Zen Buddhism in the Yuan Dynasty for two years from 1364. Originally, the pagoda was located at the Cheongseongsa Temple site at the foot of Gwangyosan Mountain, but was relocated to the side of the fire hydrant at Suwon Hwaseong Fortress on June 9, 1965 and a protective pavilion was installed.
Hwaseomun
phone: +82 31-290-3600
address: 334, Jangan-dong, Paldal-gu
It was built in 1796 (the 20th year of King Jeongjo's reign) and opened Hongye-mun Gate on the stone pillars leading from side to side to side. On the front, the fortress was also built with semi-circular foreshadows. The architecture was a typical two-wing house, with its exterior covered with a flower bed on top of a window room. In addition, there is a chungryang across the side posts from the mass and the ceiling is the lotus lantern ceiling. The structure is unique in a way that is not found in other fortress buildings in Korea, and this makes the nearby landscape even more beautiful.
Journal of Neber Knowledge Encyclopedia
Banghwasulyujeong
phone: +82 31-290-3600
address: 44-6, Suwoncheon-ro 392beon-gil, Paldal-gu
Banghwasulyujeong is the northeastern angle among the four kernels on Hwaseong, Suwon. It was built in 1794 (the 18th year of King Jeongjo's reign) as a military command post in the northeastern part of Hwaseong Fortress. It is on Yongdu, a rocky hilltop that rises on the South Korean side of Hwahhongmun Gate, the northern gate of Hwaseong. The name of the grotto is said to have been derived from "Undam Punggyeonggeun Ocheon" and "Haehwajeoncheon," a poet of the Song Dynasty of China, while the writing of the Hyeonpan was written by modern calligrapher Kim Ki-seung. It was designated as Treasure No. 1709 on March 3, 2011
Northwest Gongsimdon
phone: +82 31-290-3600
address: 372-1, Yeonghwa-dong, Jangan-gu
Treasure No. 1701. Money means a tall watchtower that monitors what happens inside and outside the sanctuary, and public money is an empty structure. The interior can be divided into layers and climbed up and down through a ladder, and many holes can be drilled up and down to look at the movements outside and attack the enemy with arrows or guns. In Hwaseong, Suwon, there are three public funds the Northwest Simdon, the Southern Simdon and the Northeast Gongsimdon -- which are built over Hwaseomun Bukchi.
Adams memorial hall
phone: +82 31 255-3133
address: 342, Suwoncheon-ro, Maeyang-dong, Paldal-gu
It was a school erected on June 25, 1923. The building was sponsored by the Adams Church. At that time, it contributed to education and modernization of the Suwon, and is now used as a facility for surrounding school.
budeunae sanjedang
address: 경기도 수원시 권선구 세류3동 권선로596번길 14-9
Sanjedang in Bud was one of Suwon's representative village sugar houses. The town's common rituals at Sanjedan in Upper Bird are called 'Dangjeje', 'Dangjeje', 'Sanshinje' and 'Sanjesa'. Originally, the shape of the house was not conveyed, but the damage to the house, which was a tiled roof on the soil wall, was severely damaged. As time went by, it was old and damaged, and it was rebuilt as of July 10, 2007. The annual festival takes place every early evening in the lunar month and shows that it was a typical rural village ritual to pray for the peace of the village, the longevity of the villagers, and the abundant harvest.
donglaejeongssi yagsabul
address: 경기도 수원시 영통구 이의동 1088-10
Seokbul moved from Suwon-dong, Suwon-si to Suwon Museum in 2008. Until recently, an offer was made by the women of Dongraejeong family on the first day of the month and on the full day. It is composed of three main statues, the left statue of the main zone and the bodhisattva figurine of the left and right side. A circular headlight was represented on the back of the head of the main zone. Overall, there are colored traces around the body of the Buddha, and the expression of a smile with a big neck is a factor that makes a good impression. In view of the bland omission of clothes, the simple shape of softening pedestals consisting of angryong and abdominal cramps, and the detailed carving techniques, the timing of production is estimated after the middle of the Goryeo period.
Do
Mount GwanggyoMount Gwanggyo is in the north end of Suwon and offers an excellent of view of Suwon and the surrounding area. There are a number of peaks as well as a number of trails of varying difficulty. After a hike, try eating at one of the many farm restaurants at the base of the mountain. There are plenty of options for vegetarians here, and the tofu and dong-dong ju are as fresh as you can get it.

Traditional Korean ArcheryYou can try your hand at Korean archery at the Yeonmudae outpost within Hwaseong Fortress.

Bell of Hyowon Ringing ExperienceThe first ring is praying for the health of one's parents, the second ring is praying for the health of one's family, the third ring is praying for one's own advancement.

Watch the local football teams at the Suwon World Cup Stadium (home to Suwon Samsung Bluewings and the best crowds in Korea) and Suwon Sports Complex (Suwon FC).

Flying Suwon

address: 697, Gyeongsu-daero, Paldal-gu
Buy
You can find many clothing and jewellery retail outlets near Paldalmun (Nammun), which is a part of Hwaseong Fortress and is a famous place in Suwon for buying winter clothes, apparels and cosmetics.
You can shop for brands like Chanel, Boss, Diesel and other international fashion chains at Galleria or the Suwon station mall.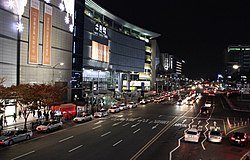 phone: +82 31-204-2006

address: 경기도 용인시 기흥구 영덕동 중부대로 64

Suwon premium outlet is a luxury outlet that offers fashion products at discounts of 50-80% throughout the year. It is only 5 minutes from the Suwon IC of Gyeongbu Expressway, and it is a family-run shopping outing with cultural facilities such as 500 parking spaces, a baby rest room, a state-of-the-art brain development playground, and is recommended by various media.

phone: +82 31-8067-4000

address: 경기도 수원시 권선구 서둔동 세화로 118

Lotte Department Store in Suwon is on the 1st to 7th floors of the basement. Lotte Mall Suwon has a lot of special things just by the building itself. First of all, the exterior is a modern representation of the long castle of Suwon Hwaseong, which was designated as a UNESCO World Heritage Site. Lotte Mall is also built a rooftop ecological park and introduced eco-friendly facilities. There's also plenty of space to park.

phone: +82 31-240-1000

address: 경기도 수원시 팔달구 매산동 덕영대로 924

It is a place where you can enjoy a lot of shopping, movies and dining out. Disadvantages include poor traffic, making it difficult to enter the parking lot when crowded, including weekends.
Eat
The food court in the mall at the train/metro station is excellent and extensive. You can get a fantastic meal for ₩4,500 and select from many choices; there's a showcase displaying all your choices. Besides plentiful traditional Korean restaurants, there are many places which serve other cuisines and fast food. Suwon is famous for its
Galbi
(sweet marinated ribs). Restaurants near the Yeongtong Square (Sagori) serve Galbi. There's also an excellent Galbi restaurant right across the street from the World Cup Soccer stadium. Vegetarian restaurants are hard to find, but they do exist.
Suwon is famous for
Galbi
. But it is famous to effected to other food(ex. chicken). In 2019,
Extreme Occupation
, the Korean movie, was opened. this movie watched by 16 million people in Korea. In this movie, very special food that called to 'Suwon Wang Galbi Chicken' appeared. it mixed Galbi sauce and fried chicken in Korea And Suwon is the place of origin this. As the movie became famous, this food also became famous and it is result to Suwon' new Tourism.
SeonggwakA traditional, delightful little restaurant, owned and operated by a nice old couple. Everything is homemade. If you don't read Korean (there is no English, and no menu), then get a jeong-guk-jang, a dubu kimchi, and a Makkeoli (rice wine).

phone: +82 31 211-8434

This place is very popular place in Suwon. You can enjoy the korean traditional food galbi.

Boyoungmandu

phone: +82 31 242-9076

address: 경기도 수원시 장안구 영화동 팔달로 271

Noodle is the main menu and it tastes sweet and moderately spicy. The peculiarity is that some very cool tastes come from all sides. It feels like Chinese spices. Of course, it is a taste that anyone can enjoy casually. Parking is possible, but there is not enough space to park. Steamed mandu have a rich flavor and a good texture.

dukkeobijib

phone: +82 31 242-4267

Budaejjigae is the most famous in this restaurant. People visit here a lot for lunch. So there are times when you have to line up.

daewangkalgugsu

phone: +82 31 252-2820

address: 경기도 수원시 팔달구 북수동 311-14

You can eat very cheap kalguksu at this restaurant. Not only it is affordable, but you can also eat plenty of delicious kalguksu.

yongseongtongdalg

address: 경기도 수원시 팔달구 팔달로1가 정조로800번길 15

It is the most famous chicken restaurant in Suwon. If you eat chicken on site without packing, you can feel the crispyness of chicken.

yuchihoegwan

address: 경기도 수원시 팔달구 인계동 효원로292번길 67

This is the most famous place in Suwon for Haejangguk. Koreans drink alcohol and usually eat haejangguk the next day. The food served at this restaurant is not irritating and light. So, many people enjoy it.

Gabojung

phone: +82 31-238-3883

address: 경기도 수원시 팔달구 인계동 장다리로 281

This restaurant is Suwon's representative beef restaurant. The typical food here is seasoned ribs. The side dishes that come with the beef are also excellent.

Suwonsamgyetang

phone: +82 31 212-8095

address: 경기도 수원시 영통구 원천동 85-13

Samgyetang is a food that Koreans usually eat when they want to take care of themselves, and is this restaurant's specialty.

Myeong-ga ne

phone: +82 31 292-3262

address: 경기도 수원시 권선구 탑동 금호로250번길 12-4

Sundae Gukbap is boiled or steamed food with various ingredients in the intestines of cattle or pigs. You can enjoy this food in Suwon. This restaurant sells Sundae Gukbap at an affordable price. This restaurant sells not only sundae but also slices of boiled meat, so it is good to eat with alcohol.

phone: +82 31 297-6161

address: 경기도 수원시 권선구 입북동 서수원로594번길 260

This restaurant is famous for Stir-fried Octopus with Rice. Though the normal Stir-fried Octopus with Rice is spicy, at this restaurant it's not spicy, so people who can't eat spicy can enjoy it.

phone: +82 31 1522 - 8818

address: 경기도 수원시 팔달구 팔달로1가 정조로800번길 16

This restraunt is famous as the place of origin of "Suwon Wang Galbi chicken" in Korea. If you watch 'extreme occupation' or are interested in Korean cuisine, it's a good choice. The Suwon Wang Galbi chicken is limitedly sold, about 100 a day.
Drink
Major nightlife seems to revolve around three areas:
Ingyedong
,
Yeongtong
, and
Nammun
(Paldamun).
In Ingyedong, you will find an amazing number of hofs, bars, restaurants, hostess bars, etc. There's also several Korean nightclubs such as Juliana, Boss etc.
Byeolbam

phone: +82 31-223-5569

address: 38, Hyowon-ro 249beon-gil, Paldal-gu, Suwon-si, Gyeonggi-do, Republic of Korea

It is a club that plays songs popular in the 90s.

Byeolbam2

address: 61, Gyeongsu-daero 446beon-gil, Paldal-gu, Suwon-si, Gyeonggi-do, Republic of Korea

Ingyedong is the second point of the night. There is a review that is more fun than the traditional star.

THURSDAYPARTY

phone: +82 31-233-6621

address: 46, Hyowon-ro 265beon-gil, Paldal-gu, Suwon-si, Gyeonggi-do, Republic of Korea

club made

address: 60, Gyeongsu-daero 446beon-gil, Paldal-gu, Suwon-si, Gyeonggi-do, Republic of Korea
Nammun is big among the university students of Suwon. It has a fashion street and the majority of nightlife is centered on
Rodeo Street
which is behind the main street to the left of Nammun Gate.
911 clubFamous for "drunken" tequila parties that it holds on Friday and Saturday night. It's a relaxed hip hop club with a bit of skate style.

Rodeo nightclub
Other areas that offer some nightlife options include the Ajou University area and the Suwon Station area. Where you will find:
Plan BA popular place among Ajou students, Aju-ro, Woncheon-dong.

Club TaoLarge Korean-style dance club.

Team BarDoes bar shows.

S bar

Ho rockServes pasta and steak, wine, and cocktails.
Yeongtong has the one of the major concentration of foreigners in Suwon city. Most of them are employees of Samsung Co. and the second dominant group are English teachers.
Now BarPopular hangout for expat English teachers and foreign students because of its cheap beer, fun atmosphere and friendly owner and staff.

TinpanNear KFC. Popular with students from the local university and teachers, plays mainly urban music. However has a wide range of cheap beers and cocktails.

Sam Ryan'sThe Suwon branch of the popular Itaewon bar, opened late 2011. Many beers on tap, good food, and plenty of sports on the big screen.

The Big Chill

phone: +82 10 7600 2574

address: Namun

A really great bar that attracts plenty of foreigners and Koreans alike. A great atmosphere and staff. Pool table, darts, cheap drinks, and great company. Request your own music and chill with friends. It's also close to all of the other big areas to party such as Suwon Station and downtown Ingyedong.

DCT

phone: +82 31 293-5424

address: 17 Hwasan-ro 223 Beongil, Jangan-gu
Sleep
Budget
There are dozens of love-hotel style motels (모텔) in Suwon, starting from ₩25,000 for a double room. They can be found in clusters near Suwon Station, in the Ingyedong party area and behind Ramada Hotel. Another cheap option are 'warm rooms' or jjimjilbang (찜질방) that can be found all over the city.
phone: +82 31 254-5555

address: Nammun

Friendly staff and a nice view from the roof.
Mid-range
phone: +82 31 898-5055

address: 1031-9, Ingye-Dong, Paldal-Ku

Hotel offering free pick-up service, high speed internet and DVD movies.

phone: +82 31 232-9981

address: 1022-1, Ingye-Dong, Paldal-Ku

Hotel offering free pick-up service, high speed internet and DVD movies.
Go next
Head up to
Seoul
via
Anyang
or
Uiwang
or down south to the hot springs resort of
Ansan
and neighbouring
Cheonan
, hosting Korea's independence hall.
Yongin and Ansan is connected to Suwon. Yongin also connects to Seoul and other Gyeonggi province cites on rail road. If you want to go to other cities, I recommend you use the subway.
If you use subway to go other regions, You check the railroad and It's good refer to the traffic link(Suwon) Below this sentence.
Category:Cultural Heritage